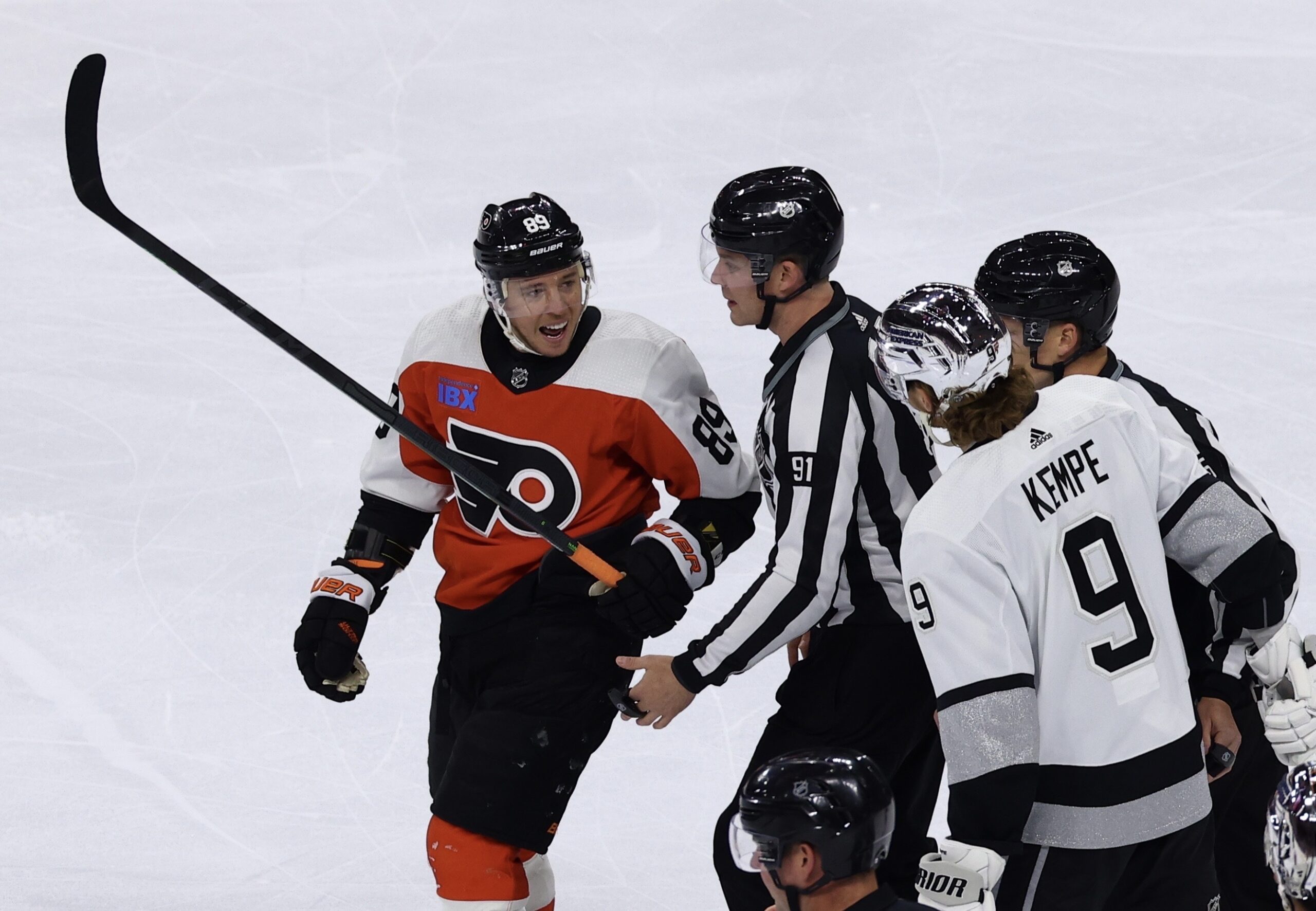 The Philadelphia Flyers redeemed themselves last night with a 6-3 win against the Anaheim Ducks after an embarrassing defeat to the San Jose Sharks.
What's Going Right for Los Angeles?
The Los Angeles Kings are off to a red hot start this season. Winning 7 of the 10 first games, and only losing 1 game in regulation, it appears that for now their pivot to being a playoff contender is paying off dividends. Their top forwards are chipping in, and Anže Kopitar has had a killer start, seemingly turning the clock back at age 36. As well as getting strong goaltending by 36-year-old Cam Talbot, the veterans are really leading the way in L.A.
Their special teams aren't hurting them either. More notably, their penalty kill ranks 8th in the league at an 86% success rate. The power play, while not at the top of the league, is still an acceptable 17th across the NHL operating at 19.6%. Cam Talbot has stood tall, earning a .930 SV% over 9 games, and is expected to start tonight as well. L.A. will certainly expect to dominate the Flyers' power play, but the Flyers' penalty killing units will certainly give them a lot more work to deal with.
The Kings last played the Flyers on November 4th, and ran them out of the building to a 5-0 final score. With Flyers starting goaltender Carter Hart returning to the mix, they should be able to get a few extra difficult saves they couldn't find from Samuel Ersson.
Power play issues persist
Despite winning handily against the Ducks, scoring 6 goals last night, none of them came on the power play. Yes, it's important to score at 5v5 as most of your minutes on the ice are going to be at even-strength. However, with a decisive victory like this, you should still not be going 0/3 on the powerplay. These issues have been here from Day 1, and it's going to take a lot for this team to over come this. He hasn't shown any signs he'll be able to do it, but tonight is another opportunity for Morgan Frost to create tangible offense on the power play. However, watching Owen Tippett fly around the ice last night makes me think he may be the one with the statement game in the end, but we'll see.
Carter Hart is back
Carter Hart returns in net for the Philadelphia Flyers after recovering from a mid-body injury, suffered in the 5-2 defeat to the Buffalo Sabres on November 1st. We should be excited to see how the forwards play on the ice. Usually with a lot of teams, your players are going to be more comfortable taking chances when they know the have a goalie who can bail them out in a worst-case scenario. No, we do not think Samuel Ersson is a bad goalie, but we do know Carter Hart is the better one right now. I'll be curious to see if any players who regressed to positivity on offense will be more proactive knowing they have Hart between the posts.
Beating the Kings
Based on how the Flyers played this season, the formula revolves around a stellar penalty kill, goaltending, and outscoring opponents at 5v5. Ideally, the Flyers score on the powerplay a least once. We've seen them lose close games because they do nothing with 8+ minutes of powerplay time. I hope York goes back on the powerplay, it's understandable why Tortorella pulled him, he's gone thrpugh some lows. However, we cannot forget this year is about developing the kids, which is dealing with the uglt in the short term so it turns into success in the long term. Right now, that's keeping York as a QB for a putrid power play team.
PHI Record: 6-7-1, 11 pts, 6th in Metropolitan
LAK Record: 7-1-2, 16 pts, 3rd in Pacific
When: 10:30 pm ET
Where: Crypto.com Arena, Los Angeles, CA
Broadcast Info: NBC Sports Philadelphia, 97.5 The Fanatic
Last Game PHI: 11/10/23, 6-3 W at Anaheim
Last Game LAK: 11/10/23 4-3 L vs. Pittsburgh
PHI Goalie: Carter Hart (4-3-0, .913 SV%, 2.52 GAA, 1 SO)
LAK Goalie: Cam Talbot (7-2-1, .930 SV%, 2.03 GAA, 1 SO)
PHI Projected Lineup
#89 Cam Atkinson – #14 Sean Couturier – #71 Tyson Foerster
#74 Owen Tippett – #48 Morgan Frost – #11 Travis Konecny
#86 Joel Farabee – #27 Noah Cates – #25 Ryan Poehling
#44 Nicolas Deslauriers – #21 Scott Laughton – #19 Garnet Hathaway
#8 Cam York – #6 Travis Sanheim
#98 Victor Mete – #26 Sean Walker
#24 Nick Seeler – #37 Louie Belpedio
#79 Carter Hart
#33 Samuel Ersson
Scratches: #5 Egor Zamula, #10 Bobby Brink, #40 Cal Petersen
Injuries: #18 Marc Staal, #32 Felix Sandström, #55 Rasmus Ristolainen
LAK Projected Lineup
#55 Quinton Byfield – #11 Anže Kopitar – #9 Adrian Kempe
#12 Trevor Moore – #24 Phillip Danault – #22 Kevin Fiala
#78 Alex Laferriere – #80 Pierre-Luc Dubois – #34 Arthur Kaliyev
#91 Carl Grundström – #46 Blake Lizotte – #61 Trevor Lewis
#44 Mikey Anderson – #8 Drew Doughty
#84 Vladislav Gavrikov – #3 Matt Roy
#5 Andreas Englund – #21 Jordan Spence
#39 Cam Talbot
#29 Pheonix Copley
Scratches: #7 Tobias Björnfot, #28 Jaret Anderson-Dolan
Injuries: #33 Viktor Arvidsson
News and Notes
– Betting odds: Flyers +202, Kings -250
– Bobby Brink and Egor Zamula rest tonight for Ryan Poehling and Victor Mete. Torterella noted the long season and giving the kids a chance to rest on this set of back to backs.
– The Flyers are 45-26-8 against the Kings on the road all-time.
– Joel Farabee (6g, 6a) and Travis Konecny (9g, 3a) both lead the team at forward with 12 points over 14 games. Travis Sanheim leads the defenseman and club overall with 14 points (2g, 12a).
Union Forge Vodka proudly serves as the Official Vodka of Flyers Nation. This partnership celebrates the unyielding spirit of Flyers fans and offers a quality spirit that perfectly compliments the team's essence. Whether celebrating victories or showing resilience, Union Forge Vodka embodies the winning spirit of both the Flyers and their dedicated fans. Stay connected with exciting giveaways by following @unionforge and @flyersnation across all social media platforms.