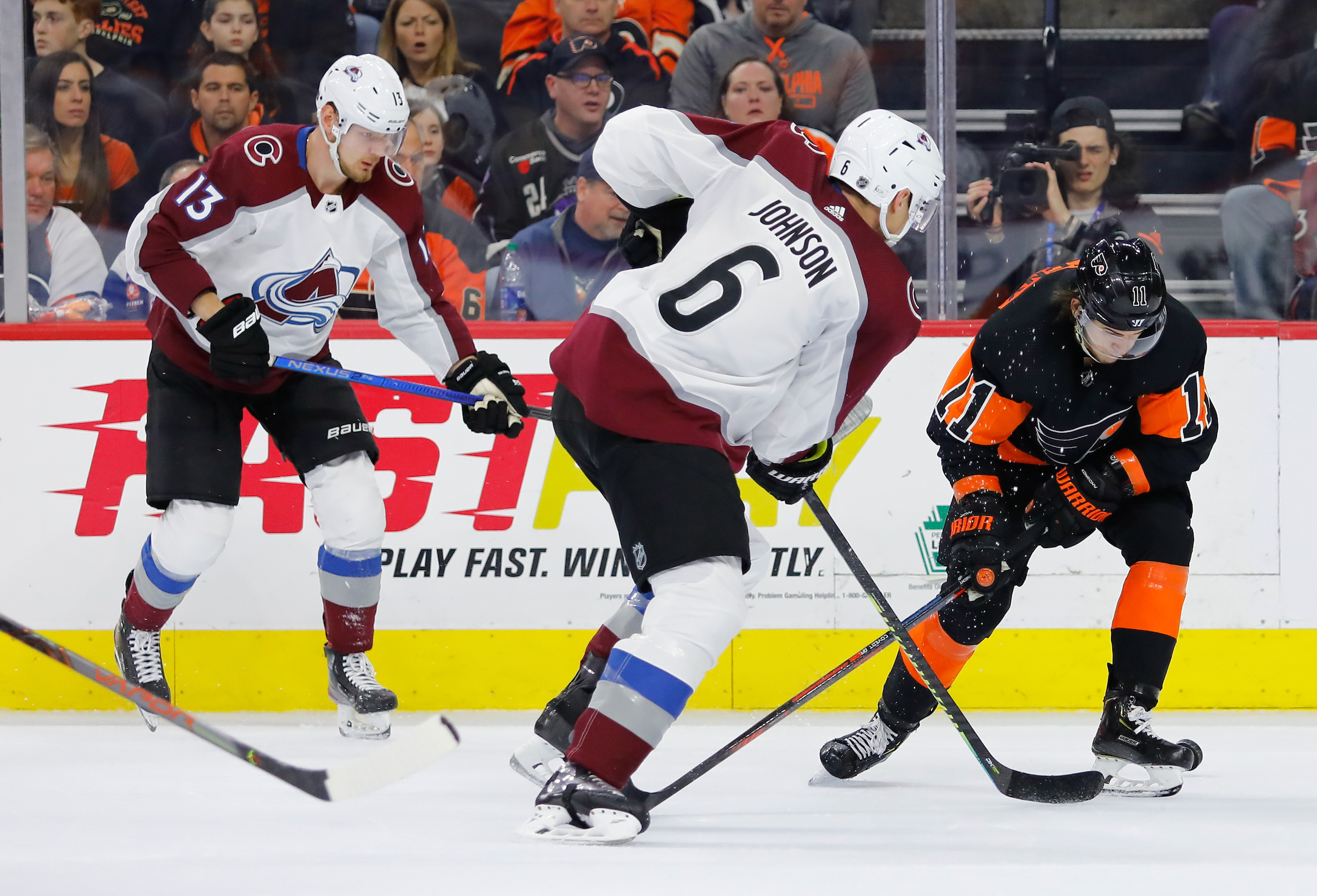 Flyers Hope to Begin New Era With a Win Over the Visiting Avalanche
The Philadelphia Flyers are coming off their eighth loss in a row last night, and are now facing a very dangerous Colorado Avalanche team tonight at Wells Fargo Center after a major shakeup to the coaching staff.
Head coach Alain Vigneault and assistant coach Michel Therrien were both relieved of their duties this morning, and Mike Yeo will serve as the interim head coach for Philadelphia. It was a move that many felt needed to be made, and now we see what's next for the Flyers.
Colorado is coming off a 6-5 overtime loss to Ottawa on Saturday. The Avalanche came back from three goals down to tie it in regulation before losing on a Brady Tkachuk breakaway goal. Colorado has six players with a point per game or better. They are an elite offensive team with the fourth-most goals in the entire NHL, but Colorado is just average at keeping the puck out of their own net. They are 19th out of 32 teams in goals against.
Colorado's weakness is their own goaltending. They went out and traded two solid assets (Conor Timmins and a first round pick) to acquire goaltender Darcy Kuemper, but Kuemper has been underwhelming. His save percentage is .903 and his goals against average is 2.84. He was supposed to be the missing piece to a Stanley Cup run, but that has not been the case early on in the season.
The Colorado offensive attack is led by long time Avalanche players like Nathan MacKinnon, Gabriel Landeskog, Mikko Rantanen and Nazem Kadri. Kadri is actually leading the Avalanche in points with 30 in 20 games.
Colorado is also buoyed with extremely dynamic defensemen in Cale Makar, Devon Toews, Sam Girard and Bowen Byram. Makar and Byram have been banged up, but Makar will return tonight for the Avalanche while Byram remains out.

Adding insult to injury, recently waived Flyer Nicolas Aube-Kubel has four points in nine games with the Avalanche. Only Claude Giroux and Joel Farabee have more points for the Flyers in that time.
Colorado is coming off an off-day. The Flyers are playing the second game of a back-to-back homestand. Philadelphia will have to have their skating legs under them early. The Flyers have to get points anyway they can. The season is slipping away with each loss.
KEYS TO VICTORY
Challenge the Goaltender
This is the aforementioned weak spot of this Colorado team. Deflect pucks. Take away the goalie's eyes. Make it hard for the goalie to make saves. The Flyers game has made it way too easy for the opposition to defend. Shoot early and shoot often.
Hope Byram and Makar Need More Time
Cale Makar and Bowen Byram are up and coming stars. They both missed the game in Ottawa. Devon Toews and Sam Girard played a combined 58-plus minutes in that game. Kurtis MacDermid and Jacob MacDonald played a combined less than 20 minutes. Yes, these are real players. Jack Johnson playing a top-four role is a huge advantage to the opposing team.
Makar will return tonight but it remains to be seen if he'll be completely healthy, and Byram is still out and is day-to-day. The Flyers need to pressure him every time he has the puck on his stick. Any advantage that the Flyers can get they will take.
Stay Out of the Box
Colorado is scoring on 22.0% of their power plays. The Flyers' penalty kill is above average at 82.6% but Colorado is an elite offensive team. There is no need to give a better team more chances to beat you.
PROJECTED LINEUPS
Philadelphia Flyers
Claude Giroux – Sean Couturier – Cam Atkinson
Morgan Frost – Kevin Hayes – Travis Konecny
James van Riemsdyk – Scott Laughton – Zack MacEwen
Oskar Lindblom – Patrick Brown – Max Willman
Ivan Provorov – Rasmus Ristolainen 
Travis Sanheim – Justin Braun
Keith Yandle – Nick Seeler
Martin Jones
Colorado Avalanche
Gabriel Landeskog – Nathan MacKinnon – Mikko Rantanen
Valeri Nichushkin – Nazem Kadri – Andre Burakovsky
Logan O'Connor – Alex Newhook – Nicolas Aube-Kubel
Darren Helm – Tyson Jost – Jayson Megna
Devon Toews – Cale Makar
Sam Girard – Erik Johnson
Jack Johnson – Kurtis MacDermid
Justus Annunen