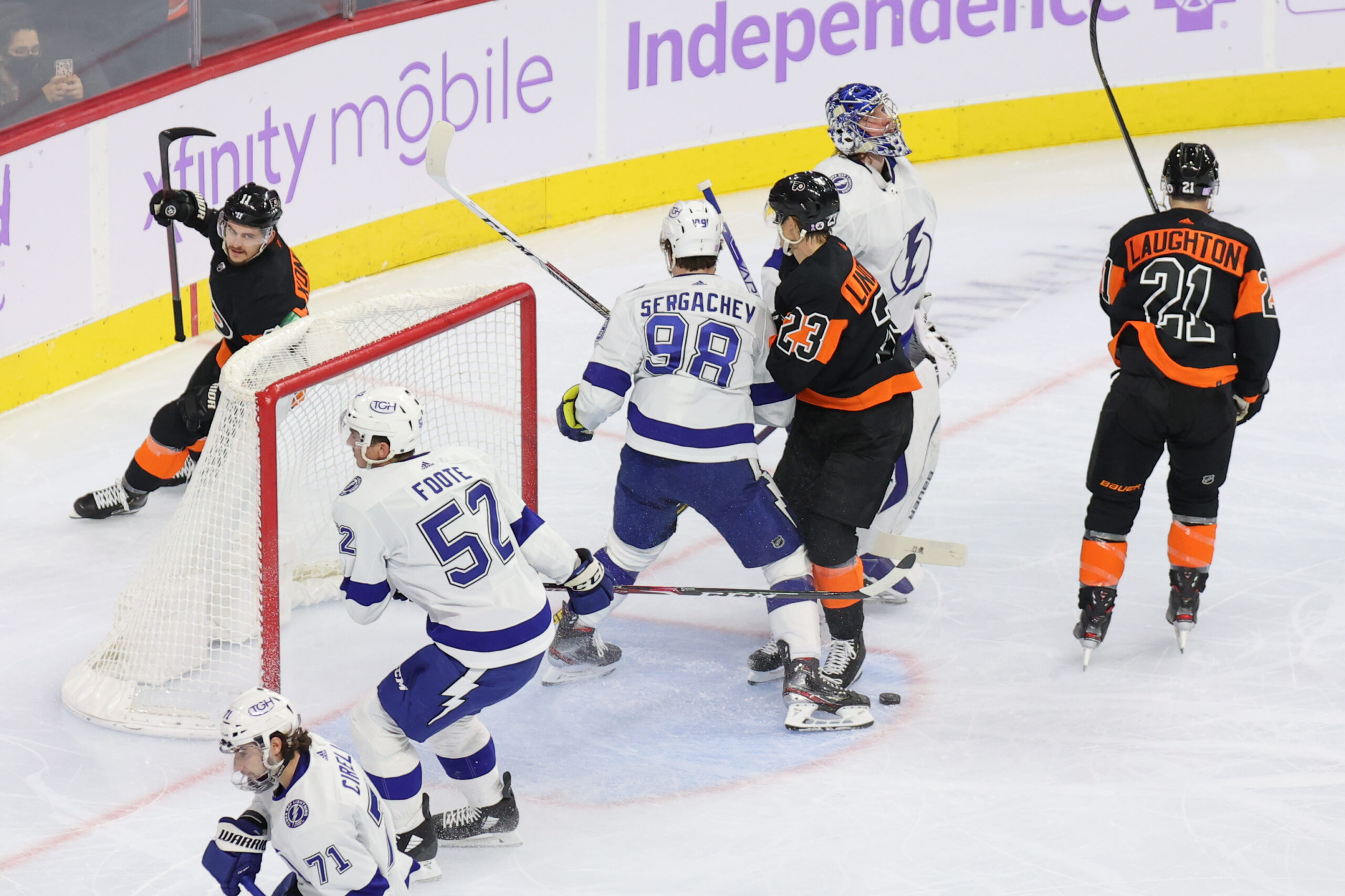 Flyers battle Lightning on 1980s Throwback Thursday Night
The Philadelphia Flyers, fresh off snapping their 10-game losing streak, will play host to another tough Eastern Conference opponent tonight in the Tampa Bay Lightning.
The Lightning, the defending back-to-back-to-back Eastern Conference champions and Stanley Cup winners in 2020 and 2021, are always a team that should never be taken lightly. After losing 3-1 on Tuesday to the league-leading Boston Bruins, Tampa Bay will be really hungry for a win tonight.
The Flyers will perhaps get a boost to their lineup as they look to knock off the Lightning. Travis Konecny was activated off injured reserve earlier today and will skate in warmups to determine if he can play tonight. Tony DeAngelo, who missed Tuesday's 3-1 win over the New York Islanders with an injury, will also skate in warmups before it is determined if he will play. Both players are listed as game-time decisions.
Tonight's game is the second of a five-game homestand that also features dates against the New Jersey Devils, Colorado Avalanche, and Washington Capitals. Things won't get any easier for Philadelphia but after a win on Tuesday, perhaps they can carry some momentum into tonight and keep things rolling in the right direction.
PHI Record: 8-10-5, 21 pts, 7th in Metropolitan
TBL Record: 13-8-1, 30 pts, 3rd in Atlantic
Last Game PHI: 11/29/22, 3-1 W vs. NY Islanders
Last Game TBL: 11/29/22, 3-1 L at Boston
When: 7:00pm ET
Where: Wells Fargo Center, Philadelphia, PA
PHI Goalie: Carter Hart (7-5-4, .917 SV%, 2.73 GAA, 0 SO)
TBL Goalie: Andrei Vasilevskiy (8-7-1, .906 SV%, 2.88 GAA, 0 SO)
PHI Projected Lineup
#11 Travis Konecny – #48 Morgan Frost – #74 Owen Tippett
#21 Scott Laughton – #49 Noah Cates – #17 Zack MacEwen
#86 Joel Farabee – #23 Lukáš Sedlák – #13 Kevin Hayes
#44 Nicolas Deslauriers – #58 Tanner Laczynski – #71 Max Willman
#9 Ivan Provorov – #77 Tony DeAngelo
#6 Travis Sanheim – #55 Rasmus Ristolainen
#24 Nick Seeler – #54 Egor Zamula
#79 Carter Hart
#32 Felix Sandström
TBL Projected Lineup
#38 Brandon Hagel – #21 Brayden Point – #86 Nikita Kucherov
#91 Steven Stamkos – #20 Nick Paul – #17 Alex Killorn
#79 Ross Colton – #90 Vladislav Namestnikov – #10 Corey Perry
#45 Cole Koepke – #41 Pierre-Édouard Bellmare -#14 Pat Maroon
#77 Victor Hedman – #98 Mikhail Sergachev
#28 Ian Cole – #81 Erik Cernák
#7 Haydn Fleury – #24 Zach Bogosian
#88 Andrei Vasilevskiy
#1 Brian Elliott
PHI Injuries: Sean Couturier (back), Bobby Brink (hip), Ryan Ellis (hip), James van Riemsdyk (finger), Wade Allison (hip)
Scratched: Cam Atkinson, Patrick Brown, Justin Braun
TBL Injuries: Rudolfs Balcers (upper body), Anthonty Cirelli (shoulder)
Scratched: Nick Perbix, Philippe Myers, Cal Foote
News and Notes
– The Flyers broke through their 10-game losing streak against the New York Islanders, who up until that point, had won 9 of their last 10 matchups against the Flyers since 2021.
– Many players are returning from injury as Travis Konency and Tony DeAngelo are coming back to the lineup tonight pending how they feel in warmups. Cam Atkinson will also be back in the near future.
– Scott Laughton is back and made his presence known in the Flyers' hard fought win last Tuesday night.
– Forward Kieffer Bellows was waived by the Flyers earlier today. He recorded zero points in 11 games with Philadelphia.
– Tonight is another edition of the Flyers' "Throwback Thursday" series of games, with this game focusing on the 1980s. Fans will receive artwork featuring different players and moments from the decade when they enter Wells Fargo Center, the Flyers will be wearing their Reverse Retro uniforms with Cooperalls in warmups, and Mark Howe, Dave Poulin, Brad Marsh, Kjell Samuelsson, Dave Brown, Terry Carkner, Doug Crossman, and J.J. Daigneault will be present as well. Daigneault will bang the pregame drum before puck drop.
Broadcast Info: TV – NBC Sports Philadelphia, Radio – 97.5 The Fanatic