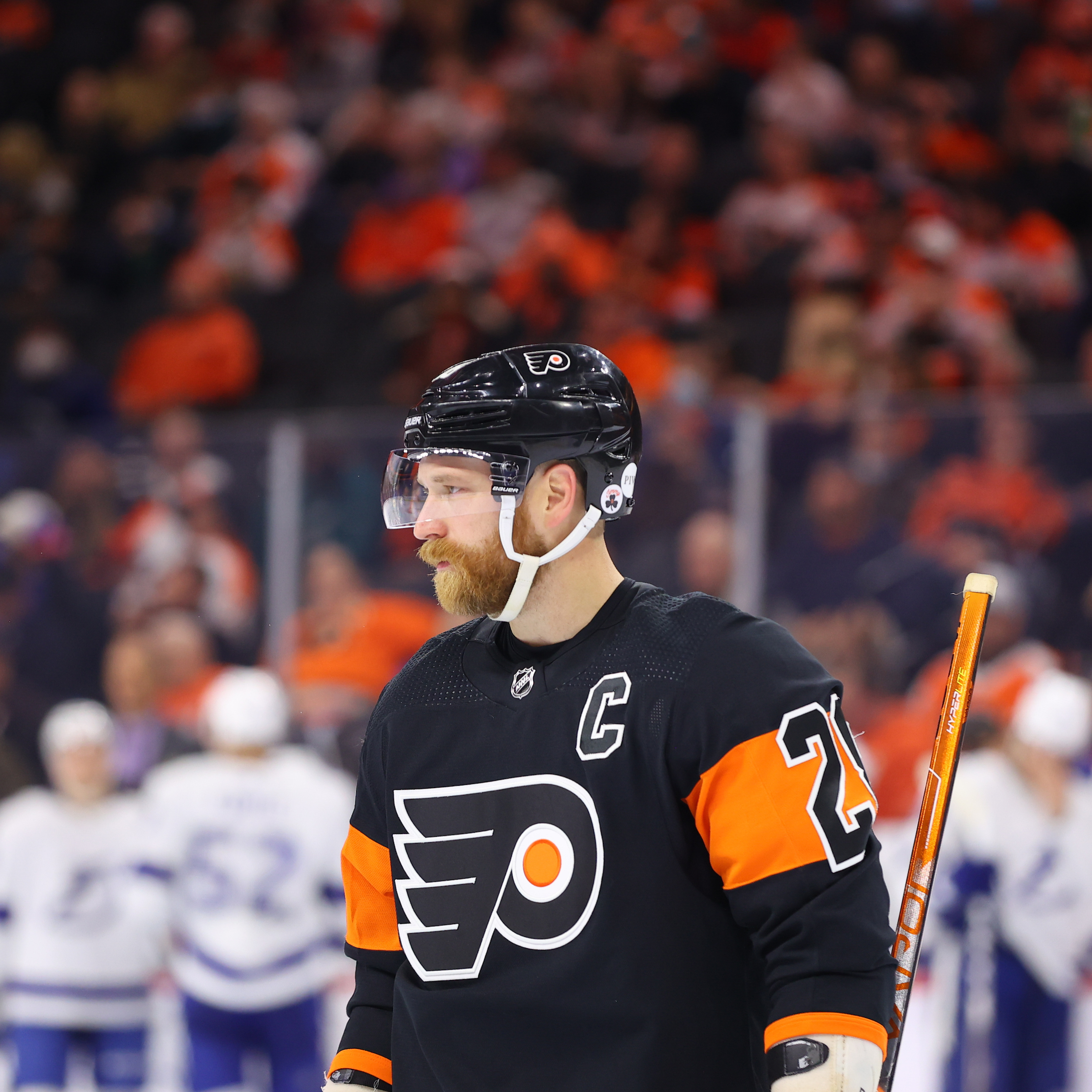 Elliotte Friedman: "I would bet that Giroux gets traded."
Being with the team for 15 seasons and then some, Claude Giroux's expiring contract has brought about a lot of debate, discussion, and arguments. Signing an 8-year deal many moons ago, the idea was that at some point during his tenure the Philadelphia Flyers would've had an iota of success. However, they've gone through several coaching changes, general manager changes, two cores, and a failed rebuild. With the most recent retool giving us mixed results, the questions about his future are growing by the day, or better yet, growing by the losses. 
After Sean Couturier and Joel Farabee had signed their long term extensions over the summer, Giroux was the only one remaining, outside of recently acquired Rasmus Ristolainen, looking for a contract. Both sides agreed that they wouldn't talk about an extension until after the season concluded, mostly because Giroux and the Flyers needed the regular season to figure out where they stood.
After the flurry of moves during the off-season that included notable acquisitions of Ryan Ellis, Cam Atkinson, Rasmus Ristolainen, Derick Brassard, and Keith Yandle among others, the Flyers had seemingly gutted their roster of the negativity that clouded the franchise for a few years; that was according to Sportnet's Elliotte Friedman as well. 
Now with the season unfolding as it has, with several injuries to key players, COVID ravaging the roster, and several players not performing to task yet again, the Flyers find themselves 13-15-6, which is good for 5th in the Metropolitan Division and four points out of the Wild Card race, but Boston has four games in hand. They've also undergone a coaching change and things haven't gotten any better.
Friedman joined Jeff Marek on The Jeff Marek Show on Thursday and divulged about the present situation the Flyers find themselves in and what they're thinking about in terms of the future, Claude Giroux, and even Ivan Provorov. The following are snippets of his appearance on The Jeff Marek Show:
"I think the thing with Philly is, to me, from what I've heard the biggest question they have is 'What's the honest assessment of who we are? Where are we going here? We made some big moves and they still haven't paid off yet,'"
"Does it mean you still think "OK, we've gotta make one other move or two other moves and we'll be OK? Or do we have to strip it down and try to do even more?', 
"I've heard that's the big question in Philly: The honest philosophical discussion of where we need to go from here. And you still have time to answer those questions but you have to ask them, and from what I've heard those questions are definitely being asked."
"I think Giroux — if I was to bet your mansion on it, Jeff — I would bet that Giroux gets traded. I just think they have to figure out between him and them where it's gonna go."
"I can see a situation where they say to him 'OK, why don't you go chase a Cup this year and we'll figure it all out.' I'm sure there's going to be interest, because I think the guy has played pretty well, so I just think it's a matter of where they decide that that's going to be."
Marek also asked Friedman about Ivan Provorov and how he has played since the departure of Matt Niskanen:
"I think there's conversation there about 'Let's be honest. Where are we and what do we really think we have to do?' I think obviously Giroux is one of those conversations because time dictates that it has to be and I have no doubt that Provorov is another. No doubt."
So the writing is on the wall for both sides and there's always been an understanding that if the Flyers faltered again and missed the playoffs, they would find a trade partner for Giroux to try and win a Cup. Now he brought a good point that there could still be interest of Giroux coming back during the off-season, but that's a discussion for another day. 
Giroux has played his entire career in the Orange and Black and has surpassed almost every Flyers great on his way to the summit. He currently sits second all-time in points and is the longest tenured captain in Flyers history. The argument about his tenure and his captaincy can be had until everyone is red in the face, but the matter at hand is that he's a great Flyer and deserves a chance at claiming Lord Stanley.
The wish would have been to do such a chase donning Flyers colours, but the way this season has unfolded, let alone the last decade, it's becoming obvious that that won't happen this year. There will be plenty of teams vying for his services and with the idea that the Flyers will be out of the playoff picture, they can eat half his salary to facilitate a trade and get back as much as possible in return. With Giroux having a full no-movement clause, he also dictates exactly where he wants to go. 
The future of the Philadelphia Flyers remains bleak at best, and trading Giroux is step one in a rebuild, but the news of Provorov potentially being dangled is interesting to say the least. Technically the best defensemen on the team, Provorov has had a rough few seasons, including last year when he dropped considerably after the retirement of Matt Niskanen. The acquisition of Ryan Ellis was supposed to subdue the thoughts that Provorov wasn't the player they hoped he would be, but Ellis' sudden injury and long-term absence hasn't helped the cause. 
If the Flyers were to trade Provorov, who still has 3 years left at $6.75 million, could be a very good pickup for a team that already has an established number one defenseman. That's not to say he isn't going to get there at some point, but his tenure in Philadelphia suggests that he needs a viable partner to play his best hockey. Understandably so, but it's been a frustrating couple of seasons, especially considering how well he played in 2019-20 vs his last season and a half. 
A Giroux trade is one thing when considering the future, but a Provorov trade would really signal a rebuild is in motion. There are many established 24 year-old defensemen, signed long-term as well, who are available and in return the Flyers will probably look for picks and prospects to re-fill the depleted pipeline.
After last night's loss the chances of Giroux being traded have grown. With every loss, with every bad stretch, with every bad week, the rumour mill is going to keep churning until the fateful day that number 28 no longer wears the Orange and Black sweater. As for right now, the Flyers have a few months to find out who they are and what they have at their disposal, and they better hope the injured players and players on the COVID protocols list return as soon as possible before the season completely falls out of their hands.