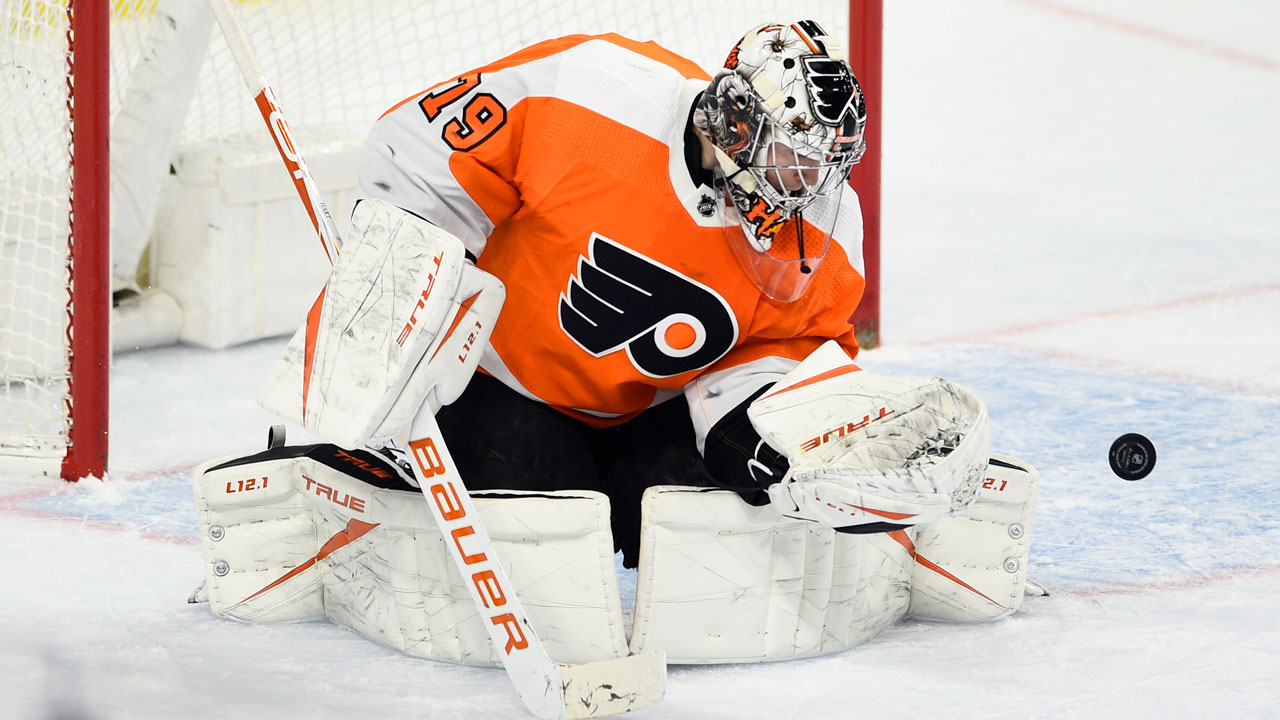 Carter Hart's Extension is a Steal
For many many years, Flyers fans have been longing for that new franchise goaltender ever since the Ron Hextall era. Now, they have that goaltender.
22-year-old Carter Hart recently signed a three-year extension with the Flyers with an AAV of $3.979M. Over his last three seasons, Hart has clearly had his ups and downs in the league, as many young goaltenders have. One thing is clear though: Carter Hart's extension is a steal.
Looking over Hart's numbers over his first three seasons, we see a goalie that showed a lot of promise and talent. When the team in front of him performs how they should, he is able to perform at a high level; however, when the team does not perform well, Hart struggles.
As many Flyers fans know, the team's defense was a major problem last season. Not only was Hart was left on his own many times, but Brian Elliott was also was left on his own a bunch.
As seen in these game snapshots, the Flyers' defense was out of position and made Hart and Elliott's job difficult. These are only three instances this season of the defense making it difficult for the goaltenders, but there were many more.
With the new additions to the Flyers roster, Hart should have an easier time in the crease this season. Putting players like Ellis and Ristolainen on the blue line will help keep pressure off Hart when in the defensive zone. Both keeping the puck out of the high danger areas around the net, and keeping the crease cleared when Hart wants to freeze the puck will make it easier for him to goaltend.
Going back to the early 2010s, there was another young goaltender that the Flyers had the chance to keep, but decided to trade instead: Sergei Bobrovsky. Bobrovsky in his first season as a goaltender performed pretty well, posting a .915 sv% and a 2.59 GAA in 52 games started as the team's main goaltender. Then in his next season as the backup Bobrovsky struggled, posting a .899 sv% and a 3.02 GAA in the 25 games he started.
Looking at Hart's last 2 seasons the numbers are surprisingly similar. In the 40 games Hart started in the shortened 2019-2020 season, he posted a .914 sv% and 2.42 GAA. This season Hart started in 25 games and struggled just like Bobrovsky did, posting a .877 sv% and 3.67 GAA.
As many Flyers fans know, Bobrovsky was traded to Columbus and flourished. In the seven years Bobrovsky was in Columbus, he posted a .921 sv% and 2.41 GAA while winning two Vezina Trophies. Hart is trending on the same path as Bobrovsky, which should give fans optimism for next season.
With hart making just less than $4M for the next three seasons, and the timeline of his development trending towards high levels of success, this contract is going to look like a steal in two years. On top of everything else, Fletcher made sure that this contract would end at a time that would still make him a restricted free agent. And with Rangers goaltender Igor Shesterkin now making $5.65M AAV over the next 4 seasons, the Hart contract is already looking better than it did when it was announced. Both the Flyers and their fans should be celebrating this contract that their franchise goaltender signed.