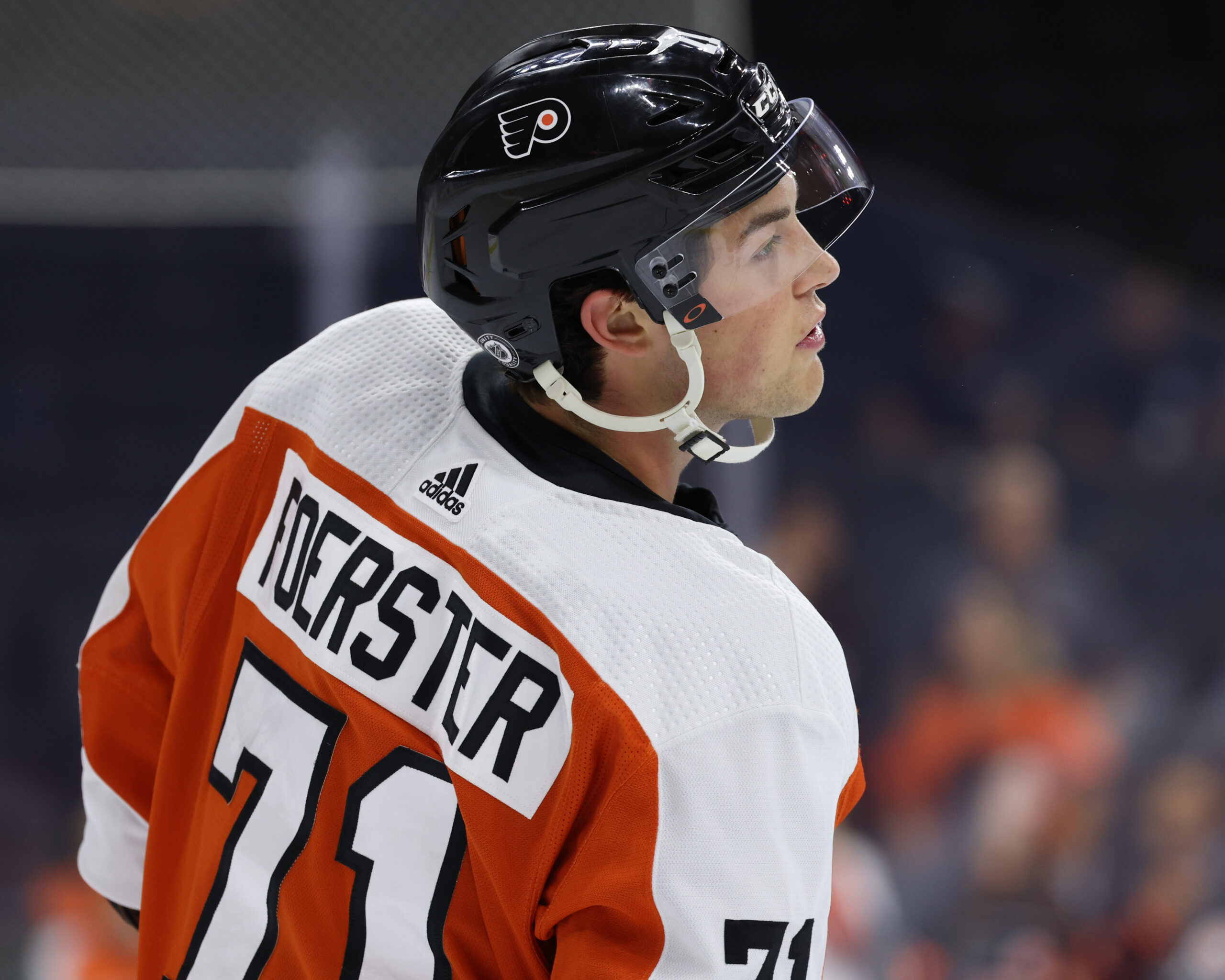 For those that believe that John Tortorella isn't one for a rebuild or that he prioritizes veterans over young players, the inclusion of Tyson Foerster on the roster should point towards the opposite direction.
The soon-to-be 22-year-old entered yesterday afternoon's game as snakebitten as they come with 0 goals and 3 points through 15 games this season. The Philadelphia Flyers have benched Morgan Frost 7 times and Bobby Brink 3 times and while many have been questioning those decisions, Foerster has remained a fixture in the top-6 this entire time.
Foerster finally bagged his first goal of the season on the power play, a goal that gave the Flyers a 2-0 lead over the Vegas Golden Knights. Settling in as the net-front presence of the first unit, Foerster corralled Travis Sanheim's rebound and tucked it past the pad of a screen Logan Thompson for the goal.
TYSON FOERSTER POWERPLAY GOAL. #Flyers

📹: @Flyers_Clips pic.twitter.com/DEHA2FXuon

— Flyers Nation (@FlyersNation) November 18, 2023
He also played a pivotal role on the game's opening goal – an Owen Tippett power play goal – as he was able to retain the rebound from the behind the net before sending a pass to Cam Atkinson who was situated at the top of the umbrella. Atkinson passed it to Sanheim and then Tippett cleaned up the loose change.
Last year, Tyson Foerster received an 8-game stint with the club where he scored 3 goals and 7 points but really gave the club a jolt of energy. He averaged 16:34 TOI, blocked 10 shots to his 12 hits, and fired 15 shots towards the net. He was returned back to the Lehigh Valley Phantoms for their playoff push as he paced the club in assists and points with 28 and 40, respectively.
Similar to Samuel Ersson's first stint, everyone was very quick to staple Foerster into the opening night lineup for the 2023-24 season – but for very good reason. The rebuild was finally upon us, the Flyers had stated their intentions aloud, and Foerster was the top NHL-ready prospect they had. For whatever reason, he has not been able to buy a goal this season but it's not for a lack of trying. In fact, if you looked strictly at his analytical numbers – thanks to moneypuck.com –  he's one of the best forwards on the club:
TysonFoerster is 4th in expected goals (3.9) behind Owen Tippett (5.6) Cam Atkinson (5.9), and Travis Konecny (6.6).
Among other categories, Foerster is ranked or has currently:
Drawn the 6th most penalty minutes (10)
T-7th most takeaways (7)
4th in expected goals per 60 minutes (0.93)
6th in expected shooting% on unblocked shots (7%)
6th in high danger xGoals (1.16)
1st in medium danger xGoals (2.12)
1st in on-ice shot attempt% (59%)
T1st in on-ice unblocked shot attempt% (60%)
3rd in on-ice goals% (68.2%)
1st in on-ice expected goals% (63%)
1st in relative expected goals% (15.3%)
1st in on-ice score adjusted expected goals% (63.4%)
2nd in on-ice score/flurry adjusted expected goals% (62%)
4th in flurry adjusted xGoals (3.6)
2nd in xGoals on rebound shots (1.5)
5th in created xGoals (3)
CF% of 59, CF% rel of 12.3, FF% of 60.7, and FF% rel of 12.2
1st in CF% at even strength (53.5%)
1st CF% rel at even strength (6.1)
1st in FF% at even strength (55.4%)
1st in FF% rel at even strength (5.8)
"If ifs and buts were candy and nuts" is essentially the biggest problem and hindrance with analytics because you look at the reality of the situation and all you could focus on was the 0 goals in 15 games. However, sports are unpredictable, the highs are really high, and the lows are extremely low but Foerster has been playing a consistent brand of hockey that was sure to finally get his name on the scoresheet.
He is all over the ice, he's playing in the top-6 with the likes of Sean Couturier or Cam Atkinson or Owen Tippett, and is in the top-4 of almost every category that matters in analytics. Puck luck has not agreed with Foerster and we can almost relate his issues with Joel Farabee's lengthy goal-drought last season.
Farabee went 26 games without a goal and only collected 4 assists along the way. His situation is a little different because he was coming back from a serious surgery and had very little time to acclimate in training camp, but he was still persisting through it all and creating chances – which is a major reason why he was never scratched. However, he could not buy a goal during that drought, he was all over the ice hitting the post or missing wide open chances, but once he scored he rode a 4-game goal streak and finished the season with 12 points in his final 15 games.
Or how about when Travis Konecny scored 27 goals in 135 games between the COVID playoffs, 2020-21, and 2021-22? He went without a goal in the 16 playoff games, then only scored 11 goals in the shortened 2020-21 season, and struggled out the gate in 2021-22 before Alain Vigneault was let go. He has since scored 31 goals in 60 games last year and has added 10 goals in 16 games this season. At the time of his lengthy struggles, the discourse was not favourable, now look how things have changed.
If you went on Twitter and saw the discourse that Tyson Foerster was involved with, it's evident that his overall game is being overlooked. Was it frustrating that he didn't have a goal? Absolutely, it was probably affecting him more than it was affecting us but whether you like analytics or not, it's hard to overlook the aforementioned stats. Patience is of the utmost importance and while it may be frustrating that Brink is not involved as much as Foerster, especially with how he has actually produced, they both play a very different style and Tortorella sees more from one than the other.
Foerster's game hasn't tailed off since the start of the season, which is part of the reason why Tortorella hasn't scratched him. Frost was lackadaisical at times, Brink lost a little bit of his lustre, and Egor Zamula looked overwhelmed at times. Foerster is creating chances, playing responsible hockey, and has shown a proclivity for forechecking and defense.
The season is only 17 games old for the Flyers and already there are angry takes on how John Tortorella, Daniel Brière, and the rest of the cast and crew responsible for this rebuild are going about their way.
Some have given the idea that Foerster should be sent back down to the Phantoms to get his confidence back, but he's played well enough to warrant a longer look and if he continues to create chances at the same rate he has started the season with, the floodgates are going to open for the rookie.
Case in point, yesterday's game against the Golden Knights. Tyson Foerster will have a chance to get back on the scoresheet tonight when the Flyers take on the Columbus Blue Jackets.
2024 Stadium Series Trip
Flyers Nation and Philly Sports Trips have teamed up to bring you on an amazing bus trip to the 2024 NHL Stadium Series between the Flyers and Devils. Place an early deposit to reserve your spot at the ultimate tailgate experience at MetLife Stadium before the game. The package includes a game ticket, round-trip charter bus, an all-inclusive tailgate party with unlimited cold beverages, "Philly Style" catered food, live entertainment, and more.