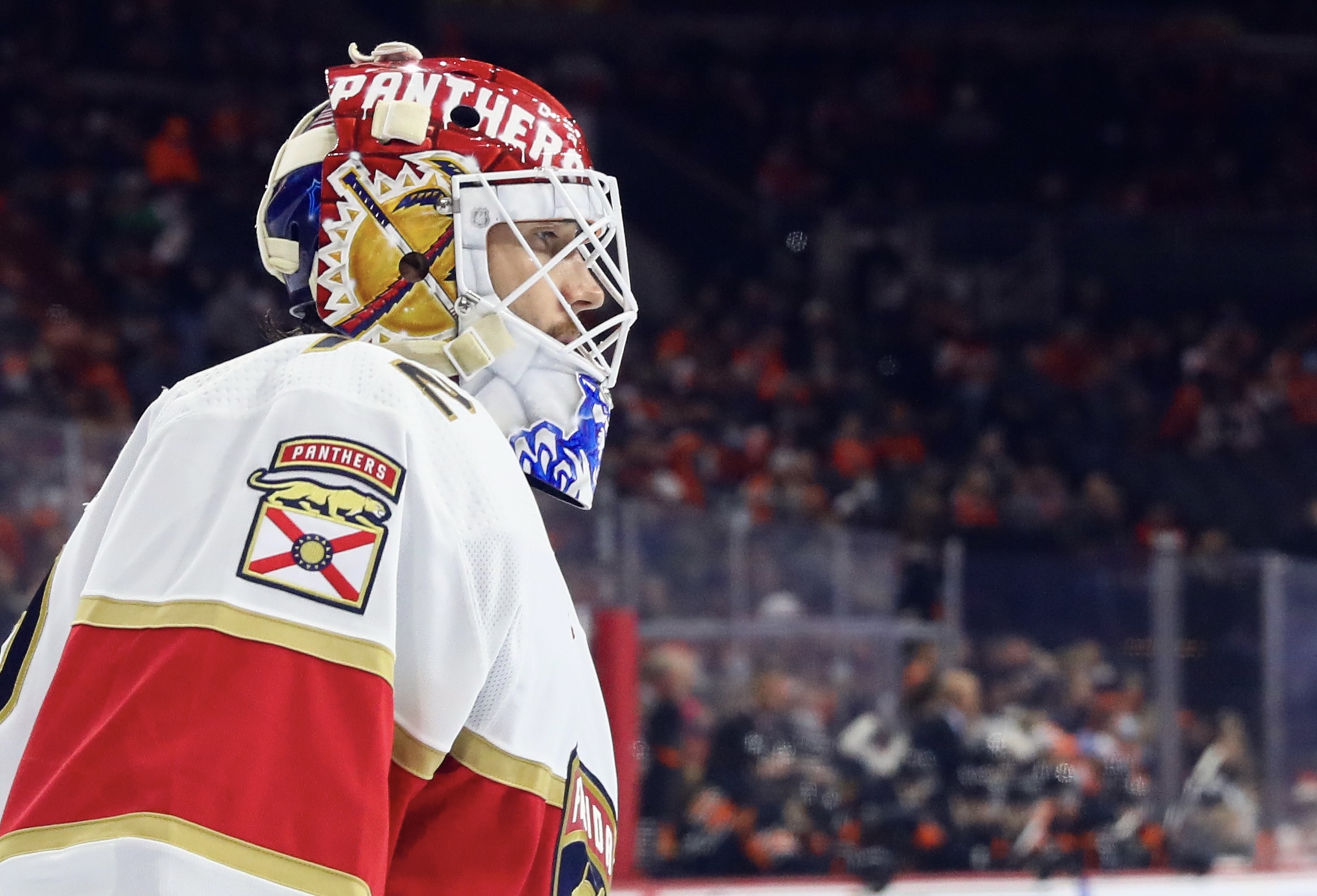 On the 22nd of June, 2012, the Philadelphia Flyers traded disgruntled goaltender Sergei Bobrovsky to the Columbus Blue Jackets for a 2012 2nd round pick (Anthony Stolarz), 2012 4th round pick (Taylor Leier), and a 2013 4th round pick (used to re-acquire Simon Gagne).
The 23-year-old Russian goaltender had spent the previous 2 seasons with the Flyers before the trade but things reached a boiling point after they signed Ilya Bryzgalov to a lucrative 9-year deal in the summer of 2011.
Bobrovsky was first eligible to be drafted in the 2006 NHL Entry Draft and apparently at the time, the Flyers considered drafting him then, but opted not to because of the difficulty of signing Russian players at the time.
Fast forward 4 years later, and Paul Holmgren signed the goaltender to a 3-year, entry-level contract in May of 2010. The Flyers had just been defeated by the Chicago Blackhawks in the Stanley Cup Final – largely due to Michael Leighton's heroics fading – and decided to beef up their goaltending with the KHL goaltender.
Bobrovsky was initially slated to start the season with AHL's Adirondack Phantoms, but was named the starting goaltender of the Flyers for the season opener after not only impressing the coaching staff during training camp, but also because Leighton had suffered an injury.
He helped the Flyers defeat the Pittsburgh Penguins in the first ever game at then-CONSOL Energy Center and became the youngest goaltender in franchise history to win a season-opener at 22 years and 17 days of age.
Bobrovsky finished the season going 28-13-8 with a .915 SV% and a 2.59 GAA. Unfortunately, he flamed out in his first postseason, going 0-2 in 6 games (only 3 starts) with a 3.23 GAA and an .877 SV%. He lost out on his job to Brian Boucher in the playoffs and it got so bad that they even gave Michael Leighton a shot in their eventual 7-game series victory against the Buffalo Sabres. They were then swept by the Boston Bruins in the second round, a year after the Flyers came back from down 0-3 in both the series and Game 7 to upset the Bruins.
The Flyers weren't going to stand by and see another postseason washed away by shoddy goaltending, and they decided to put all their eggs in one basket and signed Ilya Bryzgalov to a contract they would almost immediately regret. Some believed that signing the fellow Russian would bode well for the young Bobrovsky, however it only ruffled his feathers, and he essentially gave his general manager an ultimatum.
In 2011-12, Bobrovsky played in 29 games, started in 25, and sported a 14-10-2 record with an .899 SV% and a 3.02 GAA – a stark difference from his rookie season. Bryzgalov appeared in 59 games that season, started in 57 of them, sported a 33-16-7 record with a .909 SV% and a 2.48 GAA with 6 shutouts. The 2012 playoffs spelled the same fate as the previous 2 as Bryzgalov's antics in goal cost them what many deemed an easy route to the Stanley Cup after a massive first round victory against the Pittsburgh Penguins.
The Flyers then traded Bobrovsky in the summer to Columbus, had no choice but to move forward with Bryzgalov and his lofty contract, and hoped that the postseason was just a blip in his game and that he'd come back strong in 2012-13. Bryzgalov and the Flyers flamed out in the lockout shortened season and missed the postseason for the first time since 2006-07.
Bryzgalov sported a 19-17-3 record with a .900 SV% and a 2.79 GAA. The writing was on the wall that he would be bought out at the end of the season and it only got more pronounced after they acquired Steve Mason at the trade deadline. Mason played brilliantly to end the season and was on his way to reshaping his career after things fell out with the Blue Jackets after winning the Calder Trophy as the league's best rookie in 2009.
A year after the Flyers bought out Bryzgalov in 2013 and were enjoying the successes of Steve Mason's renaissance, late owner Ed Snider chimed in on the Bobrovsky trade in 2014 in an interview with NJ.com:
"Then, the problem is, not only did we make a mistake on the long-term contract (Bryzgalov received), but Bobrovsky's a young guy and he told Paul, 'As soon as my contract's up I'm out of here,'" Snider said Saturday. "He wasn't going to re-sign with us. He was going to go back to Russia (or) he was going to go with another team, but he wasn't going to be a second-string goalie for the rest of his life. So that was also a problem, and Paul made the best of the situation.
"It's not that we did not like Bobrovsky," Snider said. "The whole thing was a fiasco. We can't look back. What happened, happened, and here we are.
"Paul made what I think was a great move in picking up Mason, who's not chopped liver."
Bobrovsky immediately succeeded with the Columbus Blue Jackets, winning his first Vezina Trophy in 2012-13 by sporting a 21-11-6 record, a .932 SV%, and a 2.00 GAA. He was the runaway Vezina Trophy winner with 73.33% of the vote, earned 17 of 30 1st place votes, and edged out his competitors in Henrik Lundqvist and Antti Niemi that season.
He followed that up with 5 more seasons of 30+ wins, including a 41-win season in 2016-17 and the back to back 37-win seasons in 2017-18 and 2018-19 on his way out of Columbus. During his 7-year stint with the Blue Jackets, Bobrovsky was 213-130-27 with a 2.41 GAA and a .921 SV% with 33 shutouts. He earned his 2nd Vezina Trophy in 2016-17 after posting a 41-17-5 record with a league leading 2.06 GAA, .931 SV%, and 33.5 GSAA (goals saved above average). He earned 92% of the votes that season, 25 of the 30 first place votes, and was even a Hart Trophy finalist, falling behind to Sidney Crosby and the eventual winner in Connor McDavid.
He left Columbus in the most anticipated move of the decade and signed with the Florida Panthers on an ironically lucrative deal similar to his fellow Russian counterpart in Bryzgalov –  a 7-year deal worth $70 million with a full no-movement claude and a modified no-trade clause in his final 2 years.
Things did not go as expected in Florida as while he has posted a 105-54-14 record, he has peripherals of a 2.97 GAA and a .905 SV% with only 5 shutouts in 4 seasons. He posted 33 shutouts with the Blue Jackets and reached 5+ shutouts in 4 of 7 seasons alone.
His $10 million AAV has hampered the Panthers and their young budding protégé in goal, Spencer Knight, entered the NHL and NHLPA Player Assistance Program earlier in the year. Former Flyer Alex Lyon stole the show for Florida while Bobrovsky was injured but even when he returned, they went with the hot hand in Lyon before he eventually flamed out in Game of 3 of the opening round.
The playoffs is where things always got dicey for the 2-time Vezina Trophy winner. In his first 3 postseason trips with the Blue Jackets, the team flamed out in the first round and he posted save percentages of .908, .882, and .900 with GAAs of 3.18, 3.88, and 3.18, respectively. In 2018-19, the Blue Jackets swept the Presidents' Trophy winning Tampa Bay Lightning and he finished that postseason with a .925 SV% and a 2.41 G.A.A – far and wide the best postseason of his career to date. It's been the same story for the Panthers, where he flamed out in his first 2 trips before finally winning a series last year, but then got swept by the Lightning.
Maybe he's trying to work back the clock this year because he has the Panthers up 3-0 on the Toronto Maple Leafs in the second round of the playoffs. He came in relief of Alex Lyon in Game 3 in the prior round against Boston and then suffered a defeat in Game 4, allowing 5 goals on 30 shots. Since then, he's won 6 straight games, knocked out the Presidents' Trophy winning Bruins after they held a 3-1 series lead, and now have placed the Leafs on the ropes after 2 road victories and a crucial Game 3 victory. He has a .921 SV% in his last 6 and has been a major factor into why the Panthers have advanced as far as they have.
It's been almost 11 years since the Flyers traded Bobrovsky, there's no need to harp on the past, and it was their impatient approach that cost them a very young and talented goaltender. He struggled in the postseason in his rookie season and that was all that was needed for Snider and the Flyers to jump ship and fix the problem. Bryzgalov only made the situation worse, but at least Steve Mason's tenure soothed the burning wound.
Anthony Stolarz was drafted with the 2nd-round pick they received in 2012, and he spent parts of 5 seasons with the Lehigh Valley Phantoms, but played in only 19 games for the Flyers in parts of 2 seasons. He was moved to Edmonton in 2018-19 and is currently with the Anaheim Ducks as John Gibson's backup.
Taylor Leier was drafted using the 4th-round pick in 2012, spent parts of 4 seasons with the Lehigh Valley Phantoms – scoring 56 goals and 136 points – and spent parts of 3 seasons with the Flyers – scoring 2 goals and 7 points in 55 games. He moved to Buffalo, spent a few years with their AHL affiliate in Rochester, but since moved to Europe and just recently signed with Linköping HC of the SHL in Sweden.
With the Maple Leafs down 3-0 in large part due to Bobrovsky's heroics, here's to likely another series victory as the Panthers look to advance to the Conference Finals for the second time in franchise history, and the first time since 1995-96 when they eventually lost in the Stanley Cup Final to the Colorado Avalanche.