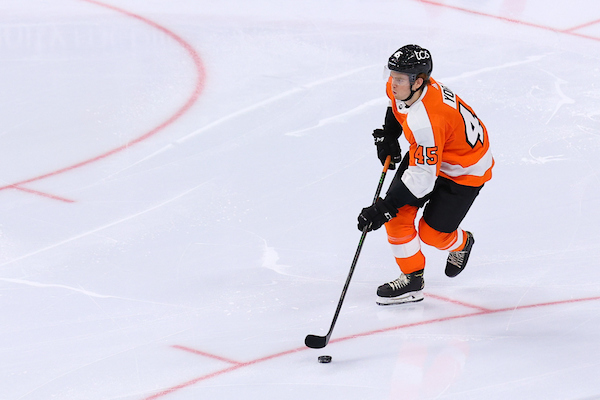 Time to Focus on the Future
To say that the last year and a half of Philadelphia Flyers hockey has been lacklustre is probably an understatement. I, like so many others, have been a fan of this team for a very long time. We have seen the ebbs and flows of this franchise but nothing has matched the last decade of mediocrity and nothing has resembled the last year and a half specifically. 
Coming from Canada, it was a very rare occasion for the Flyers to be on TV, especially before the introduction of NHL Centre Ice in 2006. If they weren't playing against the Toronto Maple Leafs or if they didn't advance further in the playoffs than the Maple Leafs, then tough cookies if you wanted to watch them play. However, I was never disappointed in their play outside of the outlier season of 2006-07. As bad as that season was, considering the fact they finished in dead last and lost the draft lottery, that season pales in comparison to this one. 
Even when they weren't playing well in years past there was always something to cling onto, whether it was a silver lining or blind optimism. After their last place finish in 2006-07, the Flyers had two burgeoning young stars in Mike Richards and Jeff Carter to look forward to. The beginning of the 2010s, when they started flip flopping between making and missing the playoffs, we had Claude Giroux emerging as the star. Even during the tumultuous Hextall-Hakstol era, the prospects and draft picks were always something to keep us occupied. 
What about 2021-22 and beyond? In terms of personnel, this team should be one of the most loaded, balanced, and deep rosters the Flyers have fielded in some time. Injuries are part of the game and now so is Covid protocol, as every team around the league has had to find a way to maneuver around them. Sean Couturier, who remains week-to-week, is a big loss but before his injury he scored 1 goal and 4 points in his last 15, Kevin Hayes still looks to be dealing with some kind of injury, and Ryan Ellis, as good as he is, shouldn't have had such a large impact on his new team. He was part of the roster for 3 regular season games before his first injury, yet somehow that was enough to have a "Peter Forsberg effect" on the team. 
Whether or not you were a fan of the moves that Chuck Fletcher executed, it's tough to find a Flyers team that compared to this one in terms of roster personnel. Claude Giroux, Sean Couturier, Travis Konecny, Kevin Hayes, Joel Farabee, Cam Atkinson, James van Riemsdyk, Oskar Lindblom, Scott Laughton; the list goes on and that's just on the offensive side of the puck. 
The abhorrent defensive unit that the Flyers patrolled the year prior was gone and in came Ryan Ellis, Rasmus Ristolainen, and Keith Yandle to join Ivan Provorov, Travis Sanheim, and Justin Braun. Everything looked fine and dandy but keeping the same coach that seemingly destroyed the locker room, even with a revamped roster, was probably not the wisest decision on Fletcher's part. 
The 10 game winless streak, of which Alain Vigneault was a part of 9 games, was the final nail in his coffin and it was very apparent the players had had enough and were tuning him out. I find it hard to believe that Vigneault wasn't trying his best to get out of that slump but when a coach has that many side quarrels with players (Jakub Voracek, Shayne Gostisbehere, Nolan Patrick) and then represses the play of many others (Travis Konecny, Oskar Lindblom, Phil Myers, Nicolas Aube-Kubel); there's only one thing you can do. 
There was definitely some optimism once Mike Yeo was named interim head coach because it represented a fresh start in the middle of a season. The 5-0-2 run under Yeo was a huge stepping stone, mostly because they had just come off an 0-8-2 winless span. 
However their game play didn't change all that much outside of the fact that Travis Konecny, Oskar Lindblom, Travis Sanheim, and Joel Farabee looked to have ripped through their shackles. In other words, 13 games later, they have only had one standout performance and that was against the New Jersey Devils, where they walloped them 6-1. Since then they have been dominated, out-played, and out-classed in every category imaginable. 
With another lacklustre week of Philadelphia Flyers hockey in the books, each game got progressively duller by week's end. After going winless in 10 and then picking up points in 7 straight, the Flyers have now lost 5 straight games again with the potential of owning two 10 game winless streaks in one season with the next 5 games not getting any easier; They have the Boston Bruins, New York Rangers, a home and home against the New York Islanders, and the Columbus Blue Jackets.
In years past it was always easy to find a scapegoat and constantly throw blame in that one direction, while looking elsewhere for optimism. Whether it was Paul Holmgren, Ron Hextall, Dave Hakstol, or Alain Vigneault, there was always an easy target to pick on with the idea that if that individual were to leave, the Flyers would immediately get better. 
As each domino fell, the end result remained the same. There was never a move that made the team better, they've been stuck in hockey purgatory and with the last season and a half as any indication; they're going to be stuck for several more years. 
You can chalk up some of the inconsistencies to Covid protocols because last week they were without Claude Giroux and Ivan Provorov since Tuesday, and then Travis Konecny and Travis Sanheim joined them on Thursday. 4 key players out of the lineup doesn't help and then when you add in Sean Couturier and Ryan Ellis, it just makes things worse. However, the Flyers aren't the only team who have had to deal with these protocols and the players currently on their roster haven't done themselves any justice with the opportunities they've been handed. 
The Flyers called up Cam York and Yegor Zamula, mostly out of necessity due to the Covid protocols. They played very well, especially York, who is getting a ton of minutes and playing in specialty team situations. Benching Zamula for Nick Seeler was a questionable call, considering the fact that Yeo played Zamula nearly 20 minutes against the vaunted Pittsburgh Penguins, with several veterans still playing that night. To bring in Seeler because he's a better penalty killer seemed like an interesting reason, considering that Seeler hasn't been all that great in those situations to begin with. 
The Keith Yandle iron man streak has come to a head but because of all the missing pieces on the backend and due to his potential power play capabilities, he'll remain in the lineup for the foreseeable future. He started the season with 5 points in 3 games and a plus 2, while his last 32 games he has gone -23 with 6 points, including an 18 game pointless streak. If that wasn't reason enough to foresee a not-so-distant benching, look no further than his 12 minutes of ice time on Saturday night against the San Jose Sharks. 
47 games remain and "reinforcements" are on their way and could be back as soon as Thursday. Even though there's always a chance that the Flyers could figure out their woes and try to make a playoff run, the odds are very unlikely considering how they've played all season. If you could chalk up their losses to tough luck or dominant play that resulted in no finish, then there would be some sort of optimism for a comeback. The matter at hand is that they've rarely been dominant since October, with the last one being against the Devils eight games ago, and before that you would have to go back to the end of October against the Edmonton Oilers. 
With several expiring contracts, the trade deadline is going to be a time for Chuck Fletcher and company to let this season go and look to rebuild in any way possible. Claude Giroux, Rasmus Ristolainen, Justin Braun, Keith Yandle, Martin Jones, and Derick Brassard should have varying levels of trade value that can net them future assets. If Erik Gustafsson can net the Flyers a 7th round pick, I'm sure Keith Yandle can do the same, maybe a little more.
The off-season is where things are going to get tricky and a lot more interesting but it all depends on how they play out the trade deadline. Chuck Fletcher's seat isn't as hot as it should be and I think that's a sign that the Flyers brass are going to give him at least one more crack at the whip. Not sure if that means a retool or a rebuild is coming, but if I were a betting man and knowing Dave Scott's lack of patience, I don't think a rebuild is in his nature. 
For a rebuild to come to pass the Flyers need a new GM with no prior commitments or attachments to this team or. A full wall to wall tear down is required because a retool can only do so much. There is something very much wrong with this team, whether its physical or mental, something needs to be done. A rebuild is going to be lengthy when you factor in some of the long term contracts they currently have but it's the only way to rectify the mistakes of the past and make this team excitable again.
Kevin Connauton, Nick Seeler, and even Keith Yandle aren't going to help this team now or in the future. Cam York has done an exceptional job since being recalled and Yegor Zamula deserves another chance. The former three names I mentioned don't bring an element that the latter two names don't possess. If you're going to play Zamula nearly 20 minutes, the second most only to York's 22, against the Penguins who were trying to win their 10th straight, why even consider benching them when the other defensemen return from Covid protocols against "lesser" opponents?
The future of this organization needs to be at the forefront now, do what you have to do at the deadline and recoup as many future assets as possible. Play the young kids that have a future with this organization and stop wasting time and games on players who won't be here either at the deadline or beyond. 10+ years have resulted in nothing, let's not make the same mistake for the upcoming 5-10 years.