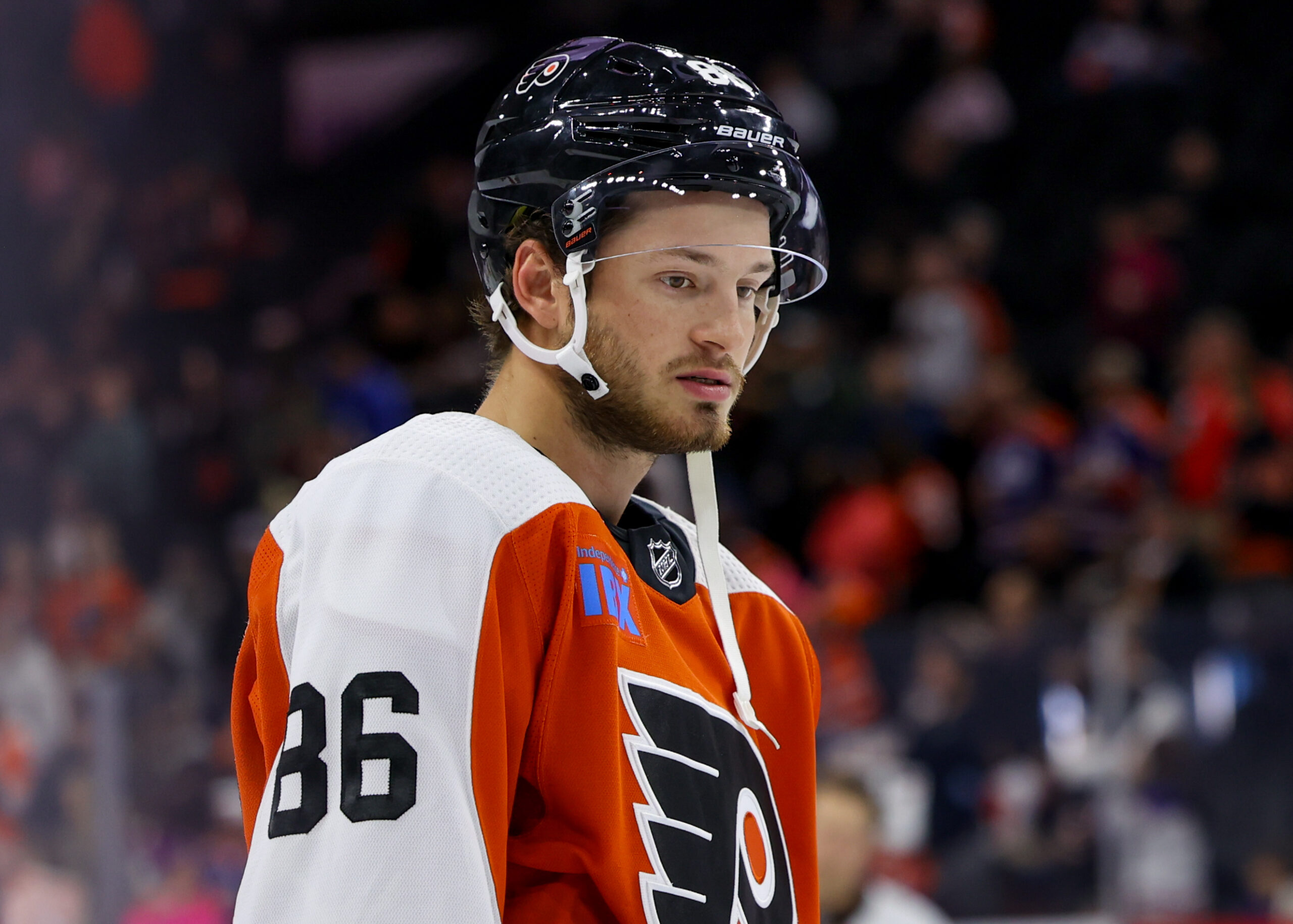 Last season was one to forget for Philadelphia Flyers forward Joel Farabee, in fact you could make that argument for several players. Nevertheless, the former first round pick from the 2018 NHL Entry Draft went through a lengthy goal-drought, was benched, and the media put out a story that claimed he wanted out. Not to mention that he came back far too soon from a neck injury he suffered in the offseason.
Joel Farabee scored 15 goals and 39 points in 82 games, which technically was a career-high as he had scored 34 points in 63 games in 2022-22 and 38 points in 55 games in 2021-22. When you dig deeper into his 2022-23 season you'll notice a great run at the beginning of the season where he tallied 14 points in 18 games but then you'll also notice the 26-game goalless drought where he only accrued 4 assists in that stretch.
These issues stemmed from the fact that he came back almost a month too soon from his offseason rehab. In June of 2022, Farabee underwent disc replacement surgery in his cervical region that had him pegged to returning to the lineup sometime in November. However, he came back during training camp and was ready for the season opener. On the surface, it was great news as a big part of the Flyers' future core would be not have to miss over a month of hockey. Unfortunately, he was not the same player and it showed from the get-go.
The 26-game stretch that lasted from January to March was obviously the most challenging stretch for his season. Not only could he not find the back of the net, he could barely get his name on the scoresheet, he was benched for half a game, sometimes had his ice time heavily reduced, and the frustration was growing with every game and every loss. It was reported from his camp that he was unhappy with the route the Flyers were on and being benched by John Tortorella was a mistake.
When it works, the tough love approach looks like a genius move but when it doesn't work, it turns ugly, bitter, and sour. We saw the bad side of that coin with Kevin Hayes and Tony DeAngelo but by the end of the season, Joel Farabee had come out on top and was finally looking like the player that had scored 20 goals in his sophomore season.
He finally got on the board against Buffalo on the 17th of March, added another goal the following day, and rode high with a 4-game goal streak and 5-game point streak. He scored 6 goals and 12 points in the final 15 games compared to his previous 41 games where he scored 4 goals and 12 points.
Even after all the highs and lows, coming too soon from his injury, and playing for a demanding new head coach, Farabee managed to suit up for all 82 games, while averaging 17:01 TOI. With how his season ended, there was hope that would be able to turn back the clock to start 2023-24 – and so far, so good.
Farabee has 5 goals and 9 points in the Flyers first 12 games of the season, while only averaging 15:14 TOI. An important part of his success this season has been his strong even-strength play as all 9 points have come on 5-on-5 play. The power play has struggled and even with Sean Couturier and Cam Atkinson back, the rotten power play continues to spoil.
Joel Farabee breakout year? 🔥🔥#Flyers (@ARHockeyStats) pic.twitter.com/uVECIfjO2S

— Flyers Nation (@FlyersNation) November 6, 2023
An even more interesting statistic is that 4 of Farabee's goals have been the team's first goal and 3 of them have been the game's first goal – something the Flyers have struggled for years to produce.
All of a sudden their first period woes have disappeared and Farabee has been a catalyst for their newfound success. His chemistry with Bobby Brink is evident and he has continued to find ways to succeed with Noah Cates – a centre with whom he played a majority of his time with last season.
It's almost crazy to think that Farabee hasn't scored a power play goal since October of 2021. Arguably one of their more skilled and potent skaters only has 5 power plays goals in his career and to take it a step further, he only has 9 power play assists. That coming from a player with 65 goals and 141 points.
The Flyers power play has been atrocious and it looks like they could be heading for a third straight year at the very bottom of the league. When Farabee only has 1 power play goal in 2 calendar years, there's something fundamentally wrong. Even with players like Morgan Frost, most of their points come during even-strength play. All the NHL leaders in points get a healthy chunk from the power play but apparently that's not the case in Philadelphia.
You want to see his numbers skyrocket, and you want to see him finally break out and have that big season with 60-70+ points. That will only happen if the abysmal power play can figure out their issues – I for one can point out several from their entries, to their inability to set up, to not having one time options, and not being able to win face-offs.
Farabee looks more confident, comfortable, and relaxed compared to his 2022-23 form. He is aggressive, always trying to make the right offensive play, finds himself on odd man rushes more often than not, and is providing important primary scoring. He is a big building block for whatever the Flyers are building, and the soon-to-be-24-year-old who Claude Giroux believed would break all his franchise records is only getting started.
The Flyers finally have an adequate offense around Joel Farabee, he is surrounded by veterans and leaders, and will be leaned upon for primary scoring for years to come. Sometimes it takes time to adjust to Tortorella's system but it seemed like he's turned over a new leaf and becoming a Tortorella player – something that some players just can't seem to do.
2023-24 is already off to a rising success and the more he continues to play with Brink and Cates, the better that trio will be. The Flyers constantly juggled their lines last season and it played a part in a lot of downfalls when lack of chemistry was completely off the kilter.
If the power play ever figures it out, Joel Farabee will inch closer to the 30-goal and 70-point plateau that we're all waiting for – maybe this is the year.
2024 Stadium Series Trip
Flyers Nation and Philly Sports Trips have teamed up to bring you on an amazing bus trip to the 2024 NHL Stadium Series between the Flyers and Devils. Place an early deposit to reserve your spot at the ultimate tailgate experience at MetLife Stadium before the game. The package includes a game ticket, round-trip charter bus, an all-inclusive tailgate party with unlimited cold beverages, "Philly Style" catered food, live entertainment, and more.