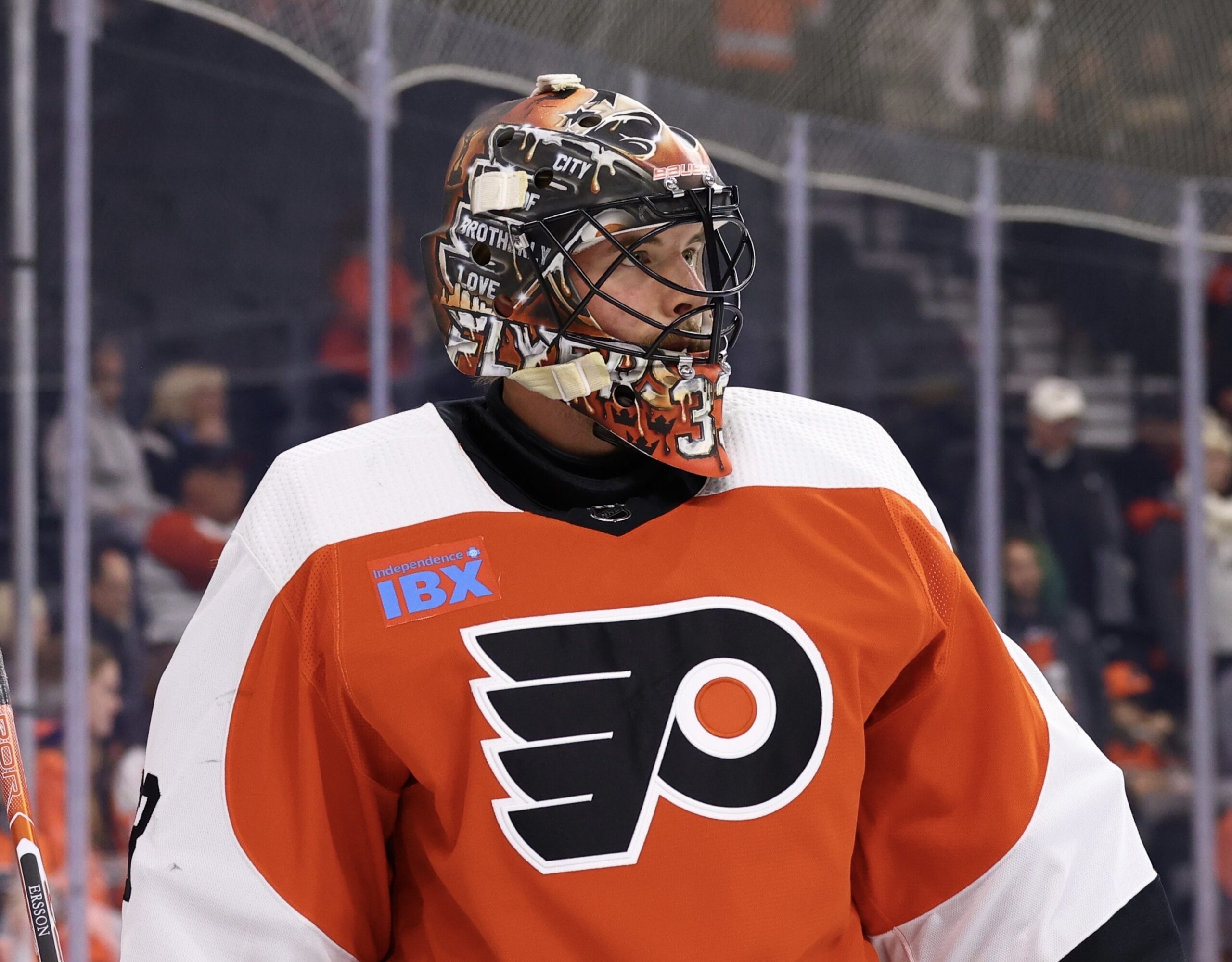 Philadelphia Flyers goaltender Carter Hart exited last night's game against the Buffalo Sabres with the club is deeming a mid-body injury.
Carter Hart was slow getting back up after making a pad save in tight but he's staying in the game#LetsGoFlyers pic.twitter.com/42laaBcquT

— Hockey Daily 365 l NHL Highlights & News (@HockeyDaily365) November 1, 2023
In the early goings of the first period, Hart stopped the initial point shot but as he contorted himself to make way for the rebound opportunity, he awkwardly jerked forward, was shook up, remained on the ice for a little bit before shrugging it off and continuing on.
We've seen this same song and dance before from the young netminder who played through an injury and thought better of coming out, but was then was forced to miss more time due to his decisions – that he later openly acknowledged. He tried playing through the pain last night as well and the Sabres scored twice – only one counted – before he was forced out of the game.
Samuel Ersson came in relief of Hart, who had allowed 2 goals on 5 shots. The Flyers kept the Sabres' offense at bay for most of the game but their opportunistic ways clinched the victory – alongside Ukko-Pekka Luukkonen's 38-save performance. Ersson ended up allowing 2 goals on 9 shots, the Sabres scored 3 goals on 4 shots in the third period, and the Flyers are now faced with a goaltending conundrum.
Felix Sandström was sent down to the Lehigh Valley Phantoms on a conditioning stint 2 days ago, Cal Petersen is 1-3-0 with an .884 SV% and a 3.76 GAA in 4 games in the minors, and Ersson has allowed 14 goals and 59 shots to start the 2023-24 season. So if Hart were to miss an extended amount of time, where do they turn?
The answer is rather simple because they don't necessarily have anywhere else to turn to but towards their two young Swedes. Even before the opening night roster was announced, John Tortorella had made it known that Ersson won the backup job against Sandström and would be on the bench with Carter Hart stapled in as the number one. However with Rasmus Ristolainen starting on IR, the Flyers making way for youngsters in Egor Zamula, Emil Andrae, Tyson Foerster, and Bobby Brink, there was room to keep Sandström around as well.
He made way as the backup goaltender once with Tortorella resting Hart against Dallas, but Ersson's play to start the season has been unsatisfactory to put it lightly. The youngster electrified the fan base in his first stint with the club last year in relief of the injured Hart – concussion. After his rocky debut where he allowed 5 goals to Carolina, Ersson wound up winning his next 5 starts, allowing just 11 goals before being sent back down to the minors with Sandström's conditioning stint coming to an end.
He made his way back up 2 more times, a 3-game stint at the end of February and a 2-game stint at the beginning of April. In those 5 games, he went 1-3-0 with a .874 SV% and a GAA close to 4.00. Compare those numbers to his first stint where he went 5-0-0 with a .935 SV% and allowed 10 goals in 6 games after his debut. His later stints were brushed under the rug because of how he performed at the beginning and because the Flyers were pitiful near the end of the season.
Coming into training camp, it was Ersson's job to lose and he made quick work of Petersen – who got the boot rather quickly – and his close friend in Sandström to ultimately start the year as the backup. His first start came against Dallas but it was a start to forget. The Stars victimized his apparent weakness of off-the-rush shots to either of his glove or blocker side.
The first goal belonged to Wyatt Johnston, who fired a shot high-blocker-side from the faceoff dot to get the Stars on the board early. The second goal was a bit flukey but Ryan Suter purposely threw a point shot towards Tyler Seguin who deflected it past Ersson for a 2-0 lead.
The Flyers would tie the game but Roope Hintz would help Dallas retake the lead just 30 seconds into the second period as his shot from the face-off dot beat Ersson low blocker for a 3-2 lead. Jamie Benn gave Dallas another 2-goal lead after beating Ersson on the rush, blocker-side again. Same shot, same spot, 3 times in 4 goals.
In overtime it was a broken play that led to Joe Pavelski being all alone in tight, a save that not many goaltenders would've made but once again he was beaten blocker side after falling for his fake-shot.
We could chalk that one up to one bad game to start the season after sitting on the bench for the first 4. However, his performance against Anaheim was even worse after the Ducks scored 7 on that fateful Saturday afternoon.
A broken play led to Ryan Strome being left all alone with a wide open cage to shoot at to make it 1-0 just 57 seconds into the game. Then Frank Vatrano doubled the lead near the end of the first period when he walked in the slot and ripped one high blocker side to make it 2-0. Vatrano scored his 2nd of the game on a controversial call where it didn't seem like there was actual proof to overturn the on-ice decision. However he was beaten to the post on a bang-bang play.
Adam Henrique would make it 4-0 after the Flyers turned it over. The initial shot was blocked but Henrique picked up the rebound and slotted it into the open cage with Ersson handedly beaten. Another turnover in the defensive zone led to Trevor Zegras walking into the slot and scoring a similar goal to Vatrano's first where he ripped one blocker-side.
Brett Leason made it 6-2 on a broken play that Ersson couldn't see and then Vatrano completed the hat-trick as he beat the goaltender blocker-side on a breakaway.
Wednesday night wasn't any different either as Owen Power's eventual game-winning goal came off the rush, but this time Ersson was beaten glove-side. Tage Thompson would tack on a huge insurance marker after the Sabres jumped on a turnover from Noah Cates. His hard shot beat Ersson glove-side as he allowed 2 goals on just 9 shots.
A lot of the goals he's allowed have been either off the rush or in the slot, which can be pointed towards the defense for allowing odd-man rushes in the first place. However as a goaltender, you have to be able to make the key stops in games to keep your club in it, especially when the Flyers are being stymied by the opposition's netminders.
Sandström made his first start for the Phantoms as part of his conditioning stint on Wednesday and allowed 4 goals on 28 shots in a 4-3 overtime defeat to Hershey. It can last up to a maximum of 14 days but there are no rules or restrictions into how many games he can play.
His issues have been well documented as well as he owns a 3-16-4 record, a 3.62 GAA, and an .887 SV% in parts of 2 seasons in the NHL. It was a tale of two halves as he first received almost no goal support and was playing relatively well. However once he returned from his conditioning stint last season, the wheels completely fell off and he was unable to keep the club in most games he started.
It was a far cry from his 5 games in 2021-22 where he stopped 161 shots in just 5 games while sporting a .910 SV%. The backup position has been contentious for quite some time now as the Flyers have yet to be able to find Hart a suitable running mate. Brian Elliott had his moments but he was used far too often and was run into the ground, Martin Jones was not nearly consistent enough, and the 2 Swedes so far have shown flashes but nothing that would strike confidence if Hart were forced to miss time.
When Sandström was sent down for his conditioning stint it more or less spelled out that once he returned, Ersson would probably make way either as the third netminder or back to the AHL for the time being. He still needs time to marinate and develop and being waiver-exempt is always helpful for a team not trying to lose a young netminder to the waiver-wire.
However, now with uncertainty regarding Hart's status, can the Flyers continue their strong play with 2 young, inexperienced, and unproven commodities in goal? Can Ersson or Sandström take a stranglehold on the Flyers' backup position? And can either netminder finally produce a reputable season as Carter Hart's running-mate?
Cal Petersen earned the call-up but brings about a lot of uncertainty as well with his last 2 NHL campaigns, accumulating a grand total of a 3.07 GAA and an .890 SV% in 47 games while sporting a 25-17-4 record. Conversely his first 3 seasons he netted a 19-25-6 record in 54 games while posting a .916 SV% and a 2.79 GAA.
Confidence won't be high if and when any one of these three goaltenders patrols the crease. Last year a trove of people believed that Ersson should've been stapled as the starter and that it was time to let Hart go. For whatever reason, new goaltenders have a slight advantage when the opposition doesn't have the book on their game, and that was painfully obvious as Ersson had a great first stint but his next 2 were so-so.
It's obviously not the time to close the book on him, but the conversation needs to be brought up if people are so quick to jump on Hart or Sandström after a bad game or two. Remember Hart's rookie season when he came into the 8-goalie debacle and had a stretch run where he won 8 straight games with a .934 SV% and 10 wins in 11 starts? He posted a 2.83 GAA and a .917 SV% in 31 games while holding onto a 16-13-1 record. Then the wheels fell off in 2020-21 and 2021-22 with the abysmal team that was placed in front of him.
With this being a rebuilding year, there's a tiny bit more leeway, however it will be a great opportunity for one of the young goaltenders to take reins and prove to John Tortorella, Daniel Brière, and Keith Jones that they belong with the big club moving forward.
It could also be Petersen's chance at staking a claim as an NHL goaltender again with Sandström currently on a conditioning stint.
2024 Stadium Series Trip
Flyers Nation and Philly Sports Trips have teamed up to bring you on an amazing bus trip to the 2024 NHL Stadium Series between the Flyers and Devils. Place an early deposit to reserve your spot at the ultimate tailgate experience at MetLife Stadium before the game. The package includes a game ticket, round-trip charter bus, an all-inclusive tailgate party with unlimited cold beverages, "Philly Style" catered food, live entertainment, and more.