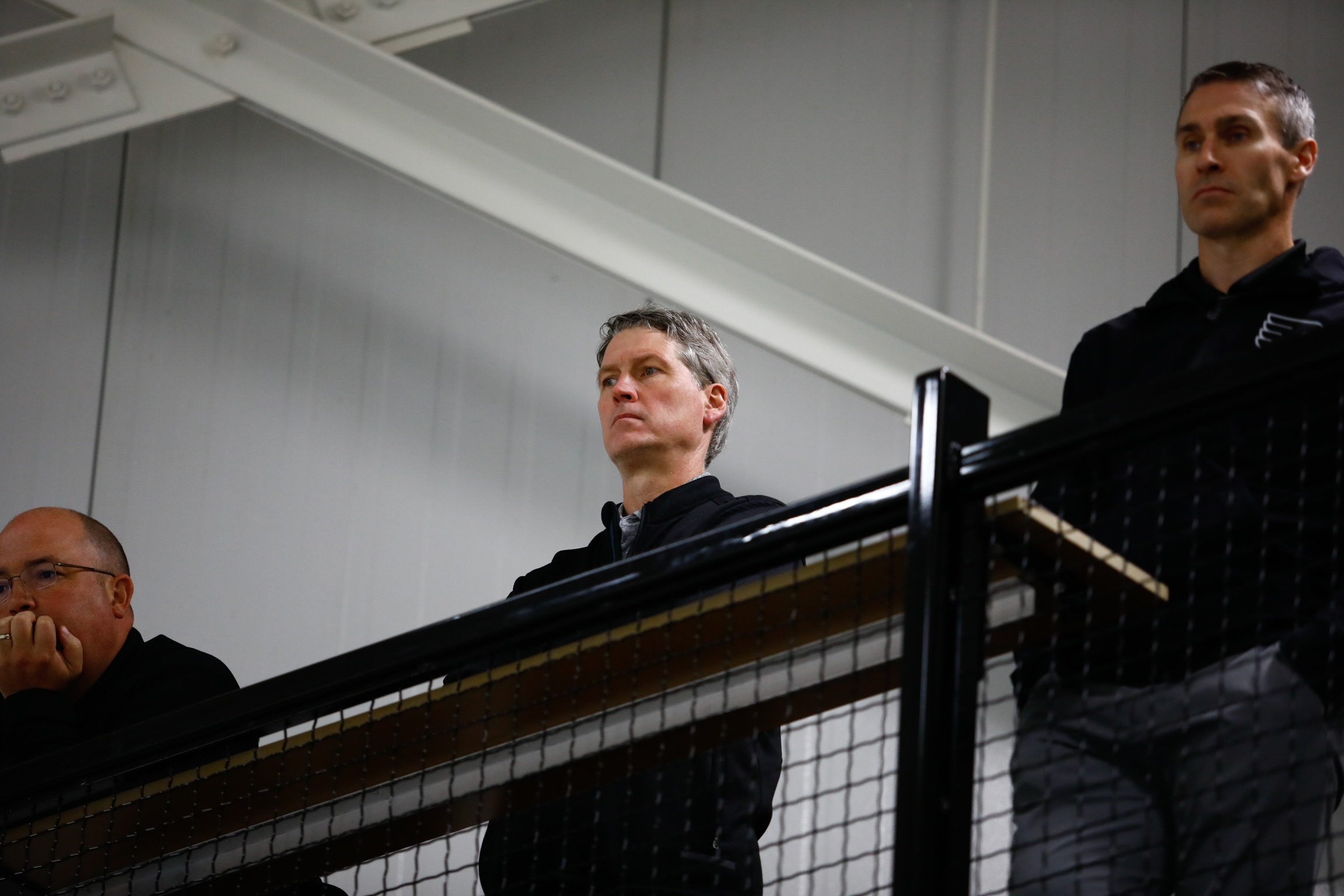 With the NHL Draft Set for July, are the Flyers in Safe Hands Under Fletcher and his Scouts?
Chuck Fletcher has been on the job since mid-season in 2018-19 and his three and a half years have been tumultuous, somewhat controversial, and typically "Flyers". His trades and free agent signings have been hit and misses, but one area he's done a relatively good job in is drafting. It's probably too early to tell since he's only been a part of three drafts, but when you compare it to Ron Hextall's first three drafts, it's pretty comparable. Where they differ is the amount of picks that were made because Hextall accumulated draft assets, whereas Fletcher has been either sitting still or making moves with his draft capital being the focal point of his deals. 
For this exercise, we examine the first three drafts and how they performed in the 1-3 seasons after being chosen by the Philadelphia Flyers. Ron Hextall was dubbed as the draft guru for several years as he was tasked to lead the Flyers through a rebuild. He traded the dead weight contracts, made draft capital the focal point of his tenure, and tried to replenish and stock pile the desolate pipeline that was the future of the Flyers. In a way he accomplished the last feat as he had 25 picks in his first three drafts compared to Fletcher's 18. Within his first three drafts, the generally patient Hextall only allowed two of the 25 players to play on the Flyers' roster in Ivan Provorov and Travis Konecny. The rest were tasked to develop their game, hone their skills, and try to compete for a spot somewhere down the line when the team was "ready" for the big leap.
Fletcher on the other hand has had three players play in the NHL but that was mostly this year with Cam York appearing in 30 of his 33 career games and both Bobby Brink and Ronnie Attard signing their ELCs and immediately being placed into the lineup after their collegiate seasons were done.
Of the 25 players that Hextall drafted, 16 players have eventually graduated and played in at least one NHL game wearing a Flyers uniform. Ivan Provorov, Travis Konecny, Travis Sanheim, Carter Hart, and Oskar Lindblom have been regular mainstays since at least 2016-17 and 2018-19. The 4 players have combined for 1,476 games, 248 goals, 426 assists, 774 points, while Hart has played in 146 games and has posted a 62-61-16 record. 2 players in Nicolas Aube-Kubel and Connor Bunnaman have featured in at least parts of 3 seasons with 156 games between the two but only 11 goals, 19 assists, and 30 points to show for. The rest of the 8 players have combined for 98 games and Felix Sandstrom has started 5 games.
Only 11 of the 25 remain in the Flyers organization with 7 never having played a part of any Flyers-related teams or affiliates, 1 in Ivan Fedotov who is finally ready to make the leap, 2 claimed off waivers in Aube-Kubel and Mark Friedman, 1 claimed in the expansion draft in Carsen Twarynski, and 2 traded to Florida as a part of the Claude Giroux trade in Bunnaman and German Rubtsov.
We gave Hextall the benefit of the doubt for years with his patience, his attempted rebuild, and all the prospects that were going to serve the Flyers well in the future. Yes, they have 5 players to really show for it, but at the moment it's not all rainbows and sunshine. Ivan Provorov has had back-to-back rough seasons anchoring the Flyers defense and had found himself on the trade block for a short while before the Ryan Ellis injury saga took a weird turn. Travis Sanheim took a few years to finally explode and become the top-four defenseman the Flyers anticipated him to be when they drafted him in the first round but he's going to need to have back-to-back showings for us to truly believe in his development. Travis Konecny has led the team in scoring twice but has found himself in a weird goal-scoring pinch since the COVID bubble as he has only lit the lamp 27 times in his last 145 games. Carter Hart has had an up and down start to his career and Oskar Lindblom looked to be on the right track before his cancer diagnosis.
Meanwhile, Chuck Fletcher has had three players play an NHL game and they all have impressed in their own way. Cam York looks to play a pivotal role on the back-end for years to come while also quarterbacking the power play. Bobby Brink was a Hobey Baker Award finalist for top collegiate player after he led the circuit in points, while Ronnie Attard has shown an aggressiveness and offensive prowess that the Flyers defense has been lacking.
There are a few hidden gems that Fletcher has unearthed over the years in Elliot Desnoyers and Connor McClennon, who have 137 points and 114 points in the last two seasons, respectively. Both players were late round picks as Desnoyers was taken in the 5th round of the 2020 draft and McClennon was taken one round later in the same draft. The Flyers' brass have been impressed and have high hopes that Tyson Foerster will be the shoot-first type player the Flyers have been lacking and that Zayde Wisdom could provide some pop in the top-nine.
With the NHL Draft set to take place on the 7th and 8th of July, the Flyers will be selecting 5th overall after finishing fourth-last in the regular season. The New Jersey Devils leapfrogged a few teams including the Flyers, which pushed them one pick down. However, the 2022 draft is supposed to be top-heavy with the good talent falling between picks 1-10, essentially giving the Flyers the opportunity to draft a difference maker for the future. Fletcher might not have the best resume in terms of trades and free agent signings but his drafting has been pretty good, all things considered. They don't have a second round pick, which will hamper their chances of having a truly successful draft but if they are able to draft any one of David Jiricek, Simon Nemec, or Joakim Kemell, it will be a good draft. Odds are that at least 2 of them will be available with Shane Wright, Logan Cooley, and Juraj Slafkovsky pegged to go with the first 3 picks.
We have all been disappointed with Fletcher and his last two years and sometimes it's tough to see the bright side of his tenure but his drafting provides something. We can all agree that York and Brink will serve as pivotal cogs in the future and the jury is out on several players like Attard, Desnoyers, and McClennon among others. It's a small sample size as they've only been with the organization for less than 3 years but compared to a lot of picks that were made by Hextall, they look to be upgrades for the time being. Hextall didn't draft many players who had accumulated 100+ points and above a point-per-game average after being drafted. Provorov, Konecny, Hart, and Sanheim are key players right now but 3 of those 4 names have appeared on the trade block at some time in the last few seasons with Fletcher even telling Konecny that he would've been traded had he not wanted to give him another chance. The prospects look good and that's all we can say in the moment but let's not forget how we touted Hextall and his prospects; Fletcher at least deserves some of that.
Ron Hextall
2014 NHL Draft
Player

Draft Position

Stats between 2014-15 and 2016-17

Where are they now?

Travis Sanheim

Round 1/Pick 17

Parts of 2 seasons with the Calgary Hitmen: 119 games played, 30 goals, 103 assists,133 points

Parts of 2 seasons with the Lehigh Valley Phantoms: 80 games played, 11 goals, 29 assists, 40 points

Parts of 5 seasons with the Flyers: 335 games played, 29 goals, 87 assists, 116 points

Nicolas Aube-Kubel

Round 2/Pick 48

2 seasons with the Val d'Or Foreurs: 122 games, 76 goals, 88 assists,164 points

Parts of 2 seasons with the Lehigh Valley Phantoms: 77 games played, 11 goals, 10 assists, 21 points

Parts of 4 seasons with the Flyers: 102 games, 10 goals, 18 assists, 28 points

Placed on waivers in 2021-22 and claimed by the Colorado Avalanche, playing in 67 games, scoring 11 goals and 11 assists, for 22 points

Mark Friedman 

Round 3/Pick 86

3 seasons with Bowling Green State University: 121 games played, 16 goals, 52 assists, 68 points

1 game with the Lehigh Valley Phantoms: 1 assist 

Parts of 3 seasons with the Flyers: 11 games, 0 goals, 1 assist

Placed on waivers in 2020-21 and claimed by the Pittsburgh Penguins, playing in 31 games across 2 seasons with 3 goals and 8 points

Oskar Lindblom

Round 5/Pick 138

3 seasons with Brynas IF Gavle: 137 games played, 38 goals, 49 assists, 87 points

Part of 1 season with the Lehigh Valley Phantoms: 8 games played, 2 goals, 5 assists, 7 points

Parts of 5 seasons with the Flyers: 263 games played, 50 goals, 47 assists, 97 points

Radel Fazleev

Round 6/Pick 168

2 seasons with the Calgary Hitmen: 130 games played, 37 goals, 85 assists, 121 points

1 season with the Lehigh Valley Phantoms: 65 games played, 6 goals, 10 assists, 16 points

1 game with the Reading Royals of the ECHL, 0 points 

Played parts of 2 seasons with the Phantoms afterwards, appearing in 78 games, scoring 4 goals and 21 points but both parties agreed to a mutual termination of his contract as he signed with Nizhnekamsk Neftekhimik of the KHL

Jesper Pettersson

Round 7/Pick 198

Parts of 2 seasons with the Lehigh Valley Phantoms: 75 games played, 3 goals, 7 assists, 10 points

Parts of 2 seasons with the Reading Royals: 101 games played, 8 goals, 35 assists, 43 points

After 3 seasons with the Flyers organizations, Pettersson, he returned to Sweden to play for Djurgardens IF in 2017
2015 NHL Draft
Player

Draft Position

Stats between 2015-16 and 2016-17

Where are they now?

Ivan Provorov

Round 1/Pick 7

1 season with the Brandon Wheat Kings: 62 games, 21 goals, 52 assists, 73 points 

1 season with the Philadelphia Flyers: 82 games played, 6 goals, 24 assists, 30 assists

6 seasons with the Flyers, playing in 450 games, 59 goals, 131 assists, and 190 points 

Travis Konecny

Round 1/Pick 24

Parts of 1 season with the Ottawa 67's: 29 games played, 7 goals, 38 assists, 45 points

Parts of 1 season with the Sarnia Sting: 31 games played, 23 goals, 33 assists, 56 points 

1 season with the Philadelphia Flyers: 70 games played, 11 goals, 17 assists, 28 points 

6 seasons with the Flyers, playing 428 games, 110 goals, 161 assists, 271 points 

Felix Sandstrom

Round 3/Pick 70

3 games with Brynas Jr: 3-0-0/2.65 GAA/.910 SV

2 seasons with Brynas IF Gavle: 24-21-0/2.40 GAA/.905 SV

Finally made his NHL debut in 2021-22: 0-4-1/3.23 GAA/.910 SV

Matej Tomek

Round 3/Pick 90

Only played 2 games with the University of North Dakota in 2016-17 allowing 4 goals on 13 shots in only 32 minutes

Played in the NCHC, USHL, and then a few leagues in Europe but never within the Flyers organization

Samuel Dove-McFalls

Round 4/Pick 98

Parts of 2 seasons with the Saint John Sea Dogs: 94 games played, 22 goals 43 assists, 65 points

Played a season with the Rimouski Oceanic before playing in parts of 3 seasons with the University of New Brunswick and 11 games with the Grand Rapids Griffins

Mikhail Vorobyev

Round 4/Pick 104

2 seasons with Ufa Salavat Yulayev: 72 games played, 5 goals, 9 assists, 14 points

Played in parts of 3 seasons with the Lehigh Valley Phantoms: 145 games played, 28 goals, 55 assists, 83 points

Played in parts of 2 seasons with the Flyers: 35 games played, 2 goals, 3 assists, 5 points before re-joining Ufa Salavat in the KHL  

David Kase

Round 5/Pick 128

Parts of 2 seasons with Chomutov Pirati of the Czech league: 62 games played, 4 goals, 6 assists, 10 points

Played in parts of 3 seasons with the Lehigh Valley Phantoms: 110 games played, 18 goals, 33 assists, 51 points 

Played in 7 NHL games in parts of 2 seasons with the Flyers, scoring once

He was loaned to Czech league in the summer of 2020 and then returned in the summer of 2021

Cooper Marody 

Round 6/Pick 158

Parts of 2 seasons with the University of Michigan: 50 games played, 15 goals, 24 assists, 39 points 

Flyers traded his rights to the Edmonton Oilers in March of 2018 in exchange for a third round pick in 2019.

Has appeared in 7 NHL games for the Oilers in parts of 2 seasons. 

Ivan Fedotov

Round 7/Pick 188

Was in the farm system of Ufa Salavat Yulaev of the KHL, so no stats to show within this period. 

From 2017-18 to 2021-22, Fedotov has played in parts of 5 seasons with 3 different KHL teams: 88n games played, 40-33-7, while posting a save percentage above 92% and a GAA in and around 2.10
2016 NHL Draft
Player

Draft Position

Stats in the 2016-17 season

Where are they now?

German Rubtsov

Round 1/Pick 22

15 games played with Podolsk Vityaz, going pointless

16 games with the Chicoutimi Sagueneens, scoring 9 goals and adding 13 assists for 22 points 

Played in part of 3 seasons with the Lehigh Valley Phantoms: 93 games played, 10 goals, 19 assists, 29 points 

Played in 4 NHL games in 2019-20 and was traded to the Florida Panthers as a part of the Claude Giroux trade 

Pascal Laberge

Round 2/Pick 36

Played in 46 gamester the Victoriaville Tigres of the QMJHL, scoring 12 goals and adding 20 assists for 32 points 

Was often injured as he only played in 54 games over the course of 4 seasons with the Lehigh Valley Phantoms, scoring 15 goals and adding 5 assists

Pittsburgh Penguins signed Laberge to a PTO in 2022, appeared in 1 AHL game but played in 40 games for the Maine Mariners, scoring 18 goals and 40 points 

Carter Hart 

Round 2/Pick 48

1 season with the Everett Silvertips of the WHL: 54 games played, 32-11-2/1.99 GAA/.927 SV/9 SO

Played in parts of 4 seasons with the Flyers: 146 games played, 62-61-16/2.97 GAA/.905 SV/3 SO

Wade Allison

Round 2/Pick 52

1 season with Western Michigan University: 36 games played, 12 goals, 17 assists, 29 points

Played 3 more seasons with Western Michigan: 70 games played, 33 goals, 35 assists, 68 points

Played in parts of 2 seasons with the Lehigh Valley Phantoms: 38 games played, 14 goals, 12 assists, 26 points 

Parts of 2 seasons with the Flyers: 15 games played, 4 goals, 3 assists, 7 points 

Carsen Twarynski

Round 3/Pick 82

1 season with the Calgary Hitmen: 36 games played, 10 goals, 11 assists, 21 points

Played in parts of 4 seasons with the Lehigh Valley Phantoms: 107 games played, 18 goals, 20 assists, 38 points

Played in parts of 2 seasons with the Flyers: 22 games with only 1 goal 

Claimed in the expansion draft by the Seattle Kraken 

Connor Bunnaman

Round 4/Pick 109

1 season with the Kitchener Rangers: 64 games played, 37 goals, 15 assists, 52 points

Played in parts of 4 seasons with the Lehigh Valley Phantoms: 147 games played, 32 goals, 22 assists, 54 points

Played in parts of 3 seasons: 54 games played, 1 goal and 1 assist 

Linus Hogberg

Round 5/Pick 139

Part of one season with Vaxjo Lakers Jr. of the Swedish Jr circuit: 11 gamers played, 1 goal, 8 assists, 9 points

Part of one season with Vaxjo Hc of the Swedish Hockey League: 35 games played, 0 goals, 4 assists

Spent 3 more seasons with Vaxjo of the Swedish Hockey League: 144 games played, 9 goals, 21 assists, 30 points

Parts of 2 seasons with the Lehigh Valley Phantoms: 84 games played, 2 goals, 14 assists, 16 points

Made his NHL debut at the end of the 2021-22 season: 5 games played, 0 goals, 2 assists

Tanner Laczynski

Round 6/Pick 169

1 season with Ohio State University: 34 games played, 10 goals, 22 assists, 32 points

Spent 3 more seasons with Ohio State: 104 games played, 38 goals, 73 assists, 111 points

Parts of 2 seasons with the Lehigh Valley Phantoms: 42 games played, 13 goals, 14 assists, 27 points 

Parts of 2 seasons with the Flyers: 6 games, 0 points 

Anthony Salinitri

Round 6/Pick 172

1 season with the Sarnia Sting: 66 games played, 28 goals, 30 assists, 58 points 

Spent parts of 2 more seasons with Sarnia: 92 games played, 41 goals, 45 assists, 86 points

Part of one season with Oshawa Generals: 43 games played, 34 goals, 26 assists, 60 points

Flyers opted not to sign Salinitri 

David Bernhardt

Round 7/Pick 199

Part of one season with Djurgardens Jr.: 21 games played, 9 goals, 12 assists, 21 points

Part of one season with Djurgardens IF of the Swedish Hockey League: 27 games played, 2 goals, 5 assists, 7 points

Spent parts of 2 more seasons with Djurgardens IF: 67 games played, 1 goal, 11 assists, 12 points

Parts of 2 seasons with Vaxjo HC: 29 games played, 3 goals, 4 assists, 7 points

Parts of 2 seasons with SaiPa Lappeenranta of the SM Liiga: 68 games played, 4 goals, 14 assists, 18 points

Part of one season with HIFK Helsinki: 10 games, pointless

Flyers opted not to sign him
Chuck Fletcher
2019 NHL Draft
Player

Draft Position

Stats between 2019-20 and 2021-22

Where are they now?

Cam York 

Round 1/Pick 14

2 seasons with University of Michigan: 54 games played, 9 goals, 27 assists, 36 points

Parts of 2 seasons with the Lehigh Valley Phantoms: 42 games played, 5 goals, 13 assists, 18 points

Parts of 2 seasons with the Flyers: 33 games played, 3 goals, 7 assists, 10 points

Recorded his first NHL goal, assist, points in 2021-22 while appearing in 30 games and having have split time with the Lehigh Valley Phantoms 

Was on the top pair with Provorov before season ending injury  

Bobby Brink

Round 2/Pick 34

Parts of 3 seasons with the University of Denver: 84 games played, 27 goals, 65 assists, 92 points

Played in 10 NHL games with the Flyers

Signed his ELC and made his NHL debut in 2021-22, appearing in 10 games and adding 4 assists 

Ronnie Attard

Round 3/Pick 72

Parts of 3 seasons with Western Michigan University: 94 games played, 27 goals, 45 assists, 72 points

Played in 15 NHL games with the Flyers

Signed his ELC and made his NHL debut in 2021-22, appearing in 15 games, scoring 2 goals and adding 2 assists 

Mason Millman

Round 4/Pick 103

1 season with the Saginaw Spirit: 58 games played, 13 goals, 31 assists, 44 points

2 seasons with the Lehigh Valley Phantoms: 25 games, 0 goals, 4 assists

Part of 1 season with the Reading Royals of the ECHL: 36 games played, 8 goals, 17 assists, 25 points

Currently in the minors, flipping between the AHL and ECHL

Egor Serdyuk

Round 6/Pick 165

Parts of 2 seasons with Victoriaville Tigres of the QMJHL: 76 games played, 24 goals, 35 assists, 59 points

Flyers opted not to sign him to an ELC 

Roddy Ross

Round 6/Pick 169

1 season with the Seattle Thunderbirds: 39 games played, 20-21-7/3.17 GAA/.908 SV

1 season with the Regina Pats: 16 games played, 6-8-2/3.75 GAA/.874

Flyers opted not to sign him to an ELC 

Bryce Brodzinski

Round 7/Pick 196

3 seasons with the University of Minnesota: 106 games played, 27 goals, 25 assists, 42 points

Looking to sign an ELC
2020 NHL Draft
Player

Draft Position

Stats between 2020-21 and 2021-22

Tyson Foerster

Round 1/Pick 23

Parts of 2 seasons with the Lehigh Valley Phantoms: 33 games played, 12 goals, 8 assists, 20 points

Part of one season with the Barrie Colts: 13 games played, 6 goals, 5 assists, 11 points 

Emil Andrae 

Round 2/Pick 54

Part of one season with HV71 Jonkoping of the Swedish Hockey League: 31 games played, 0 goals, 7 assists

Part of one season with Vasterviks IK: 15 games played, 3 goals, 3 assists, 6 points

1 season with HV71 Jonkoping: 41 games played, 9 goals, 24 assists, 33 points

Zayde Wisdom

Round 4/Pick 94

Part of one season with Lehigh Valley Phantoms: 28 games played, 7 goals, 11 assists, 18 points

1 season with the Kingston Frontenacs: 43 games played, 9 goals, 29 assists, 38 points

Elliot Desnoyers

Round 5/Pick 135

2 seasons with the Halifax Mooseheads: 98 games played, 63 goals, 74 assists, 137 points

Connor McClennon

Round 6/Pick 178

2 seasons with the Winnipeg Ice: 86 games played, 57 goals, 57 assists, 114 points
2021 NHL Draft
Player

Draft Position

Stats in the 2021-22 season

Samu Tuomaala

Round 2/Pick 46

2 games with the Lehigh Valley Phantoms, going pointless 

13 games played with Sport Vaasa, 1 goal, 1 assist, 2 points 

8 games played with Jukurit Mikkeli, 0 goals, 1 assist

Alexei Kolosov

Round 3/Pick 78

22 games played with Minsk Dynamo: 11-9-1/2.90 GAA/.906 SV

Brian Zanetti

Round 4/Pick 110

56 games played with Peterborough Petes, 4 goals, 22 assists, 26 points

Ty Murchison

Round 5/Pick 158

35 games played with Arizona State University, 4 goals, 3 assists, 7 points

Ethan Samson

Round 6/Pick 174

68 games played with Prince George Cougars: 15 goals, 28 assists, 43 points

Owen McLaughlin

Round 7/Pick 206

62 games player with Sioux City Musketeers, 28 goals, 44 assists, 72 points