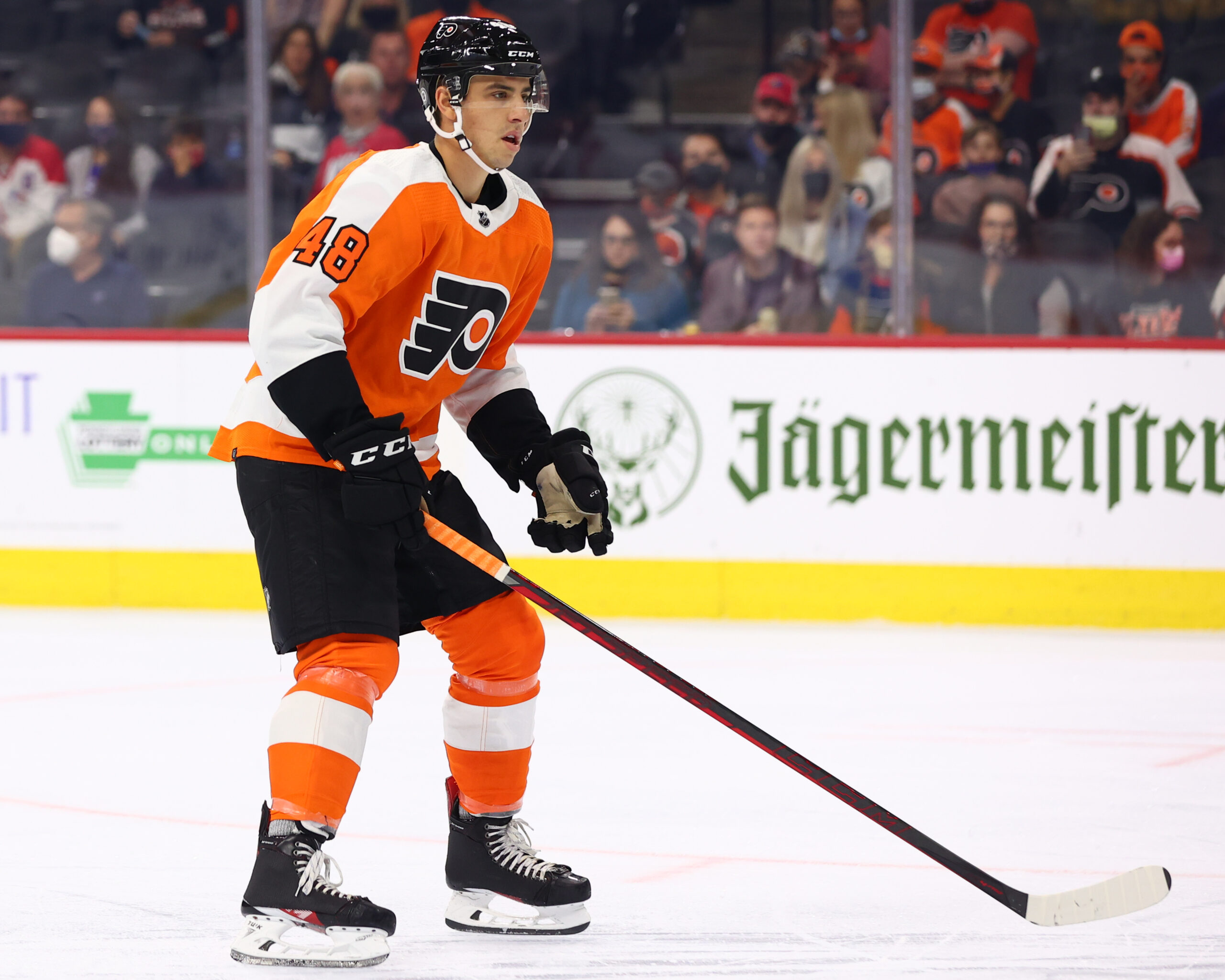 For most veterans, the final few months of the season have been long and arduous with the final result having no value to them heading into the summer. Players like Kevin Hayes, Cam Atkinson, Rasmus Ristolainen know their names are going to be entrenched into the lineup and are going to log heavy minutes, no matter the changes that are going to occur in the off-season. However, for players like Morgan Frost, Owen Tippett, and Cam York, every single game is more important than the last since they need to really impress the Philadelphia Flyers' brass, whether or not they seem like proverbial locks for the new season; they all have something to prove. 
Morgan Frost has been a contentious prospect the last few years because his development has been stunted by injury and the COVID-shortened season but never truly impressed when inserted in the lineup. There are a myriad of reasons and arguments to be had about why or why not, however after four years, the Flyers should be reaping the rewards of the very skilled playmaking pivot. The last three years have been rough on Frost as he has only featured in 67 NHL games since 2019-20 due to injuries, COVID postponement, and streaky play that has led him to flip-flop between NHL and AHL.
With the Flyers slumping and trying to inject youth into their every day lineup, Frost has enjoyed a healthy amount of playing time without the worry of being scratched, sent down, or demoted within the lineup. Earlier in the season he found himself in the bottom-six quite often with wingers who didn't mesh with his skills and attributes, and while not producing any numbers, the Flyers kept sending him down for "developmental" reasons. With the season being a complete wash and players like Claude Giroux and Derick Brassard playing for new teams, it was Frost's time to shine. 
He still has a lot of developing, growing, and maturing to do but the last few weeks have shown us that he is finally finding his stride, getting a lot more confident, and in doing so his offensive prowess is on display. He is making smart plays in the offensive zone to set up his more talented wingers, while also back-checking and fore-checking off the puck, which is something the Flyers tried to drill into him as a younger prospect. He currently only has three goals and 12 points in 45 games, but as a fanbase we can agree that this is the best that Frost has ever looked donning the Orange and Black, and that's something that has only occurred due to the sad state of the 2021-22 season that has given him the opportunity to have a full run. 
Another player that was in desperate need of ice-time and a more prominent role was Owen Tippett. The crown jewel of the Claude Giroux deal, the former Florida Panthers first-round pick from 2017 had to deal with the same sort of issues as Frost. His leash was very short in Florida and with how stacked the Panthers became, their Stanley Cup-window made it very easy for them to trade him for a rental at the trade deadline. There was no room for him to make his stride and show off his skill and both teams involved in the trade knew a change of scenery would do wonders for the youngster. 
Also just like Frost, his numbers aren't eye popping, but his overall play has been something to lean on as we move towards the off-season. Playing nearly 16 minutes a game, being a key feature on the power play, playing with a veteran like Kevin Hayes, and needing to make a statement for himself, Tippett has shown off some of the skills that made him the 10th overall pick in the 2017 NHL Draft. His shooting mentality is something the Flyers have lacked for awhile, but he has endured some bad puck luck with several shots hitting the iron and being stopped on countless breakaways. The goals and points will come and with only 10 games remaining in the 2021-22 season, Mike Yeo will be leaning more on him to give Chuck Fletcher and co. a good sample size to work with. 
For many, Cam York was not the pick they wanted the Flyers to make in the 2019 NHL Entry Draft. Going into the draft, all eyes were on Cole Caufield and his scoring prowess and how much of a slam-dunk-prospect he was. With the Flyers originally selecting 11th overall and with how stacked the draft was, there was a chance that Caufield could drop to the 11th pick but something like that seemed a little far-fetched. As the picks were being made, one-by-one Caufield remained without a team. With the 11th selection up and Caufield still on the board, it seemed like the Flyers were finally going to draft a high-scoring forward, something they haven't had since Jeff Carter or even Simon Gagne. 
The Flyers traded down from 11th to 14th with the Coyotes as Arizona selected Victor Soderstrom, the Minnesota Wild selected Matthew Boldy, and the Florida Panthers selected Spencer Knight. Chuck Fletcher's gamble paid off and they were not only going to get Caufield but they got an extra asset for trading down. To the shock of the entire fan base and maybe even the NHL, the Flyers skipped over the winger for the defenseman York, something that has been brought up and talked about plenty of times since. 
York's ascension to the big leagues was a lot smoother than the previous two players we've discussed, but he's still had to battle through adversity and some mismanaged coaching. Finally given his time to shine with the trade of Justin Braun becoming official, the trio of Kevin Yandle, Kevin Connauton, and Nick Seeler having horrendous seasons, and the Flyers needing new life in the top-four, they finally let the shackles off of York and he hasn't looked back since. 
Playing primarily with Ivan Provorov since the trade deadline, York's play has been a shining light for a disastrous defense while also helping Provorov settle down. Provorov has developed the reputation of needing a stable partner to be great and over the last few seasons his play has deteriorated. York has only played a handful of games with the Russian rearguard, but his play has ameliorated in short order compared to most of his 2021-22 campaign. 
Even with Provorov, Travis Sanheim, and Rasmus Ristolainen playing, there have been some games where York has topped the team for time on ice as he has reached more than 23 minutes three times: 23:36 at Detroit, 24:57 at Nashville, and 25:07 vs Columbus. He has been a breath of fresh air for the power play and his shoot-first mentality will make him a great quarterback a la Shayne Gostisbehere. He is a swift skater, his head is up the whole way, he has a lethal shot, and a knack around the offensive zone. He's only been featured in 29 games this season, but with the trajectory of the franchise not looking so great heading into the summer, one thing that we can expect for the 2022-23 season is Cam York's name on the opening night roster. His defensive game still needs work but that's generally the case with smaller and younger defensemen. 
The down season has been good for a lot of young players like Hayden Hodgson, Ronnie Attard, Noah Cates, and the soon-to-make-his-debut Bobby Brink, but these are all players who will most likely feature in the AHL next season unless they truly impress during the September training camps. With the shackles coming off and the leash being a lot looser with only pride to play for, the Flyers have finally given their youth a pronounced chance to make a name for themselves and not to have to worry about making one small mistake that could lead them to the press-box.
Players like Frost, Tippett, and York are key players right now and for the future and their improvement is a welcoming sign for a season that has given us nothing but heartache, headaches, and the urge to watch the Florida Panthers instead of the Flyers.