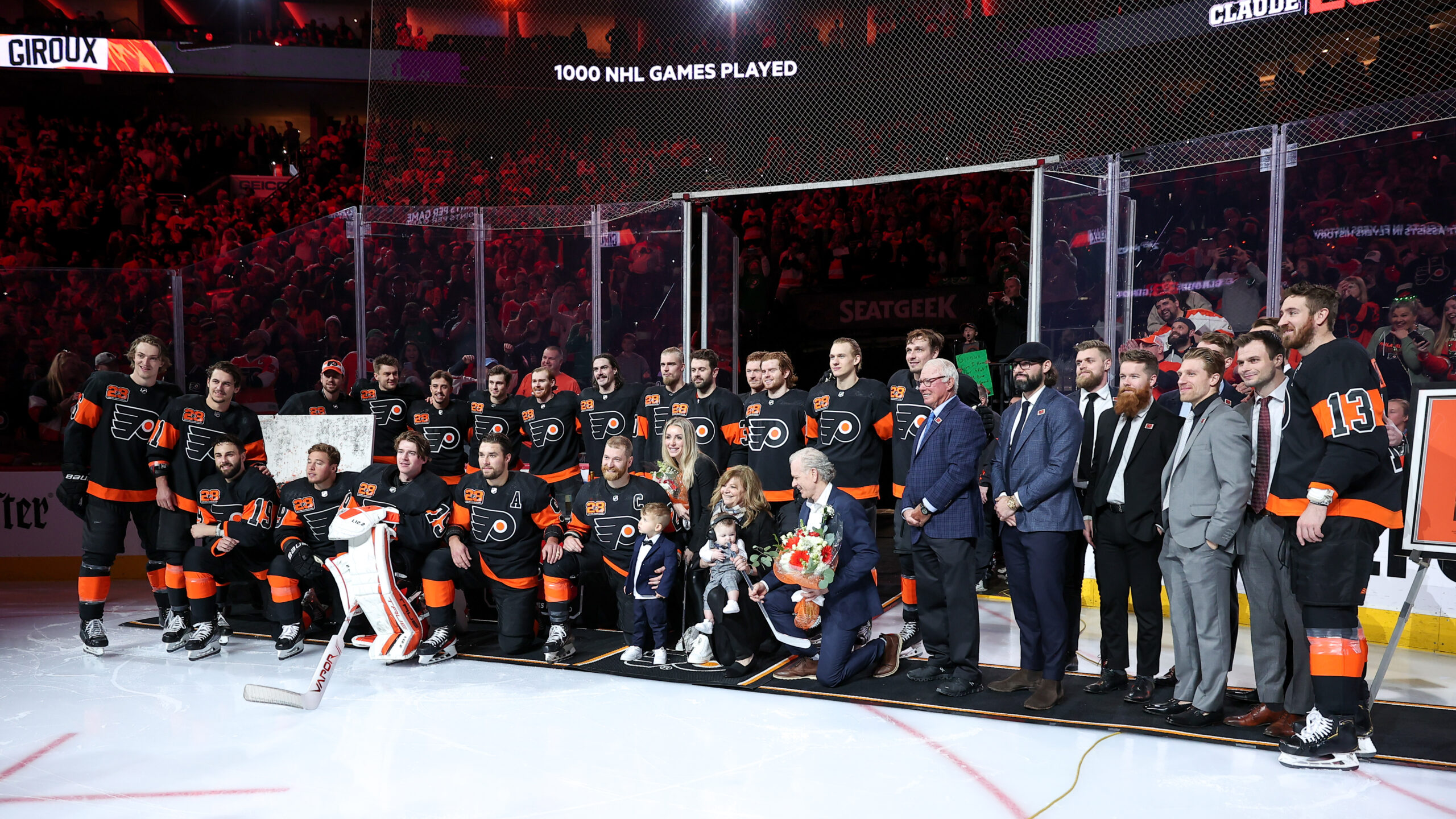 This is a day the fanbase has been anticipating since the schedule dropped. Claude Giroux returns to Wells Fargo Center for the first time as an opponent today when his Ottawa Senators take on the Philadelphia Flyers.
Eight months after his trade from Philadelphia, it still seems surreal. I remember being in that building on March 17th, 2022 for Giroux's 1,000th career game. It was the most emotional sporting event I've ever attended. Even before you walked into the arena, there was a strong essence in the air that it was goodbye. The decorations that adorned the Wells Fargo Center concourse, the players wearing Giroux's name and number in warmups, the pregame celebration of his impressive milestone, everything just translated to that being Claude Giroux's final send-off before chasing a Stanley Cup elsewhere.
That postgame skate after the Flyers' 5-4 victory over Nashville will stick with me and every fan who was in that arena or watching on television until the end of time. You could see the emotion in his face. We were feeling the same emotions from the stands. He didn't want to leave, and we didn't want him to leave, but we all understood why it was happening, and it was for the best.
While Giroux didn't get that Cup last year with Florida and never came close to a Cup in Philadelphia after 2010's magical Final run, we shouldn't talk about the shortcomings while he was here. We should celebrate the storied career of the 19th and longest-tenured captain in Philadelphia Flyers history and remember how privileged we were to watch one of the greatest players in the game's modern history play in Philadelphia.
There's so many great memories that Claude Giroux gave us while with Philadelphia. His first NHL goal against Florida in 2009. His amazing deke and tuck goal against Atlanta in 2010. His shootout-winning five-hole goal against the Rangers to send the Flyers on their way to a magical postseason in 2010. His game-winning deflection in Game 3 of the 2010 Stanley Cup Final to give the Flyers their first win in a Final game since 1987. His famous open-ice hit on Sidney Crosby and snipe on Marc-André Fleury on the opening shift in Game 6 of the 2012 Eastern Conference Quarterfinals. His no-look, backhand roof shot against Columbus for his 100th career goal in 2014. His overtime snipe from the top of the circle against Chicago's Antti Raanta in 2014. His game-winning goal against Winnipeg in 2016 after Shayne Gostisbehere's diving check on Mark Scheifele in the Jets' slot. His first regular season hat trick in 2018 against the Rangers to cap off his marvelous 102-point season. His Stadium Series overtime winner to cap off a furious Flyers comeback in front of a rambunctious Lincoln Financial Field crowd in 2019. His angled bank shot to tie the game late against Vancouver to open up last season. His tying snipe against Andrei Vasilevskiy and the mighty Lightning a month later. There are probably so many more great memories we can list and go through, but Giroux poured his heart and soul into this franchise and this city, and we need to give that same effort back to him when he comes home today.
The legion of fans that will be wearing #28 today will be massive, much like that eventful evening in March, and I'm sure the reception that Giroux will receive today will be incredibly emotional and those feelings we felt eight months ago will return, and he will reciprocate those same emotions too.
I'm sure some fans out there won't give him his flowers because the Flyers never won the Stanley Cup when he was here, and they look at him as a weak captain. It's a damn shame they never won a Cup with him, but it wasn't his fault that they couldn't get over the hump.
Giroux carried a team that lacked secondary scoring, a stable blueline, or consistent goaltending for years and years. He was the constant bright spot for a mediocre team and was the sole reason the Flyers were as good as they were during his time here. Don't blame him for the organization's futility. He did his job and he did it pretty damn well too.
Claude Giroux will always be a Flyer deep down. He will have his jersey retired in Philadelphia. He will be inducted into the Flyers Hall of Fame. He will be inducted into the Hockey Hall of Fame as well. He will forever be a staple of this great organization and he will always serve as a reminder of the elite talent that has played for this team and this city. He has forever cemented himself among the legends of the franchise that have defined generations of Flyers hockey. Clarke, Barber, Parent, Propp, Kerr, Lindbergh, Howe, Hextall, Brind'Amour, Lindros, LeClair, Desjardins, Recchi, Gagné, Giroux. He is forever one of the greatest players to ever don the Orange and Black.
In Flyers history, he is second in games played (1,000), second in points (900), second in assists (609), eighth in goals (291), eight in power play goals (84), seventh in game-winning goals (46), first in power play assists (255), and first in power play points (339). That's all on top of a Hart Trophy nomination, seven All-Star Game appearances, an All-Star Game MVP, a World Junior Championship gold medal, an IIHF Men's World Championship gold medal, and a World Cup of Hockey gold medal. He accomplished a lot more than people will give him credit for while representing the Flyers and literally rewrote the history books here, and an impact of his magnitude will never be seen or felt in Philadelphia for as long as the game is played here.
I really don't care what anyone says either. Claude Giroux was the face of a whole generation of hockey in the Delaware Valley. He was a superstar. He was the guiding light down the darkest tunnel the Flyers have traveled over the course of their entire history. He personified everything a Flyer should be. We will never see a player like him play in Philadelphia again, and no one will ever show the same skill and tenacity and leadership that he showed here.
There will only ever be one Claude Giroux, and wherever he is, we will always support him. He will always remain an icon in Philadelphia.
Welcome home, Captain.