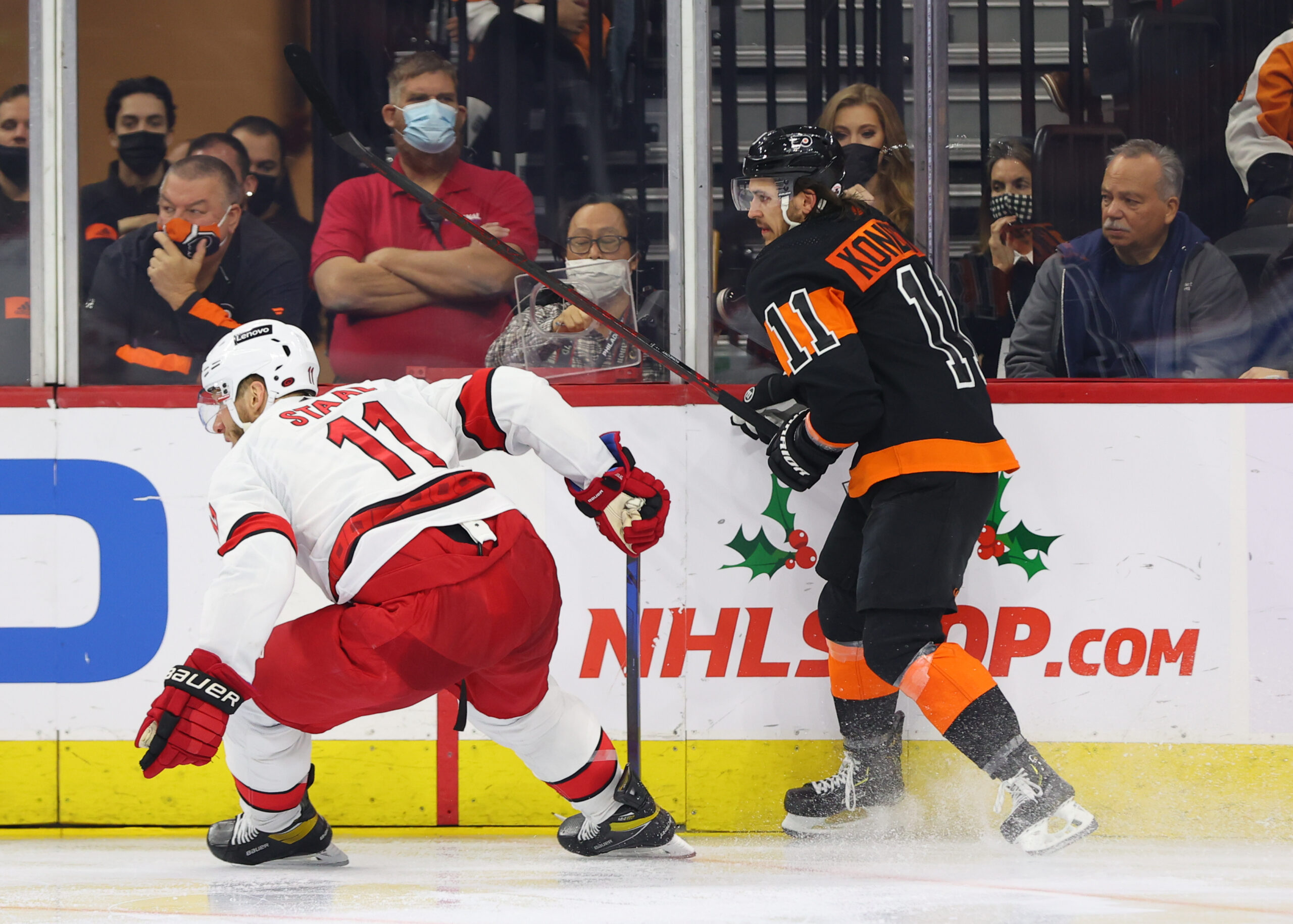 Tyson Foerster Leads the Flyers into Hurricane Territory
On their second stop of a three game road trip, the Philadelphia Flyers will face off against the red hot Carolina Hurricanes.
On Tuesday night, the Flyers put out a very poor performance against a struggling Tampa team. Now, they have to head into Raleigh where the Canes are 8-2 over their last 10 games. One of those wins includes their first ever outdoor game, beating the Capitals 4-1.
John Tortorella, obviously displeased with the production being put on the ice, benched Joel Farabee and Travis Sanheim for the entirety of the 2nd period. Farabee drew two penalties against his own team in the 1st period and Sanheim tacked on another with Killorn scoring on one of Tampa's powerplays. The benching never seemed to send the right message, as the Flyers gave up three goals in the 2nd, and ultimately lost the game 5-2.
As if the loss was not bad enough, Tony DeAngelo decided to do what he does best and cause some ruckus. With a swift spear to Corey Perry's nether region, he bought himself a fast pass to a two game suspension. TDA will miss tonight's game and Saturday's game in Pittsburgh. Since Torts likes to run with seven defensemen, there was no need to call someone up from Lehigh Valley to play the blue line.
Wade Allison and Brendan Lemieux will not dress tonight due to undisclosed injuries. This opens the window for Tyson Foerster to make his NHL debut. The right handed center forward will play with Noah Cates and Scott Laughton.
With the way everything seems to be going in Philly, the Canes are on the opposite side of the spectrum. They sit at the top of the Metro division and second in the league only behind the powerhouse of the NHL, the Boston Bruins. Some listed them as losers at the trade deadline since they were not able to replace Max Pacioretty, but they quietly strengthened their powerplay by adding ex-Flyer, Shane Gostisbehere.
After Chuck Fletcher had to literally beg and pay Arizona to take Ghost off his hands, the Yotes turned around and traded him to the Canes in exchange for a 3rd round pick. While Canes fans seemed to be underwhelmed by the trade, we here in Philly knew he could be a deadly force when on the right team. Sure enough, he scored a goal in his first game for the Hurricanes and kept rolling. Ghost's second game was a three point night including another goal. His addition has completely revived the Canes' struggling second PP unit.
The Hurricanes also have goaltending depth that Philadelphia could only dream of. With Frederik Andersen, Antti Raanta and Pyotr Kochetkov, they have three NHL goalies that could play any given game and play well. Kochetkov, or Koochie as Caniacs call him, will make the start tonight as an emergency call-up. He posted a 10-4-5 record with three shutouts while Andersen was recovering.
Felix Sandstrom will be the Flyers netminder tonight, making it his first start since February 12th. While the Flyers are clearly just a struggling team in general, Sandstrom seems to be really having a rough time in the NHL. With only one win in his entire career (15 games played), the guy has to be due sooner or later. 
We all know that the Flyers have a curse where players leave and come back just to haunt us, so I would keep an eye on Gostisbehere tonight. It would only be poetic justice if he scored at least one against us, to remind Chuck Fletcher how awful he is at his job.
PHI Record: 24-29-11, 59 pts, 7th in Metropolitan
CAR Record: 42-12-8, 93 pts, 1st in Metropolitan
Last Game PHI: 3/7/23, 5-2 L @ Tampa
Last Game CAR: 3/7/23, 4-3 SO W @ Montreal
When: 7pm ET
Where: PNC Arena, Raleigh, NC
PHI Goalie: Felix Sandstrom (1-8-1, .880 SV%, 3.52 GAA. 0 SO)
CAR Goalie: Pyotr Kochetkov (10-4-5, .913 SV%, 2.33 GAA, 3 SO)
PHI Projected Lineup:
#86 Joel Farabee – #48 Morgan Frost – #74 Owen Tippett
#21 Scott Laughton – #49 Noah Cates – #52 Tyson Foerster
#25 James van Riemsdyk – #73 Elliot Desnoyers – #13 Kevin Hayes
#44 Nicolas Deslauriers – #58 Tanner Laczynski – #20 Kieffer Bellows
#9 Ivan Provorov – #45 Cam York
#6 Travis Sanheim – #55 Rasmus Ristolainen
#24 Nick Seeler – #61 Justin Braun
CAR Projected Lineup:
#37 Andrei Svechnikov – #20 Sebastian Aho – #24 Seth Jarvis
#86 Teuvo Tervinen – #82 Jesperi Kotkaniemi – #88 Martin Necas
#48 Jordan Martinook – #11 Jordan Staal – #71 Jesper Fast
#23 Stefan Noesen – #26 Paul Stastny – #21 Derek Stepan
#74 Jaccob Slavin – #8 Brent Burns
#76 Brady Skej – #22 Brett Pesce
#44 Calvin de Haan – #41 Shayne Gostisbehere
#52 Pyotr Kochetkov
#31 Frederick Andersen
PHI Injuries: Wade Allison (undisclosed), Brendan Lemieux (undisclosed), Sean Couturier (back), Travis Konecny (upper body), Ryan Ellis (hip), Cam Atkinson (neck)
Scratches: None
Suspended: Tony DeAngelo
CAR Injuries: Antti Raanta (groin), Jalen Chatfield (undisclosed), Ondrej Kase (concussion), Max Pacioretty (torn Achilles)
Scratches: Dylan Coghlam, Jesse Puljujarvi
News and Notes:
This will be the 155th time the two teams face each other. The Flyers' record against the Hurricanes currently stands at 88-41-14-11.
Pyotr Kochetkov joined the exclusive goalie goals club when he scored for his AHL team last Friday night. He was only an assist away from a Gordie Howe hat trick after he got ejected for fighting following the goal.
After this road trip, the Flyers have a seven game home stint.
Broadcast Info: TV – BSSO, NBCSP, Radio – 93.3 WMMR