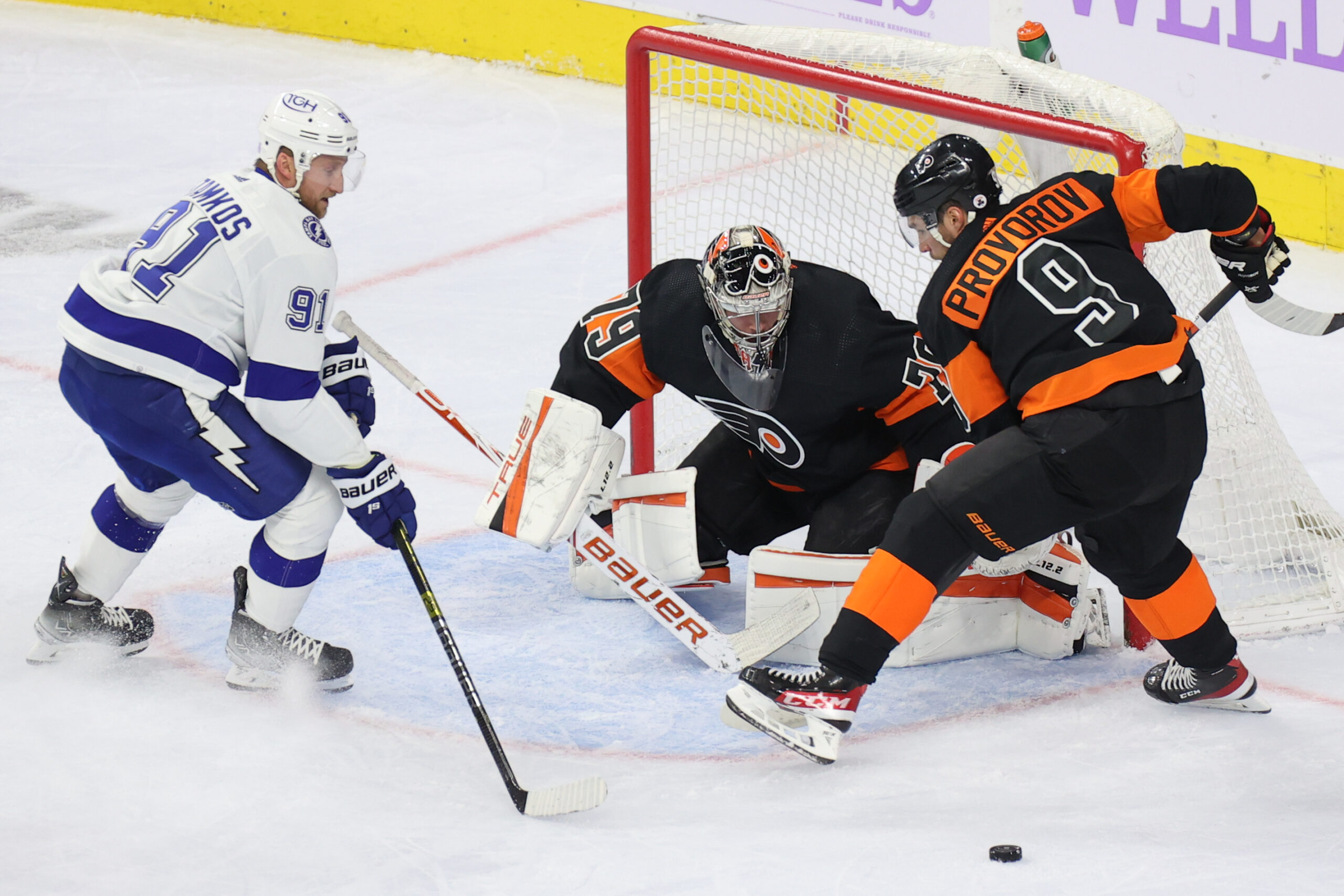 Flyers look to start road trip on right foot against struggling Lightning
After halting their four-game losing streak on Sunday with a 3-1 victory over Detroit, the Philadelphia Flyers head south to begin a three-game road trip tonight against the Tampa Bay Lightning.
The Flyers have been under fire recently, between a poor trade deadline, another slew of losses, and generally no sense of direction for the franchise. Sunday's victory provided a small glimmer of relief, but another poor showing on the road will add on to the misery.
The biggest positive on Sunday was Scott Laughton icing the game with an empty net goal in his 500th career NHL contest. Laughton is the heart and soul of the Flyers right now and deservedly is the only player on the team with a letter on their jersey.
An emotional Laughton spoke about the moment postgame when asked by Brian Boucher during the NBC Sports Philadelphia telecast.
"It means the world to me, honestly. I have a deep care for this organization and the people in it."

Just awesome stuff from an emotional @Laughts21 about playing his 500th career game for the @NHLFlyers. pic.twitter.com/VfjGdKrgdP

— NBC Sports Philadelphia (@NBCSPhilly) March 6, 2023
Laughton's demeanor and attitude are what this franchise is all about; playing hard, caring about winning, giving your all every single game, being the best teammate you can be. Scott Laughton has been the consummate pro his entire career, as he has taken a bigger responsibility as a leader in the wake of the losses of Claude Giroux, Wayne Simmonds, and Jake Voráček over recent years, Laughton has become the loud and proud voice of a relatively mute team.
If the rest of the Flyers can give what Laughton gives on and off the ice, they will be a smart and hopefully fun team to watch down the final stretch of the season, even if the losses do expectedly pile up along the way. Effort will go a long way into determining who will stick around next year to try and build the roster forward during this rebuild.
But while the Flyers are rebuilding, or giving a very half-hearted attempt at it, the polar opposite of that method lies within the Tampa Bay Lightning.
The defending three-time Eastern Conference champions with two Stanley Cups (2020, 2021) on top of that, the Lightning enter tonight's game in a very unfamiliar position: riding a losing streak. Tampa Bay has lost five in a row and should they lose tonight, it would tie the longest losing streak ever in the Jon Cooper era dating back to April 2013.
Tampa Bay's last outing was really par for the course on how things have been going. They were crushed 6-0 by the Carolina Hurricanes, did not record a single shot on goal in the second period and finished the game with just 14 total, and star defenseman Victor Hedman suffered a lower-body injury and is out day-to-day. This came one game after Cooper benched Steven Stamkos, Brayden Point, and Nikita Kucherov for the entire third period of a 5-3 loss to Buffalo on Saturday.
Of course, the Flyers have a tendency for being the team that gets pounded on for other teams to gain their swagger back, and the Lightning have only lost nine times in 31 home games this season. However, one of those times was at their season opener on October 18th by a score of 3-2 in regulation. The team that beat them? The Philadelphia Flyers.
Buckle up.
PHI Record: 24-28-11, 59 pts, 7th in Metropolitan
TBL Record: 37-21-5, 79 pts, 3rd in Atlantic
Last Game PHI: 3/5/23, 3-1 W vs. Detroit
Last Game TBL: 3/5/23, 6-0 L @ Carolina
When: 7:00pm ET
Where: Amalie Arena, Tampa, FL
PHI Goalie: Carter Hart (17-19-10, .908 SV%, 2.89 GAA, 1 SO)
TBL Goalie: Andrei Vasilevskiy (28-16-3, .915 SV%, 2.68 GAA, 2 SO)
PHI Projected Lineup
#86 Joel Farabee – #48 Morgan Frost – #74 Owen Tippett
#25 James van Riemsdyk – #13 Kevin Hayes – #57 Wade Allison
#21 Scott Laughton – #49 Noah Cates – #22 Brendan Lemieux
#44 Nicolas Deslauriers – #58 Tanner Laczynski
#9 Ivan Provorov – #45 Cam York
#6 Travis Sanheim – #55 Rasmus Ristolainen
#24 Nick Seeler – #77 Tony DeAngelo
#61 Justin Braun
#79 Carter Hart
#32 Felix Sandström
TBL Projected Lineup
#91 Steven Stamkos – #21 Brayden Point – #86 Nikita Kucherov
#38 Brandon Hagel – #71 Anthony Cirelli – #17 Alex Killorn
#84 Tanner Jeannot – #20 Nick Paul – #79 Ross Colton
#10 Corey Perry – #23 Mikey Eyssimont – #14 Patrick Maroon
#98 Mikhail Sergachev – #48 Nick Perbix
#28 Ian Cole – #81 Erik Černák
#7 Haydn Fleury – #44 Zach Bogosian
#88 Andrei Vasilevskiy
#1 Brian Elliott
PHI Injuries: Sean Couturier (back), Ryan Ellis (hip), Cam Atkinson (neck), Travis Konecny (upper-body)
Scratched: Kieffer Bellows
TBL Injuries: Victor Hedman (lower-body)
Scratched: Pierre-Édouard Bellemare, Darren Raddysh
News and Notes
– This is the third and final meeting between these two teams this season. The Flyers won in Tampa 3-2 on October 18th, while the Lightning returned the favor 4-1 in Philadelphia on December 1st.
– This is the 108th all-time meeting between the Flyers and Lightning since Tampa Bay joined the league in 1992. The Lightning own the advantage in the series at 51-45-8-3.
– Among NHL game milestones, tonight is game 570 for Nicolas Deslauriers, game 140 for Morgan Frost, game 80 for Noah Cates, and game 60 for Wade Allison.
– The Flyers signed Bemidji State defenseman Will Zmolek to an entry-level contract on Tuesday. Zmolek will join the AHL's Lehigh Valley Phantoms for the remainder of this season, and his contract will officially begin next season.
Broadcast Info: TV – NBC Sports Philadelphia+, Radio – 93.3 WMMR