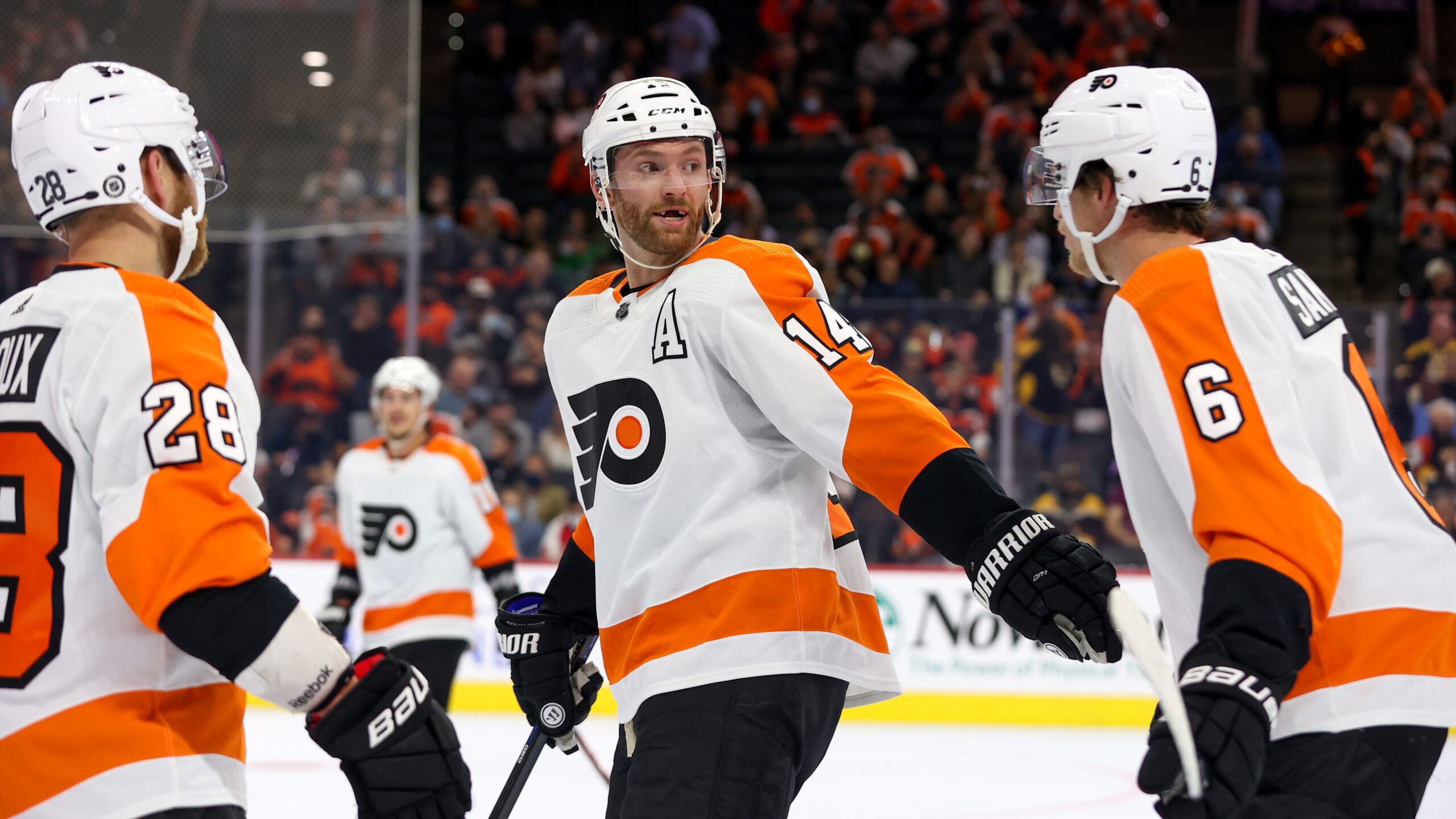 Sean Couturier was seen skating on his own Thursday, and that should bring about some cheer amongst the fan base.
Sean Couturier skating on his own today. #Flyers pic.twitter.com/yXqMtJymQI

— Sam Carchidi (@BroadStBull) February 23, 2023
He hasn't suited up for the Philadelphia Flyers since the 18th of December, 2021, which was a 4-3 victory on home ice against the Ottawa Senators. He recorded an assist, which was incidentally his last point in a Flyer uniform and ended the season with 6 goals and 17 points in 29 games.
It was a tale of two halves in his abbreviated campaign because he started off the season scorching hot with 5 goals and 12 points in 10 games, and then he slumped to the tune of 1 goal and 5 points in his final 19. He visibly didn't look like the same Couturier that we had seen over the past few seasons, let alone the first 10 games, and then we found out he was playing through a back injury that eventually required surgery in February. Chuck Fletcher also mentioned how they had exhausted every non-surgical route up until that point.
The hope was that he would return back to full health ahead of the 2022-23 season and would join Kevin Hayes and Ryan Ellis in an attempt to turn things around after a bottom-4 finish. For whatever reason, Fletcher believed Ellis could come back in time but he was quickly ruled out for the season, so that left the top-2 centremen still in line to return. Hayes made a nice comeback at the end of the 2021-22 season, giving way to a lot of optimism, and Couturier was skating, practicing, and taking contact.
Couturier then suffered a setback, he essentially re-injured the same area, and was required to go under the knife yet again this time in October – the second time in 8 months. He was originally ruled out for 3-4 months, which pegged his return anywhere around February-March. With the season coming to a close, many share the sentiment that they would rather Couturier sit out the rest of the season with the possibility of re-injury ever present. However, as we saw last year with Kevin Hayes in an almost similar situation, if they're ready to play and the chance for re-injury is scarce and low, you let them get out there to regain their confidence and mojo with a handful of games left.
Hayes had a rough 2021-22 season that started with the passing of his brother, Jimmy Hayes, and then it culminated into a series of injuries that either kept him out of the lineup or hampered his abilities when in the lineup. He first underwent a sports hernia surgery in May, then had to go under the knife for an abdominal surgery in September, was placed on LTIR, finally made his season debut in mid-November, and then suffered a re-injury 2 games into his season after scoring a goal and chipping in with an assist. He came back and suited up for 18 games and scored 2 goals and 7 points, before undergoing his third surgery, this time for his hip in mid-January.
Hayes missed almost 2 months and came back much to the chagrin of the fanbase because of the possibility of another re-injury in a lost season. He came back to form and looked good as new as he produced 7 goals and 22 points in 28 games to finish off the season. He played 19:25 a game, he took 85 shots in just 28 games, and formed good chemistry with a lot of the young prospects who channelled their way through to the big club. It helped him recover mentally and physically and has played a big part in why he didn't stumble out of the gates this season.
With 17 goals, 31 assists, and a grant total of 48 points in 58 games this season, he's only 8 goals, 5 assists, and 7 points away from breaking career-highs in those respective categories. Combined with his end-of-season run, that puts him at 24 goals and 70 points in his last 86 games. Hayes even credited his return from his 3rd surgery as a key contributor to his early success.
The Flyers won't rush Couturier, and Couturier won't rush himself back either. However, if there is a chance that he can make a return, even for just a handful of games with re-injury being a scarcity, then you let him lace it up and get some much needed action. Players don't want to be held back if they believe they're ready as evidenced by Hayes last year. He understood why many would have wanted him to have remained out in a lost season but they're creatures of habit and not being on the ice for that long is tough – especially if fit and good to go.
It's been over 14 months since we've last seen number 14 roaming around the ice and the Flyers have severely missed him in all facets of their game. From 2017-18 to 2020-21, he scored 104 goals and 252 points in 276 games, including 2 seasons of 31+ goals, 43+ assists, and winning 56.6% of his draws. He won the Selke Trophy for best defensive forward in 2019-20, and became a focal point not just while shorthanded but with the man advantage, in 3-on-3 overtime, and even in the shootouts.
At this rate, he isn't close to a return but with 23 games still remaining on the season, it would be absolutely huge for the Flyers and Couturier if he could make a return and get his feet wet. Re-injury is of course at the forefront of everyone's mind when talking about his return but if he is deemed fit, cleared, and has the confidence of everyone involved, then let him out of his cage and see how does.
Being cautious can only take you so far, but being overly cautious can also have its ramifications.