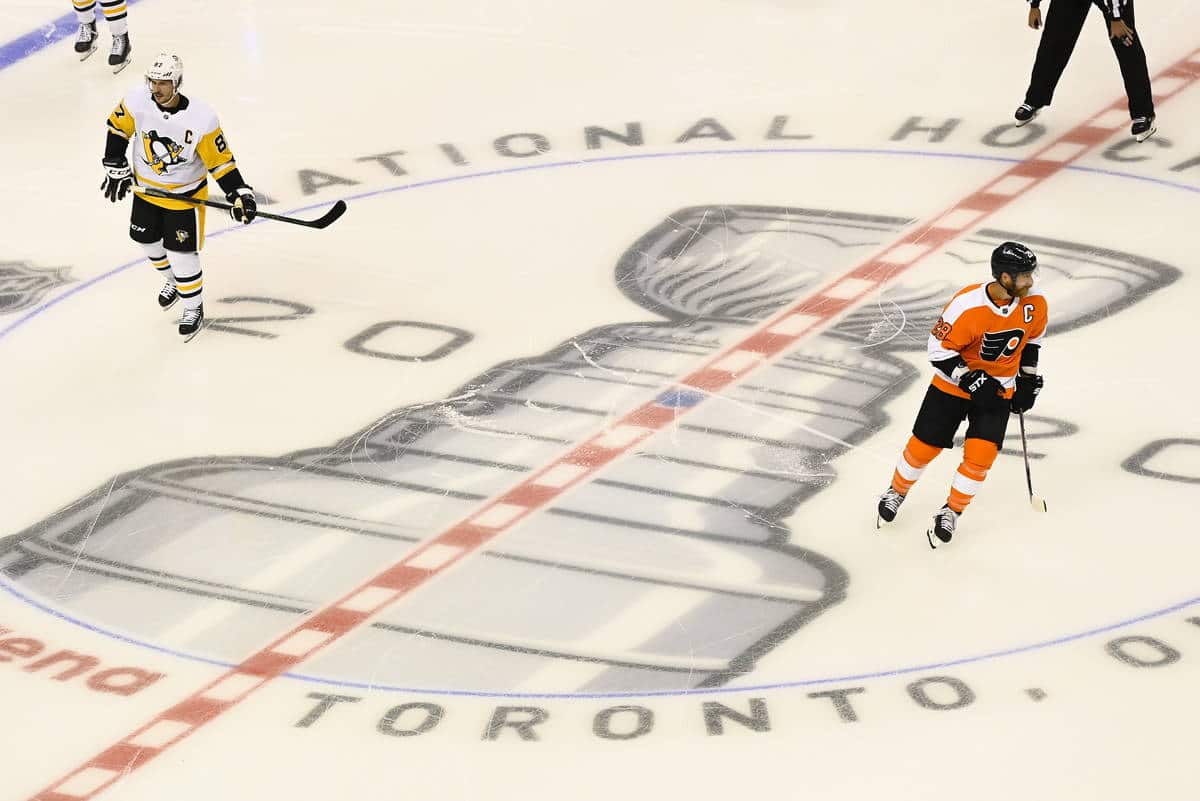 The 2021 NHL season kicks off this afternoon with the Battle of Pennsylvania.
The Flyers will be looking to start the year off on a winning note in their home building. The team hasn't played in an NHL game within the Wells Fargo Center since March 10, 2020 (309 days).
PHI: 0-0-0 (41-21-7 in 2019-2020)
PIT: 0-0-0 (40-23-6 in 2019-2020)
When: 5:30 PM
Where: Wells Fargo Center (Philadelphia, Pennsylvania)
PHI Goalie: Carter Hart (24-13-3, .914 SV%, 2.42 GAA)
PIT Goalie: Tristan Jarry (20-12-1, .921 SV%, 2.43 GAA)
PHI Unofficial Lineup
Lindblom – Couturier – Konecny
Giroux – Hayes – Farabee
JVR – Patrick – Voracek
Raffl – Laughton – NAK
Provorov – Braun
Sanheim – Myers
Hagg – Gustafsson
PIT Unofficial Lineup
Guentzel – Crosby – Rodriguez
Zucker – Malkin – Rust
McCann – Jankowski – Tanev
Lafferty – Blueger – Sceviour
Dumoulin – Letang
Matheson – Marino
Pettersson – Ceci
Last Game PHI: 4-0 shutout loss against the Islanders in Game 7 (Eastern Conference 2nd Round) during the 2020 Stanley Cup Playoffs.
Last Game PIT: 2-0 shutout loss against the Canadiens in Game 4 of the Eastern Conference Qualifying Round.
Past Games
1/31/20: 4-3 PIT (OT): Matt Niskanen (2 A), Tyler Pitlick (1 G, 1 A), Scott Laughton (1 G), Jake Voracek (1 G)
1/21/20: 3-0 PHI: Jake Voracek (1 G), JVR (1 G), Justin Braun (1 ENG)
10/29/19: 7-1 PIT: Oskar Lindblom (1 G)
News and Notes
Nolan Patrick will be returning to NHL action for the first time since April 2, 2019, an astounding 643 days. A migraine disorder has severely hampered the start to Patrick's career, but hopefully it's all behind him.
Oskar Lindblom will play his first regular season NHL game since December 7, 2019. The team announced Lindblom was diagnosed with cancer on December 13th. He made a triumphant return in Game 6 of the playoff series with the Islanders on September 3rd.
Ivan Provorov turned 24 today, he'll be hoping to celebrate his birthday with a win against Pittsburgh.
Tonight is the first season opener since 2013 where a Flyers player doesn't make his NHL debut…Erik Gustafsson will debut with the team, but he signed in free agency.
One more interesting note, who can forget Boyd Gordon?:
Broadcast Info: NBC Sports Network, 97.5 The Fanatic
Injuries: Shayne Gostisbehere (unfit to play)
Next Up: Friday: Penguins @ Flyers (7:00 PM, NBC Sports Philadelphia)