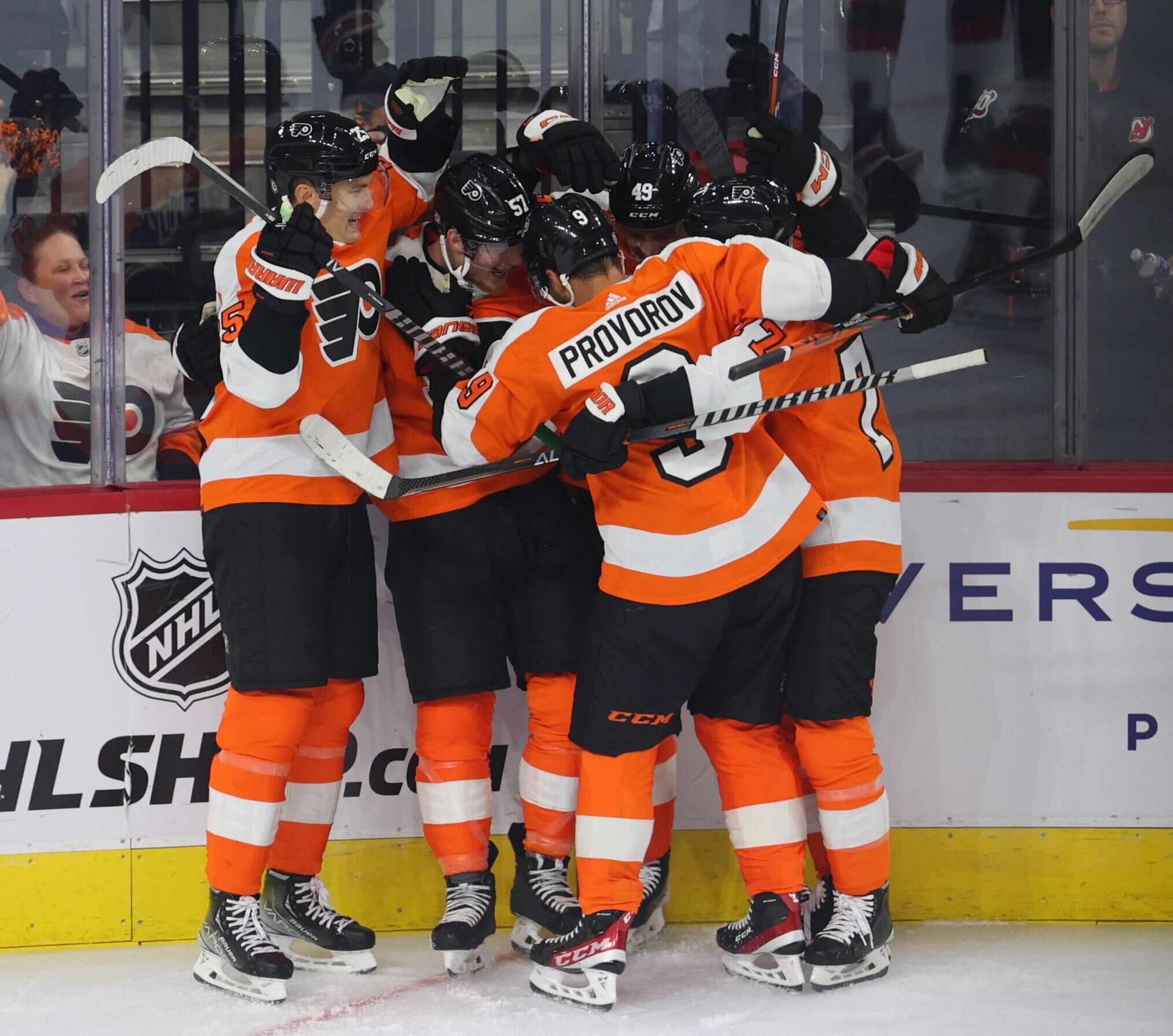 Observations From Last Night's Game, Hodgson on Waivers, Tippett Out
You tell yourself you're not going to watch, you tell yourself you're not going to follow them, and you tell yourself you're not going to get excited – and then they reel you back in somehow and the cycle continues.
It might have only been one game, one of 82 for that matter, but after everything that was being reported, everything that was being written, everything that was being said, and everything that was being predicted, the Philadelphia Flyers came out with a bang on night one and showed us what John Tortorella was preaching all along.
Of course we have to point out once again that it's only one game and there have been instances in the past where they start off hot and then falter into an abyss, but for the time being we reflect on last night's performance with a smile and a hearty cheer.
The Flyers' rebuttal to all the outside noise was a convincing 5-2 victory against the New Jersey Devils and even though they aren't a top contending team in the Eastern Conference, the Flyers were pegged by many to come out with a loss to said Devils team. They were a little slow and tentative to start the game, an understandable notion considering it was game one and the pressures that come with playing in Philadelphia right now. However, once they got their feet wet, their confidence came out shift after shift and we witnessed a team that was tough to play against, played to a system, and didn't crack when the going got tough.
It was an all-round team win with many players standing out from game one but none more so than Carter Hart, Ivan Provorov, Travis Konecny, and Kevin Hayes. Wade Allison, Morgan Frost, Noah Cates, and Tanner Lacyznski had fantastic games for young players who had so much to prove as Allison scored the game's first goal, Frost recorded his first career two-goal game, Laczynski recorded his first career points (2 assists), and Cates' 200-foot game was on full display shift after shift.
Carter Hart was the standout with his 35 saves, including 15 in the second period when the game was tied up before the Flyers scored 2 goals in 23 seconds to take a quick stranglehold. Provorov had a ridiculous stat-line of 2 assists, 3 shots on goal, +4, 5 hits, and 10 blocks in 22:02 minutes.
Kick save…Ivan Provorov! #Flyers pic.twitter.com/bzGgV4Edz2

— Flyers Nation (@FlyersNation) October 14, 2022
Konecny and Hayes, two players who are going to be pegged to lead the offense, did just that with 2 goals coming from the former and 2 assists from the latter. On the top line alongside Scott Laughton, they both played a shade over 21 minutes and looked incredibly fresh – something we didn't see all too much last year.
Hayes was the primary set up man on both of Konecny's goals as he grabbed the puck after a Provorov pinch along the boards to set up a streaking Konecny, who was entering the offensive zone with speed. He then wired a low snap-shot that beat MacKenzie Blackwood glove-side to give the Flyers their first lead of the season. In the third period and while up a man, Tony DeAngelo found Hayes near the faceoff circle, who then one touched a pass to Konecny who fell back into the high-slot for his second goal of the game and the one that essentially iced things.
Carter Hart did the rest as he stopped 11 of 12 shots in the third period, some being rather difficult and tricky opportunities after the Devils cut the deficit to 2.
In Carter Hart we trust. #Flyers pic.twitter.com/8uHpAjcgGH

— Flyers Nation (@FlyersNation) October 14, 2022
Whatever Tortorella was telling his team before the game and during the intermissions must've finally hit, because they did exactly what he has been clamouring about for months.
With the month of October only getting tougher in relation to their schedule, the Flyers cannot sit back and rest on their laurels as they have a date with the Vancouver Canucks tomorrow followed by a stretch of games against the Tampa Bay Lightning, Florida Panthers, Nashville Predators, San Jose Sharks, the Panthers again, and then the Carolina Hurricanes to end the month. Not to mention the month of November starts with a back-to-back on the 1st and 2nd against the New York Rangers and Toronto Maple Leafs.
Unfortunately, there was one blip in an otherwise great start as the Flyers lost forward Owen Tippett to an injury at the end of the first period. Tippett collided with Ondrej Palat in the defensive zone and even though it was Palat who looked like the more shaken-up party, Tippett was the one who didn't come back out in the second period. John Tortorella has already ruled him out for tomorrow, alongside Cam Atkinson and Rasmus Ristolainen who both missed the season opener.
Hayden Hodgson got the boot after last night's performance and in his stead, Jackson Cates got the recall. Jackson impressed mightily during training camp and the preseason and almost won himself a spot outright, however the Flyers opted to go with Hodgson on the fourth line for game one.
In a tweet from Bill Meltzer, Tortorella said that Hodgson struggled last night and he didn't feel he could play him, especially once the lines got juggled around after the departure of Tippett. Considering he was kind of a surprise addition to the opening night roster, it seems that was more of a Chuck Fletcher insistence than anything else. Once they got a look at him on the ice, it was clearly evident amongst the coaching staff that they didn't feel comfortable deploying him in certain game situations.
Hodgson was placed on waivers today and they are expecting that he clears and will report to the Lehigh Valley Phantoms of the AHL. In related news, the Flyers also sent down defenseman Ronnie Attard to the Phantoms as he remained on the Flyers mostly as an insurance policy in case of injury. He, similarly to Jackson Cates, had a good training camp but because of the logjam in front of him, the Flyers want him to play meaningful minutes with the Phantoms rather than sitting in the press box.
Music City Hockey Trip
Take a three day vacation to Nashville with Philly Sports Trips this October! The package includes direct flights, a three night stay at the Cambria Hotel Nashville Downtown, an all-inclusive tailgate, and tickets to the Flyers Predators game. $100 cash for anyone who shows proof they went to the Flyers game on the trip.