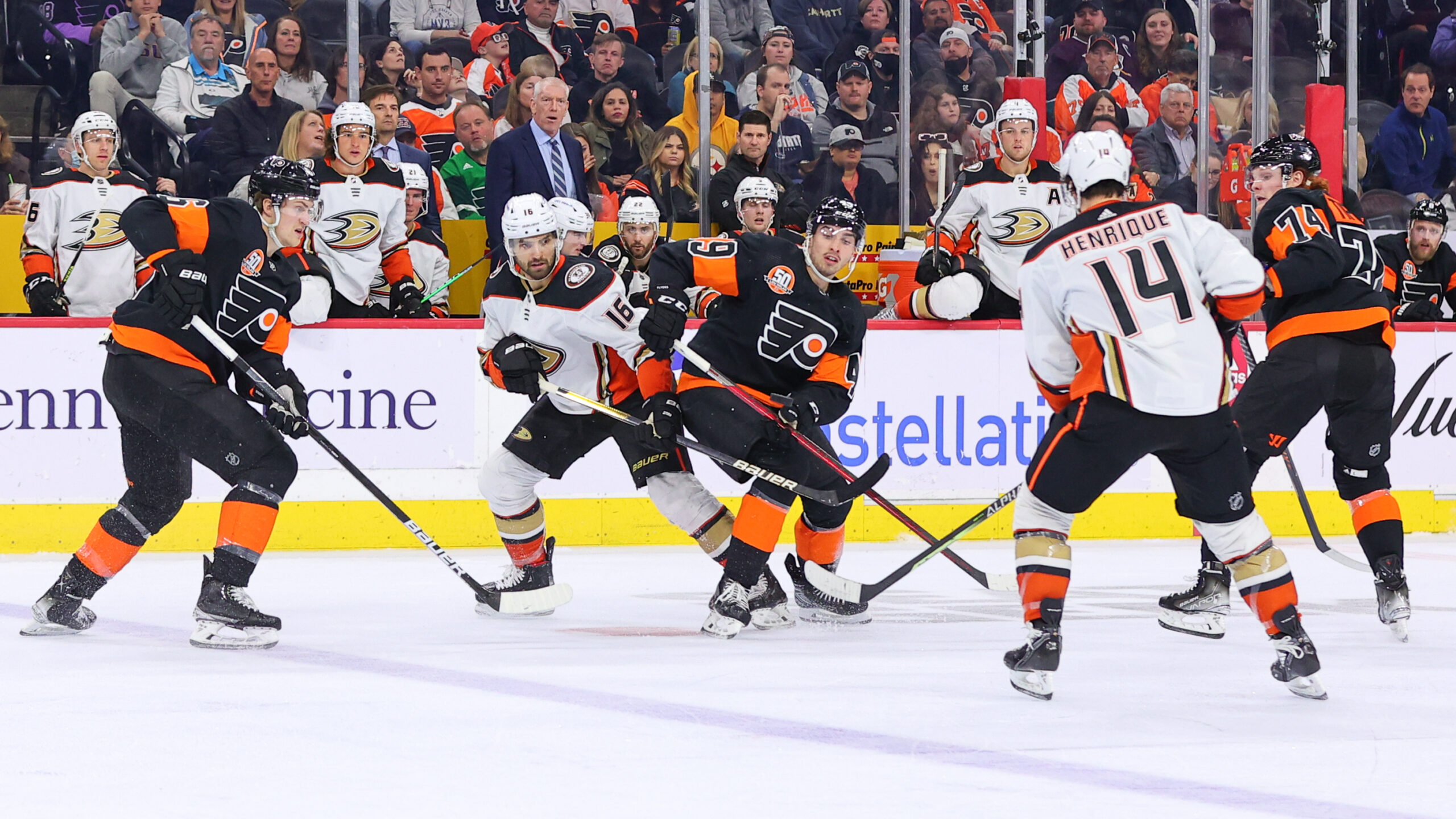 New year, new Flyers? The Orange and Black are looking to start 2023 off as streakers, sprinting towards their third straight victory.
The Philadelphia Flyers haven't strung together three consecutive wins since their opening three games and it's been all downhill since then. Nonetheless, it's a chance for the Flyers to leave 2022 behind – a year where the Flyers owned the worst calendar year points percentage in a non-lockout/pandemic shortened year since 2003 (credit to Charlie O'Connor)… but I digress! It's a new year so let's say new Flyers!
Let's take a look at this matchup. The Flyers are miraculously in a position to go 3-0 in California. They battled back in the San Jose game to take it 4-3 in overtime and dissed the Kings by a score of 4-2. Now with the Anaheim Ducks in their sights, expect the unexpected because literally anything could happen in this game. Trevor Zegras will probably do some weird twisty-turny stuff and maybe we'll get a live check-in to Torts boiling on the bench. Who knows! But what I do know is the Flyers seem to love scoring shorthanded goals recently. Keep an eye out for "TK on the PK" or "The Paralyzer" from Scott Laughton if he finds himself a breakaway.
Another player to keep an eye on in the New Year is Owen Tippett. Tippett, who has continued to carve out a role for himself, notched a goal and an assist in each of the two last games to close out 2022. Despite apathy and anguish among the fanbase right now, fans should feel a small glimmer of hope thanks to the progress being shown by Tippett, Konecny, Laughton, Cates, and Hart. Wishing for more positivity rolling throughout 2023!
As is the case in all hockey games, if you didn't know, one team has to score more goals than the other team to claim the win. But that might be hard to do with two of the bottom-six ranked teams in the goals per game category. The Ducks are second worst, behind only the Blackhawks with 2.27 GF/G and the Flyers aren't much more impressive with 2.65 GF/G.
The Ducks seem to be flailing all over the place, because they also boast a league-worst 4.11 GA/G, the only team allowing more than four goals per game on average. The Flyers have been deadly when shorthanded, tallying seven shorthanded goals this season, which is tied for the league-lead. Both teams aren't particularly strong on the power play though, so don't expect any PPGs from these two bottom-feeders. I'm just hoping both teams have fun and we see something wacky!
PHI Record: 13-17-7, 33 pts, 7th in Metropolitan
ANA Record: 10-23-4, 24 pts, 8th in Pacific
Last Game PHI: 12/31/22 4-2 W @ LAK
Last Game ANA: 12/30/22 6-1 L vs. NSH
When: 10:00pm ET #FlyersAfterDark
Where: Honda Center, Anaheim, CA
PHI Goalie: Samuel Ersson (2-0-0, 3.58 GAA, 885 SV%, 0 SO)
ANA Goalie: John Gibson (6-15-3, 3.97 GAA, .898 SV%, 0 SO)
PHI Projected Lineup
#25 James van Riemsdyk – #48 Morgan Frost – #74 Owen Tippett
#86 Joel Farabee – #49 Noah Cates – #11 Travis Konecny
#13 Kevin Hayes – #21 Scott Laughton – #57 Wade Allison
#44 Nicolas Deslauriers – #38 Patrick Brown – #17 Zack MacEwen
#9 Ivan Provorov – #45 Cam York
#6 Travis Sanheim – #77 Tony DeAngelo
#61 Justin Braun – #55 Rasmus Ristolainen
#33 Samuel Ersson
#32 Felix Sandström
ANA Projected Lineup
#14 Adam Henrique – #11 Trevor Zegras – #19 Troy Terry
#44 Maxime Comtois – #16 Ryan Strome – #33 Jakob Silfverberg
#77 Frank Vatrano – #37 Mason McTavish – #20 Brett Leason
#39 Sam Carrick – #17 Jayson Megna
#4 Cam Fowler – #29 Dmitry Kulikov
#13 Simon Benoit – #3 John Klingberg
#5 Urho Vaakanainen – #22 Kevin Shattenkirk
#36 John Gibson
#41 Anthony Stolarz
PHI Injuries: Cam Atkinson (neck), Sean Couturier (back), Bobby Brink (hip), Ryan Ellis (hip), Tanner Lacyznski (lower-body)
Scratches: Nick Seeler, Olle Lycksell, Carter Hart
ANA Injuries: John Moore (undisclosed), Jamie Drysdale (shoulder), Isac Lundeström (finger), Derek Grant (lower-body)
Scratches: Justin Kirkland, Colin White
News and Notes
Per Olivia Reiner of the Philly Inqurier, John Tortorella said that Carter Hart has passed his concussion evaluation, but Torts decided to give Ersson the start tonight. This will be Ersson's fourth straight start between the pipes. He made 27 saves on 29 shots to help lift the Flyers to victory over the Kings on 12/31
The Flyers have an overall losing record to the Ducks, 15-20-5, since they entered the league in 1993. Since then, the Flyers have done better on the road with nine wins as opposed to only six in Philly. The Flyers last played the Ducks on 04/09/2022 and lost 5-3. I was actually at that game and remember Zegras snagging a spin-o-rama assist and spoiling Lou Nolan's 50th anniversary game.
This will be the third time Anaheim local Cam York will face his hometown team. So far, York is 0-2 against his childhood club, but he did register an assist in just over 20 minutes of ice time in the 5-3 loss back in April. York has been given an elevated role being paired with Ivan Provorov and hearing some praise from Torts. This could be a game for York to really assert himself and snag the elusive first win in his hometown.
This will also be Nic Deslauriers' first time back in Anaheim after playing 169 games for the Ducks over three seasons. Delauriers amassed 29 fights in his time with the Ducks, cementing himself as one of the league's most intimdating enforcers. Now in 37 games with the Flyers, he's fought 8 times (so far) and leads the team in penalty minutes with 64. Check out Deslauriers clashing with a new NHL tough-guy Arber "WiFi" Xhekaj here.
Broadcast Info: TV – NBC Sports Philadelphia, Radio – 93.3 WMMR