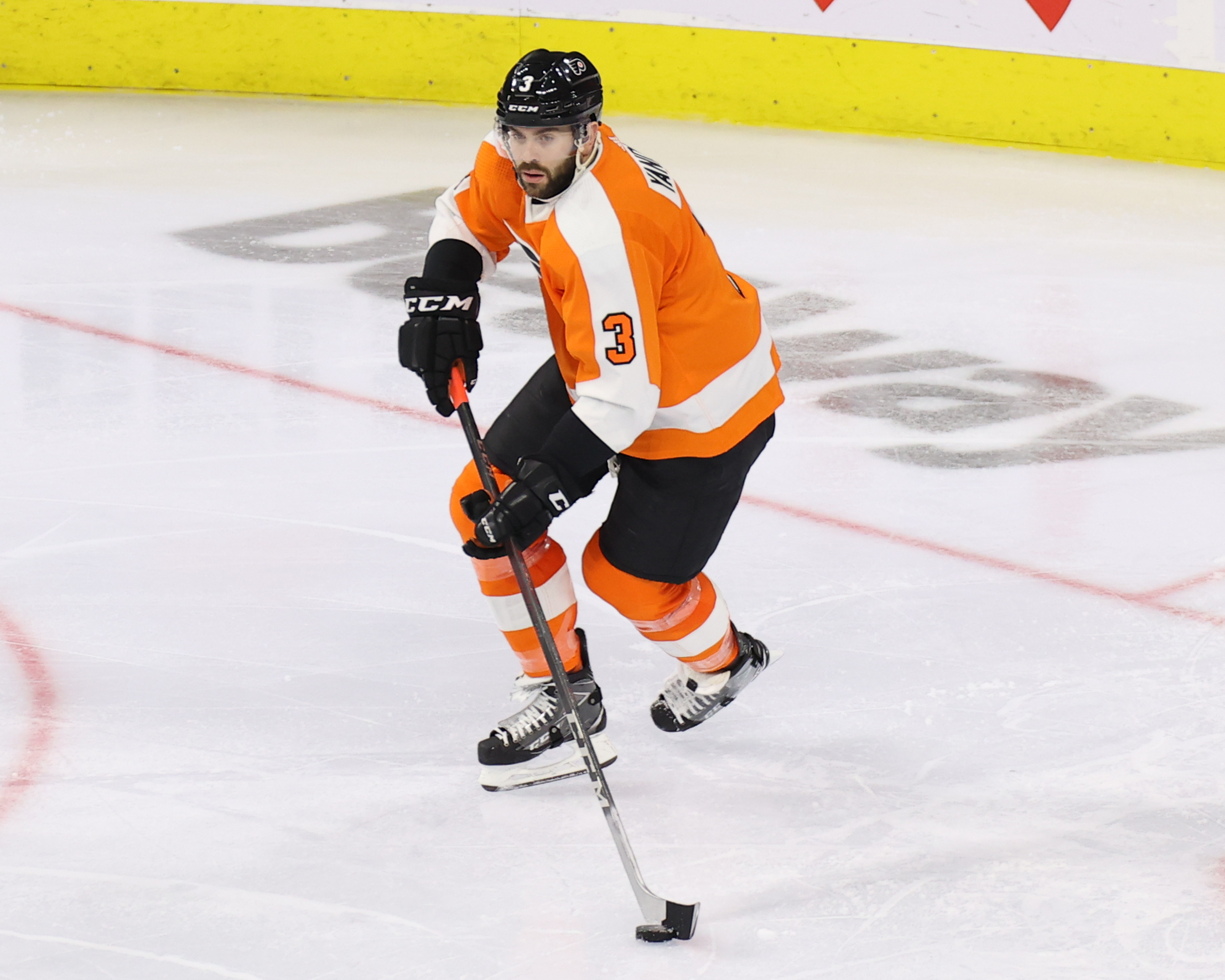 My All-Time Least Favorite Flyers
The Flyers were officially eliminated from the playoffs with a loss to the Minnesota Wild on Sunday. This is the first time the Flyers have missed the playoffs in consecutive years since the 1992-93 and 93-94 NHL seasons. The only thing to look forward to is the draft lottery. So, let's lean into hating the Flyers because that is all we have right now.
A couple rules for this exercise, number one is we are going to keep this to the last 30 years or so, roughly my lifetime. Number two is they either had to play for more than a season or led to a soul crushing trade or asset loss. Number three, we are only going to count what they did as a player so that removes Ron Hextall and Paul Holmgren's days as executives.
Forwards: Kris Versteeg, Alexandre Daigle, Chris Gratton
Forwards like Adam Oates, Pat Falloon, and Nik Zherdev come to mind due to having so much promise or because they were traded for high picks. I am breaking my own rules with Versteeg. Versteeg was only with the Flyers for 38 games including playoffs, but his effort, or lack thereof, was so noticeable that he was traded in the offseason for a lesser return than at the deadline. The Flyers gave up a 1st and 3rd for him and only got a 2nd and 3rd back for him.
Versteeg should have been a perfect middle-six forward to compliment Mike Richards, Jeff Carter, Ville Leino, Danny Briere and Scott Hartnell. Instead, he was a lazy player who did not help the Flyers at all in the playoffs. He had 17 points in those 38 games. The Flyers could've traded those assets to Toronto and acquire Tomas Kaberle, who went on to win the Cup with Boston in 2011, or Dustin Penner, who went on to win the Cup with the Kings in 2012.
Former General Manager Bobby Clarke signed Chris Gratton to an offer sheet that yielded Tampa Bay Karl Dykhuis and Mikael Renberg, and then was traded back to Tampa Bay with Mike Sillinger for Daymond Langkow and Renberg back about 18 months later. Gratton was supposed to be the next Jason Arnott, a dominant, physical two-way center who was going to be impossible to matchup against with Eric Lindros and Rod Brind'Amour on the roster.
Gratton had a solid first season with the Flyers with 62 points in 82 games which was identical to his previous year with Tampa Bay. He followed that up with 8 points in 27 games before getting traded back to Tampa Bay. Gratton just looked slow and never imposed his will on the opposition despite his 6'4" and 225-pound frame. Gratton was supposed to make the Flyers a powerhouse, but he fell flat on his face and was one of the biggest busts in Orange and Black. Gratton went onto have a decent career that spanned 15 years in the NHL.
Another swing and miss by Clarke led to the Flyers acquiring another former high draft pick from a relatively new expansion team. This time it was Alexandre Daigle. After being drafted first overall by the Ottawa Senators, Daigle infamously once said "no one remembers who was drafted number two," who of course was Chris Pronger. Clarke acquired Daigle for a 2nd round pick, the previously aforementioned Pat Falloon, and future-former Flyer Vinny Prospal.
Daigle lasted 68 games as a Flyer over two seasons, scoring 31 points. Prospal went on to play over 1,100 games in the NHL, scoring 765 points in the process. Daigle suffered from a nonchalant attitude despite his talent. Like Gratton, he did not click and did not embody the toughness that Philadelphia craves. Daigle was traded away for Andrei Kovalenko, who lasted 13 games and had 1 assist with the Flyers before getting traded himself. Both Daigle and Gratton changed their jersey numbers from the first year to the second year. Odd coincidence.
Kevin Hayes and James van Riemsdyk have a good chance of being on this list in time. They won't live up to their contracts and represent the worst years of the franchise.
Defensemen: Matt Carle and Keith Yandle
There are some contenders in Andrew MacDonald and Braydon Coburn. MacDonald was overpaid by Holmgren and a terrible defenseman, but he is too easy. Coburn was soft for a 6'5" player, but he was never the same player after breaking his entire face in the 2008 playoffs.
There was a rumor that Chris Pronger really didn't suffer an eye injury but a back injury because he was carrying Matt Carle around so much. Full disclosure, Carle was a fine NHL defenseman, but his gaffes were absolutely infuriating. Watch any Sidney Crosby goal from 2008 to 2012, Matt Carle was the guy who was a step behind Crosby scoring the goal. Carle never inspired any confidence and you cringed when he was on the ice protecting a lead in the 3rd period. Carle had zero hockey IQ and I hated every minute he was a Flyer.
Yeah, Keith Yandle broke the most consecutive games played in the NHL in a Flyers' jersey, but he is not currently an NHL player from a talent or production point of view. He had an excellent career and was a very good defenseman. He has been tough to watch all year and his effort has been waning. Yandle should not be taking time from any young player like Egor Zamula, Cam York, or Ronnie Attard. Play the kids, plus Phil Kessel is most likely going to break his consecutive games played next year.
Goaltender: Ilya Bryzgalov
This was the hardest one to pick. There are people who would go with Michael Leighton for letting up the softest Cup-clinching goal to Patrick Kane, but Leighton still holds the NHL playoff record for most shutouts in a playoff series. Holmgren would have given him a 5-year, $25 million contract if the Blackhawks just scored a regular goal to win the Cup.
Roman Cechmanek had three very good regular seasons followed by three playoff runs where he couldn't stop a beach ball. Martin Biron was the definition of an average goalie. Steve Mason is probably the best goalie not named Carter Hart in the last 20 years for the Flyers and a large contingency of the fan base was anti-Mason. We traded a future two-time Vezina winner Sergei Bobrovsky to an eventual divisional opponent. The position is basically cursed.
The list could go on, but we are going to go with Ilya Bryzgalov. Bryzgalov was acquired from the then-Phoenix Coyotes and then handed a 9-year, $51 million contract by Holmgren. Bryzgalov finished top-six in the previous two years in Vezina voting. Bryzgalov came in and had an okay first season followed by a topsy turvy playoffs where he outdueled Marc-Andre Fleury and the Penguins in the first round of the playoffs, and by outdueled, I mean he was not actively scoring in his own net like Fleury did on more than one occasion.
Bryzgalov followed that up by only letting up soft goals to the eventual Eastern Conference champion New Jersey Devils, including the series clinching goal where he shot the puck off David Clarkson and into the Flyers' net. Bryzgalov followed that up with his 2nd and final season in Orange and Black by losing his job to Steve Mason. Holmgren bought him out and thank Gary Bettman that he invented the compliance buyout where Bryzgalov did not count against the salary cap, because he would have been on the books until 2027.
The best thing we got out of Bryzgalov was all his sound bites, but we ended up trading Bobrovsky because of him and left the Flyers with a hole at the goalie position. Also, with average goaltending, the Flyers probably reach the Stanley Cup Finals in 2012 and play the Mike Richards and Jeff Carter-led Los Angeles Kings. Which somehow brings us full circle to the never-ending cycle of pain and hatred. Never change, my Philadelphia Flyers.