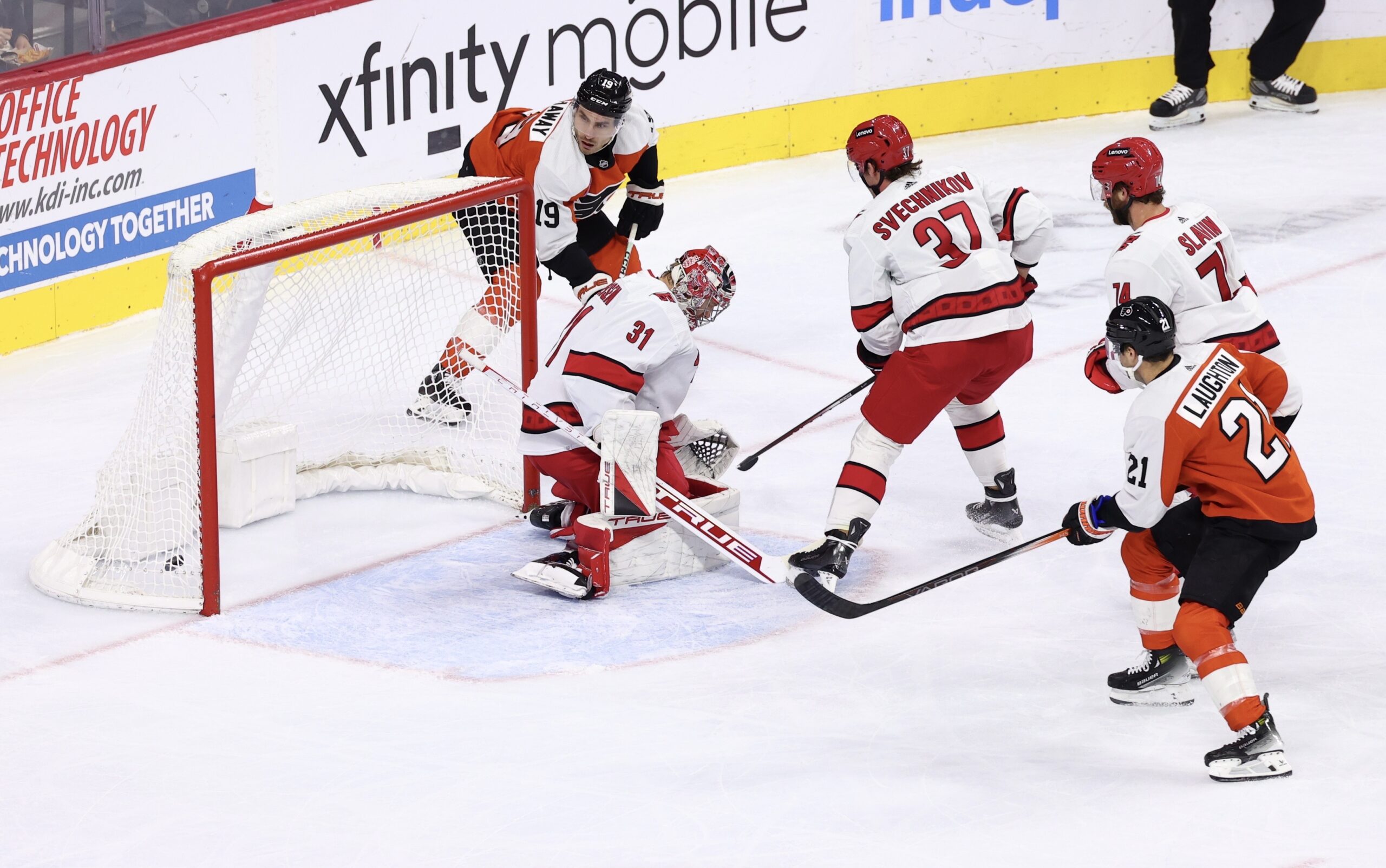 The Philadelphia Flyers are looking for 3 wins in a row after quickly redeeming themselves following their loss to San Jose last Tuesday. Now they face an even healthier Carolina lineup than before as Andrei Svechnikov and Sebastian Aho are back to full health and in top-6 roles. With Frederik Andersen missing time with a blood clotting issue, there could be an advantage in net with a healthy Carter Hart. Ultimately, the Flyers will need to continue their stellar results on 5v5 and lean on strong goaltending to come out with any points in tonight's game.
What's going right for Carolina?
Well, just about everything seems to be going according to plan for the Cup contending Hurricanes. They have the 9th-best powerplay in the league and a 17th-ranked penalty kill, respectively. Great scoring, defense, and goaltending will certainly win you some games. Carolina is currently coming off of a convincing 4-0 victory against the Tamp Bay Lightning, so expect some swagger from them in their own building. Sebastian Aho leads the way in points with 4 goals and 9 assists.
Flyers respond well to loss in San Jose
Since losing to San Jose, the Flyers have won their last 2 games. In these two games, they've scored 4 or more goals. Over this time, the power play has gone 0/7, which is expected but still unacceptable. The penalty kill however continues to be a strong spot for the Flyers, going 7/9 over this recent stretch.
Owen Tippett and Cam Atkinson both had goals in their last 2 games. Tippett scored 2 goals in the 6-3 final against Anaheim. His first was the fifth goal scored for the Flyers, and he also buried the empty netter. Cam Atkinson scored 1 goal in the first period to extend the Flyers lead to 2-0. Tippett opened the scoring in L.A., and Atkinson scored the 4th goal to put the Flyers up 4-1 in the third period, winning this game 4-2.
Ryan Poehling given a chance, Brink rests, Zamula back in
Ryan Poehling, who's been a fine 4C for Philadelphia, is getting an opportunity to play for offense. That is why we will see him on the wing tonight on the third line. Bobby Brink will continue to rest and reflect. It's understandable why some fans may be getting Dave Hakstol PTSD, but remember that the Flyers won their last game. Usually, coaches do not make lineup changes when their team is winning. Tortorella said he hopes to get him back in, so let's see what happens before we light our torches. Egor Zamula will draw back in the lineup as well after having some dip in his play.
Beating the Hurricanes
Fortunately, we have a game we can reflect on! The Flyers last played the Hurricanes on October 30th, where they lost at home in a 3-2 final. The Flyers had the lead until the 3rd period, where they blew the lead and gave up a tough game winner to Teuvo Teräväinen with just under 4 minutes to go. The Flyers ultimately held their own, but lost the game due to special teams. Carolina went 1/1 on their power play, and the Flyers went 0/5 on their power plays. If the Flyers can keep Carolina off of the man advantage, and can keep up their scoring at 5v5, I believe Hart has enough in him to steal a couple saves, and perhaps a win, for the Flyers tonight.
PHI Record: 7-7-1, 15 pts, 6th in Metropolitan
CAR Record: 9-6-0, 18 pts, 3rd in Metropolitan
When: 7:30 pm ET
Where: PNC Arena, Raleigh, NC
Broadcast Info: TNT, Max, 97.5 The Fanatic
Last Game PHI: 11/11/23, 4-2 W at Los Angeles
Last Game CAR: 11/11/23, 4-0 W at Tampa Bay
PHI Goalie: Carter Hart (4-3-0, .913 SV%, 2.52 GAA, 1 SO)
CAR Goalie: Pyotr Kochetkov (1-3-0, .876 SV%, 3.11 GAA, 1 SO)
PHI Projected Lineup
#89 Cam Atkinson – #14 Sean Couturier – #71 Tyson Foerster
#74 Owen Tippett – #48 Morgan Frost – #11 Travis Konecny
#86 Joel Farabee – #27 Noah Cates – #25 Ryan Poehling
#44 Nicolas Deslauriers – #21 Scott Laughton – #19 Garnet Hathaway
#8 Cam York – #6 Travis Sanheim
#5 Egor Zamula – #26 Sean Walker
#24 Nick Seeler – #37 Louie Belpedio
#79 Carter Hart
#33 Samuel Ersson
Scratches: #10 Bobby Brink
Injuries: #18 Marc Staal, #32 Felix Sandström, #55 Rasmus Ristolainen
CAR Projected Lineup
#37 Andrei Svechnikov – #20 Sebastian Aho – #24 Seth Jarvis
#58 Michael Bunting – #82 Jesperi Kotkaniemi – #88 Martin Nečas
#48 Jordan Martinook – #11 Jordan Staal – #86 Teuvo Teräväinen
#23 Stefan Noesen – #18 Jack Drury – #71 Jesper Fast
#74 Jaccob Slavin – #8 Brent Burns
#76 Brady Skjei – #22 Brett Pesce
#7 Dmitry Orlov – #77 Tony DeAngelo
#52 Pyotr Kochetkov
#32 Antti Raanta
Scratches: #5 Jalen Chatfield, #15 Dylan Coghlan, #28 Brendan Lemieux
Injures: #31 Frederik Andersen, #61 Ryan Suzuki
News and Notes
– Betting odds: Flyers +185, Hurricanes -225
– Owen Tippett has been on a heater with 4 points (3g, 1a) over his last 2 games
– The Flyers are 53-26-7-12 (302 GF – 259 GA) all-time against the Hurricanes since they moved from Hartford in 1997. Including the Hurricanes' time as the Whalers, the Flyers are 88-43-14-12 (546 GF – 449 GA) all-time against them.
– Travis Sanheim leads the Flyers in total scoring with 14 points (2g, 12a) after the California slate of the road trip.
– Carter Hart will appear in his 210th contest with the Flyers tonight, putting him just 5 away from Doug Favell for 4th on the franchise's all-time in games played.
Union Forge Vodka proudly serves as the Official Vodka of Flyers Nation. This partnership celebrates the unyielding spirit of Flyers fans and offers a quality spirit that perfectly compliments the team's essence. Whether celebrating victories or showing resilience, Union Forge Vodka embodies the winning spirit of both the Flyers and their dedicated fans. Stay connected with exciting giveaways by following @unionforge and @flyersnation across all social media platforms.