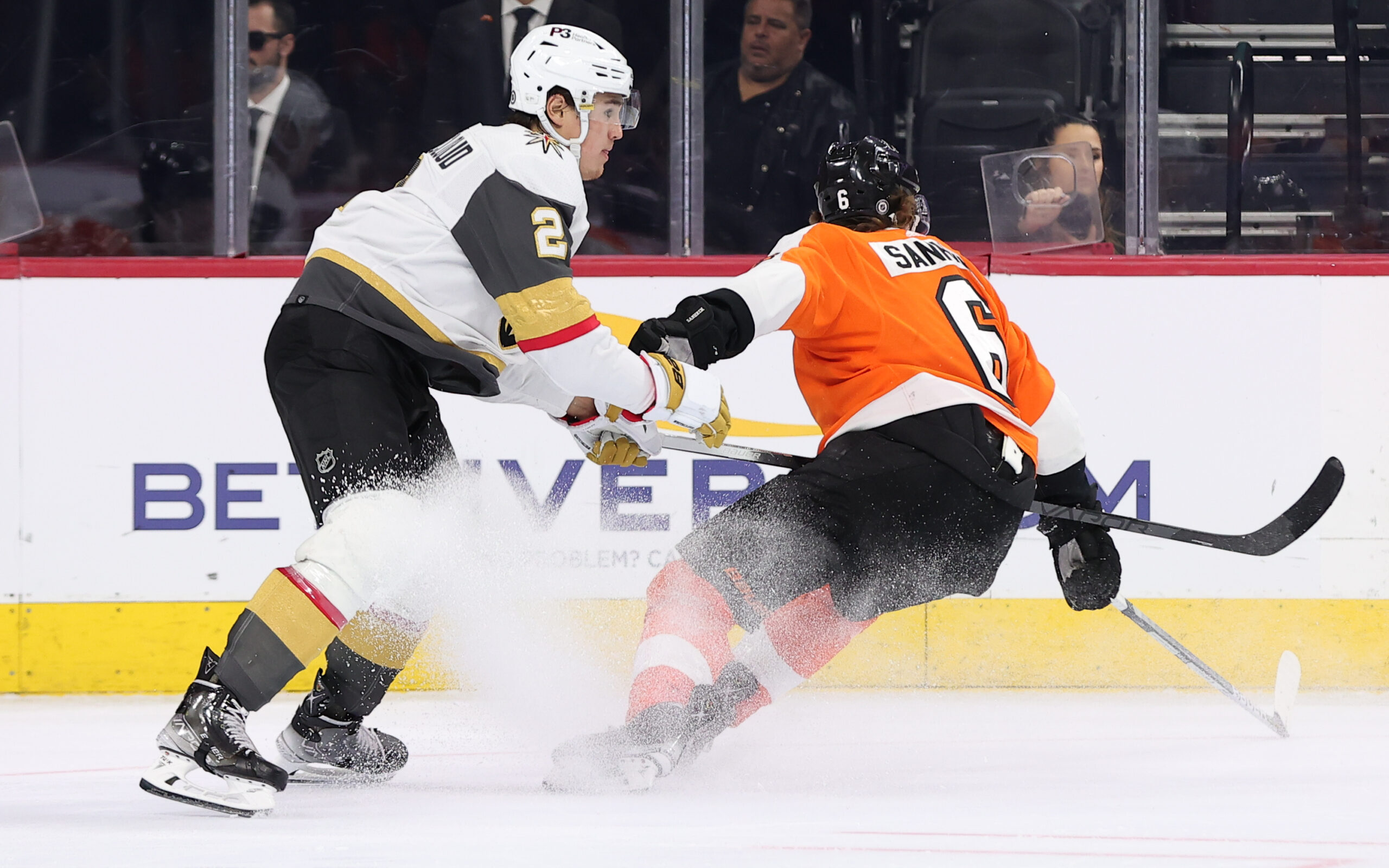 The Philadelphia Flyers (8-7-1) will host the Vegas Golden Knights (13-3-1) today at 1:00pm. The Flyers are coming off of 3 straight wins (CAR, LAK, ANA) and will have their rematch against the defending Stanley Cup champions. On October 24th in Vegas, the Flyers squandered a one goal lead late as the Golden Knights won it in the dying seconds of the 3rd period.
All's Bright in Vegas
The Golden Knights are trying to repeat in 2023-24 and have been electric this season. With 13 wins, they sit atop the Pacific Division, 2 points ahead of the surprising Vancouver Canucks. After losing one game in October, they have so far gone 5-2 in November. Let's take a look at some standout Golden Knights.
William Karlsson leads Vegas in points through 17 games. With 8 goals and 11 assists he's been off to a great year. Karlsson is in the 94th percentile in shooting percentage in the NHL this season. The league average for forwards is 10.5% while Karlsson is doubling that with 21.6%.
They say just get pucks on net and good things will happen. William Karlsson must be a big believer in that. If we look at where Karlsson has been scoring most of his goals, half have been in high danger spots, right in front of the net. If the Flyers are going to attempt to minimize Karlsson's affect on the game, they will have to keep him away from in front of Carter Hart, easier said than done.
We can't discuss the Golden Knights without 2015 2nd overall pick Jack Eichel. The 27-year-old former Sabre, sits right behind Karlsson with 18 points. Scoring and playmaking with 7 goals and 11 assists, Eichel can simply do it all. Something that stands out quick for Eichel is his speed and shooting. Jack Eichel is in the 99th percentile for shots this season and his top skating speed sits at 22 mph. If we look at where Eichel likes to shoot the puck…it's really everywhere. This makes him a threat to score no matter where he is in the offensive zone.
We've talked about two obvious stars for the Golden Knights that have been just dominating as of late but let's take a look at the most important position in hockey. Goaltending.
The Knights are scoring goals and flying up and down the ice but without the seasons that Adin Hill and Logan Thompson are having, their record may look different. Starting with Hill, he holds an 8-1-1 record with a stellar 2.07 GAA and .928 SV%. Building off of his playoff performance last season, Hill is proving he was no fluke. Outside of his last victory where Montreal recorded 5 goals on the net-minder, he has been a rock for Vegas. Then you have the backup goalie in Logan Thompson who has impressive numbers of his own. With a 5-2-0 record with a 2.27 GAA and .925 SV%, he is all but matching his counterpart. Clearly the goalie position has been a huge advantage for Vegas thus far into the 2023-24 season.
A 3-Game Win Streak
The Philadelphia Flyers are playing good hockey. Everything (except the power play) seems to be clicking during this streak. Most surprisingly, they won 2 out of those 3 games without Carter Hart. In his return against Carolina he shined, having a vintage Hart game with 31 saves, allowing only 1 goal. Surely they will need him to step up again agains t an even better team in the defending cup champs today.
Who's Hot?
Owen Tippett has been on a heater recently, recording 4 goals in the 3 recent victories. As any Flyers fan knows, Tippett loves to shoot the puck, sometimes to his detriment. But the streak he's been on was bound to happen when he has such a powerful shot. Finally having Owen Tippett in the groove is a huge development for the Flyers who will need to find ways to get pucks past Adin Hill.
How Will the Flyers Win?
I won't even go into it (again) but clearly the abysmal power play is a factor and will probably always be a factor until they figure it out. Another facet of the the Flyers game that needs to perform today would be defense. Coming into the season, the Flyers defense was very shaky. It really didn't instill much confidence in the fan base and rightly so.
However, the rise of Travis Sanheim, the solid performance of newly acquired Sean Walker and more recently the contributions of Louie Belpedio, has molded this defense into something formidable. It was no doubt a major confidence boost to hold the Canes to 1 goal and Torts is surely looking to see how his defense builds off that. It's a tough task today to defend against the likes of Jack Eichel and William Karlsson, not to mention guys like Mark Stone, but if the Flyers want a victory in their rematch against the champions, it will have to start with the defensive core.
Giving Carter Hart some help against this Vegas offense, joining the forwards on the rush, providing pressure and being physical should keep this young Flyers team in the game.
PHI Record: 8-7-1, 17 pts, 5th in Metropolitan
VGK Record: 13-3-1, 27 pts, 1st in Pacific
When: 1:00pm ET
Where: Wells Fargo Center, Philadelphia, PA
Broadcast Info: NBC Sports Philadelphia, 97.5 The Fanatic
Last Game PHI: 11/15/23, 3-1 W at Carolina
Last Game VGK: 11/16/23, 6-5 W at Montreal
PHI Goalie: Carter Hart (5-3-0, .921 SV%, 2.34 GAA, 1 SO)
VGK Goalie: Logan Thompson (5-2-0, .925 SV%, 2.27 GAA, 0 SO)
PHI Projected Lineup
#71 Tyson Foerster – #14 Sean Couturier – #11 Travis Konecny
#74 Owen Tippett – #48 Morgan Frost – #89 Cam Atkinson
#86 Joel Farabee – #25 Ryan Poehling – #21 Scott Laughton
#44 Nicolas Deslauriers – #27 Noah Cates – #19 Garnet Hathaway
#8 Cam York – #6 Travis Sanheim
#24 Nick Seeler – #26 Sean Walker
#5 Egor Zamula – #37 Louie Belpedio
#79 Carter Hart
#33 Samuel Ersson
Scratches: #10 Bobby Brink, #18 Marc Staal
Injuries: #32 Felix Sandström, #55 Rasmus Ristolainen
VGK Projected Lineup
#49 Ivan Barbashev– #9 Jack Eichel – #81 Jonathan Marchessault
#21 Brett Howden – #22 Michael Amadio – #61 Mark Stone
#43 Paul Cotter  – #71 William Karlsson – #16 Pavel Dorofeyev
#28 William Carrier – #10 Nicolas Roy – #55 Keegan Kolesar
#23 Alec Martinez – #7 Alex Pietrangelo
#3 Brayden McNabb – #27 Shea Theodore
#17 Ben Hutton – #2 Zach Whitecloud
#36 Logan Thompson
#33 Adin Hill
Scratches: #46 Jonas Røndbjerg, #94 Brayden Pachal
Injuries: #14 Nicolas Hague, #20 Chandler Stephenson (game-time decision)
News and Notes
– Betting Odds: Vegas -162, Flyers +134, o/u 5.5
– The favorite and the home team are 5-2 in last 7 meetings between these clubs.
– The Golden Knights are 6-1 in their last 7 matchups against Metropolitan Division teams
– The Golden Knights are also 6-0 in their last 6 Saturday games.
Union Forge Vodka proudly serves as the Official Vodka of Flyers Nation. This partnership celebrates the unyielding spirit of Flyers fans and offers a quality spirit that perfectly compliments the team's essence. Whether celebrating victories or showing resilience, Union Forge Vodka embodies the winning spirit of both the Flyers and their dedicated fans. Stay connected with exciting giveaways by following @unionforge and @flyersnation across all social media platforms.