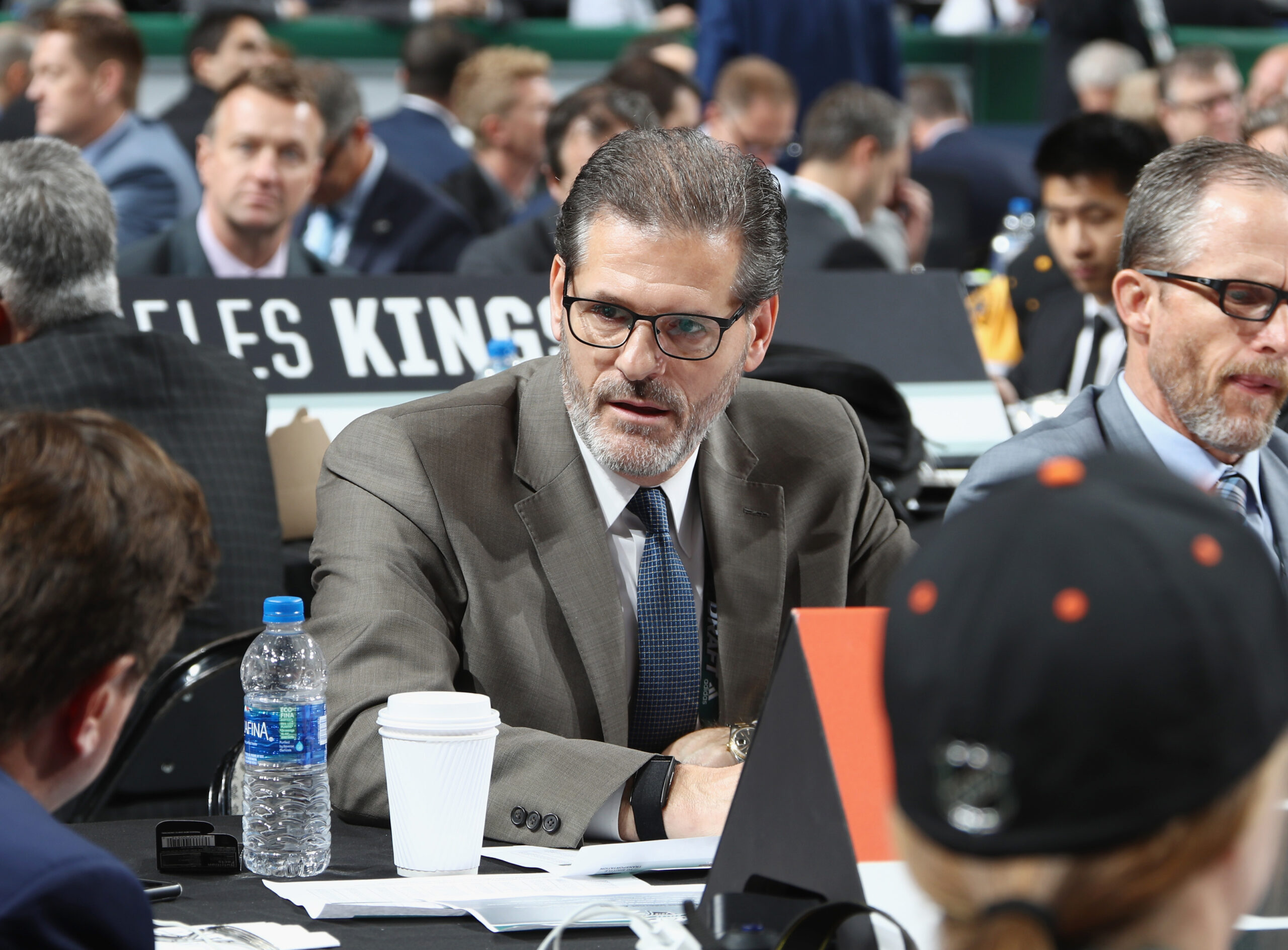 The Rebuild That Never Was
Why are the Philadelphia Flyers still a middling and sometimes mediocre hockey team? Look no further to the rebuild that never was.
THE END OF THE HOLMGREN ERA
The Flyers were in desperate need of a new general manager and visionary after the latter half of Paul Holmgren's tenure. Prior to advancing to the Stanley Cup Final in 2010, Holmgren made some shrewd trades and signings, building a very deep, balanced, and dangerous team. He blew up the team afterwards in the years after, trying to chase that elusive Cup.
He traded Mike Richards and Jeff Carter to clear cap space and sign goaltender Ilya Bryzgalov to a taboo nine-year deal in 2011. He also signed Andrew MacDonald to a long-term extension right after making the trade for him in 2014, and traded players like James van Riemsdyk, Simon Gagne, and Sergei Bobrovsky for not much in return as well.
The Flyers flopped in the playoffs in 2011, the following year after their Cup run, against the Boston Bruins by getting swept in the Eastern Conference Semifinals after having a tough time taking down the Buffalo Sabres in the first round.
The goaltending trio of Sergei Bobrovsky, Michael Leighton, and Brian Boucher didn't push the needle and were outright awful. It signaled alarms all throughout the Flyers' brass that a move needed to be made in goal instead of trying to develop the young Bobrovsky.
The Flyers were eyeing Bryzgalov, who was definitely the biggest fish in the free agent waters that summer and nabbed him for nine years. To alleviate money, the Flyers traded franchise cornerstones in Richards and Carter. Richards was shipped off to the Los Angeles Kings for Brayden Schenn and Wayne Simmonds, while Carter was sent to Columbus for Jakub Voracek, a first round pick, and a third round pick. 
The Flyers were completely different in 2011-12, adding Jaromir Jagr and Maxime Talbot to the fold that already included Claude Giroux, James van Riemsdyk, and Daniel Briere. It was a fun team to watch but Bryzgalov's off-ice antics really brought the team morale down.
Chris Pronger's early retirement didn't help the cause and the Flyers were bounced out in the second round by the New Jersey Devils after their emotionally driven first round victory over the Pittsburgh Penguins. That ended their stretch of 16 playoff berths in 17 seasons and began the era of flip-flopping between playoffs and early summers for Philadelphia. 
THE BEGINNING OF HEXTALL'S TENURE
After failing to make it past the first round in 2013-14, the Flyers feared that Ron Hextall would go elsewhere and they decided to promote him from assistant general manager to general manager and Holmgren oddly got promoted to the presidents' job.
This was when the so-called "rebuild" was supposed to begin. Hextall was handed a dumpster fire in terms of salary cap management and bad contracts. To his credit, he handled the salary cap and contract situations very well, it was just everything else that he didn't properly take care of. 
Hextall's tenure was built around draft capital, acquiring draft capital, and getting rid of expensive and old contracts from the Holmgren era. He refused to call it a rebuild, as he dubbed it the "R-word". That is where the issues truly arose, however. The Flyers never properly rebuilt their squad and essentially wasted 4-5 years playing mediocre hockey for not much in return. 
Claude Giroux and Jakub Voracek had the primes of their career wilting away with the "depth" pieces that Ron Hextall always signed or traded for every summer. The Flyers were never a playoff team, they should have never made the playoffs, and it was no coincidence that even when they did clinch a playoff berth they were easily taken care of by teams like the Pittsburgh Penguins or Washington Capitals.
You can make the argument that Giroux and Voracek went quiet and disappeared in the playoffs, but when you only have one line worth defending, any playoff team is going to have an easy go at stopping your top line.
Most teams have 2 strong defensive pairings, while the Flyers barely had one. It was easy defending Giroux and Voracek when the other lines included Valtteri Filppula, Jori Lehtera, Dale Weise, and Matt Read, among others.
As good as Wayne Simmonds and Brayden Schenn were, they were very one-dimensional players and mostly thrived on the power play. The Flyers' power play under Joe Mullen was a thing of beauty.
Claude Giroux has 95 power play points since his departure in 2015, but had almost 200 from 2010 until Joe Mullen's final year. Even strength hockey was never a specialty for the Flyers and part of that had to do with the "depth" pieces that Hextall raved about. 
UNEVENTFUL OFFSEASONS
2014
Hextall's first summer as general manager was in 2014 after the Flyers lost to the New York Rangers in seven games in the first round. He signed Pierre-Edouard Bellemare, Nick Schultz, Ryan White, and Michael Del Zotto. He also signed Carlo Colaiacovo later in the season.
He also gave extensions to Kimmo Timonen, Ray Emery, and Brayden Schenn. and traded Scott Hartnell for RJ Umberger. Andrew Gordon and Zach Stortini were also signed as depth pieces destined for the minor leagues. 
Unsurprisingly the Flyers finished 6th in the division and missed out on the playoffs. During the trade deadline he swapped Timonen for two second-round picks from Chicago after Timonen missed every game up to that point with blood clots. He also traded Braydon Coburn to Tampa Bay for Radko Gudas, and first-round pick and a third-round pick. 
2015
In 2015, he packaged some of those picks to move up in the draft and select Travis Konecny. He drafted Ivan Provorov earlier in the first round as well.
However, the rest of his moves were underwhelming as he signed Evgeni Medvedev and Michael Neuvirth. He also extended Chris Vandevelde, Ryan White, Jakub Voracek, Sean Couturier, and Michael Del Zotto. Aaron Palushaj, Tim Brent, Chris Conner, Davis Drewiske, and Chris Porter were signed as organizational depth by Hextall. Porter would later be claimed on waivers by the St. Louis Blues.
The Flyers made the playoffs that season but were outplayed by the Washington Capitals and lost in six games, where they only managed six goals. In the thick of a playoff race, Hextall stood pat at the trade deadline and his only noteworthy move was trading Luke Schenn and Vincent Lecavalier to the Los Angeles Kings for Jordan Weal and a third-round pick.
2016
Heading into the summer with a potential playoff team at his disposal, instead of possibly make moves to better the current team, he decided to just add more draft capital. He packaged his first round pick to move down in the round and also grab another later round pick, and selected German Rubtsov.
With the free agency window open he added more depth by signing Dale Weise, Boyd Gordon, and Roman Lyubimov to contribute in Philadelphia, while Greg Carey, Andy Miele, Will O'Neill, and T.J. Brennan served as minor league veteran options.
2017
Out of the playoff race in 2016-17, the Flyers decided to send Mark Streit to Tampa Bay for Valtteri Filppula, a 4th round pick, and a conditional 7th round pick. Hextall made a flurry of moves before and at the 2017 NHL Draft as well. He traded Nick Cousins to Arizona, Brayden Schenn to St. Louis (one year after his extension), and a package of picks to move up and select Isaac Ratcliffe. 
Still not adding to his core and maybe believing too much in the group of Giroux, Voracek, Simmonds, Gostisbehere, and Couturier, Hextall signed Brian Elliott as Steve Mason's replacement along with Corban Knight and Phil Varone in the offseason.
To Hextall's credit, the Flyers had an offensive explosion from Giroux, Couturier, Voracek, and Gostisbehere, but they couldn't translate that success into the playoffs as they got outplayed by the Pittsburgh Penguins this time around, being outscored 28-15 and bowing out in six games.
He made one move at the trade deadline that signaled some kind of aggressiveness as he went after goaltender Petr Mrazek from the Detroit Red Wings, but that move never panned out as Mrazek struggled as a Flyer.
2018
In his final year as a general manager he finally made a move during the offseason to help his top-six by signing James van Riemsdyk to a five-year deal. Giroux and Voracek apparently approached Hextall about the move and both parties were on board for a reunion. His final move as general manager was claiming goaltender Calvin Pickard off waivers from Toronto in October in the year of the eight-goalie carousel.
HEXTALL'S DRAFTS
Based on all the moves, it was apparent he had his mind set on using that draft capital and building from the ground up. From 2014 to 2018, he drafted a slew of players, with only a handful making an impact on the NHL level (boldened players have played for the Flyers AND have had some sort of impact in the lineup).
2014
Travis Sanheim, Nicolas Aube-Kubel, Mark Friedman, Oskar Lindblom, Radel Fazleev, Jesper Pettersson
2015
Ivan Provorov, Travis Konecny, Felix Sandstrom, Matej Tomek, Samuel Dove-McFalls, Mikhail Vorobyev, David Kase, Cooper Marody, Ivan Fedotov
2016
German Rubtsov, Pascal Laberge, Carter Hart, Wade Allison, Carsen Twarynski, Connor Bunnaman, Linus Hogberg, Tanner Laczynski, Anthony Salinitri, David Bernhardt
2017
Nolan Patrick, Morgan Frost, Isaac Ratcliffe, Kirill Ustimenko, Matthew Strome, Maksim Sushko, Noach Cates, Olle Lycksell, Wyatt Kalynuk
2018
Joel Farabee, Jay O'Brien, Adam Ginning, Jack St. Ivany, Wyatte Wylie, Samuel Ersson, Gavin Hain, Marcus Westfalt
THE DOWNFALL
The Flyers struggled year in and year out under Ron Hextall, somehow managing to slip into the playoffs a few times. Making the playoffs in Dave Hakstol's first season might've been a mistake in hindsight because it allowed Hextall to think his team was good enough and he didn't have to make big changes.
A rebuild was necessary and he needed to tear down the fabric of this team. If that meant trading Giroux and Voracek at the inception of his tenure, then so be it. Instead he kept them in a lineup that had no business in ever making any noise in the playoffs. They played as best they could with what was around them, and Giroux had some outstanding years, including potentially MVP-esque seasons. 
Unfortunately for Giroux and the rest of the core, they were stuck in a team that had no depth, no bottom 6 forwards worth mentioning, not a lick of defense, and barely any worthwhile goaltending after Steve Mason departed at Hextall's discretion.
His focus, which was drafting and draft capital, barely landed them any impactful players on the NHL level. Outside of Ivan Provorov, Travis Konecny, Carter Hart, and Travis Sanheim, most of his picks either languished in the minors or juniors or left for another team. He had 8 first-round picks in 5 drafts and seemingly half of them didn't pan out. 
The jury is still out on picks like Morgan Frost and Jay O'Brien, but it's evident now that Nolan Patrick and German Rubtsov didn't work out. Whether it is to be believed or not, Flyers scouts implored Hextall to draft either Cale Makar or Miro Heiskanen. He wanted Patrick, and to his credit he was an obvious pick at number two, but sadly we are left in the dust of hindsight bias. 
So yes, you can blame the players for the ineffective play over the years, but when your general manager didn't want to add to his current team and continue the "r-word", it was going to be a tall hill to climb for players like Giroux to have consistent success. 
It's okay to believe in drafting and draft capital, but you need to hit on those picks. To have that many picks and not come out with many talented NHL players makes his tenure look even worse.
It's nothing against Provorov, Konecny, Sanheim, or anyone else on that list, but the Flyers are still struggling because of most of these moves. Drafting can sometimes be a crapshoot, however the Flyers missed out on a lot of their picks, even the high ones.
When teams commit to a rebuild they tear down every wall around them. Colorado got rid of Ryan O'Reilly, Paul Stastny, and Matt Duchene to usher into the era of Nathan Mackinnon. Carolina struck gold on a lot of their picks and have become a very successful team because of it. To a lesser degree, the Toronto Maple Leafs fully rebuilt their squad in the midst of a 13 year playoff drought and are always in the conversation for the Stanley Cup, whether valid or not. 
The Flyers had their chance to rebuild under the five-year regime of Hextall but he refused to fully commit and build his own vision. It was too late to trade Giroux and Voracek at the back half of his tenure and now that Voracek is finally gone, Gostisbehere was traded with barely any trade value hanging to his name, and Simmonds was so injured he was a shell of his former self, it's up to Giroux whether or not he wants to stay in Philadelphia; putting an exclamation point on a wasted decade of Philadelphia hockey.
CHUCK FLETCHER'S EFFORTS
Chuck Fletcher has done a lot to get rid of Hextall's framework but we're still left with the same issues. What needs to addressed is open for conversation but a lot of the core players remain from Hextall's tenure. Fletcher tried changing as much as he could from management, to coaching, to leadership on and off the ice. It's been a tough road for most Flyers fans, and it seems we're still not where we want to be. 
The 2021-22 Flyers are definitely a different bunch, they bring a different energy, and are a completely different vibe from the disastrous teams from 2014-2021. With key players still on the mend and goalscoring woes continuing, the Flyers don't have anyone to blame but themselves. Making a move right now is nearly impossible with the tight cap constraints, most teams not looking to make a trade, and not having many assets to trade that could bring a star in return.
Hextall was right when he said this wasn't a rebuild after trading Brayden Schenn for 2 first-round picks. He said it made his team younger and fresher and thought of it more as a refresh than a rebuild. That is correct, but what that did was completely stalling any chance of getting better.
It would be a totally different conversation had more of his draft picks panned out, however we are left with a middling team that can break out at any moment but can also turtle when under pressure.