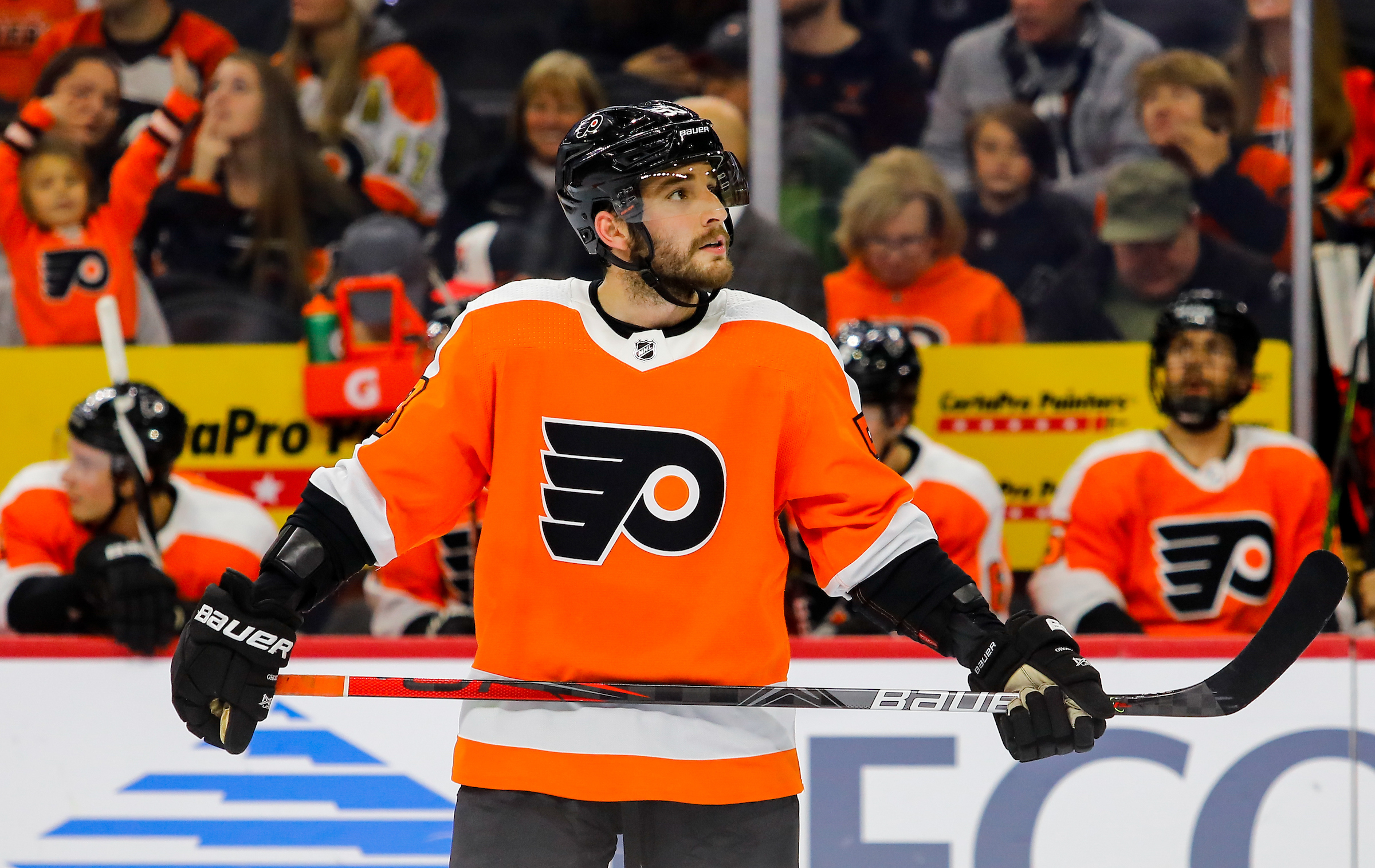 Shayne Gostisbehere Returns Tonight, and It Will Certainly be an Emotional Evening
Tonight's matchup between the Philadelphia Flyers and Arizona Coyotes at Wells Fargo Center will serve as Shayne Gostisbehere's first game in Philadelphia since May 10th, 2021. Gostisbehere was traded to Arizona on July 21st in a pure salary cap dump by Flyers general manager Chuck Fletcher to create cap space for new additions to the team later in the summer.
Whether you agreed or disagreed with the trade, sentimentally it stunned plenty of fans. Gostisbehere was a fan favorite and a homegrown player who was drafted in the third round of the 2012 NHL Draft by Paul Holmgren, and began his Flyers career with his first two NHL appearances early on in the 2014-15 season against the Detroit Red Wings and Los Angeles Kings.
Gostisbehere would suffer a torn ACL upon returning to the AHL's Lehigh Valley Phantoms after his cup of coffee with the Flyers, but his return in 2015-16 was marvelous and it was a season no one could forget. Gostisbehere recorded his first NHL point in his first appearance of the season, an assist on a snap shot that was deflected by Wayne Simmonds for the late tying goal in a crucial road game on November 14th against the Carolina Hurricanes. The Flyers would go on to win the game in overtime.
In his very next game, he ripped home his first NHL goal in front of the Philadelphia faithful at Wells Fargo Center. He unleashed his patented one-timer from the point past Kings goaltender Jonathan Quick on the power play, and the legend of Shayne Gostisbehere began to grow.
Everyone remembers his overtime winners against Carolina and Nashville at home, cutting from the point to the high slot on power play opportunities with both plays looking incredibly identical to one another. His goals marked the first time a Flyers rookie netted multiple overtime game-winning goals in the same season.
Everyone also remembers his NHL-record 15-game point streak, the longest by a rookie defenseman in the sport's history, and it's a record that will likely never be broken. It started with two assists against the Pittsburgh Penguins on January 21st, and ended with a beautiful rush for an overtime-winning goal on James Reimer on February 20th against the Toronto Maple Leafs.
His impact was so large that the late, great Flyers owner and chairman Ed Snider became immediately enamored with him too before his passing. Mr. Snider's son and former team president, Jay, stated his father's excitement in a 2016 interview with the Philadelphia Inquirer.
"Dad was so excited about him. He said, 'My God, I can't believe I'm not going to see this guy's career.' He was so excited about him. Mark Howe was a great defenseman, but we never had one like this that we drafted."
It was one of those years that was filled with magic, especially with Gostisbehere giving the Flyers new life immediately upon being called up. He helped carry them to an improbable playoff berth, where they fell in six games to the Presidents' Trophy-winning Washington Capitals in the Eastern Conference Quarterfinals.
His tenure after that season was very tumultuous. The 2016-17 season saw him struggle at times and he was a healthy scratch on occasion. The following season was the polar opposite, as he racked up a career-high 65 points in 78 contests, the most by a Flyer defenseman in a season since Flyer legend and Hockey Hall of Famer Mark Howe's 67 in 1983.
His seasons from 2018-19 to 2020-21 left much to be desired from fans based on his lower point totals and questionable defensive play. It also didn't help that he had some injury troubles along the way. But his time in Philadelphia should be celebrated and he should be welcomed back with open arms and an applause loud enough to be heard from City Hall.
Gostisbehere was a bright spot in an otherwise dull era of Flyers hockey. He left Philadelphia as the fifth-highest scoring defenseman in Flyers history with 219 points in 381 games in orange and black. At the time of the trade, he was by far the longest tenured active Flyers defenseman as well. He provided the organization and fanbase with great memories in a time when there weren't many to be remembered, and the tribute and ovation he will receive tonight will surely leave some misty eyes as he comes back home where his career began.
Welcome back to Philadelphia, Shayne.