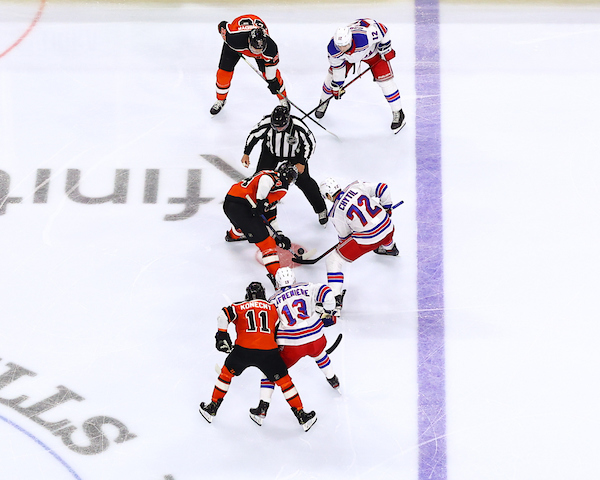 With the sky seemingly falling in Philadelphia, the Flyers (8-8-4) visit the Big Apple tonight to face off against the New York Rangers (13-4-3) in the first of four meetings this season. The Flyers come into this game on a six-game losing streak, while the Rangers are in the midst of a three-game winning streak and are winners in 7 of their last 8 games. 
LAST GAME…
After yet another disappointing loss, this time at the hands of the New Jersey Devils, it's gut check time for the Flyers as they are slipping further and further away in the standings, in their own city, and amongst their own fan base. It has been a poor showing from every which angle you look at it and fingers are being pointed from the ownership down to the players. 
This was supposed to be the second leg of a back to back, however their game against the New York Islanders was postponed due to COVID-19. It was probably a blessing in disguise as the Flyers needed every bit of the last 48 hours to recuperate and try to recharge. 
The Devils nearly dominated every aspect of their game on Sunday with constant offensive zone pressure, forcing turnovers, and doing everything but scoring until the latter half of the third period. Even after the Flyers had tied it in the third period, momentum never really swayed to their side and after some more ghastly turnovers, the Devils iced the game away. 
Offensive struggles have been the main point of contention for well over a month now as they have scored 33 goals in their last 17 games. Their power play is 5 for their last 51, several players are mired in scoring droughts, and defensive breakdowns are becoming more prevalent, which hurts even more when you're struggling to score goals. 
SCOUTING THE RANGERS
The New York Rangers on the other hand have enjoyed consistent success this season as they currently sit 8th place in the NHL, 5th in the Conference, and 3rd in the division, trailing first place Washington by 4 points but have 3 games in hand. 
Their offense has been a little middling as they are 14th in the NHL in goals per game, 12th on the power play, and 3rd last in shots on goal. Their offense is gravitated around reigning Norris Trophy winner Adam Fox, who has 21 points in 20 games, Artemi Panarin and his 21 points, Chris Kreider with his best Cy Young impersonation of 15 goals and 3 assists, Mika Zibanejad and his 16 points, and Ryan Strome who has 14. 
Their goaltending, specifically from Igor Shesterkin, has been absolutely sensational. We have seen great goaltending from Carter Hart but Shesterkin has been a brick wall since November. He has won 6 of his last 7, hasn't allowed more than 3 goals since November 6th, and his record is very much indicative of his play; 11-3-2 with a 2.22 GAA and a .933 save percentage. 
The Flyers were 4-3-1 last year against the New York Rangers but it's tough to forget the 9-0 and 8-3 drubbings in the month of March. They were outscored 34-20 in those 8 games and Mika Zibanejad and Adam Fox really enjoyed their time playing against the Flyers, as the former scored 7 goals and 18 points in 8 games, while the latter tallied 10 assists in 7 games. 
Practice on Tuesday brought about some good news as the Flyers will be welcoming back Kevin Hayes to the lineup in tonight's game. The Flyers shook up their lineup yet again and head coach Alain Vigneault brought back 3 lines that worked at different parts of his tenure so far. 
NEW LINES, INJURIES GALORE
Sean Couturier with Joel Farabee and James van Riemsdyk was a successful line last season, Claude Giroux with Derick Brassard and Cam Atkinson has worked a little this year, and Scott Laughton with Kevin Hayes and Travis Konecny worked brilliantly in 2019-20. Morgan Frost was on the fourth line with Connor Bunnaman and Zack MacEwen. Brassard is not expected to play tonight, however, and expect Frost to slot into the top-six with Giroux and Atkinson. 
The Flyers will be without Brassard, Ryan Ellis, Patrick Brown, and Nate Thompson. Hayes is slated to return to the lineup tonight after re-injuring himself in his second game of the season against Calgary. He practiced in full on Tuesday and is ready to help the Flyers who desperately lack centre depth at the moment. Derick Brassard also practiced on Tuesday but is still a week or so away from returning. The Rangers will only be without Sammy Blais, who is out for the season with a torn ACL. Igor Shesterkin is in line to face off against Carter Hart.
Once this game is complete, the Flyers are off until Sunday against the Tampa Bay Lightning. However that's only the beginning of 5 games in 7 nights as they play the Colorado Avalanche on the second leg of a back-to-back, then once again on the road against the New Jersey Devils a few days later, only to end their week on another back-to-back against the Vegas Golden Knights and Arizona Coyotes on Friday and Saturday.
Chuck Fletcher believes standing pat is the right move at the moment, with players returning to health, but we'll see what happens after the next 6 games, especially the daunting 5 games in 7 nights. The schedule maker did the Flyers no favours in giving them a hellish month of November, followed by a tough start to the month of December.
PROJECTED LINEUPS
Philadelphia Flyers:
Joel Farabee – Sean Couturier – James van Riemsdyk
Claude Giroux – Morgan Frost – Cam Atkinson
Scott Laughton – Kevin Hayes – Travis Konecny
Oskar Lindblom – Connor Bunnaman – Zack MacEwen 
Ivan Provorov – Nick Seeler
Travis Sanheim – Rasmus Ristolainen
Keith Yandle – Justin Braun
Carter Hart

New York Rangers:
Chris Kreider – Mika Zibanejad – Kaapo Kakko
Artemi Panarin – Ryan Strome – Dryden Hunt
Alexis Lafreniere – Filip Chytil – Julien Gauthier
Kevin Rooney – Barclay Goodrow – Ryan Reaves
Ryan Lindgren – Adam Fox
K'Andre Miller – Jacob Trouba
Patrik Nemeth – Nils Lundkvist 
Igor Shesterkin 

Riley Cote & Derek "Nasty" Settlemyre go behind the scenes and talk hockey with some of the biggest names in the NHL.