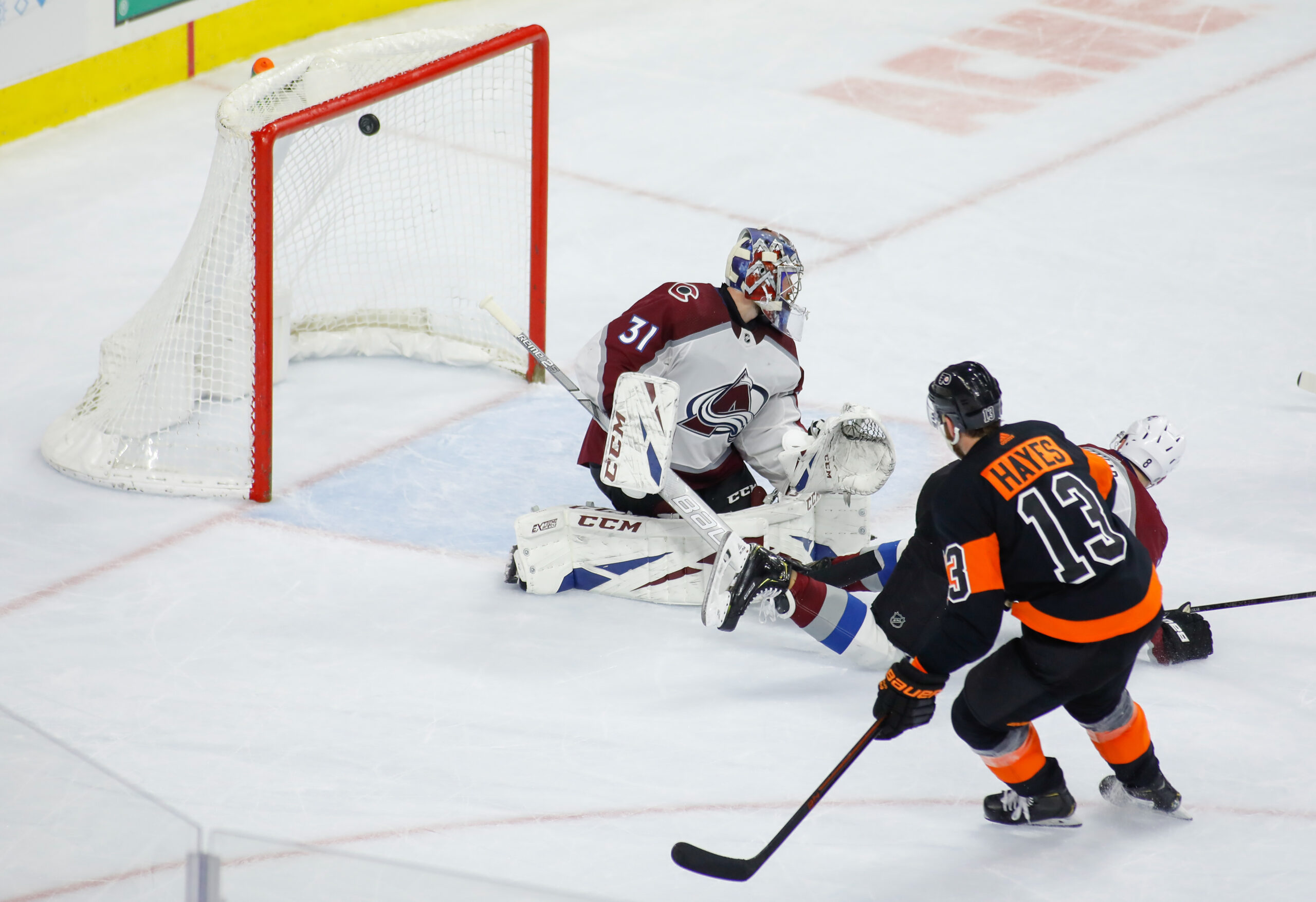 The Philadelphia Flyers have finally won a road game in 2022 after taking down the St. Louis Blues on Thursday night by a score of 5-2. The game against the Blues represented their second on a season-long 5-game road trip but it was momentous as they finally snapped their 13-game road winless streak. The Flyers don't have much time to celebrate as they have a game against the even more superior Colorado Avalanche tonight. The Avalanche are 1st in the NHL and have a vaunted offense that is hard to match, as the Flyers know very well from their 7-5 loss in December.
The Avalanche are 45-14-5 on the season as they lead their division, conference, and the league with 95 points. They have had to deal with a slew of injuries of late, including their captain Gabriel Landeskog, but they made a few moves near and at the trade deadline as they acquired Josh Manson, Nico Sturm, and Artturi Lehkonen. They were seemingly in on the Claude Giroux sweepstakes but the former Flyers captain preferred the Florida Panthers. The Flyers on the other hand are 21-32-11 on the season as they sit 7th in the Metropolitan Division, 13th in the Eastern Conference, and 27th in the NHL. They are 5-4-1 in their last 10 games, which is far better than they have done in recent memory.
The Flyers are 31st in goals (2.52), 18th in shots on goal (30.6), have the worst power play (13.7%), and are 31st in the league in shooting percentage (8.2%). Defensively they aren't any better as they sit 24th in goals allowed (3.43), 28th in shots on goal allowed (33.8), and have the 7th-worst penalty kill (75.6%). Conversely the Avalanche are 3rd in goals (3.78), 5th in shots on goal (34.9), tied for 6th in shooting percentage (10.8%), and have the 4th-best power play (24.7%). Defensively they sit 7th in goals allowed (2.77), 14th in shots on goal allowed (31.3), and have the 17th-best penalty kill (78.7).
After Claude Giroux's 1000th game, players like Kevin Hayes, Joel Farabee, and Travis Konecny have taken on a bigger role offensively and have really shone. Cam Atkinson still leads the team with 23 goals and 48 points in 64 games, Konecny is in 2nd with 30 assists and 42 points, Farabee is 3rd with 14 goals and 30 points, and Hayes now has 20 points in only 30 games. Konecny and Hayes have 3 straight multi-point efforts, while Farabee has 5 points in the same span. Hayden Hodgson also had a fantastic NHL debut as he scored a goal and recorded an assist, was a plus 3, recorded 4 hits and 1 shot in 16:23 last night.
Nazem Kadri leads the Avalanche offense with 52 assists and 76 points in 61 games, Mikko Rantanen has 31 goals and 75 points in the same amount of games, Cale Makar has 49 assists and 71 points, while Nathan Mackinnon has 47 assists and 69 points in only 49 games. Gabriel Landeskog, who will remain out for the remainder of the season, currently sits 5th on the team with 59 points in 51 games, and finally to complete the vaunted offense are Andre Burakovsky and Devon Toews with 46 points apiece. The Avalanche are no joke and their offense speaks volumes.
PHI Record: 21-32-11, 53 pts, 7th in Metropolitan
COL Record: 45-14-5- 95 pts, 1st in Central
When: 9:00pm ET
Where: Ball Arena, Denver, CO
PHI Goalie: Carter Hart (13-20-7, .910 SV%, 2.97 GAA, 1 SO)
COL Goalie: Pavel Francouz (11-3-1, .919 SV%, 2.50 GAA, 2 SO)
PHI Projected Lineup
#25 James van Riemsdyk – #86 Joel Farabee – #89 Cam Atkinson
#71 Max Willman – #13 Kevin Hayes – #11 Travis Konecny
#42 Hayden Hodgson – #48 Morgan Frost – #74 Owen Tippett
#38 Patrick Brown – #17 Zack MacEwen
#9 Ivan Provorov – #45 Cam York
#6 Travis Sanheim – #70 Rasmus Ristolainen
#3 Keith Yandle – #24 Nick Seeler
#8 Kevin Connauton
#79 Carter Hart
#35 Martin Jones
COL Projected Lineup
#13 Valeri Nichuskin – #29 Nathan MacKinnon – #96 Mikko Rantanen
#95 Andre Burakovsky – #91 Nazem Kadri  – #25 Logan O'Connor
#18 Alex Newhook – #78 Nico Sturm – #37 J.T. Compher
#11 Andrew Cogliano – #43 Darren Helm – #16 Nicolas Aube-Kubel
#7 Devon Toews – #8 Cale Makar
#3 Jack Johnson – #42 Josh Manson
#56 Kurtis MacDermid – #6 Erik Johnson
#39 Pavel Francouz
#35 Darcy Kuemper
Last Game PHI: 3/24/22, 5-2 W at St.Louis
Last Game COL: 3/23/22, 3-1 L vs Vancouver
News and Notes:
– This is the second and final meeting between these two clubs this year after the Avalanche defeated the Flyers at the Wells Fargo Center on the 6th of December, 7-5. It was also Mike Yeo's first game as interim head coach.
– This is their 92nd meeting all-time, with the Flyers holding a 42-29-14-6 advantage in the series.
– Nathan Mackinnon has had a slow start to his career against the Orange and Black compared to other teams as he has 2 goals and 9 points in 14 career games, while Mikko Rantanen has 6 goals and 10 points in 10 games. Pavel Francouz has only played the Flyers once but he back-stopped his team to a win, in large part with a 32 save performance.
Broadcast Info: TV – NBC Sports Philadelphia, ESPN+, Radio – 97.5 The Fanatic
Injuries: 
PHI – Sean Couturier (back), Nate Thompson (shoulder), Ryan Ellis (lower-body), Scott Laughton (concussion), Oskar Lindblom (undisclosed)
COL – Gabriel Landeskog (knee), Ryan Murray (upper-body), Samuel Girard (lower-body), Bowen Byram (head)