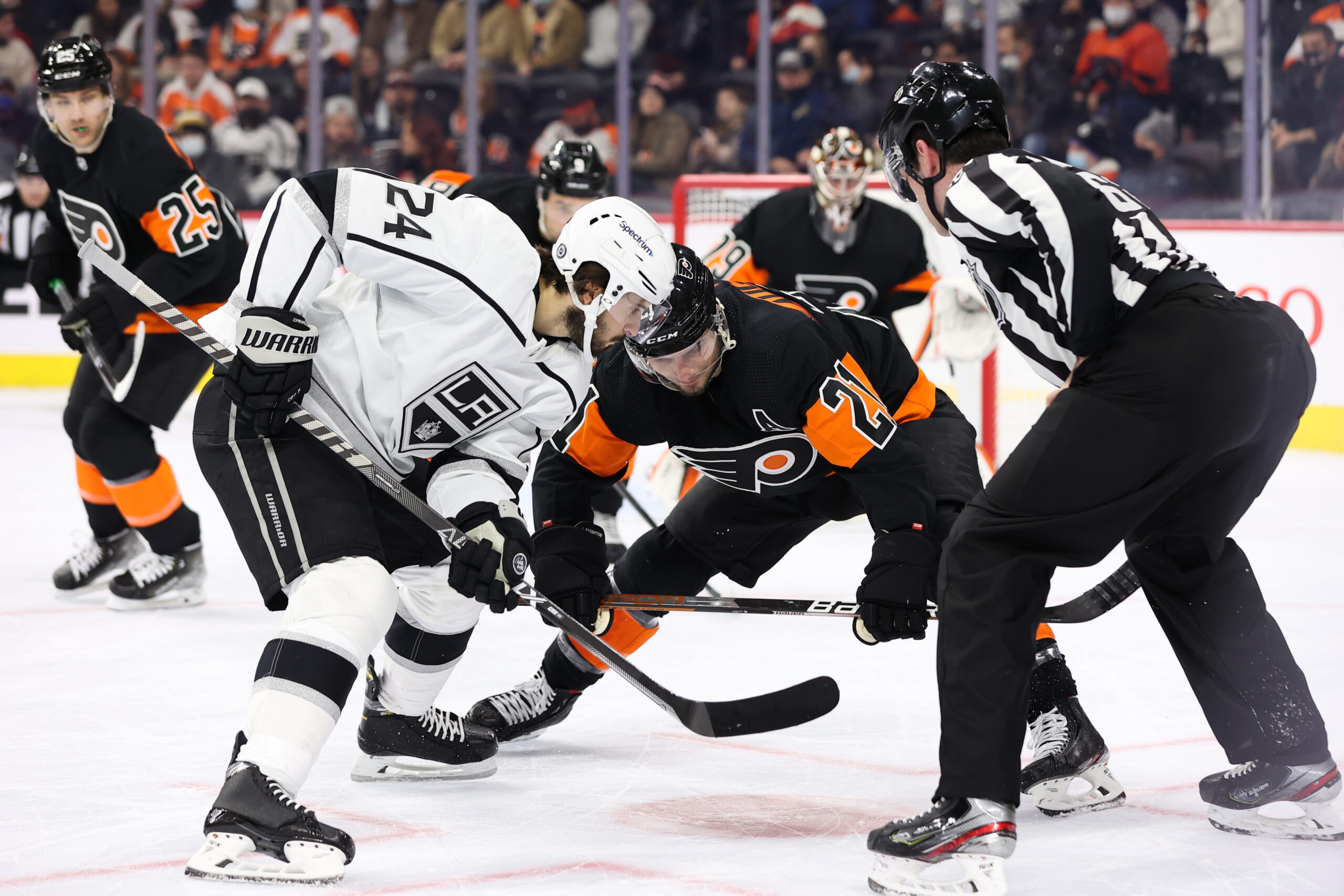 On the heels of a 5-1 thrashing of Buffalo on Friday night, the Philadelphia Flyers finish off the second leg of their back-to-back on Saturday night at home against the Los Angeles Kings.
Philadelphia bounced back in a big way after suffering a three-game losing streak, as Samuel Ersson made 21 saves in his first victory of the season, Louie Belpedio scored his first NHL goal, Scott Laughton finally scored his first goal of the season, and Travis Konecny and Bobby Brink remained red-hot with a goal each to help the Flyers snap their skid.
"I like our team. I like the balance we have with our team," said head coach John Tortorella after last night's win at KeyBank Center, the 100th victory over the Sabres in franchise history. "We're going to have struggles. But I like the attitude of our team, regardless if we're winning or losing."
After Ersson started last night, it will be Cal Petersen's turn to man the crease in what will be his Flyers debut. Petersen was previously a member of the Kings, skating in 101 contests for Los Angeles before being packaged to Philadelphia in the Ivan Provorov trade.
Petersen will have his hands full in this revenge game, as the Kings possess a stellar 5-0-0 record on the road. That is the best road record in the league and the Kings are only one of three teams to not lose away from home yet.
Defenseman Sean Walker will also be facing the Kings for the first time since being traded in the same deal as Petersen. Walker previously played in 232 games over 5 seasons with Los Angeles, racking up 16 goals and 51 assists for 67 points as a King.
While the Wells Fargo Center hasn't exactly been filled to the brim with fans this season, the ones that have shown up have been extremely loud and the Flyers' players have noticed, and they'll try to use that to their advantage tonight to send the Kings packing.
"It feels good," said forward Cam Atkinson after scoring the eventual game-winning goal in the Flyers' win over Edmonton on October 19th. "I love playing at home in front of our fans. It's always nice to score goals and that's what I'm here to do."
"I've faced some adversity. I think that adversity kind of makes it even more special," said forward Bobby Brink after scoring his first 2 NHL goals as the Flyers defeated Minnesota on October 26th. "To get it here at home in front of Philly fans, just living here, you see how special it is to be on a sports team in Philadelphia."
PHI Record: 5-5-1, 11 pts, 5th in Metropolitan
LAK Record: 6-2-2, 14 pts, 3rd in Pacific
When: 7:30 pm ET
Where: Wells Fargo Center, Philadelphia, PA
Broadcast Info: NBC Sports Philadelphia, 97.5 The Fanatic
Last Game PHI: 11/3/23, 5-1 W at Buffalo 
Last Game LAK: 11/2/23, 3-2 W at Ottawa
PHI Goalie: Cal Petersen (1-3-0, .884 SV%, 3.76 GAA, 0 SO w/AHL Lehigh Valley)
LAK Goalie: Cam Talbot (5-2-1, .915, 2.41 GAA, 0 SO)
PHI Projected Lineup
#74 Owen Tippett – #27 Noah Cates – #89 Cam Atkinson
#86 Joel Farabee – #21 Scott Laughton – #10 Bobby Brink
#11 Travis Konecny – #48 Morgan Frost– #71 Tyson Foerster
#44 Nicolas Deslauriers – #25 Ryan Poehling – #19 Garnet Hathaway
#8 Cam York – #6 Travis Sanheim
#24 Nick Seeler – #26 Sean Walker
#5 Egor Zamula – #37 Louie Belpedio
#40 Cal Petersen
#33 Samuel Ersson
Scratches: None
Injuries: #14 Sean Couturier, #18 Marc Staal, #55 Rasmus Ristolainen, #79 Carter Hart
LAK Projected Lineup
#55 Quinton Byfield – #11 Anže Kopitar – #9 Adrian Kempe
#42 Trevor Moore – #24 Phillip Danault – #34 Arthur Kaliyev
#22 Kevin Fiala – #80 Pierre-Luc Dubois – #78 Alex Laferriere
#91 Carl Grundström – #46 Blake Lizotte – #61 Trevor Lewis
#44 Mikey Anderson – #8 Drew Doughty
#84 Vladislav Gavrikov – #3 Matt Roy
#5 Andreas Englund – #21 Jordan Spence
#39 Cam Talbot
#29 Pheonix Copley
Scratches: #7 Tobias Björnfot, #28 Jaret Anderson-Dolan
Injuries: #33 Viktor Arvidsson
News and Notes
– The Flyers are 90-43-15-7 against the Kings all-time and are 45-18-7-6 at home against Los Angeles.
– The last time these teams faced off was on January 24th, 2023 in Philadelphia, where the Kings defeated the Flyers 4-3 in overtime.
– Travis Konecny enters tonight tied for the league lead in goals with 9, while Bobby Brink is tied for the league lead in rookie points with 8.
– Konecny will skate in his 500th NHL game tonight, the 40th Flyer to ever do so.
– Cam Atkinson leads all active Flyers in points against the Kings with 13 (7g, 6a) in 16 contests.
– Felix Sandström left his conditioning start with the Phantoms against Hartford last night with an upper-body injury and did not return. Sandström has been placed on injured reserve.
Union Forge Vodka proudly serves as the Official Vodka of Flyers Nation. This partnership celebrates the unyielding spirit of Flyers fans and offers a quality spirit that perfectly compliments the team's essence. Whether celebrating victories or showing resilience, Union Forge Vodka embodies the winning spirit of both the Flyers and their dedicated fans. Stay connected with exciting giveaways by following @unionforge and @flyersnation across all social media platforms.