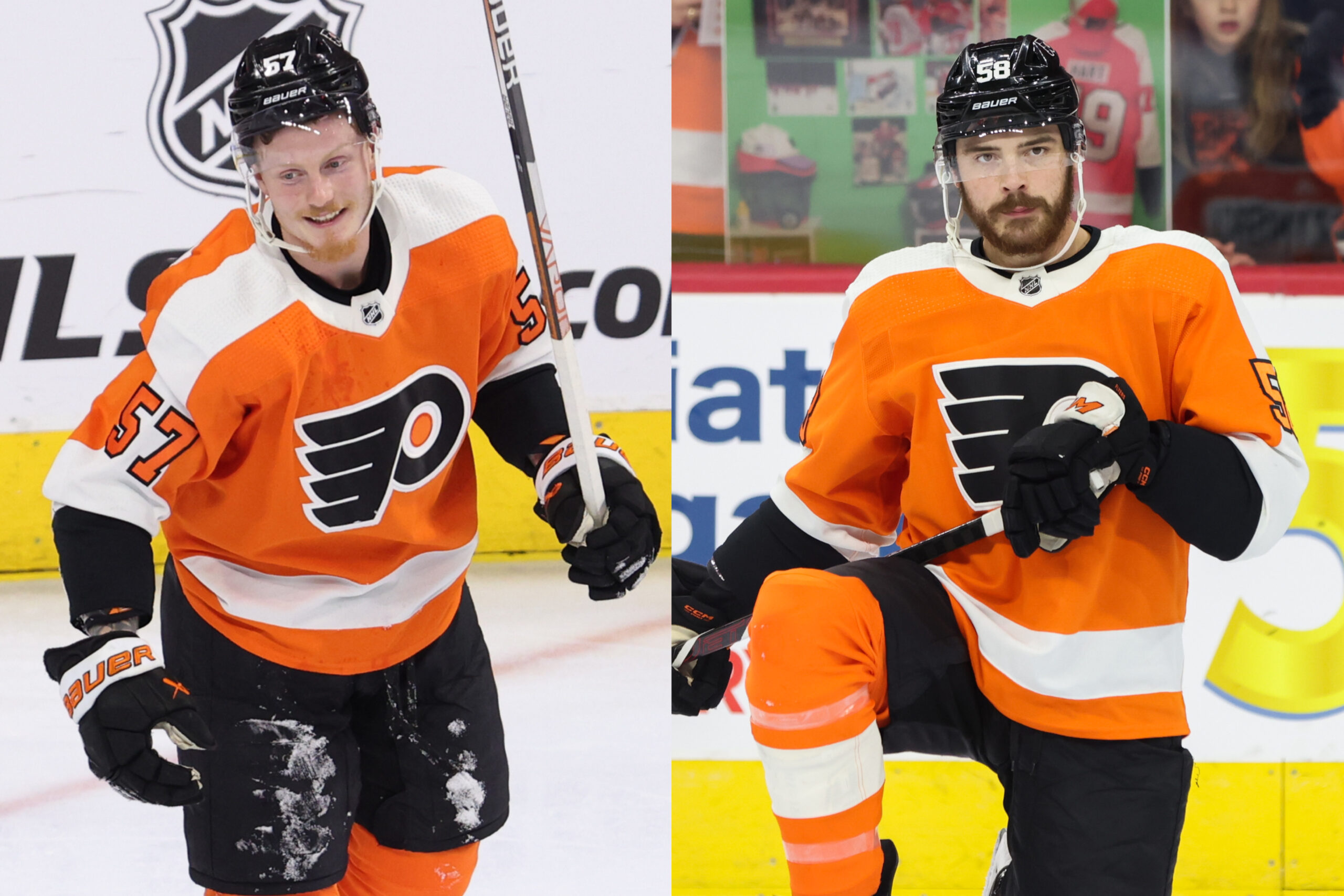 It must never be an easy idea to come to terms with when you get demoted to the minors after playing for the big club either the previous year or having once been a promising prospect.
For Flyers forwards Tanner Laczynski and Wade Allison, they've had two very different seasons with the Lehigh Valley Phantoms after being cut from training camp and it's a tell-tale sign into their character, frustrations, and motivations.
Wade Allison was a promising prospect for years on end after being drafted in the 2nd round of the 2016 NHL Entry Draft. His seasons with Western Michigan University were sometimes cut short due to injury or COVID but in 4 years in the NCAA, Allison tallied 45 goals and 97 points in 106 games. He then split 2020-21 and 2021-22 with both the Flyers and Phantoms where he accumulated 4 goals and 7 points in 15 games for the big club and 14 goals and 26 points in 38 games for the Phantoms.
Once again, injuries caught up to the once-touted prospect and held him out of action when he most assuredly would have battled for a spot in the NHL. 2022-23 came along and many believed that his style of play would fit John Tortorella's mantra. Allison is a high-flying, energy-filled aggressor who can give you legitimate tertiary production with the upside of secondary scoring.
Unfortunately in 60 games, which was of course a career-high, he only managed 9 goals and 15 points. On the season he averaged 12:54 TOI per game, had 89 shots on goal, 62 blocked shots, 190 hits, and a 20:7 takeaway to giveaway ratio. There were pockets where he produced and there were long stretches where he was not necessarily a factor.
After scoring a goal in the season opener, from October 15th to January 2nd, a stretch of 19 games, Allison scored 2 goals and 3 points while playing 11:55 TOI. He then scored 4 goals and 7 points in 13:00 TOI in the next 11 games before finishing the season with 2 goals and 4 points in his final 29 games. He suffered through 2 injuries but wasn't able to take advantage of a lineup that was missing several key components.
There were stretches where Tortorella utilized him like a top-6 forward, where his ice-time figured into the 15-17 minutes per game range and he was finishing his checks, blocking shots, but he just couldn't find the back of the net.
The problem for players of his ilk is that with Tortorella's mantra, you can get by without scoring points – for a little bit – as long as your overall game play is aggressive in nature, responsible in reality, and you don't let off the gas and play lazy. However, when the production is not there for such a substantial period of time, you have to move on and find new avenues, which the Flyers did.
After losing out on a roster spot this season to Ryan Poehling, Tyson Foerster, and Bobby Brink, Allison was placed on waivers for the purpose to report to the Phantoms. He surprisingly went unclaimed but hasn't played up to his moniker for Ian Laperrière.
Flyers website contributor Bill Meltzer tweeted out in the last few days an interesting thread relating to Allison and what Laperrière has thought of his performance to date; let's just say it wasn't positive.
Asked about Wade Allison's play since coming back to LV, Ian Laperriere minced no words. The Phantoms coach laced into to power forward, saying he's "seen nothing" positive about Allison's play in thr first four games to date.

— Bill Meltzer (@billmeltzer) October 22, 2023
Ian Laperriere said his piece regarding Wade Allison, including a demotion to the 4th line for yesterday's game. Now it's time to turn the page, have a good week of practice (after today's off-day) and come out with fire against Hershey on Sat and Hartford on Sunday.

— Bill Meltzer (@billmeltzer) October 23, 2023
It's understandable that Allison was very disappointed not to make the Flyers' opening night roster, to pass through waivers and be sent to the Phantoms. But he needs to channel it into motivation.

— Bill Meltzer (@billmeltzer) October 23, 2023
Lappy challenged Allison to "be like Laz" (Tanner Laczynski) in handling his own waivers/AHL assignment by acting as a team leader for the Phantoms. Two different people and players, though. Allison's game feeds off adrenaline and emotion, Laczynski is more measured and cerebral.

— Bill Meltzer (@billmeltzer) October 23, 2023
With that last tweet, that brings us to Tanner Laczynski, another once-promising prospect who suffered through injuries and stretches of inconsistencies that has stymied his potential NHL career.
Similarly to Allison, Laczynski did extremely well in college for Ohio State University, In 4 seasons he scored 48 goals and 143 points in 138 games. His 2020-21, 2021-22, and 2022-23 seasons were split between the NHL and AHL but barely at that with injuries coming to the forefront.
For the Flyers he combined for 2 goals and 4 points in 38 games across parts of 3 seasons – but all those points came in 32 games just last year. For the Phantoms he combined for 14 goals and 30 points 44 games. Laczynski was with the Flyers from the 13th of October to the 23rd of October, then in the lineup once more from the 2nd of November to the 5th of December, before returning for a final stint that began on the 5th of March and went all the way to the season finale on the 13th of April.
His ice-time fluctuated far more than Allison's because there were stretches where he saw 11-13 minutes a night and then 6-8 minutes. He was used sparingly, and strictly as a 4th-line centre, but even when he was given the opportunity for added ice time and responsibilities, there wasn't much to show for.
Again, the Flyers lineup was ripe for the taking in terms of claiming your spots and calling your shots. Nevertheless, the injuries caught up to him again as he missed three months with a lower-body injury and wasn't the same upon his return.
There was a poignant quote from the head coach that essentially spelled his doom even before heading into training camp this summer.
"I haven't seen, whether injured or not, I didn't see (progress) before he was injured. I just need to see more," said Tortorella back in March.
With the odds no longer in their favour, both were sent down to the minors but Laczynski has clearly used this moment in time to motivate himself to get back to the NHL. The 26-year-old paces the club with 6 assists and 7 points in just 5 games.
"He's probably disappointed to be here," Laperriere said, adding the Allison needs to work through it.

"Look at Lacz," Laperriere said, referring to Tanner Laczynski. "He's come down and is doing everything."

— Bill Meltzer (@billmeltzer) October 22, 2023
Laperrière has given them ample opportunities to take flight as they opened the season with Olle Lycksell, Laczynski, and Allison on the top line. Then they jumbled things around with Allison now finding himself on the third line with Rhett Gardner. Laczynski on the other hand remains at the top, but with Alexis Gendron and Cooper Marody.
It seems that maybe Allison and the Flyers are currently at odds to begin with as The Fourth Period's Anthony Di Marco tweeted about how the Flyers looked for a trade partner but found no takers.
The Flyers explored the trade market for Wade Allison and found no takers. Not sure what the ask was, but PHI's main goal was getting rid of a contract, so I can't imagine it was much.

Allison needs to put in the work to get back to being a consistent NHLer – for any team. https://t.co/hyCG4e7V6h

— Anthony Di Marco (@ADiMarco25) October 23, 2023
There's always a chance to salvage your missed opportunities, but with the Flyers currently fielding 13 forwards and Morgan Frost being the odd-man out, players like Laczynski will need to continue to produce and provide all-round effort for the Phantoms if he wants the call-up. Whereas, a player like Allison will need to change his mindset and approach to get in the good graces of not only Laperrière, but the Flyers brass as a whole.
2024 Stadium Series Trip
Flyers Nation and Philly Sports Trips have teamed up to bring you on an amazing bus trip to the 2024 NHL Stadium Series between the Flyers and Devils. Place an early deposit to reserve your spot at the ultimate tailgate experience at MetLife Stadium before the game. The package includes a game ticket, round-trip charter bus, an all-inclusive tailgate party with unlimited cold beverages, "Philly Style" catered food, live entertainment, and more.