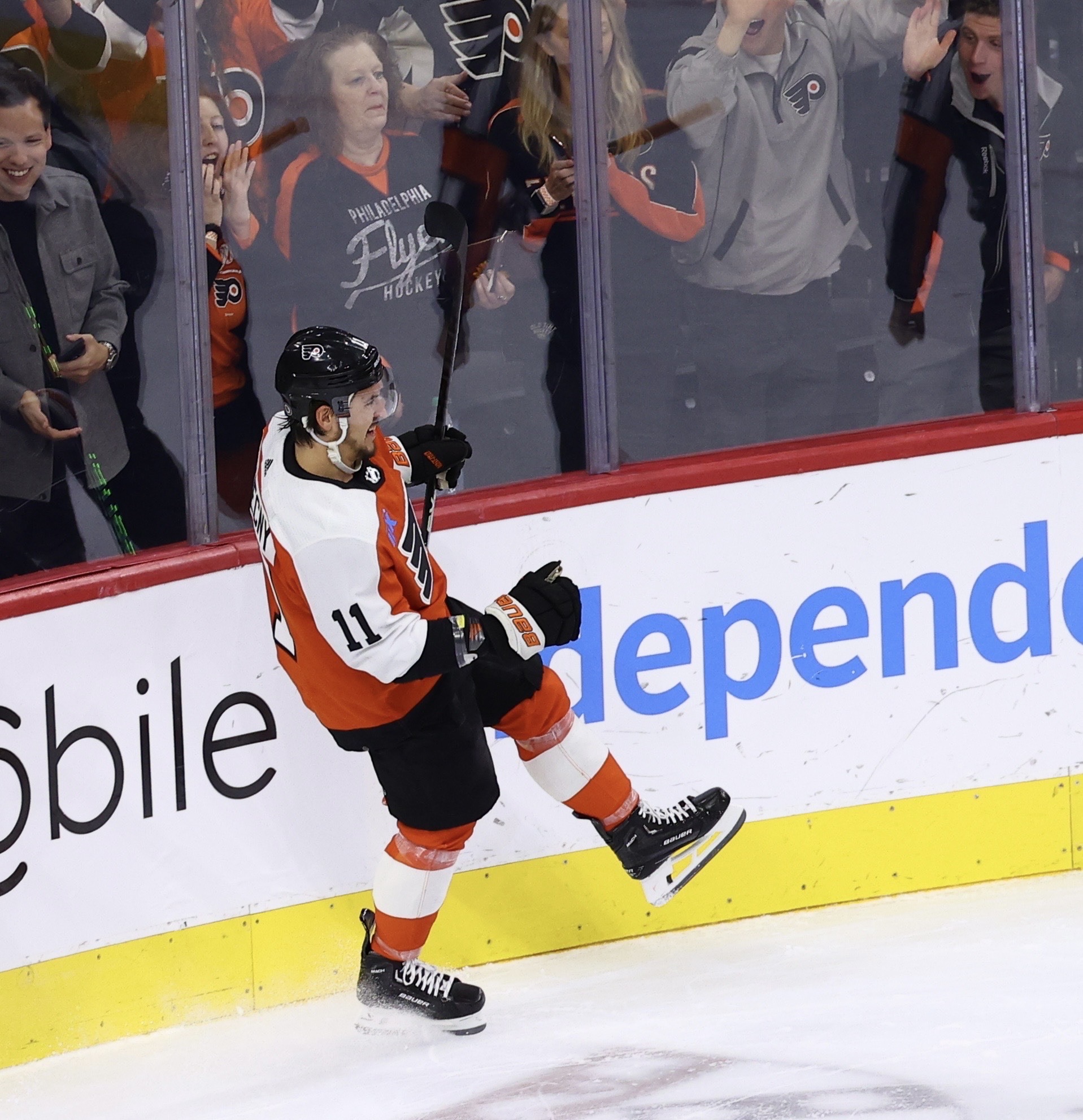 The early part of the Philadelphia Flyers' 2023-24 campaign has kicked off with a surprising bang.
The first seven games of the year have been highlighted mainly by Sean Couturier and Cam Atkinson providing big boosts to the lineup after their lengthy layoffs from injuries, and while they are deservedly the feel-good stories of this team early on and are a huge reason why the Flyers are 4-2-1 and second in the Metropolitan Division, other Flyers such as Carter Hart, Joel Farabee, Bobby Brink, and Travis Sanheim, among others, have had great starts to the season as well.
But perhaps the most impressive and consistent Flyer so far has been Travis Konecny.
The winger has scored 9 points in the team's first 7 contests this season, which leads the club. Konecny also owns the Flyers' lead in goals with 6, respectively. His 6 goals are also tied for third in the NHL with Tampa Bay's Nikita Kucherov, Boston's David Pastrňák, New Jersey's Tyler Toffoli, and Vancouver's Brock Boeser. That's some pretty nifty company to keep.
The last Flyer to score 6 goals in the team's first 7 games was Cam Atkinson in 2021-22, and before that it was Mike Richards in 2009-10 that accomplished the feat. It's not something that happens too often in Philadelphia.
Konecny began the season on a three-game point streak, which featured a 2-goal performance in Columbus on October 12th to kick off the season. After last year's point-per-game campaign for the 26-year-old, this should come to be expected, but his hot start has seemingly gotten lost in the fold of how well the Flyers have played so far – which is definitely a good thing.
Konecny's start to last season was similar to this season, however he has scored more goals and has been more efficient in his shooting. In his first 7 games last year, Konecny racked up 4 goals and 4 assists for 8 points while shooting at a 20% rate – 4 goals on 20 shots – while skating 19:27 per game. This season, Konecny has 6 goals and 3 assists for 9 points while shooting at a 26.1% rate – 6 goals on 23 shots – while skating 16:24 per game.
The Flyers are deeper at forward this year, especially with Couturier and Atkinson back in the lineup and healthy, which takes some of the load off of Konecny's shoulders and allows him to play a bit less. In saying that, he's making the most of the extra rest and firing the puck at a better clip.
One aspect of Konecny's game that has taken a clear step forward is penalty killing. He has played less on the PK this season than last so far – 7:05 this season compared to 13:25 in the first 7 games last season – which again can be attributed to Couturier and Atkinson returning. But despite the limited minutes on the penalty kill, his defensive prowess has been on display.
Konecny has done a fantastic job at keeping his stick in the opposition's shooting and passing lanes, and he has been more active in anticipating plays and showing off his aggressiveness, and it has been incredibly impressive to watch.
That much can be evidenced by his 2 shorthanded goals against Dallas last Saturday night.
On his first goal, Konecny was the high forward and helped challenge the entry by Miro Heiskanen. Heiskanen had to avoid Konecny but ended up skating right to Noah Cates, and by the time Cates poked the puck away from Heiskanen's stick, Konecny was already turning around to break up ice and anticipated that his center would make a play. He took the Cates poke and made the most of it with a breakaway goal.
The Power TKill. #PHIvsDAL | #LetsGoFlyers pic.twitter.com/zAF2BcAvW8

— Philadelphia Flyers (@NHLFlyers) October 22, 2023
On his second goal, Konecny joined the original rush into the Dallas zone on the right wing with Scott Laughton and Travis Sanheim. After Sanheim's first shot attempt was blocked, Konecny kept his eye on where the puck was. Instead of turning away into the near corner and skating back to anticipate having to defend, Konecny hung around the net. He skated behind the Dallas cage and made himself a scoring option as Heiskanen was too focused on Sanheim in the slot. Konecny was wide open on the backdoor play, and he had an empty net to shoot at and made no mistake.
🔥 TRAVIS IGNITES THE COMEBACK. 🔥#PHIvsDAL | #LetsGoFlyers pic.twitter.com/uyTGp74oKX

— Philadelphia Flyers (@NHLFlyers) October 22, 2023
Away from the penalty kill, Konecny has still been impressive defensively and has been a deceptive player for other teams to play against.
Let's kick it back to the season opener against Columbus. On his first goal of that game, Konecny was able to intercept a poor drop pass attempt by Patrik Laine and began a rush up ice. But instead of staying wide and even with Scott Laughton while the latter carried the puck into the zone, Konecny slowed himself down and glided into the middle of the ice while Noah Cates drove to the net. That move threw the Blue Jackets defenders off and Konecny had all the time in the world to snipe one home on Elvis Merzļikins.
TK ALL DAY. #PHIvsCBJ | #LetsGoFlyers pic.twitter.com/odkxAiniHo

— Philadelphia Flyers (@NHLFlyers) October 12, 2023
In last night's contest against Minnesota, Konecny pulled a very similar move entering the offensive zone. He skated in from the right wing, but this time he made himself a trailer for Nick Seeler on the left wing instead of staying solely in the middle. He then took a couple strides and fired a bullet past the glove of Filip Gustavsson to open the floodgates in a 6-2 Philadelphia victory.
The quick wrisTKer. #MINvsPHI | #LetsGoFlyers pic.twitter.com/pTujrS4qyn

— Philadelphia Flyers (@NHLFlyers) October 27, 2023
Konecny's deceptiveness, on top of no longer being the only scoring threat on the ice at almost all times like last season, has given him the opportunity to be even more creative offensively and score more goals.
Konecny's location of his goals and shots this season have also been interesting to watch in the early going. Of his 6 goals, 3 have come on the left wing, which means he's scoring on his off-wing as a right-handed shot. 2 of those have come on the rush – against Columbus and Minnesota – and he's been able to go against the grain and shoot from his off-side with plenty of power and speed. The third goal from that side was the backdoor play off of the Sanheim feed against Dallas.
Konecny's has two other goals in the slot – the breakaway against Dallas and the empty-netter against Columbus – and one from the goal mouth on a 5-on-3 against Ottawa. 9 of Konecny's 27 total shot attempts have been from the left side of the ice, with 8 of them on goal. Compare that to his shots from the right side, where he has shot an identical 9 times, but those have only reached the net 6 times and he hasn't scored from that side. The other 9 shot attempts have come from the middle of the ice in either the slot or at the front of the net.
If you go back to last season, Konecny only scored 5 times from the left side of the ice on 70 shot attempts. His other 199 attempts came from the middle and right side, with the majority of his goals coming in the slot or at the net front – 21 out of 31.
He still has a nose for the net, but he has one of the most lethal shots on the team and arguably in the NHL, and it has been on full display so far.
Konecny, thanks to the Flyers' added depth with two star forwards back from injury, has been able to have his workload lessened and has produced at a higher rate to begin a season than we've ever seen. Couple that with playing the majority of his minutes with a hard-nosed forward that can crash the net in Scott Laughton and another skilled forward to space the ice out in Tyson Foerster, and Konecny has been able to play the perimeter a bit more frequently this season as well, and as a result it has paid off huge so far for both he and the Flyers.
Given that Konecny has a career 12.6% shooting percentage and shot 16.2% last season, his current pace is likely unsustainable, considering he's on pace to score 70 goals this season in the process as well with his shooting percentage of 26.1%. But while that won't be the case, Konecny has been Philadelphia's best player to begin the season.
We are watching something special unfold before our eyes. This season's version of Travis Konecny is shaping up to be the best version we've ever seen of him. The way he anticipates plays, how he moves and positions himself on the ice, finding different ways to score, and remaining active in all facets of the game have been simply a marvel to witness.
If Konecny can continue to make big plays and score in bunches, the Flyers could find themselves a lot higher in the standings than many people anticipated. Maybe even a Wild Card berth could be in the mix for this club as long as #11 stays consistent.
2024 Stadium Series Trip
Flyers Nation and Philly Sports Trips have teamed up to bring you on an amazing bus trip to the 2024 NHL Stadium Series between the Flyers and Devils. Place an early deposit to reserve your spot at the ultimate tailgate experience at MetLife Stadium before the game. The package includes a game ticket, round-trip charter bus, an all-inclusive tailgate party with unlimited cold beverages, "Philly Style" catered food, live entertainment, and more.