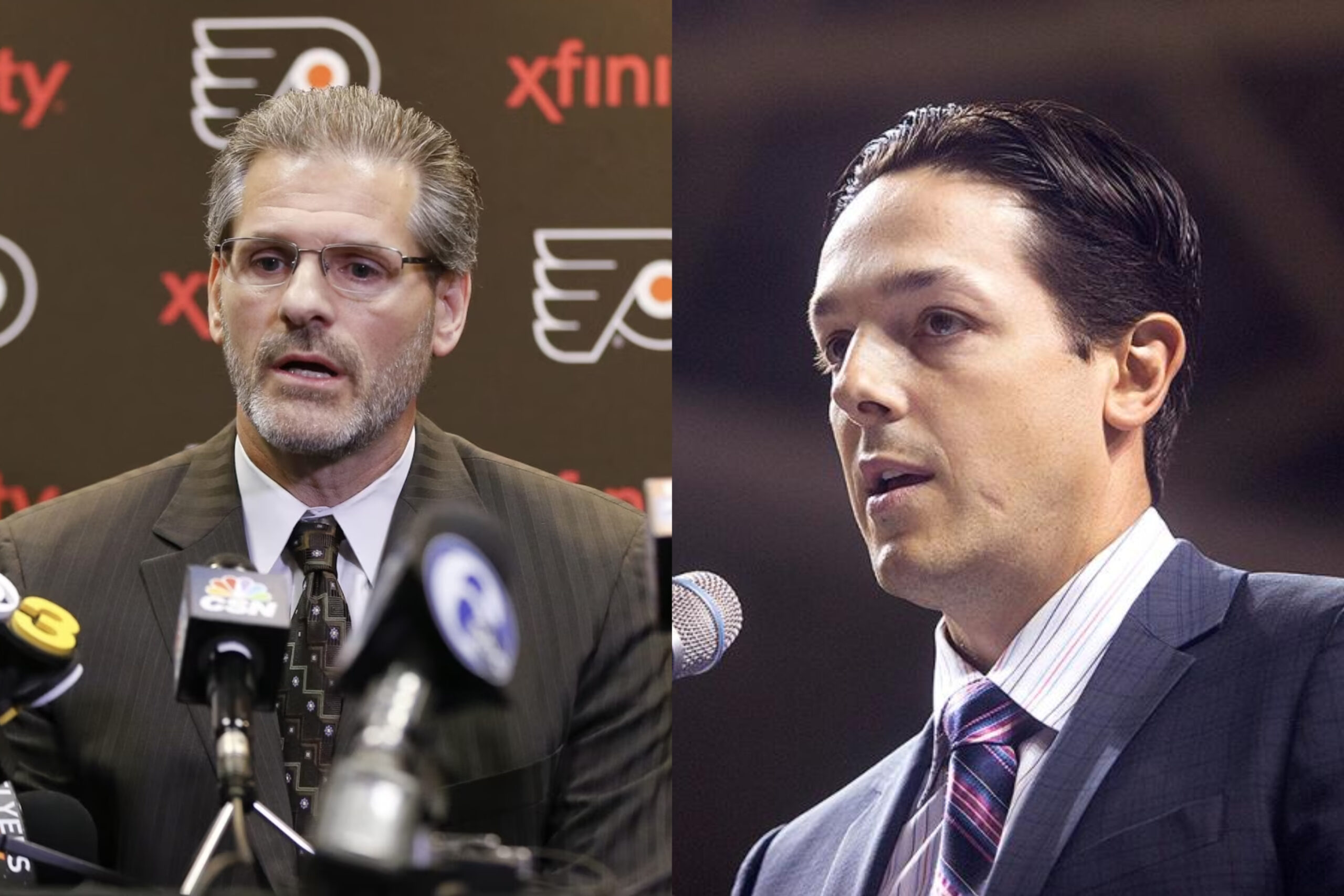 The Philadelphia Flyers have been an undeniable mess since the early stages of the 2010s.
A large part of their issues stem from their previous general managers who were forced out of their positions due of mismanagement of the cap, barren prospect pools, an empty cupboard of draft picks, and an underachieving roster with overachieving contracts.
Even going back to when Paul Holmgren took over the position, his predecessor in Bobby Clarke left him with the worst team in franchise history. Holmgren looked the part in the first half of his tenure before falling apart after the Flyers lost in the Finals in 2010. He left his successor in Ron Hextall a barren wasteland, no pipeline, a middling roster with expensive contracts, an old lineup that had a lot of "has beens", and no cap space or wiggle room. Hextall's tenure was a roller coaster to say the least but by the time he was canned, he left his successor in Chuck Fletcher a lot of cap space, a lot of prospects, and a tiny window of opportunity to seize.
For Fletcher to achieve something worthwhile with that small window, he had to make sure to use the $33 million in cap space wisely. He had to dole out contracts to Ivan Provorov and Travis Konecny coming out of their ELCs, but then he went out of his way to give Kevin Hayes a 7-year deal and then the slippery slope continued before he got fired earlier this year. Rasmus Ristolainen, Tony DeAngelo, Travis Sanheim, Kevin Hayes, and Cam Atkinson account for $29.367 million dollars in cap space, which is also good for about 35% of the salary cap allotment.
He also threw around a lot of term as he handed Hayes a 7-year deal, Ristolainen a 5-year extension, Sanheim an 8-year extension, Sean Couturier an 8-year extension, and Nicolas Deslauriers a 4-year deal last summer. The only saving grace from his tenure was his drafting and as some have pointed out, that could be more about Brent Flahr than Chuck Fletcher. In any regard, the general manager usually gets the credit and he has drafted relatively well – at least for the time being.
So as Daniel Brière is set to embark in his first full season as general manager – with Keith Jones and John Tortorella by his side – was he left with a bigger mess to clean up than Ron Hextall? In other words, is this the toughest task to overcome for a newly minted general manager in recent-franchise-history.
When Ron Hextall Took Over
Paul Holmgren's final year, the 2013-14 regular season:
Claude Giroux: 82 games played, 28 goals, 58 assists, 86 points
Jakub Voráček: 82 games played, 23 goals, 39 assists, 62 points
Wayne Simmonds: 82 games played, 29 goals, 31 assists, 60 points
Scott Hartnell: 78 games played, 20 goals, 32 assists, 52 points
Mark Streit: 82 games played, 10 goals, 34 assists, 44 points
Brayden Schenn: 82 games played, 20 goals, 21 assists, 41 points
Matt Read: 75 games played, 22 goals, 18 assists, 40 points
Sean Couturier: 82 games played, 13 goals, 26 assists, 39 points
Vincent Lecavalier: 69 games played, 20 goals, 17 assists, 37 points
Kimmo Timonen: 77 games played: 6 goals, 29 assists, 35 points
Also including: Michael Raffl, Braydon Coburn, Andrej Meszároš, Steve Downie, Nicklas Grossmann, Luke Schenn, Adam Hall, Zac Rinaldo, Andrew MacDonald, and Steve Mason in goal
Paul Holmgren's draft picks and prospects leading up to Hextall's promotion (only highlighted the number of games because it's been over a decade):
2010 NHL Entry Draft
Michael Chaput: 3rd round pick, 182 NHL games, none with the Flyers
Tye McGinn: 4th round pick, 89 NHL games, 36 with the Flyers
Michael Parks: 5th round pick, 0 NHL games
Nick Luukko: 6th round pick, 0 NHL games
Ricard Blidstand: 7th round pick, 0 NHL games
Brendan Ranford: 7th round pick, 1 NHL game, none with the Flyers
2011 NHL Entry Draft:
Sean Couturier: 1st round pick, 721 NHL games all with the Flyers
Nick Cousins: 3rd round pick, 523 NHL games, 107 with the Flyers
Colin Suellentrop: 4th round pick, 0 NHL games
Marcel Noebels: 4th round pick, 0 NHL games
Petr Placek: 6th round pick, 0 NHL games
Derek Mathers: 7th round pick, 0 NHL games
2012 NHL Entry Draft:
Scott Laughton: 1st round pick, 519 NHL games all with the Flyers
Anthony Stolarz: 2nd round pick, 81 NHL games, 19 with the Flyers
Shayne Gostisbehere: 3rd round pick, 539 NHL games, 381 with the Flyers
Fredric Larsson: 4th round pick, 0 NHL games
Taylor Leier: 4th round pick, 55 NHL games all with the Flyers
Reece Willcox: 5th round pick, 0 NHL games
Valeri Vasiliev: 7th round pick, 0 NHL games
2013 NHL Entry Draft:
Samuel Morin: 1st round pick, 29 NHL games all with the Flyers
Robert Hagg: 2nd round pick, 338 NHL games, 236 with the Flyers
Tyrell Goulbourne: 3rd round pick, 11 NHL games all with the Flyers
Terrance Amorosa: 5th round pick, 0 NHL games
Merrick Madsen: 6th round pick, 0 NHL games
David Drake: 7th round pick, 0 NHL games
Salary cap and final cap space by year:
2015-16
Final cap hit: $70.6 million
Final cap space: $961,404
2016-17
Final cap hit: $73.546 million
Final cap space: $0
2017-18
Final cap hit: $73.651 million
Final cap space: $1.348 million
2018-19
Final cap hit: $70.814 million
Final cap space: $8.685 million
Before Hextall took the job
Daniel Brière and Ilya Bryzgalov were bought out
Simon Gagné and Mike Knuble walked as free agents
Andrej Meszároš was traded for a conditional 3rd round pick in 2014
Maxime Talbot was traded for Steve Downie
Vincent Lecavalier was signed to a 5-year deal
Ray Emery was signed to a 1-year deal
Pierre-Édouard Bellemare was signed to a 1-year deal
The Flyers' general manager vacancy could've very easily been one of the least attractive jobs out on the market, however Hextall wanted it and he essentially offered an ultimatum that Ed Snider could not refuse. Paul Holmgren was promoted to the President of Hockey Operations position, while Hextall took over as the general manager after just one season of serving as the assistant general manager.
There were a lot of insufferable contracts to deal with but somehow, some way, Hextall found suitors for Nicklas Grossman, Luke Schenn, Vincent Lecavalier, Chris Pronger's final years, and Braydon Coburn among many others. He was able to package Grossmann and Pronger to the Arizona Coyotes for a conditional pick and Sam Gagner, he then also sent Coburn to the Tampa Bay Lightning for Radko Gudas, a first-round pick, and a third-round pick, and made a miraculous move by sending Lecavalier with Luke Schenn to the Los Angeles Kings for Jordan Weal and a third-round pick. He retained 50% on both – Lecavalier having 2 years left at a $4.5 million cap hit and Schenn having an expiring $3.6 million cap hit – however Lecavalier told the Kings he would retire after the season was over.
He made some questionable moves like shipping out Scott Hartnell for R.J. Umberger in a deal he said he made because the latter had one less year of term than the former. The Brayden Schenn trade came out of left field during the 2017 NHL Draft and that left a sour taste in many people's mouths – including his senior advisors – and he had a lot of free agent signings that didn't pan out whatsoever like Dale Weise, Boyd Gordon, and Roman Lyubimov.
Hextall did make some really good deals for draft picks, like when he traded Kimmo Timonen to the Chicago Blackhawks in a 2015 deal that netted them a second-round pick and a third-round pick. The aforementioned Coburn deal that helped them trade up to draft Travis Konecny, the aforementioned Schenn trade netted them Morgan Frost and Joel Farabee, and receiving a third-round pick from the Boston Bruins for Zac Rinaldo.
He made 42 picks – including 8 first rounds picks – in the 5 drafts that he was the general manager in contrast to the 31 picks in the previous 5 drafts under Holmgren's watch. He transformed the wasteland of prospects into a highly-touted farm system that had almost everybody believing the Flyers were about to turn back the clock and become contenders in quick order. They were constantly in the running of having a top-5, if not top-3 farm team, and who could blame them with how they were being paraded.
Hextall made some pretty good lemonade with the rotten lemons that Holmgren left behind. The handling and management of the cap was wonderful, the acquisitions of draft picks were great in theory, and the drafting of over 40 prospects should've bared a fruit bouquet for the future.
His was about to undertake a summer with over $33 million in cap space had he survived the 2018-19 season but it seemed like his ego got in the way, he was unwilling to fire his head coach, had butted heads with his new CEO and Governor, and the continual alternating seasons of making or missing the playoffs did him no favours as he was finally canned midseason in 2018-19.
When Daniel Brière took over
Chuck Fletcher's final year, 2022-23 regular season:
Travis Konecny: 60 games played, 31 goals, 30 assists, 61 points
Kevin Hayes: 81 games played, 18 goals, 36 assists, 54 points
Owen Tippett: 77 games played, 27 goals, 22 assists, 49 points
Morgan Frost: 81 games played, 19 goals, 27 assists, 46 points
Scott Laughton: 78 games played, 18 goals, 25 assists, 43 points
Tony DeAngelo: 70 games played, 11 goals, 31 assists, 42 points
Joel Farabee: 82 games played, 15 goals, 24 assists, 39 points
Noah Cates: 82 games played, 13 goals, 25 assists, 38 points
James van Riemsdyk: 61 games played, 12 goals, 17 assists, 29 points
Ivan Provorov: 82 games played, 6 goals, 21 assists, 27 points
Also including: Travis Sanheim, Rasmus Ristolainen, Cam York, Wade Allison, Nick Seeler, Nicolas Deslauriers, Tanner Laczynski, Kieffer Bellows, Justin Braun, and Carter Hart in goal
Chuck Fletcher's draft picks and prospects:
2019 NHL Entry Draft
Cam York: 1st round pick, 87 NHL games
Bobby Brink: 2nd round pick, 10 NHL games
Ronnie Attard: 3rd round pick, 17 NHL games
Mason Millman: 4th round pick
Egor Serdyuk: 6th round pick
Roddy Ross: 6th round pick
Bryce Brodzinski: 7th round pick
2020 NHL Entry Draft:
Tyson Foerster: 1st round pick, 8 NHL games
Emil Andrae: 2nd round pick
Zayde Wisdom: 4th round pick
Elliot Desnoyers: 5th round pick
Connor McClennon: 6th round pick
2021 NHL Entry Draft
Samu Tuomaala: 2nd round pick
Alexei Kolosov: 3rd round pick
Brian Zanetti: 4th round pick
Ty Murchison: 5th round pick
Ethan Samson: 6th round pick
Owen McLaughlin: 7th round pick
2022 NHL Entry Draft
Cutter Gauthier: 1st round pick
Devin Kaplan: 3rd round pick
Alex Bump: 5th round pick
Hunter McDonald: 6th round pick
Santeri Sulku: 7th round pick
Alexis Gendron: 7th round pick
Salary cap and final cap space by year during Fletcher's tenure
2019-20
Final cap hit: $82.862 million
Final cap space: $66,994
2020-21
Final cap hit: $80.631 million
Final cap space: $868,799
2021-22
Final cap hit: $84.138 million
Final cap space: $98,939
Before Brière took the job
Keith Yandle retired
Martin Jones walked as a free agent
Oskar Lindblom was bought out
Louie Belpedio, Justin Braun, Adam Brooks, Nicolas Deslauriers, Troy Grosenick, and Cooper Marody were signed as free agents
Tony DeAngelo was acquired for 2nd, 3rd, and 4th round picks
Patrick Brown and Zach MacEwen were traded at the trade deadline
When it comes to Daniel Brière's newfound position, recency bias might kick in, but also Chuck Fletcher was by far the worse of two evils – in comparison to Ron Hextall. We didn't really start to turn on Hextall until the very end whereas when it came to Fletcher, we turned on him during the 2020-21 season but with very good reasons.
With a team that was one win away from advancing to the final four of the 2020 playoff bubble, Fletcher sat on his hands during the offseason and didn't make a move to improve the team, while only replacing Matt Niskanen with the offensively-minded Erik Gustafsson.
It was reported that Niskanen had approached Fletcher a month before making his announcement and that Fletcher had hoped that he would change his mind by the time the offseason started. Even with that knowledge in the back of his mind, he decided not to get Ivan Provorov some much needed help and it backfired so fast.
So then the summer of exotic adventures led to the 2021 off-season where they got rid of all the "bad energy" and replaced them with Ryan Ellis, Cam Atkinson, and Rasmus Ristolainen, with the first one having a career ending injury and being a life-time member of LTIR, the second one performing admirably in his first season before being an LTIR casualty in his second year, and the third one being acquired for a treasure chest then not trading him for an identical treasure chest before deciding to extend him for 5 more years.
Then when all that failed in the first few months of the season, he sat down with Dave Scott and decided to announce to the world that the Flyers will be back and they will be ultra-aggressive heading into the offseason. All of that pointed to Johnny Gaudreau and usually the most coveted free agent doesn't want to go to a dumpster fire, let alone Philadelphia, but this time he did and he was all but ready.
Unfortunately, they couldn't free up the needed cap space and decided to divert their attention to Tony DeAngelo because they likened his skill-set and renaissance season as Ryan Ellis' replacement "for the time being" – optimistically believing he'd be back in time, which was part of the reason he wasn't placed on LTIR ahead of the offseason.
The Flyers enter this summer with only $7.701 million in cap space – a number that could drop a little if Noah Cates is named to the All-Rookie Team – and are sandwiched between playoff contenders, final four finalists, and Stanley Cup aspiring teams in the salary cap table. They were penalized with a cap overage, which would've given them an additional $1.4 million on top of their current $7.7M, but Brière and company have essentially laid out the groundwork for trades to alleviate cap space.
A large reason is John Tortorella mentioned the word "subtract" quite a few times before the season ended. Kevin Hayes is all but gone, Tony DeAngelo could follow suit at any point now with an expiring contract heading into the new season, and Ivan Provorov could also find his way out of town after years of rumours.
Elliotte Friedman has mentioned Columbus as a destination for Hayes numerous times now, DeAngelo at the very least will be a trade deadline candidate, and if Provorov is indeed dealt then they should get some valuable pieces in return. Hayes alone would net somewhere around $5 million – believing that $2+ million will have to be retained – and then either one of the defensemen should net you somewhere between $5 million and $6.75 million in additional cap space.
Brière also has a few untradable contracts in Travis Sanheim, Rasmus Ristolainen, and – if you want to clump him in there – Sean Couturier. No one is going to be interested in the 8 years of Sanheim at $6.25 million, Ristolainen still has 4 years remaining at a $5.1 million cap hit, and Couturier has 7 years left at $7.75 million AAV but is coming off of 2 back surgeries on the same spot in an 8-month span.
Couturier figures to be a big part of this team moving forward but needs to be healthy, Ristolainen will be hard to move for at least a few more seasons, and Sanheim's term alone makes it improbable. If they move on from Provorov and/or DeAngelo, Sanheim will have a much larger role and maybe if he exceeds expectations, his interest level will rise. For the time being though, these are the two to three contracts that Brière is going to be stuck with.
Noah Cates, Cam York, Morgan Frost, Ronnie Attard, and Olle Lycksell all need new contracts heading into the offseason but fortunately are all pending RFAs. The $7.7 million in cap space would have been worrisome with Fletcher at the helm, but the new administration is looking for ways to alleviate before adding, which bodes very well for a supposed rebuild.
The saving grace of Fletcher's tenure was his drafting and as we already know from Hextall's tenure, you can't applaud the prospects just yet. However with the information that we have on hand, the Flyers are in a far better place in regards to their farm team than when Hextall took over. Tyson Foerster, Cutter Gauthier, Bobby Brink, Elliot Desnoyers, Emil Andrae, Samuel Ersson, Ronnie Attard, Alexis Gendron, and Egor Zamula should be making inroads anywhere between next season and two years down the line.
The Flyers were extremely pleased with the seasons that Morgan Frost, Noah Cates, Owen Tippett, and Cam York had. They expect a better showing from a healthy Joel Farabee, Sean Couturier and Cam Atkinson should return to the lineup for the season opener, and there should be several spots open for the young prospects who have dipped their toes in the water at some point over the last couple of seasons.
Neither one of Hextall or Brière took over at a good time with their predecessors being run out of town for their mismanagement. The Flyers did make the playoffs in 6 of Holmgren's final 7 seasons compared to Fletcher missing the playoffs for 3 consecutive years. The Flyers also had a good group of forwards in Claude Giroux, Jakub Voráček, Wayne Simmonds, Scott Hartnell, Brayden Schenn, and Sean Couturier when Hextall came in. In contrast, right now they have a very inexperienced group of young players looking to make inroads mixed in with injured or underachieving veterans.
Hextall might have the slightest of edges in terms of difficulty only because Holmgren left him with no prospects, pipeline, farm system, or wiggle room financially – but it is by the tiniest percentile. The cap issues, bad contracts, and aging or overachieving veterans are apparent for both, however Brière does have – for the time being – a decent to good prospect pool with Gauthier, Foerster, Brink, and whoever they draft with the 7th overall pick this year to build around the Noah Cates, Morgan Frosts, and Owen Tippetts of the world. That's on top of the fact that Hextall was pinned to the edge of the salary cap from day one, even if $7.7 million doesn't seem a lot of free cap space right at this very moment.
In saying that, Brière's position is still undeniably difficult, and it is going to take a few seasons to get back on the right track, not even just to become a contender. This time around, it sounds like a full rebuild will be underway instead of Hextall's half-hearted attempt, and the first domino to fall should fall somewhere around the draft in the hopes that it's a cap-alleviating trade.