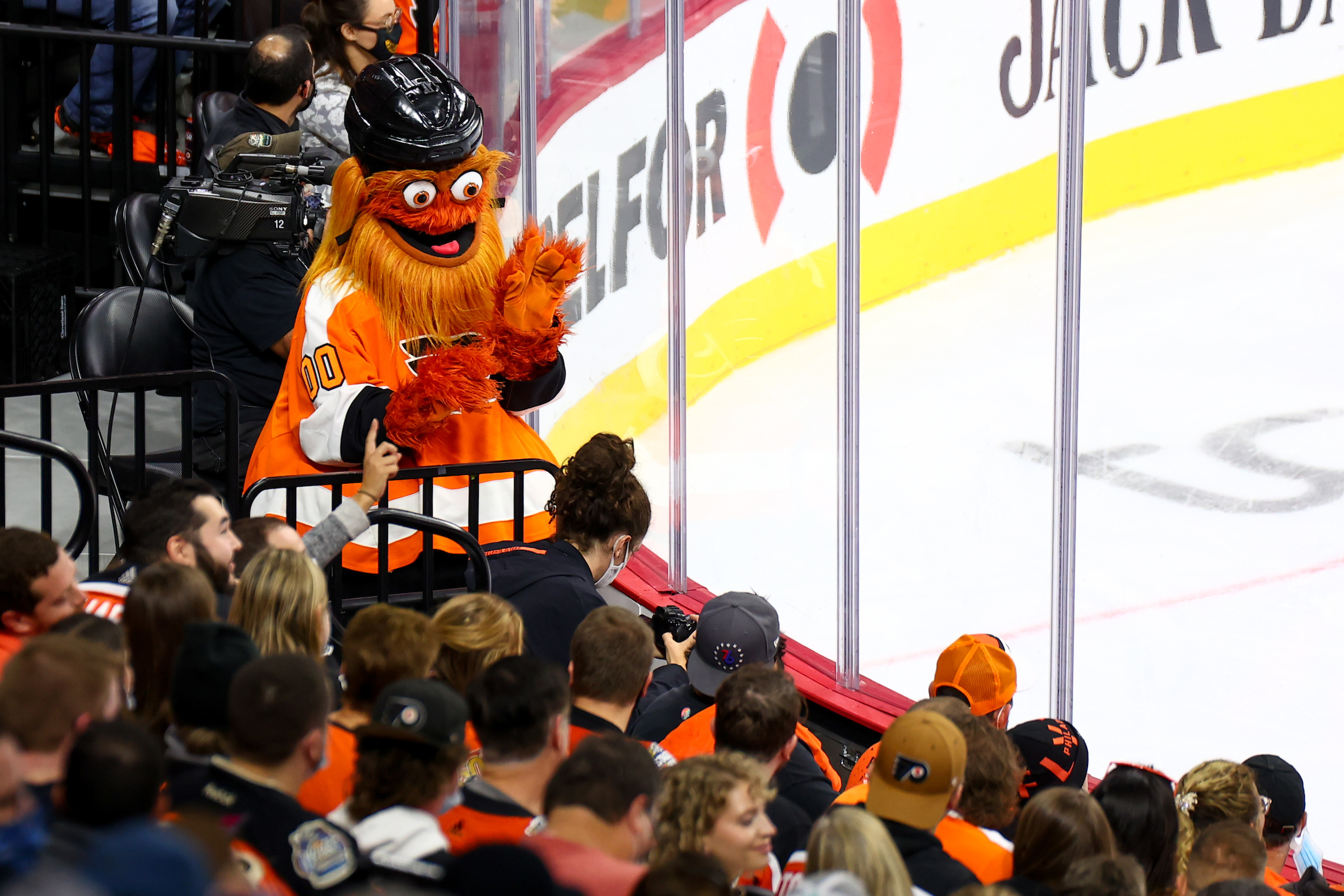 This Flyers season has been putrid and awful in almost every way. They are bad at almost every aspect of the game from the eye test to the fancy stats, and they are hard to watch and are not entertaining. The Flyers haven't played hard and are on the verge of trading their best player for what I can only assume is an underwhelming return.
As a last-ditch effort for the season and future happiness, I suggest one thing: we must sacrifice Gritty to the hockey gods. Gritty's sentience and rise to fame was fun to see. His current story is like the plot of a recent Nic Cage movie where everything is madness, and nothing makes sense.
Since 2018, when Gritty debuted, the Flyers have one playoff appearance, and one playoff series win against the lowly Montreal Canadiens. Gritty seems to be universally beloved by the entire world. Nothing from Philadelphia should be universally loved by anything outside of Philadelphia. Philadelphia feeds off hate from the outside world. It is throwing the Earth off its axis.
Go Birds
If I would've told you in October that the Eagles would make the playoffs and the Flyers would have less than a 15% of making the playoffs, you would've put me in a padded cell. Go Birds!
Futures of the Franchise and Keith Yandle
If Chuck Fletcher is trading away pieces, everyone should be on the table with the exception for Carter Hart and probably Joel Farabee and Cam York. He should also be asking for 2023 first round picks. There are several franchise players in that draft. Keep an eye out for forwards Connor Bedard, Matvei Michkov, and Adam Fantilli. They would be the top 3 picks in the 2022 NHL Draft if they were eligible.
I am a big Keith Yandle fan mainly because he was a defenseman I always targeted while playing fantasy hockey. I was excited to get him in the Orange and Black especially at less than $1 million a year. He has been abysmal. Can we dress him as the backup goalie so we can play another defenseman (Cam York please) without hurting his ironman streak? Plus, is it going to matter though? Phil Kessel is only a couple of games behind him in the ironman streak. Yandle seems like a great guy and has a wonderful career, but you must give someone else a roster spot and ice time over Yandle.
The Olympics, Ron Hextall, and Bobby Clarke's Comments
Cancel the Olympics. They are terrible. Hockey is the only major sport that plays during their season. Let them play over the Summer like Basketball does. Profit.
There was a report this week that former GM Ron Hextall overruled the Flyers' scouts and selected Travis Sanheim over David Pastrnak in the 2014 NHL Draft. This coupled with the report that the Flyers scouts were torn between Cale Makar and Miro Heiskanen in the 2017 NHL Draft is just the cherry on top of the excrement sundae. The problem with these reports is hindsight is always 20/20. Plus, no one ever says instead of the guy we drafted, we almost took the worse prospect. Could you imagine the Flyers saying we almost took Dennis Persson (24th overall pick in 2006) instead of Claude Giroux. Always take these reports with a grain of salt. Try not to think of how much better the Flyers would be with Makar and Pastrnak over Patrick and Sanheim. Not recommended for mental health reasons.
Update, Bobby Clarke just confirmed that the Flyers scouts wanted Cale Makar over Nolan Patrick and Hextall overruled everyone. Clarke did not mention the Pastrnak over Sanheim pick but did say the Flyers could have acquired Ryan O'Reilly from Buffalo and that the Brayden Schenn trade was conducted by Hextall alone behind closed doors. Existence is pain.
Cut All the Way Through!
Straight to the Gulag if you do not cut a sandwich/hoagie all the way through. It is one of my biggest pet peeves. This is Wawa's biggest sin and they need to fix it.