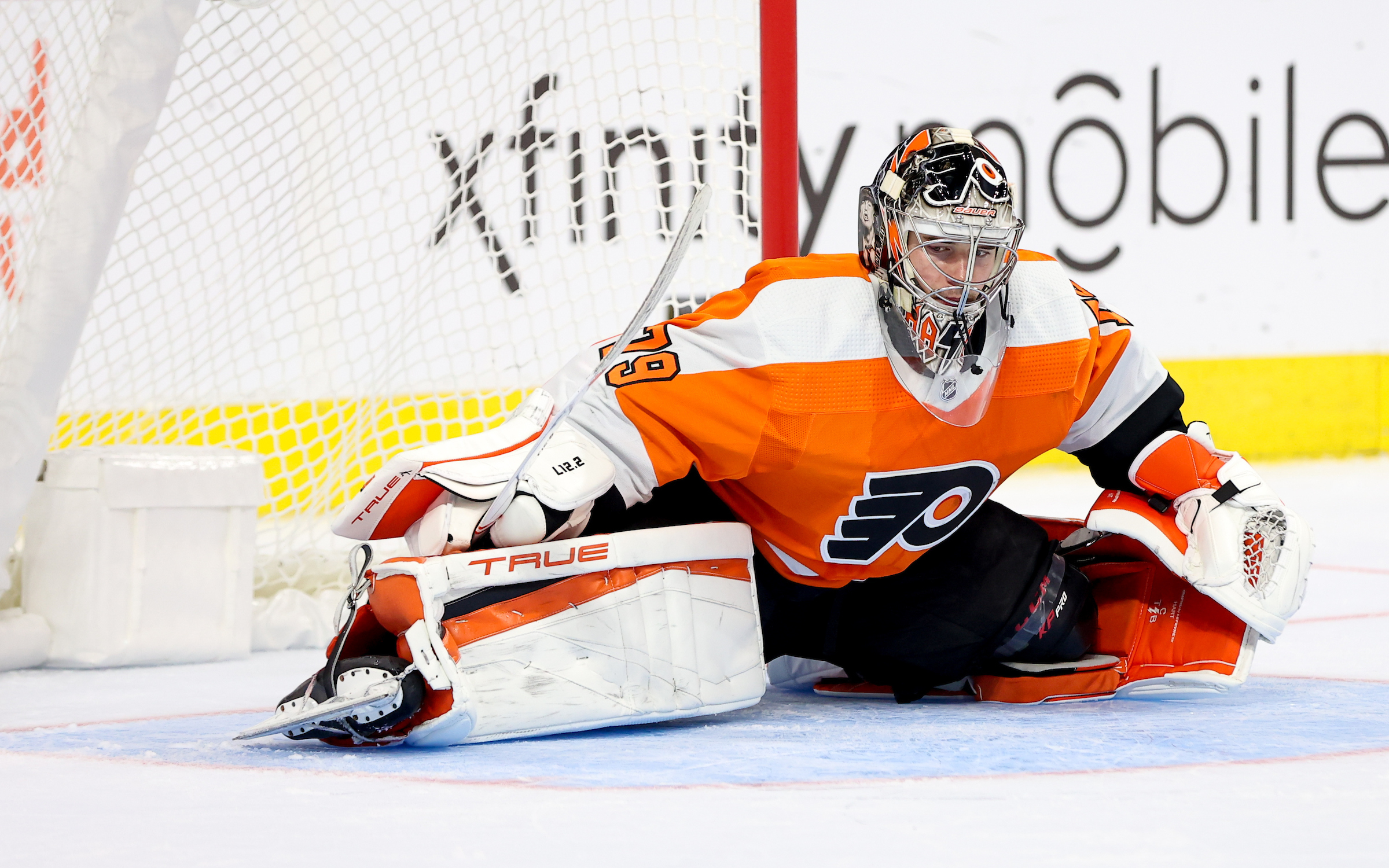 Over the holiday break, Jack Fraser – or JFresh on Twitter – posted a fan survey on Twitter. The online hockey community responded to prompts about how they ranked the top 32 goalies in the NHL. While some of the names at the top of the board were unsurprising, there was an explosion of confusion over Carter Hart's 17th position. While that may be controversial, and let's be clear, this is not Jack Fraser's opinion; it is an explainable opinion from the NHL community at large. So, let's understand these rankings.
The Rankings
Firstly, Andrei Vasilevskiy and Connor Hellebuyck lead off these rankings and, well, yeah. Per Save Percentage Above Expected (SV% Above Expected) during the 2021 NHL season, the Russian and American goalies ranked 3rd and 5th, respectively. Needless to say, Vasilevskiy, a two-time Cup winner with some of the wildest saves I've seen in the NHL over the past five years, and Hellebuyck, the 2019-20 Vezina winner, both deserve to be in the top three rankings. One small caveat is neither lead almost any goaltending advanced statistics over the past few years, but that only paints a picture of a player's effectiveness. These two guys are the cream of the crop.
Then there's number three, Igor Shesterkin. The 25-year-old from Moscow is taking the league by storm and is putting together a Vezina-caliber season. While the Rangers' new franchise goaltender played well last season, he has reached a new level over the past few months. His third-ranking is deserved as he may be the best goalie in the league this year. Actually, he probably is the best goalie in the league this year.
The next few rankings go predictably, with Markstrom, Campbell, Gibson, and Saros clearly separating themselves from the rest of the league. This little contingent of players are all certifiable game-changers, and while questions about Gibson's consistency are legitimate, he still plays firefighter for the Ducks on almost a nightly basis. Anaheim's defensive core, while fine, is really only bolstered by Hampus Lindholm – who is incredible – and needs Gibson to stand on his head nightly. I understand some qualms with his ranking, but he is truly that good. Maybe John needs to turn it on more often.
The Controversial Ones
Where the first level of controversy hits is at ranking 8 and 9. Thatcher Demko and Frederik Andersen do not have the track record to earn maybe the current ranking they have. For Demko, his current goals saved above expected per 60 minutes puts him at 17th in the league, but that's after a SV% Above Expected ranking of 6th last season. So is he actually a top 10 goalie in the league, or did he thrive in an odd, if not worse, division last season? It easily could be both. For Andersen, he is receiving mountains of praise for his hot start in the 2021-22 season, but he was a bottom ten goalie of the goalies who played at least 20 games during the 2021 season. So, again, what is the correct critique of Demko? Is he the fourth-best goalie in the league, or is he deeply flawed and on an insane tear because he needs to save his career. In reality, it's somewhere in the middle.
After these two odd commodity goalies, public perception gets a little wild in this writer's opinion. Firstly, Carey Price, while good, is not a top 10 goalie in the NHL. He has the ability to go absolutely supernova. Still, it's hard for me to rationalize a top 10 ranking for a guy that hasn't shown it during the regular season in a few years and has one playoff run to his name in the past five seasons. His underlying statistics were below average last year, and he has yet to play this year – which I am not blaming him for – but except for one weird season, the results have been concerning. Lehner comes next, and he should leapfrog the three goalies ahead of him, but he doesn't because of health issues, so I understand some of the cautiousness from the public.
Then we get weirder. Sergei Bobrovsky put together an early run of strong games at the beginning of the 2021-22 season, but he has struggled with mediocrity or blatantly poor play for years. Bobrovsky is a perplexing player as he was a bottom ten goalie last season and, after a hot start during the new campaign, has cooled significantly over the past month and a half. Is he the 13th best goalie in the league? No. Is he sometimes incredible? Yes. That does not mean he should be considered this highly.
The People Ahead of Hart?
Next, we hit the run of players right before Carter Hart. Ilya Sorokin, Tristan Jarry, and Alex Nedeljkovic precede the Flyers backstop, and of the three ahead, I can confidently say one is better. The Red Wings goalie, Nedeljkovic, was the best netminder by SV% Above Expected last year and is now above average for goals saved above average this season. That differs from Sorokin, who barely hit the minimum game cutoff last year for the 2021 season rankings, and Jarry, who was negative by SV% Above Expected in the previous campaign. I can say about Jarry and Sorokin that they were clearly below average earlier in 2021 and are now above-average and even into the good tranche of goaltenders. We can say that both were better than Hart for the first half of the year that ends on Friday at 11:59:59pm. So, are they better? Possibly.
Hart
Now Hart. Questions were asked in the Flyers online fan contingent about the accuracy of these polls because of Hart's position. What is important about the young Canadian is that he was the worst goalie to play 20 games at the end of the last season. While Carter has certainly been a top ten goalie in the league since the 2021-22 slate of games began, he was the complete opposite when the calendar flipped twelve months ago. As Flyers fans, we can easily explain away these issues. Bad coaching, a pandemic, his head not being right, but that does not change the fact that he played those games and put up those bad results. Hart has turned it around, and after a small dip a few games ago, he returned to his earlier form over the past few games. That creates an interesting question. Who is the real Carter Hart? Based on his career to date, the 10th to 17th ranking isn't a completely outrageous place for him to land based on the games he played. However, last season was clearly a fluke, and he is more likely the goalie we've seen this year and in 2019-20. Hart needs to continue to improve, and for that, I understand his current ranking in the public eye. That doesn't mean I agree, but it does mean that I do not think the people who filled out this survey are egregiously wrong, just a little.
The remainder of the rankings doesn't overly concern me, but I will say that Jonathan Quick is underrated. The former Vezina winner has put on a bit of a clinic this year, even if he still likes to go on adventures from time to time. What I will say is that these rankings showed how much extreme variances can affect public perception and how slowly opinions change in the league. Hopefully, one day, Hart will be in the top five of this opinion poll, and this reaction article will be seen as pointless, but for now, contextualizing the top 17 goalies in the public eye is important. Of course, we don't want to assume that everyone thinks as highly of Hart as the people in the Philadelphia area because that isn't true. However, we know what he can and should do for the remainder of his career.