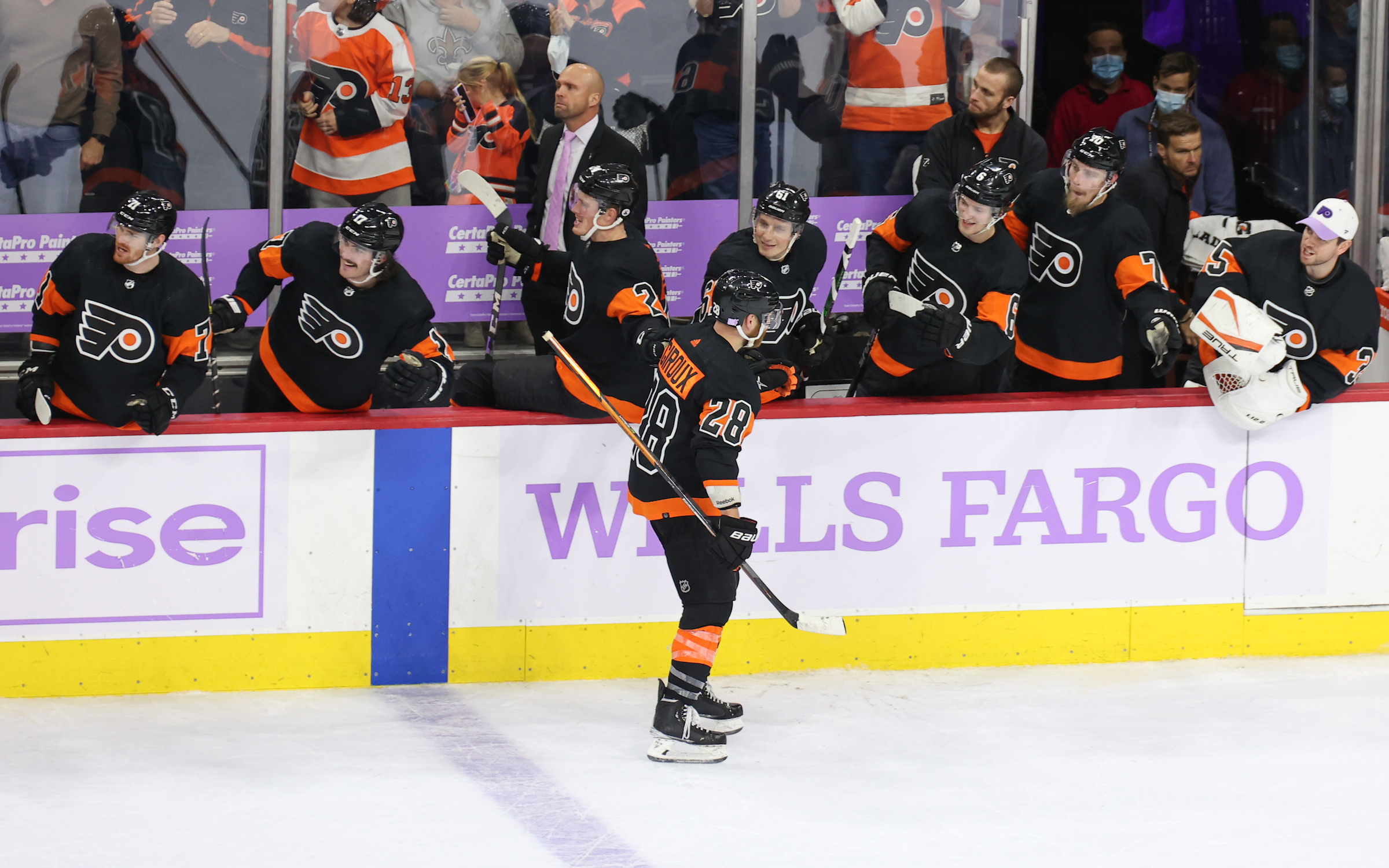 10 games down, 3 games up, COVID looming again; What's the deal?
Eight wins and two overtime losses in their first 14 games, then 10 straight losses, followed by three consecutive victories; the epitome of Philadelphia Flyers hockey. The 10-game winless streak reminded us once again that when a coach has lost the locker room, especially in Philadelphia, it's time to jump ship as soon as possible, because the new bench boss has all the tools to revitalize the team and bring back the skill that was seemingly lost. 
Tough opponents, rough schedule, tired legs, and injured bodies aided the Flyers collapse in what was a miserable month of hockey. Goals were not being scored, goals were not being prevented either, and special teams were neither special nor advantageous. However, with Mike Yeo behind the bench, the Flyers look like a rejuvenated bunch and it's only been ten days. 
Yeo has gone right back to the basics and lo and behold, it's working. A team that didn't score more than three goals since the end of October has now been able to fill the back of the net 4-plus times in 4 of their last 5 games. Yeo's first two games as interim head coach was a mix of old and new as you could tell they were trying to familiarize themselves with a new system. Scoring five goals against the Avalanche was a great start but allowing seven didn't help the cause. 
In the three games that followed a shutout loss to Mackenzie Blackwood and the New Jersey Devils, the Flyers were able to take down the Vegas Golden Knights, Arizona Coyotes, and Devils en route to their longest winning streak of the season. In typical Philadelphia fashion, they have taken us on yet another roller coaster ride of emotions and with two more games against two teams with less than nine wins, there's a real good chance the winning streak extends to at least five.
Players like James van Riemsdyk, Travis Konecny, and Oskar Lindblom, who were struggling mightily under the yolk of Alain Vigneault, have woken up and have been playing their best stretch of hockey. It's nothing too crazy, but considering the slumps they were mired in, it's a good sign that this team might be close to erupting and playing the type of hockey we expected them to play back in October. 
Konecny looks to have regained his confidence and mojo as his feistiness and willingness to make moves and be aggressive are on full display. Lindblom looks like the Lindblom of old that was leading the Flyers in scoring at one point in 2019, as he is way more noticeable on and off the puck and is digging away on the forecheck and in the corners. Number 25 in Orange and Black is extremely visible now when he has the puck on his stick and has found his way back to being the net front presence on a now-menacing power play unit. 
The three-game win streak is nice and all, but considering the opponent it might not be time to fully jump on the board. Against Vegas they were playing against back-up goalie Laurent Brossoit and Carter Hart stole the show with a strong performance in between the pipes. The game against the Coyotes was a game of two bad defensive teams duking it out with the Flyers taking advantage of the lack of skill that the Coyotes possess. Tuesday was a game against a Devils team that hasn't fared well all season, except when they're playing the Flyers.
However, to not to sound too pessimistic, a win is a win, and all things considered these six points are huge for their confidence. They are playing like a team again, they have the gumption and know-how to enter the offensive zone without dumping and chasing, and Tuesday's game against the Devils was possibly their most comprehensive victory of the season against an opponent who has a knack of shutting them down. 
So for now, it's nice to see the Flyers winning games and possibly putting that 10-game winless streak behind them, but it's a little too soon to be setting off the sirens. In recent memory, the Flyers have had difficulties against lesser opponents and it has truly been a crutch in the most significant stretches of their seasons. So far, so good, but it has to continue with the Montreal Canadiens and Ottawa Senators on the docket for the remainder of the week. 
Juggling the lines and keeping the defense in place has been a big part of their success. Yeo has placed his players in positions he deems they will have the most success and so far it's working. Initially he placed Lindblom on the top line, reuniting him with Sean Couturier and Travis Konecny; a line that had plenty of success in the past and Lindblom potted his first goal of the season that game. How can we also forget about the hat trick and plus-5 performance from Cam Atkinson, who could do no wrong on Tuesday.
He also placed Morgan Frost with Claude Giroux, which seems to be a dynamic duo whenever together. Scott Laughton has found his way on the top line with Couturier and Konecny in recent games and all three players have shown signs of breaking out of their droughts. Konecny, once again, has been the most noticeable Flyer in the last 3-4 games. Kevin Hayes has returned to the lineup, Joel Farabee and Derick Brassard are soon to return, and Wade Allison is getting his feet wet in the AHL; the reinforcements that Chuck Fletcher has been waiting for are on the verge of returning very soon. 
Now with COVID-19 rearing it's ugly head yet again, the NHL is in a situation no one was ever hoping for. With several teams having to postpone and cancel NHL games and several more showing positive cases on the daily, it's becoming increasingly possible that a shutdown could be looming. The Flyers' Morgan Frost left the game early on Tuesday and entered the COVID-19 protocols. The New Jersey Devils had several players playing under the weather as well but head coach Lindy Ruff urged that they were "non-COVID illnesses".
It's not something the NHL brass wants to face again, it's not something the NHL teams want to go through once more, and it's definitely not something the fans want to endure yet again. The Flyers are potentially on a roll and it could be washed away with the increasing cases being uncovered on a daily basis. It's also not just the NHL that has been going through the rigours of COVID lately, as plenty of NBA and NFL players have entered COVID protocol in recent weeks. 
Whatever the case may be, the Flyers finally look to have dug themselves a little bit out of their hole and have a very big opportunity to extend their three-game win streak to five by the end of the week. A three-game win streak, let alone a five-game streak, would be music to ears of every Flyers fan after almost a straight month of no victories. However, as Flyers fans we know the about the tumultuous streaks they seem to embark on, so for now we're giddy with anticipation for what could be, instead of hastily jumping back on board a tumultuous wagon.