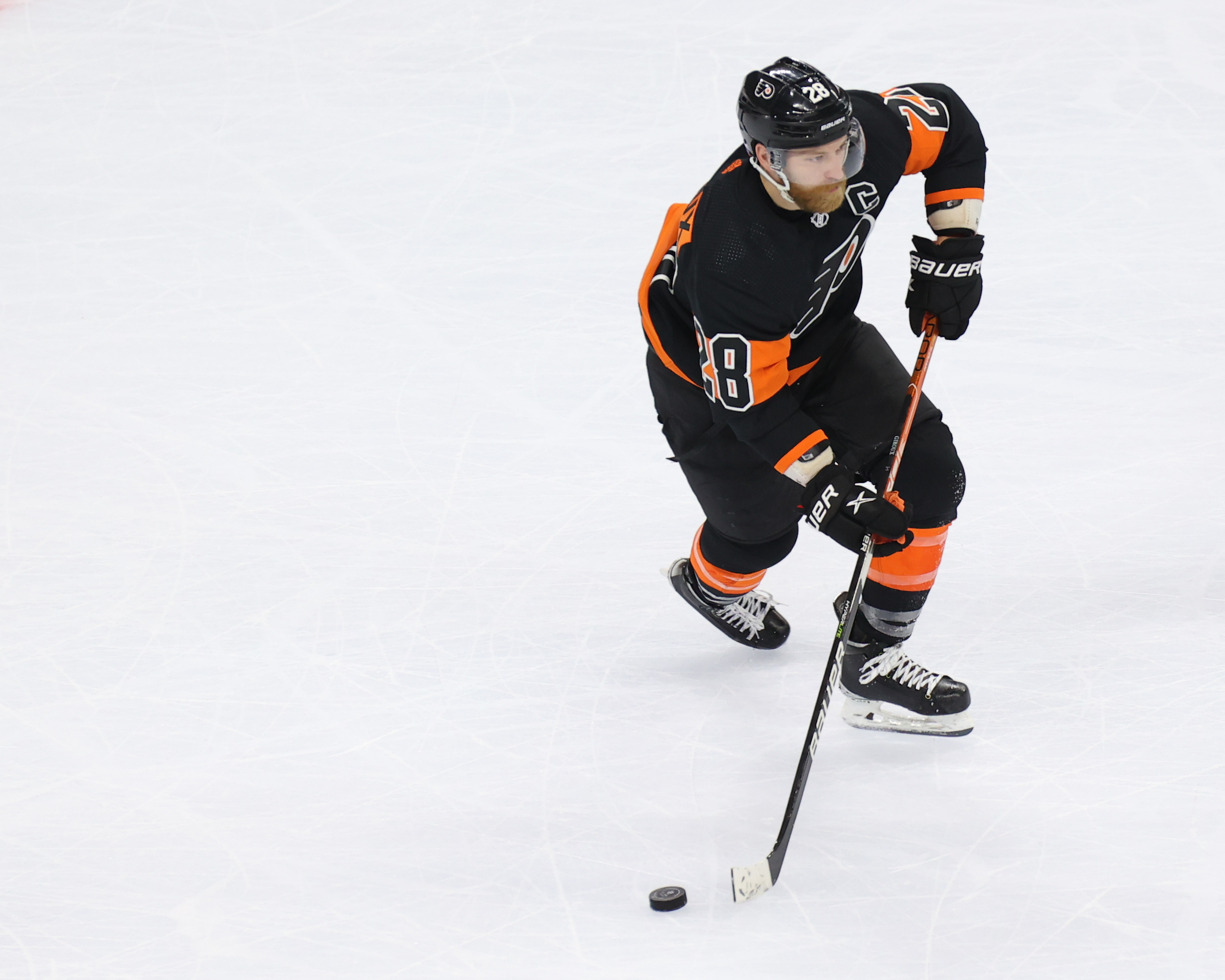 Tempered Expectations Required for a Claude Giroux Trade Package
When Wayne Simmonds was made available ahead of the trade deadline in 2019, there was a lot of optimism about what the return would be. There was a lot of nostalgia because of how well Simmonds played for the Orange and Black and all the intangibles that he had throughout his tenure. However at the time of the trade, he was on the wrong end of his contract and career and with all the bumps and bruises that he acquired over the years, his value dropped dramatically. 
The expectation was a good prospect, a very high pick, or maybe both, but in return the Flyers got Ryan Hartman and a conditional 4th round pick. Hartman was a former first round pick in 2013, whose best seasons resembled Simmonds' worst. He was a good bottom-6 checker who built himself up after leaving Philadelphia for Minnesota; he currently has 35 points in 49 games and someone the Flyers could use at the moment. 
When assessing the trade value of your own players, it makes it very difficult to cut the bias, positive or negative. When Jack Eichel's name was being thrown around, the Flyers were seemingly interested but balked at the Sabres' trade request of Travis Konecny+++, and when Patrick Laine's name was being mentioned, the Flyers and their fans balked at the idea of trading Konecny+. Fast forward a few years later and the tone has definitely changed as many are regretting missing out on star pieces. 
With the Flyers free-falling in the standings yet again, Claude Giroux's name has popped up everywhere in regards to the trade deadline and even though he holds a no-movement clause, the writing is all over the wall that he will waive it and allow a trade. A lot of teams have been mentioned like the Colorado Avalanche, St. Louis Blues, Minnesota Wild, Florida Panthers, and the Toronto Maple Leafs and in doing so many "trade packages" have been proposed. 
There's a faction of fans that want nothing to do with the captain and there's a faction that love him to pieces; there doesn't seem to be a middle ground in relation to Giroux and his place in Flyerdom. However, the trade "proposals" that are being thrown around make it seem like everyone will be disappointed come trade deadline. 
Giroux is 11 games away from hitting his 1000th game milestone with the club, which would take them to March 17th – 4 days before the trade deadline. The idea is that the Flyers will most likely wait until after his 1000th game to pull of the move, in a way to honour the captain and potentially keep the fans coming to the Wells Fargo Center. If that is the case, his 1000th game would represent the 60th game of the season, leaving only 22 games for the Flyers and in between 20-22 for the other teams interested. 
Even with the Flyers retaining half of his $8.275 million cap hit, most of the teams, if not all, are tightly bound by the salary cap this year and the next. So essentially, the idea that Giroux could re-sign with any of the teams he's traded to isn't all that high. In fact, he has mentioned countless times that Philadelphia is his home and that he doesn't want to leave, and you have to factor in the human aspect and the idea that he has a family entrenched in Philadelphia. 
Colorado has a slew of upcoming free agents that includes Nathan MacKinnon, Nazem Kadri, Darcy Kuemper, Andre Burakovsky, and Valeri Nichushkin, on top of the fact that they just recently extended franchise cornerstones Cale Makar, Gabriel Landeskog, and Mikko Rantanen to big money contracts. The Maple Leafs are bound by their big four in Auston Matthews, Mitch Marner, John Tavares, and William Nylander, on top of the fact that they just extended Morgan Rielly and they need to extend Jack Campbell in the summer. 
The Wild are going to be hit hard by the dead money of Zach Parise and Ryan Suter next year and are looking to extend Kevin Fiala. The Blues have breakout goaltender Ville Husso to deal with as Jordan Binnington's contract is looking worse for wear by the day. The Panthers have Aleksander Barkov's extension kicking in next year, going from $5.9 million to $10 million. Jonathan Huberdeau has his contract expiring the following year, with a slew of RFAs to qualify, and Sergei Bobrovsky's mammoth contract is on the books for the foreseeable future. 
Teams like Colorado and Toronto are in win-now windows, especially the Avalanche who are now going to deal with the brunt of their mammoth contracts. There's a very strong possibility that Giroux returns to Philadelphia in the summer with the Flyers still trying to re-tool and aggressively contend, even though a rebuild is more than necessary. In a perfect world, the Flyers would never consider trading their captain and their captain would never consider waiving his no-movement clause; however the Flyers are a mess and need to address their future before they address their present woes. 
Are the Avalanche going to trade prospects like Bowen Byram and Alex Newhook for 30+ games of Claude Giroux? Probably not. Are the Minnesota Wild going to cough up Marco Rossi or Matthew Boldy for 30+ games of Claude Giroux? Probably not. Are the Florida Panthers going to send Anton Lundell on his way out for 30+ games of Claude Giroux? Probably not. 
Expectations need to be very tempered and it shouldn't look like a loss if the Flyers don't get top of the line prospects either. Giroux is going to be a true rental unless things drastically change in the financial books for the interested teams. The Nick Foligno trade gets mentioned a lot because the Maple Leafs gave the Columbus Blue Jackets a king's ransom for an injured veteran, who isn't even close to Giroux's status. However, the Maple Leafs were desperate, are always desperate, and don't care what they fork over in their bid for the Stanley Cup with the current core they have assembled, as long as it fits their mold. Foligno was supposed to represent the sandpaper element for their bottom-6 and penalty kill with the potential upside of offense. 
That isn't to say that Giroux won't be able to bring back that sort of package, which included a first round pick and 2 fourth rounders. He is a hot commodity and is wanted by several teams but when names like Tyson Jost, J.T. Compher, Owen Tippett, Frank Vatrano, and prospects like Drew Helleson, Sampo Ranta, and Justin Barron get mentioned; it's seen as a loss. It would be nice to recoup an NHL-seasoned prospect like Byram or Newhook but the odds are very low.
A roster player, a prospect, and future first round pick is most likely the trade and that's pretty good considering the increasing probability that he makes a return in the summer. The Flyers still view Giroux as a top player and if they want to re-tool and stay aggressive, bringing him back would only make sense with that mindset. Add in futures in terms of draft picks and prospects and it should still be looked at as a positive. 
With the Flyers possibly waiting until he hits the 1000th game milestone, that could either be a boon or a hindrance, depending on who else gets dealt before then, who else is available, and if the interested teams become desperate with only a few days remaining until the March 21st deadline. Maybe if other names are quickly off the board then prospects like Newhook become available. The likelihood is still very low but it all depends on how the first domino falls.