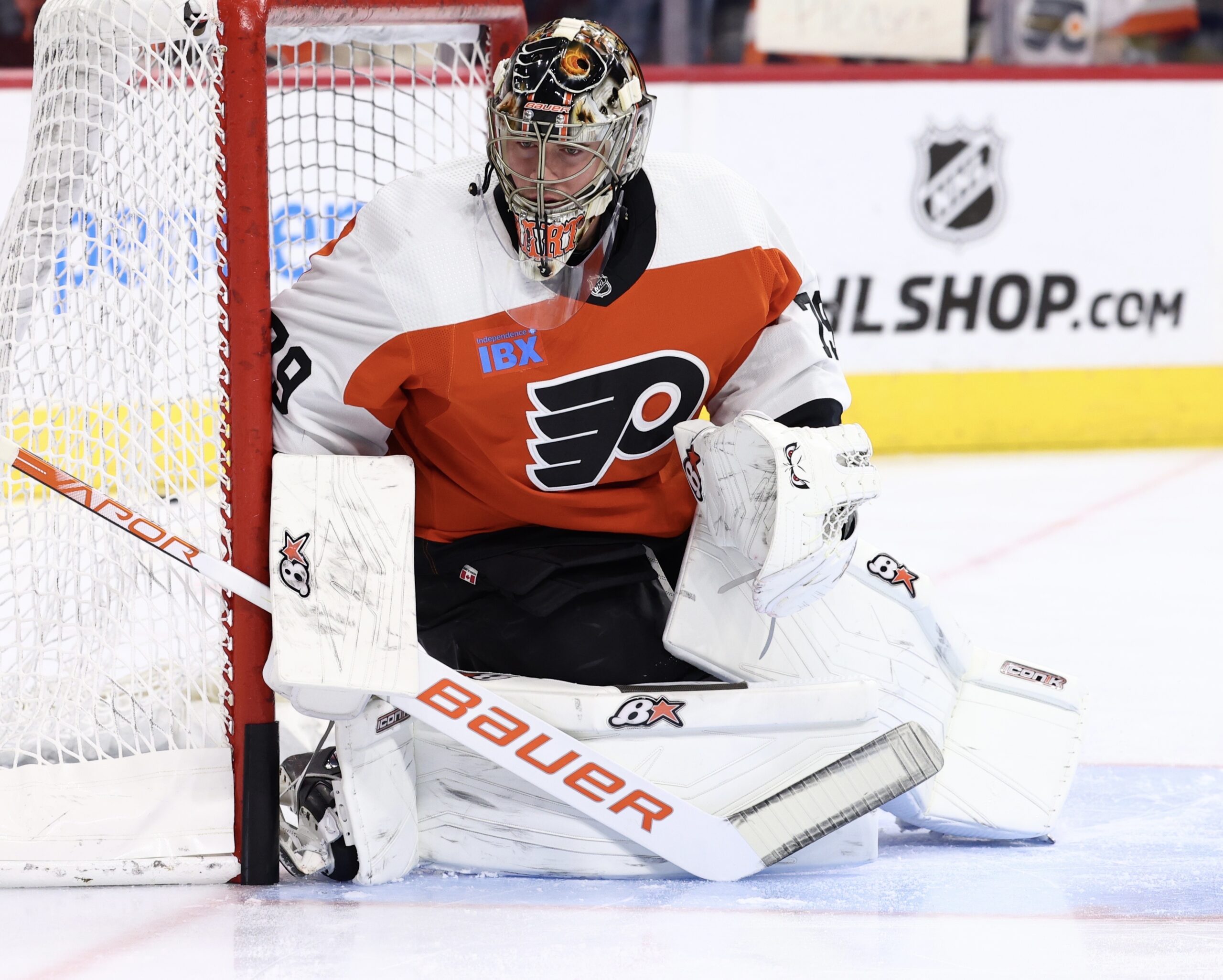 Crossing Broad's Anthony SanFilippo dropped the bomb that we were all anxiously waiting for this morning regarding the status of Philadelphia Flyers starting goaltender, Carter Hart.
Sounds like @NHLFlyers goalie Carter Hart is going to miss time with his mid-body injury. How much time, is still unsure. The team is hopeful it's closer to 2-3 weeks than 4–6 weeks.
Expect the team to call up Cal Petersen to join Sam Ersson on the roster. #LetsGoFlyers

— Anthony SanFilippo (@AntSanPhilly) November 2, 2023
After leaving last night's game against the Buffalo Sabres with a mid-body injury, SanFilippo said that the goaltender will definitely be on the mend but that the team is hopeful that Hart will be out for 2-3 weeks instead of the possibility of 4-6 weeks.
The play in question occurred early in the first period when Hart stopped the initial point shot but as he contorted himself to make way for the rebound, he was shaken up as he jerked forward and even had the Sabres forward land on top of him. He remained on the ice for a little bit before shrugging it off, but he stayed in the game was visibly hurt.
The Sabres wound up scoring twice before he was pulled, however one goal was overturned after the Flyers reviewed it for a potential offside. Samuel Ersson replaced him in net after he allowed 2 goals on 5 shots.
Due to Felix Sandström being sent down on a conditioning stint just a few days ago, Cal Petersen will most likely get the call-up. Currently on the season, Petersen is 1-3-0 with an .884 SV% and a 3.76 GAA in 4 games in the minors. He holds NHL experience after spending parts of 5 seasons with the Los Angeles Kings before being traded to Philadelphia this summer.
It's been a tale of two careers for the veteran net-minder where in his last 2 NHL campaigns he has accumulated a 3.07 GAA and an .890 SV% in 47 games while sporting a 25-17-4 record. Compare that to his first 3 seasons where he posted a 19-25-6 record in 54 games while posting a .916 SV% and a 2.79 GAA.
Carter Hart was off to a great start this season where he was 4-3-0 with a .921 SV% and allowed just 16 goals in 7 games before Wednesday night's tilt against Buffalo. With the 2 goals on 5 shots, his peripherals have dropped to a .913 SV% and a 2.52 GAA. He also leads the league in starts with 8.
Samuel Ersson has struggled in the early going but he will need to find his groove in short order with the Flyers playing 11 games over the next 3 weeks, including 3 back-to-back sets. He is currently 0-2-1 with a .763 SV% and a 4.91 GAA as he has allowed 14 goals on just 59 shots after a strong showing in 2022-23.
Sandström played in his first game with the Phantoms last night, where he allowed 4 goals on 28 shots in a 4-3 overtime defeat. His conditioning stint can last up to 2 weeks so it'll be interesting to see how long he remains with the Phantoms, how well Petersen adjusts to the NHL, and if Ersson can turn things around in short order.
2024 Stadium Series Trip
Flyers Nation and Philly Sports Trips have teamed up to bring you on an amazing bus trip to the 2024 NHL Stadium Series between the Flyers and Devils. Place an early deposit to reserve your spot at the ultimate tailgate experience at MetLife Stadium before the game. The package includes a game ticket, round-trip charter bus, an all-inclusive tailgate party with unlimited cold beverages, "Philly Style" catered food, live entertainment, and more.