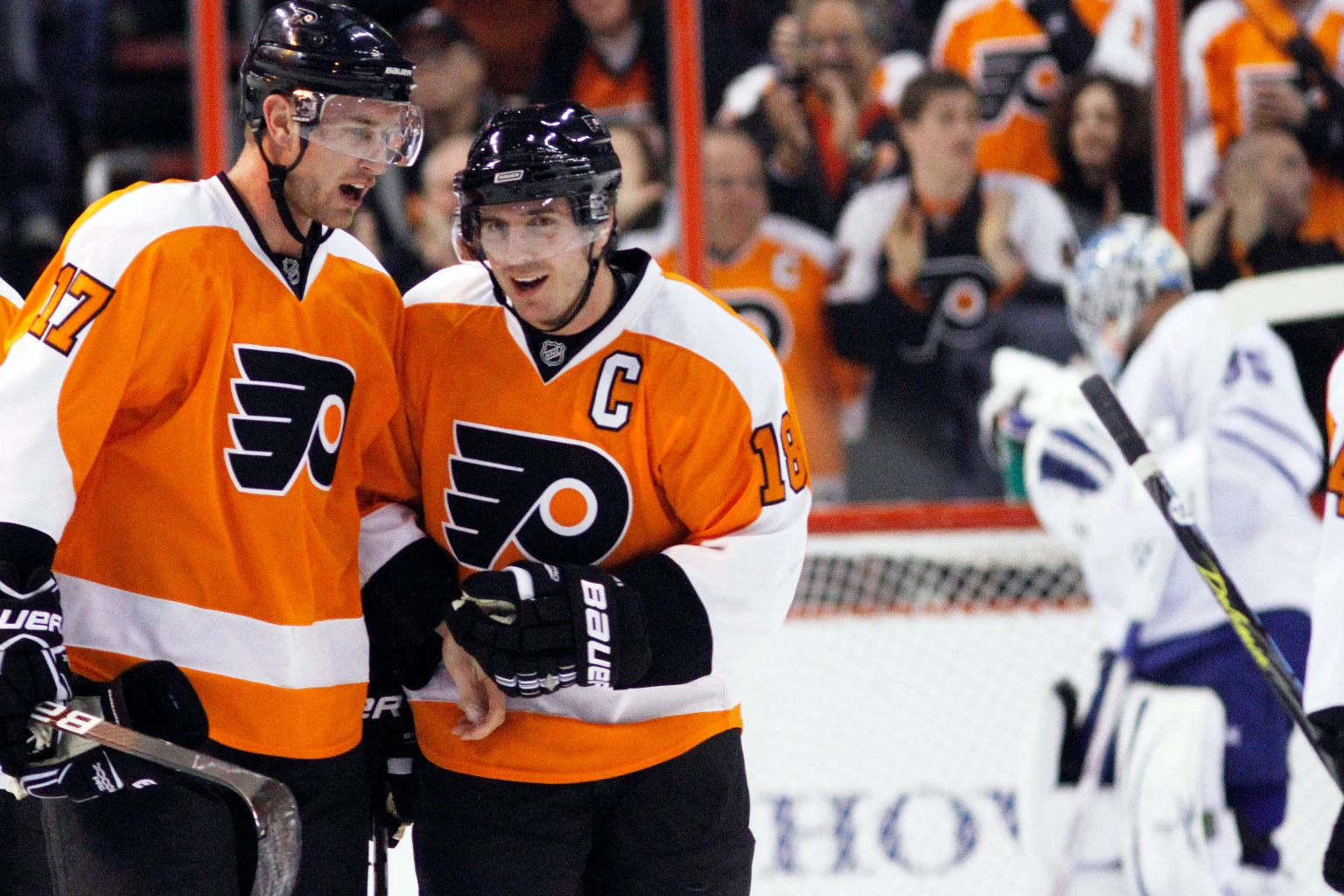 On This Date in History: Trades, Trades, and More Trades
For whatever reason, the Philadelphia Flyers have made the 23rd of June a rather eventful date in the last decade or so as they have executed 4 trades of relative importance in 2011, 2012, 2014, and 2017. Before COVID, the 23rd of June was a date in and around the NHL Entry Draft, so a trade of that magnitude will most likely not come to pass this year with the Stanley Cup Final still underway, the draft being held in 2 weeks, and free agency to open up a week after. However, as we continue with the "on this day in history" segments, the 23rd of June is a fun one. Players like Mike Richards, Jeff Carter, James van Riemsdyk, Scott Hartnell, and Brayden Schenn have departed the Orange and Black, with all of the trades coming as a surprise. 
June 23rd, 2011
Coming off the heels of a sweep at the hands of the Boston Bruins in the Eastern Conference Semifinals, the Philadelphia Flyers had faltered in goal yet again and with Ilya Bryzgalov floating in the waters, the Flyers wanted him at all costs. To fit his enormous 9-year/$51 million contract, the Flyers surprisingly shipped franchise cornerstones in Mike Richards and Jeff Carter on the same day, within an hour of each other. Richards was traded to the Los Angeles Kings and Carter was sent to Columbus to play for the Blue Jackets. 
In return the Flyers received Brayden Schenn, Wayne Simmonds, and a second round pick for Richards and Rob Bordson, meanwhile they received Jakub Voracek, the 8th overall pick, and an additional third round pick for Carter. With the 8th overall pick, the Flyers selected Sean Couturier and with the third round pick they selected Nick Cousins. Richards and Carter were blindsided by the moves, as they had just signed large extensions worth 12 and 11 years apiece, and a lot of it seemingly had to do with their clashes with then-head coach Peter Laviolette and the infamous "Dry Island". 
Brayden Schenn spent parts of 6 seasons with the Flyers from 2011-12 to 2016-17, playing in 424 games, scoring 109 goal and 246 points, and hitting the 20 goal plateau on three occasions. He was eventually traded to the St. Louis Blues, ironically on the same date but 6 years later. Wayne Simmonds spent parts of 8 years with the Flyers, playing in 584 games, scoring 203 goals and 378 points, marking his name as a premier power forward for several seasons, and breaking the 25-goal plateau 5 times. He was eventually traded at the trade deadline of 2019 to the Nashville Predators for Ryan Hartman. 
Sean Couturier has spent his entire 11-year career with the Flyers and debuted as a 19 year-old in the 2011-12 season after being selected 8th overall. He started off slowly, playing primarily as a bottom 6 shutdown-centre. In total he has 180 goals and 460 points in 721 games but 110 of the goals and 269 of those points have come in his last 305 games. After the Claude Giroux trade, he is now the longest tenured Flyer, is their best forward by a mile, could be the future captain, and is extended for the next 8 seasons. Jakub Voracek was an important piece of the puzzle for the 2010s as he spent a decade in Philadelphia, where he scored 177 goals and 604 points in 727 games. He formed a dynamic duo with Giroux and the two were by far the best players in Philadelphia on a yearly basis. Voracek was a six-time 20-goal scorer and broke the 40-assist mark six times before being traded back to Columbus for Cam Atkinson. 
Mike Richards spent 6 years with the Flyers, playing in 453 games, scoring 133 goals and 349 points, and helped the Flyers make it to the Stanley Cup Final in 2010 but fell 2 games shy of the mark. As the captain of the Flyers he truly brought the energy and jam that made Flyers hockey so fun during the late 2000s and early 2010s. In 4 years with the Kings, he only managed 46 goals and 133 points in 257 games but won 2 Stanley Cups alongside his former Flyers teammate, Jeff Carter. Carter's career is still ongoing as he will enter his 18th season with the Pittsburgh Penguins, but on his way there he spent 6 years with the Flyers as well, scoring 181 goals and 343 points in 461 games. He then spent a decade in Los Angeles, also winning the Cup twice but scoring 194 goals and 383 points in 580 games. Both players were vital during the seemingly dynastic years of the Los Angeles Kings in the early 2010s. He was traded to the Kings at the trade deadline in 2012 from the Blue Jackets for Jack Johnson. 
June 23rd, 2012
One year later and coming off the heels of a 5-game loss to the New Jersey Devils in the Eastern Conference Semifinals, the Flyers decided to trade their former 2nd overall pick in James van Riemsdyk to the Toronto Maple Leafs for defensive defenseman Luke Schenn. It was a shocking 1-for-1 deal because the Flyers didn't have to give up a valuable asset like van Riemsdyk for the usually slow-footed but defensive-minded Schenn. Nevertheless the "City of Brotherly Love" moniker got used plenty of times as the Schenn brothers were reunited. 
James van Riemsdyk underwhelmed in his first three seasons in Philadelphia as he was only able to score 47 goals and 99 points in 196 games, including 15 points in 39 playoff games. He found his groove in Toronto as he scored 30 goals twice and almost made it a hat-trick but was one goal shy of the mark in 2016-17. In 413 games for the Maple Leafs, he added 154 goals and 294 points, was a top-line threat, and posted a better 14 points in 20 playoff games. With the Maple Leafs not being able to extend him to a new deal in the summer of 2018, he returned to Philadelphia off the heels of a 36-goal campaign and signed for 5 years at $35 million, after Claude Giroux and Jakub Voracek urged the front office to make the move.
In his return to the Orange and Black, he has scored 87 goals and 169 points in 270 games, has broken the 25-goal mark only once, added 2 points in 12 playoff games during the 2020 bubble year, and led the team last year in goals with 24 in 82 games. With one year remaining on his contract, the Flyers are desperately trying to unload his $7 million AAV and are looking to capitalize on the extra cash. 
Luke Schenn spent parts of 4 seasons in Philadelphia with lofty expectations after the huge swing-and-miss by general manager Paul Holmgren. As a defensive defenseman, something the Flyers actually needed but probably not at that price of acquisition, he scored 12 goals and 30 assists in 213 games before being traded to the Los Angeles Kings, alongside Vincent Lecavalier, for Jordan Weal and a third round pick. Schenn has continued his career with pit stops in Los Angeles, Arizona, Vancouver, Tampa Bay, and once again in Vancouver, but his most important achievements were the Stanley Cup rings he picked up in his time with the Lightning in 2020 and 2021. 
June 23rd, 2014
Longtime Flyer and fan-favourite, Scott Hartnell was traded to the Columbus Blue Jackets for former Flyer, R.J. Umberger. According to general manager Ron Hextall, he made the trade primarily as a salary cap dump because Umberger carried one less year of term than Hartnell but also because he was looking for bottom-six depth, a penalty killer, and a faceoff man. The cap was negligible as Hartnell was on a $4.750 million AAV, while Umberger carried a cap hit of $4.6 million. Hartnell's new contract was only a year old before Hextall made the move, which was also seen as a blindside for the player. 
Scott Hartnell spent 7 years with the Flyers, playing in 517 games, scoring 157 goals and 326 points, was one of the better power forwards of that time, hit a career-high 37 goals in 2011-12, and added 8 goals and 17 points during their magical run to the Final in 2010. He formed a lethal trio with Daniel Briere and Ville Leino in 2009-10 and 2010-11 and then formed another lethal trio with Claude Giroux and Jaromir Jagr in 2011-12. The Flyers had initially signed him after trading for his rights in the summer of 2007 at $25.2 million over 6 years and then had just re-upped him to a 6-year deal that was worth $28.5 million. Hartnell had seemingly not seen eye to eye with head coach Craig Berube, while Hextall wasn't too keen on his work ethic. 
In his stead came a familiar face in R.J. Umberger, who had played in 228 games for the Flyers between 2005-06 to 2007-08. He scored 49 goals and 116 points, while adding 10 goals and 15 points in 17 playoff games in 2007-08. After spending 6 years in Columbus, Umberger's return to Philadelphia was underwhelming as he only scored 11 times and added 15 assists over 106 games. With a year left on his deal, the Flyers bought him out, while Hartnell played in an additional 234 games and scored 64 goals and 146 points during that span. He finished his career off where it began, in Nashville as he accumulated 13 goals and 24 points in 62 games before retiring after the 2017-18 season concluded. 
June 23rd, 2017
The trade that sent shockwaves around Philadelphia and seemingly its management group; trading Brayden Schenn to the St. Louis Blues for Jori Lehtera, the 27th overall pick, and a conditional first round pick. Bobby Clarke, appearing on The Cam & Strick Podcast earlier this season, had made mention that no one knew that the trade was in the books and when Gary Bettman announced the trade at the podium at the draft, everyone at the table was shocked. Lehtera was brought over to even out the cap space but Hextall had more of an eye toward the drafts picks. With the 27th overall pick they selected Morgan Frost and with the conditional first round pick in the following season, the Flyers selected Joel Farabee. 
Arbitration in hockey a huge no-no and even though the Flyers avoided their arbitration hearing with Schenn in the summer of 2016, they only missed out by a few minutes. Hextall seemingly took that to heart as it was apparent that the Flyers preferred the defensively sound Sean Couturier over the power play finisher in Schenn. After signing a 4-year deal that was worth $20.5 million, Schenn played in one more season before being dealt to St. Louis, where he would eventually win the Stanley Cup. In 6 years with the Flyers, he scored 109 goals and 246 points, proved his worth on the power play, and made himself a focal on the offensive side of the puck. His inconsistencies are what truly cost him in the eye of their analytically-minded front office group. 
Schenn has since moved on to greener pastures as he has spent the last 5 years in St. Louis, scoring 110 goals and 276 points in 343 games. In 51 playoff games, he has only added 26 points, as evidenced by his 5 goals and 12 points in 26 games during their Stanley Cup run of 2018-19. Nevertheless, he's been a key cog in their offense ever since. Jori Lethera played in parts of 2 seasons for the Flyers, totalling 89 games, 4 goals and 11 points, and was seen as a stop-gap to the youthful injection that fans were clamouring for in players like Travis Konecny and Oskar Lindblom. Lethera had scored 100 points in 3 seasons with the Blues but was not even close to the same dependable bottom-six player he was in St. Louis. Morgan Frost, who was drafted with the 27th overall pick in the 2017 draft, made his season debut in 2019-20, has only appeared in 77 career games and has only added 7 goals and 23 points. He figures to be a focal point moving forward for the future but patience is running thin in Philadelphia as they are looking for answers and in short order. Joel Farabee was drafted the following year with the 14th overall selection, has appeared in 170 games, scored 45 goals and 93 points, and had a career high 20 goals in 55 games during the 2020-21 COVID-shortened season. Farabee also signed a 6-year extension worth 30 million dollars last summer that is set to kick in this coming season.