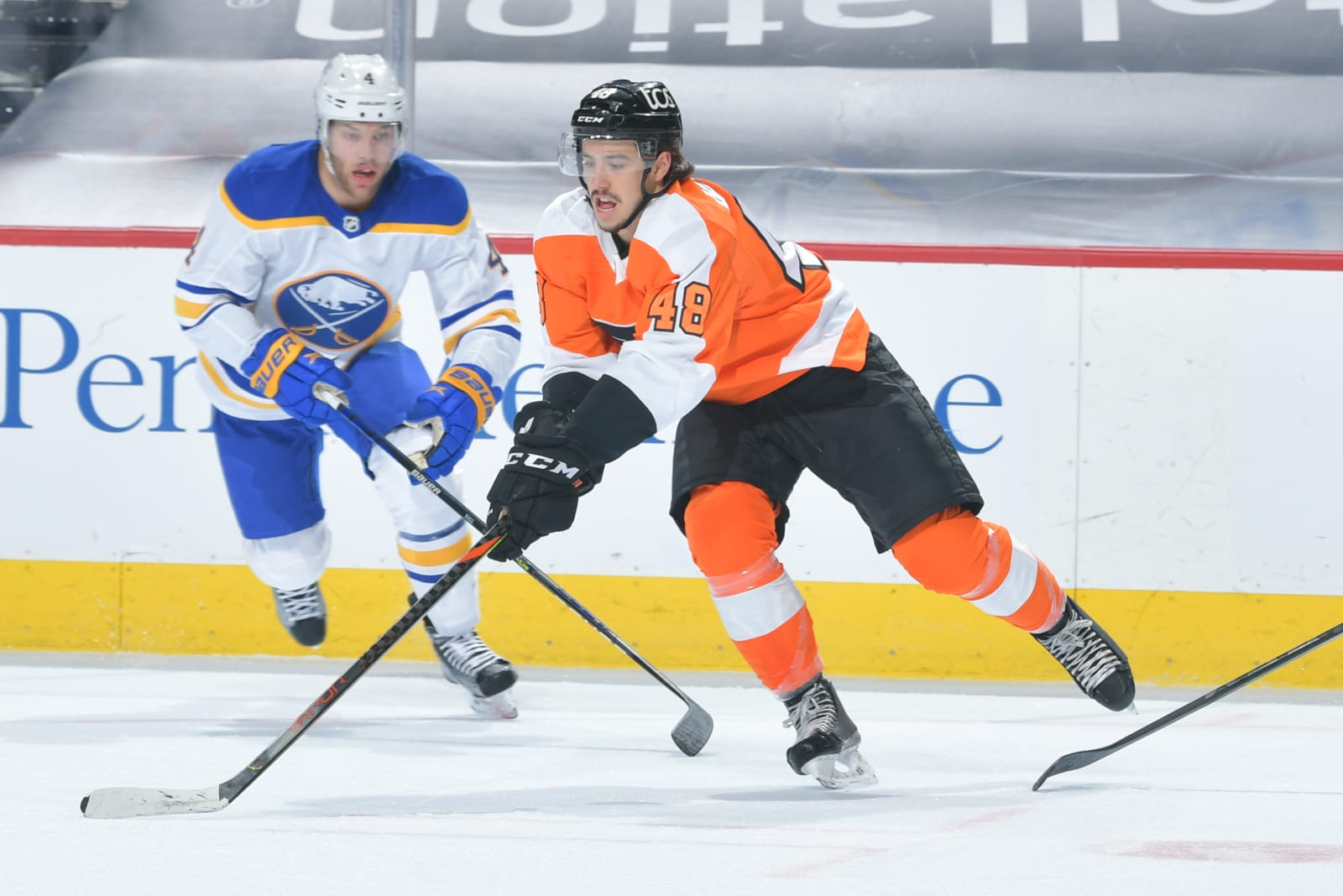 Morgan Frost or Nate Thompson?
Defense and goaltending have been the focal point of the Flyers off-season and rightfully so. They were the two areas that needed the most help and regardless of how you feel about the acquisitions, moves were made and changes occurred. The offense hasn't garnered much attention, if any, this off-season outside of the Jakub Voracek and Cam Atkinson swap. The biggest question mark heading into the season is who is going to take that 4th center spot, Morgan Frost or Nate Thompson?
The top six are more or less locked in with Claude Giroux, Sean Couturier, Kevin Hayes, Travis Konecny, Joel Farabee, and newly acquired Cam Atkinson. The bottom six should be finalized in and around training camp but for the most part, it will include Oskar Lindblom, James van Riemsdyk, Scott Laughton, and Nicolas Aube-Kubel. Wade Allison will most likely make the team barring a bad camp, after his impressive debut this past season and instant connection with Joel Farabee.
As for the final spot, it is going to be based on what the front office and coaching staff are most comfortable with. The Flyers can either go with the young Morgan Frost or the grizzled veteran Nate Thompson. At first, it doesn't seem like much of a debate because Frost is a better offensive option than Thompson. However, because he has missed almost a year and a half of hockey, they might want him to start the season in the AHL.
Nate Thompson has some familiarity with the Flyers after being acquired at the trade deadline in 2020. Alain Vigneault and the coaching staff were quickly enamored with the 4th line center as he started to become a mainstay in the lineup. He averaged more ice time (12:37) than Michael Raffl, Tyler Pitlick, and Nicolas Aube-Kubel, who were far more efficient and more impactful players. His ice time increased come playoff time and he started averaging numbers close to James van Riemsdyk and Joel Farabee.
His usage started to become a problem as Alain Vigneault started to rely on him for more pressure situations. He got a lot of heat because of his ice time and his play, in general, wasn't all that great. He started in the defensive zone on almost 79% of his shifts and even though he was a great face-off man, he found himself hemmed in way too often. He wasn't driving the play and neither were his line-mates, which made the 13 minutes of ice time a little astronomical.
The Flyers had a lot of balance and depth throughout the 2019-20 season, which was a big part of why they were so successful. However, sometimes it felt like the coaching staff wasn't using players like Couturier, Giroux, Voracek, or Hayes as much as they should've. A player of Couturier or Giroux's ilk should be averaging a minimum of 20-21 minutes; however, their minutes dropped in the playoffs and they were only averaging 19:13 and 18:28, respectively. Obviously, it was not Thompson's fault, but because of this division of balanced ice time, we noticed Thompson a little too much, especially near the end.
There are many question marks surrounding Frost heading into the season but the biggest one is if he can make the roster and make an impact. He played 20 games in 2019-20, impressed on his debut with a goal, and had some spark with Giroux and Konecny. Since December 28th, 2019, Frost has only played two games. He had a two-game stint in 2020-21 before injuring his shoulder in a game vs Buffalo. He never returned and has since been rehabbing.
The potential is there, he is still very young, was a first-round pick, and is very skilled and crafty, however, the issue is that he hasn't been able to get an adequate amount of game time. After trading Nolan Patrick to Nashville and before signing Thompson, it was almost a guarantee that Frost would be penciled in as the third-line center. There weren't many other internal options that would have usurped him and the Flyers truly believe in his potential.
After the Thompson signing, things might have changed because of the previous familiarity with the player. They said it was a depth signing and his term and cap hit wouldn't indicate otherwise, however, we've seen how Vigneault used him before and how he likes to use his veteran players.
Thompson is a good role player and possesses certain qualities that other players, like Frost, don't possess. He's a career 53% face-off man, he can and has started the majority of his face-offs in the defensive end (which isn't always easy to do), and he is a good penalty killer, which is something the Flyers always need more of. It truly comes down to what the front office believes is the right decision for Morgan Frost's development.
Morgan Frost is still only 22 years old with a fairly impressive junior track record. In his draft year, he recorded 20 goals and 62 points in 67 games as a 17-year-old. In his draft+1 year, he scored 42 goals and 112 points in 67 games and then followed that up with 109 points in only 58 games the following year. When he split time between the Lehigh Valley Phantoms and the Flyers in 2019-20, he recorded 29 points in 41 games with the Phantoms. He has all the tools to make a grand impact at the NHL level, but because of all the missed games and stoppages between 2019 and the present, the Flyers might want to approach the situation with caution.
If the Flyers opt to send Frost to the minors then Thompson would assume the fourth line role with Allison/Lindblom and Aube-Kubel, with Laughton centering the third line. Scott Laughton helps burden the load a little bit because of his ability to play all over the lineup. He has shown flashes of top-six capabilities, so having him in the bottom-six helps tremendously and is usually where he does his best work.
Having him in the fold makes the Frost vs Thompson decision a lot easier. Whoever they choose, they know they can count on Laughton to take on his usual load and then some. Thanks to his utility, sending Frost down to the minors to start the season seems like the logical and most likely situation.
General manager Chuck Fletcher hasn't talked about the situation that much but whenever asked, he has hinted that an AHL stint isn't out of the realm of possibility. He is focused on Frost's development and would like to get him acclimated back to game shape, even if it's temporary.
Unless Frost shows up in camp and wows the Flyers brass, he will have the opportunity to get all the playing time he wants and needs, he will get his feet wet, and he will have the chance to gain the confidence, swagger, and momentum required for the NHL level.
The Flyers have a balanced lineup with a cast of good to great players. It is essentially the same offense from 2019-20 that propelled them to a top seed finish. Last year was a season where nothing went right for the entire team. Farabee, Hayes, van Riemsdyk, and Konecny all went through similar slumps of 20+ games scoring only twice. The odds of that being repeated are very low.
Thompson is a reliable 4th line center, who shouldn't be more than a penalty killer and face-off man moving forward. Veteran presence and leadership were the MO for this off-season and Thompson adds another layer of experience to an already personable locker room. Frost might have to win this roster spot in training camp and if he does that will only be a boon for the Flyers.
For now, the offense looks pretty good; well balanced, depth all around, and a deep group. Their top six seems locked with Giroux, Couturier, Hayes, Atkinson, Farabee, and Konecny, while the bottom six still needs a few kinks ironed out. If Daily Faceoff is as credible as a lot of people believe, they currently have the Flyers with the third-best 3rd line and 6th best fourth line, on top of the fourth-best first line.
2020-21 has come and gone, and it should be nothing more than a distant memory once the puck is dropped in October. This is a new team with a new MO, who should be ready to overcome all their fallacies from the previous year, whether that's with or without Frost to begin the year. Frost will crack the lineup at some point this year, the only question is whether it will be at the beginning or at some point within the season. Whatever they end up choosing, they know they have Thompson waiting in the wings.