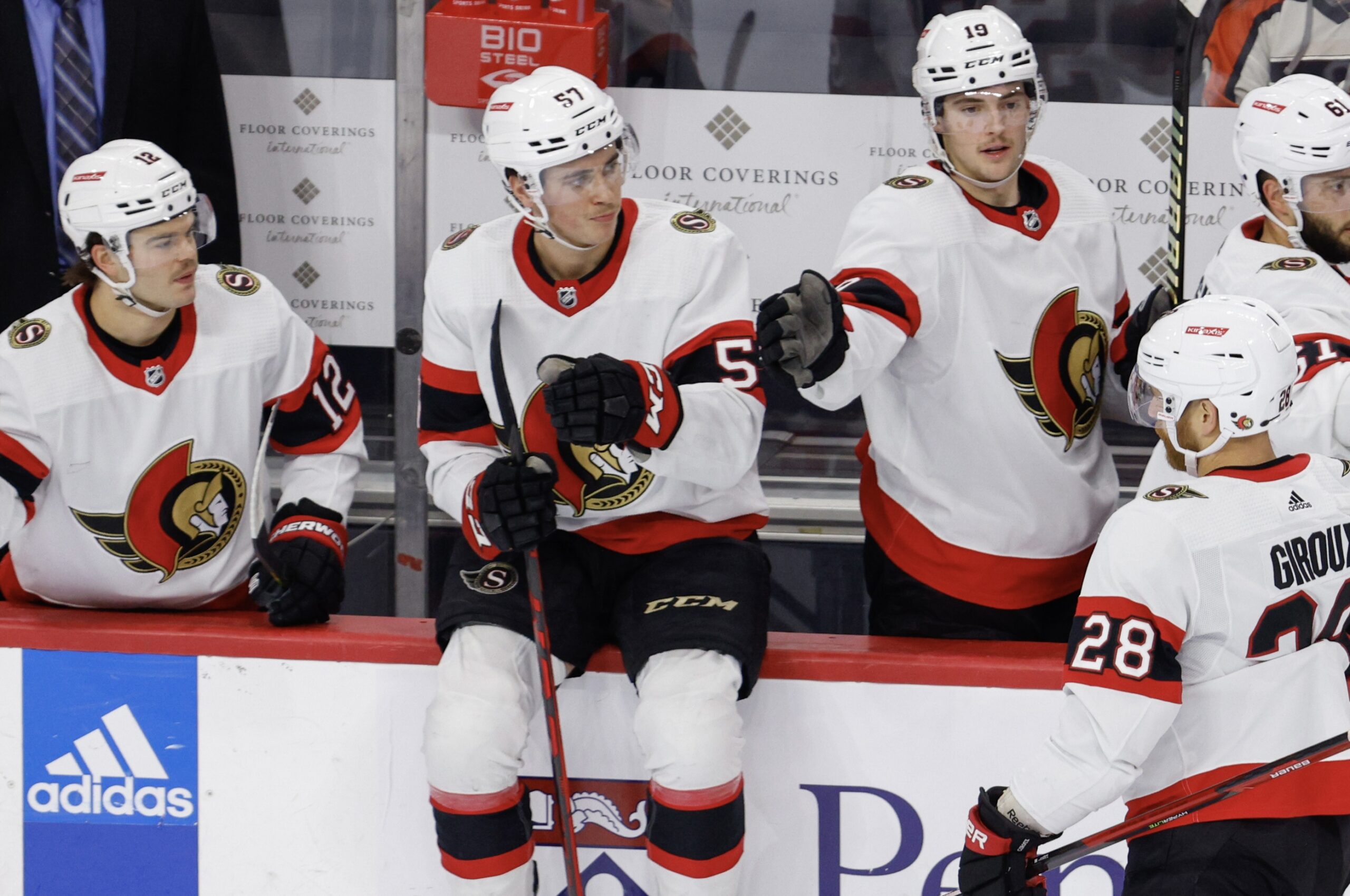 Anthony SanFilippo of Crossing Broad tweeted out earlier Saturday that if the Ottawa Senators can't come to terms with RFA forward, Shane Pinto, they will look to trade him. Multiple teams have expressed interest in the 22-year-old, including the Philadelphia Flyers.
Short thread: Pay attention over the next several days to the negotiations between Ottawa and RFA Shane Pinto. If they can't get a deal done, the @Senators may look to trade him. I'm told multiple teams have expressed interest including the @NHLFlyers.

— Anthony SanFilippo (@AntSanPhilly) September 16, 2023
The caveat to a deal including Pinto is that the Senators would like to dump an unfavourable contract in addition to the youngster, which could bode really well for the rebuilding Flyers, who have cap space to burn at the moment.
If OTT does decide to trade him, the Flyers could have an advantage over other teams as they would be willing to also take a salary the Sens may want to dump (Matthieu Joseph?) that other teams can't necessarily afford to take against their cap.
Should be an interesting week.

— Anthony SanFilippo (@AntSanPhilly) September 16, 2023
The Senators are in a strange position right now because they have youngsters like Tim Stützle, Brady Tkachuk, and even Thomas Chabot – if you count him as a youngster – but are still on the outside looking in on a wild card spot and losing Alex DeBrincat this summer pushed them back a few steps. 
They have Claude Giroux, traded for Jakob Chychrun at the trade deadline, just signed Vladimir Tarasenko, and believe to have core pieces in Josh Norris, Drake Batherson, and Ridly Greig up front with Jake Sanderson on the back-end.
As for bad contracts that they could look to unload, there are only two that really stand out in Mathieu Joseph and Artem Zub.
Joseph is signed for 3 more years at a cap hit of $2.95 million and has done very little since coming over to Ottawa, scoring 7 goals and 30 points in 67 games – including 3 goals and 18 points in 56 games last year. Zub on the other hand is a top-4 defenseman for the club but is signed for another 4 seasons at a cap hit of $4.6 million. The Senators aren't really a team filled with bad contracts at the moment as they have locked up Stützle, Tkachuk, Norris, Chabot, and Sanderson long term over the last few seasons but they only carry $895,953 in cap space heading into the new season.
Pinto was drafted with the 32nd overall selection in the 2019 NHL Entry Draft – just two picks ahead of Bobby Brink. The Franklin Square, New York native played for the Tri-City Storm in his draft season, where he scored 11 goals and 27 points in 26 games, He committed to the University of North Dakota and played there in 2019-20 and 2020-21, where he compiled 31 goals and 60 points in 63 games.
He made the leap to the NHL near the end of the 2020-21 season, scored 1 goal and 7 points in just 12 games, and truly made his mark. Unfortunately, he was only in the lineup for 5 games in 2021-22 after dealing with multiple shoulder injuries.
This past season he scored 20 goals and 35 points in 82 games coming off shoulder surgery the year before. Pinto also averaged 15:59 TOI, took 158 shots on goal, scored 15 even strength goals, won 52.1% of his faceoffs, and had a 38:32 takeaway to giveaway ratio.
Pinto is owed a 5% raise on his $925,000 that he earned last year but right now the Senators cannot afford that. Ottawa signing Josh Bailey to a PTO signals that they believe the Pinto standoff could go into the season and they just wanted to check their bases.
Steve Warne of The Hockey News tackled the Pinto situation rather eloquently:
1) Why was $5 million dollars spent on Tarasenko before taking care of Pinto, given that Tarasenko is likely one and done?
2) Does Pierre Dorion not view Shane Pinto as a key piece of the puzzle for a Stanley Cup run?
3) Is Ridly Greig viewed as a similar or better prospect at centre ice than Pinto?
4) What should Shane Pinto and his camp infer from this?
5) Is a trade in works in the event that Pinto can't be signed?
These are all questions that need to be asked if Pinto isn't getting his physical next week.
Things to consider
1) Pinto turns 23 in November and will be a UFA in 2026.
2) He is American born and ADB showed that Americans sometimes like to go home at free agency.
3) Pinto will never be more affordable than he is today.
4) The Senators have the cap space to sign Bailey or to have Greig make the team.
DeBrincat being upset about playing second fiddle to Tkachuk played a part in his eventual departure, but it always seemed destined that he would return back to an American market. Signing Tarasenko was a knee-jerk reaction to losing a top-6 winger but if cap space was so dire and you do believe Pinto is an untouchable asset, why go to those lengths to sign an oft-injured veteran winger?
Another interesting yet strange nugget of information is that their previous head of amateur scouting, Trent Mann, was so gung-ho on Pinto that he threatened to quit if the Senators moved out of the 32nd slot in the draft. He was ultimately fired this summer so do with that information as you will, but it's strange that all of a sudden, Pinto's contract situation has become less important for Pierre Dorion and company.
As for the Flyers, it's a little more cut and clear. They are rebuilding, they want as much young talent as they can possibly get their hands on, and they have enough cap space to help other teams with their cap issues.
Pinto would slot in perfectly with their rebuilding plans, he's a centre which is always a position of need, and he is only turning 23-years-old this year, which puts him right on track with the rest of their young core players.
It remains to be seen what Ottawa will be looking for in return but it can't be anything sizeable in regards to roster players considering their cap predicament. It would most likely cost draft picks at this rate and the Flyers have a few to spare, which might originally go agains the whole "rebuilding" plan. However, when a 22-year-0ld centre becomes available, you take your chances.
2024 Stadium Series Trip
Flyers Nation and Philly Sports Trips have teamed up to bring you on an amazing bus trip to the 2024 NHL Stadium Series between the Flyers and Devils. Place an early deposit to reserve your spot at the ultimate tailgate experience at MetLife Stadium before the game. The package includes a game ticket, round-trip charter bus, an all-inclusive tailgate party with unlimited cold beverages, "Philly Style" catered food, live entertainment, and more.