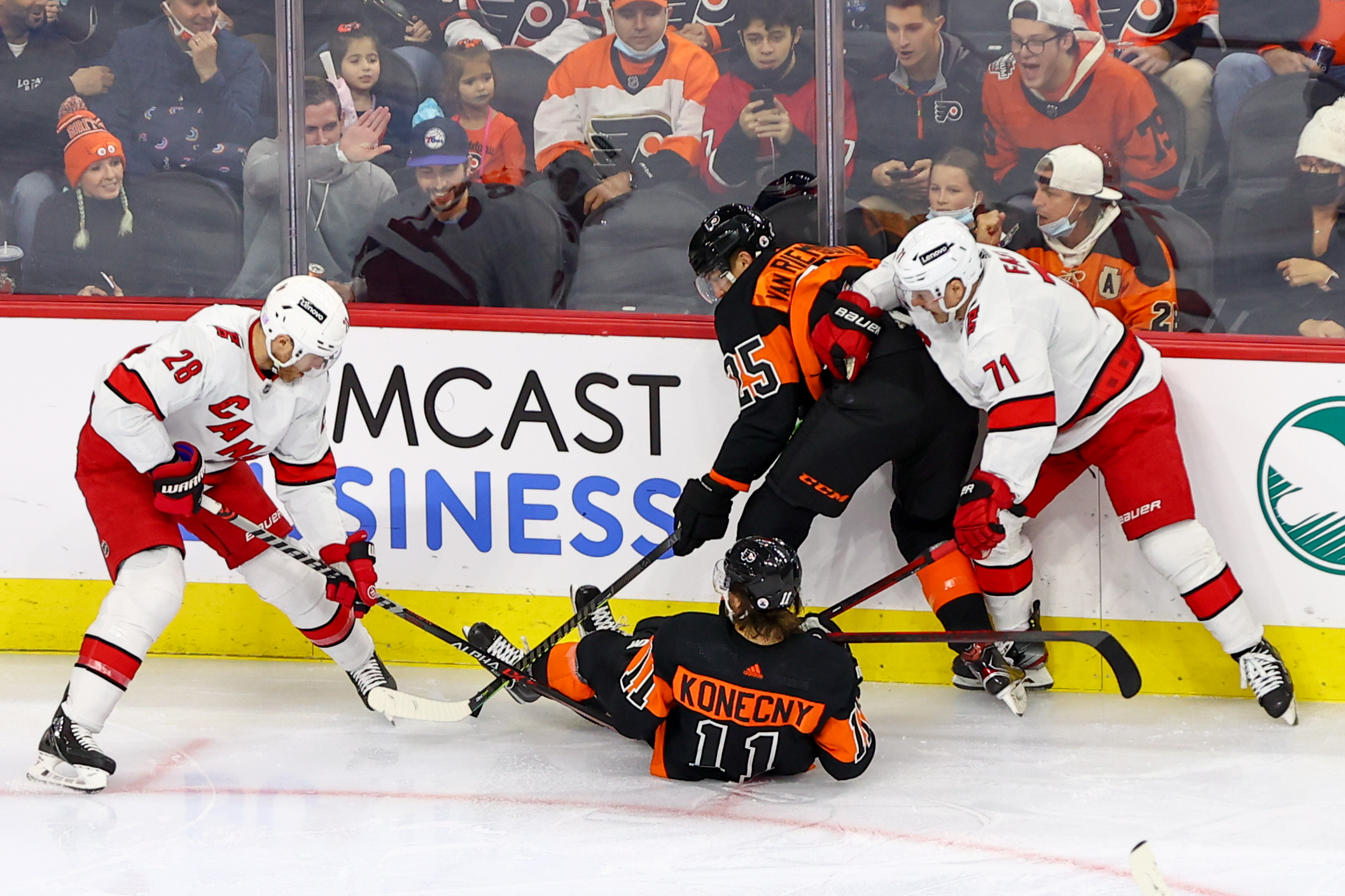 The Philadelphia Flyers have been playing so well lately, and have kept some really close or convincing wins off some strong teams.
So of course, for Saturday's matinee against the Anaheim Ducks, they proceeded to crap the bed for a 7-4 clunker at home. The loss really was a combination of everything and everyone coming up short. Bad passes, poor coverage, goaltending couldn't make a save, and even their notorious penalty kill gave up more than 1 goal to the worst power play unit in the league.
However, let's pump the brakes. For one, before the regular season started, we expected them to lose, and so far, that hasn't been the case! Sometimes a team just doesn't have it, we've seen bottom 5 teams beat top 5 teams, so it's not nearly as surprising as it is disappointing that a bubbling Flyers club couldn't take care of business against one of the worst projected teams this season. It happens. What should be more important to us is to see how the team responds on the ice against a superior club. Let's see if these patterns continue before we kick and scream.
Bouncing back after
that
loss
The good news is that Carter Hart is back in net. Losing to Anaheim isn't good, but scoring 4 goals is still really good, and the defensive breakdowns on the penalty kill haven't been a normal pattern for them. The Flyers will want to score the first goal tonight, and they have the offense to score, and a netminder who can bail them out if need be. Crisper passes on the tape are non-negotiable. Carolina has been a killer on 5v5 for some time now and Philadelphia will need that A-game. 
Special teams need to be better
The special teams were simply unacceptable on Saturday afternoon. You just do not give up a power play goal to a team with a 5% conversion rate. I understand Travis Konecny wanting to dart up the ice to hit a steaking Scott Laughton, but the play wasn't there, and he needs to be more aware of that. The other was just a brutal breakdown on defense and they gave Frank Vatrano all the space and time in the world, and the Flyers cannot do that.
They did score on the power play, but there were other opportunities that felt like they killed momentum. Even if you do not score, you need to apply that pressure and "make a goalie make a save". I am confident that the attention to detail will be better on the penalty, however I am mostly unsure about the power play, which has been a weak spot of the Flyers from game 1. Some more Bobby Brink on the half wall could certainly serve us something.
Beating Carolina
It is not a secret to any of us, Carolina is a really good team, and some project them to win the Stanley Cup. Despite those beliefs, every game starts 0-0, and the Flyers have been playing with that mentality. Beating Edmonton and Minnesota and keeping games close with Dallas and Vegas are more than enough for this club to have a strong mindset.
Carolina's penalty kill has been surprisingly terrible, and the Flyers will need to make them pay. Ranked 29th in the league, the Hurricanes are operating at a 71.9% success rate. 
Morgan Frost back after 6-game scratching
Morgan Frost will draw back in the lineup tonight and Ryan Poehling will sit. Scott Laughton has moved to the 4th line center role, giving Frost the opportunity to play between Travis Konecny and Tyson Foerster. I am really excited to see what he can do tonight with their top winger and upcoming newbie Foerster.
John Tortorella wants to see Frost play with more pace, and he's not wrong. The one thing scouts were always cautious about was Frost's ability to continue to be a contributing playmaker in the league, where there's little time and space. 
PHI Record: 4-3-1, 9 pts, 5th in Metropolitan
CAR Record: 5-4-0, 10 pts, 3rd in Metropolitan
When: 7:00 pm ET
Where: Wells Fargo Center, Philadelphia, PA
Broadcast Info: NBC Sports Philadelphia, 97.5 The Fanatic
Last Game PHI: 10/28/23, 7-4 L vs Anaheim
Last Game CAR: 10/27/23, 7-4 W vs. Detroit
PHI Goalie: Carter Hart (4-2-0, .924 SV%, 2.18 GAA, 1 SO)
CAR Goalie: Frederik Andersen (3-0-0, .875 SV%, 3.38 GAA, 0 SO)
PHI Projected Lineup
#74 Owen Tippett – #14 Sean Couturier – #89 Cam Atkinson
#11 Travis Konecny – #48 Morgan Frost– #71 Tyson Foerster
#86 Joel Farabee – #27 Noah Cates – #10 Bobby Brink
#44 Nicolas Deslauriers – #21 Scott Laughton  – #19 Garnet Hathaway
#8 Cam York – #6 Travis Sanheim
#5 Egor Zamula – #26 Sean Walker
#24 Nick Seeler – #37 Louie Belpedio
#79 Carter Hart
#33 Samuel Ersson
Scratches: #25 Ryan Poehling, #32 Felix Sandström, #98 Victor Mete
Injuries: #18 Marc Staal, #55 Rasmus Ristolainen
CAR Projected Lineup
#20 Sebastian Aho – #86 Teuvo Teräväinen – #24 Seth Jarvis
#58 Michael Bunting – #82 Jesperi Kotkaniemi – #88  Martin Nečas
#48 Jordan Martinook – #11 Jordan Staal – #71 Jesper Fast
#37 Andrei Svechnikov – #18 Jack Drury – #23 Stefan Noesen
#74 Jaccob Slavin – #8 Brent Burns
#76 Brady Skjei – #77 Tony DeAngelo
#7 Dmitry Orlov – #5 Jalen Chatfield
#31 Frederik Andersen
#32 Antti Raanta
Scratches: #15 Dylan Coghlan, #28 Brendan Lemieux
Injures: #61 Ryan Suzuki, #22 Brett Pesce 
News and Notes
–  The last time the Flyers beat Carolina was on November 12th, 2021, in a 2-1 final in Raleigh.
– The Flyers have dropped 7 straight games against Carolina since their last win against them.
– Tonight will be Tony DeAngelo's first game in Philadelphia since being out by the Flyers over the summer. Former Flyer Brendan Lemieux is expected to be scratched instead of playing his first game back.
–  Carter Hart will start his 200th NHL game tonight, all with the Flyers. Since starts have only been tracked since 2007-08, Steve Mason is technically the Flyers' leader at 221, though Bernie Parent and Ron Hextall have more but played before starts were tracked. 
–  Morgan Frost returns to the lineup for Ryan Poehling after sitting for 6 straight games.
– Sean Couturier will play his 730th game tonight with the Flyers tonight. He is nine games away from tying Éric Desjardins for ninth in franchise history.
2024 Stadium Series Trip
Flyers Nation and Philly Sports Trips have teamed up to bring you on an amazing bus trip to the 2024 NHL Stadium Series between the Flyers and Devils. Place an early deposit to reserve your spot at the ultimate tailgate experience at MetLife Stadium before the game. The package includes a game ticket, round-trip charter bus, an all-inclusive tailgate party with unlimited cold beverages, "Philly Style" catered food, live entertainment, and more