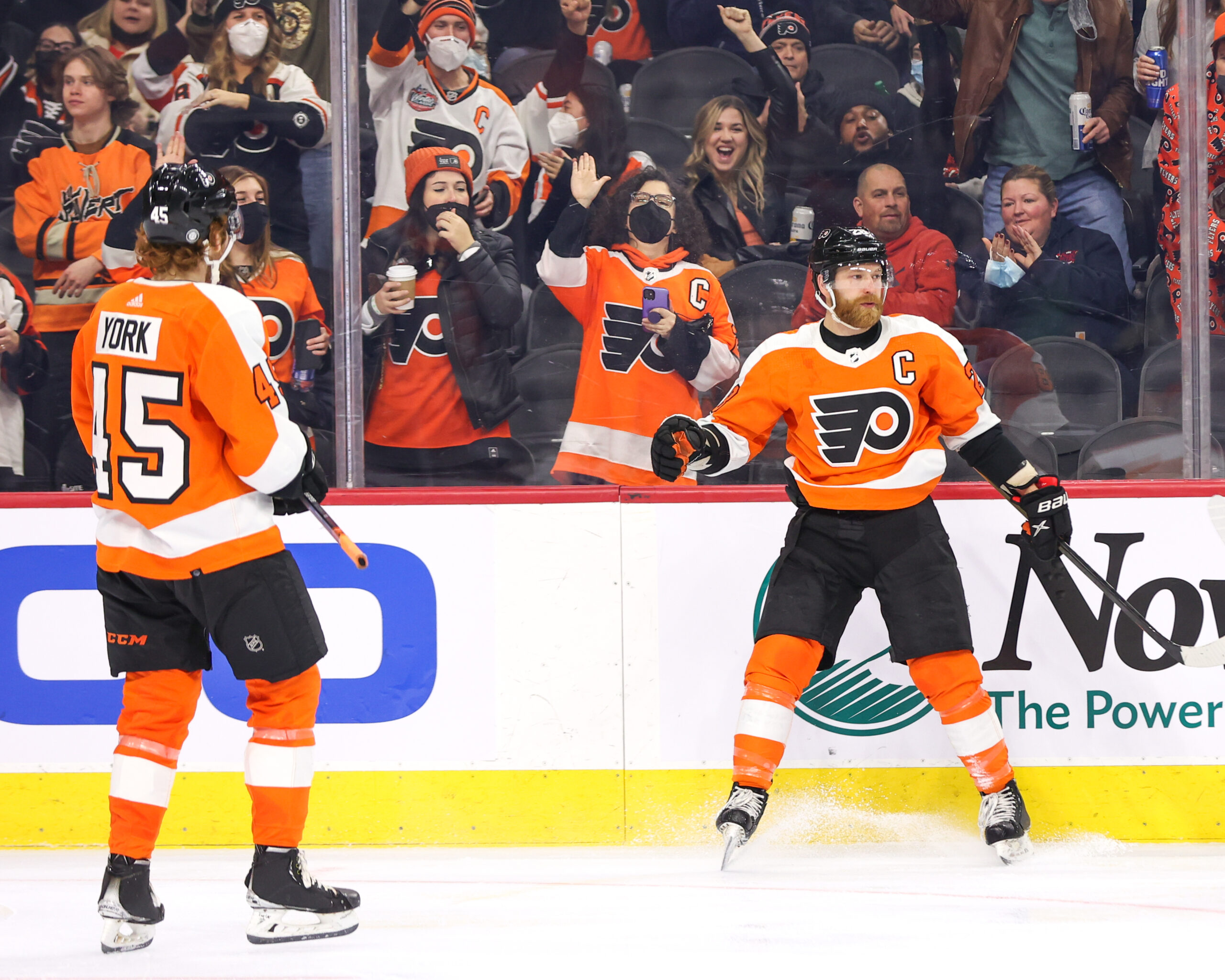 Flyers Nation relives their favorite Claude Giroux moments
I'm sure you've probably gathered this information already, but tonight is Claude Giroux's 1000th NHL game. He's only the second player in franchise history to reach the milestone alongside Bobby Clarke, and his statistics and accolades in Flyers history rank him as one of the greatest players the organization has ever seen.
In honor of the captain's special evening, I asked a few members of our team at Flyers Nation to share their favorite Claude Giroux moments. He's been such a huge factor in so many meaningful moments over the last decade-plus, and it's time to relive those great plays one more time.
Douglas Ramsey – Giroux's 1st Regular Season Hat Trick Against The Rangers in 2018
My favorite moment is when G scored the hat trick against New York in 2018 to make the playoffs. He pretty clearly showed why he should've won the Hart that year in that one game. It also was a testament to his ability to play in "big games". Pretty much a perfect performance in my books.
Dean Chaudhry – Giroux's Backhand Trick Shot Against Columbus
I'll never forget the backhand goal top shelf to cap the comeback against CBJ. Nothing momentous, nothing crazy, just something I've never forgotten over the years.
Charlie Viola – Giroux's Opening Goal On February 15th Against Pittsburgh
Got to see G score in person one last time out here in Pittsburgh against the Pens a few weeks ago. Seeing him one more time was the only reason I went to the game, and seeing him score probably his last goal against the Pens in a Flyers jersey made it even cooler. I know it was the opening goal in a game we lost, but seeing it in person was very special to me and it's his last mark on such a good decade long rivalry.
Jake Modugno – Giroux's Stadium Series Overtime Heroics
That goal has meant more to me than any other goal I've watched. That was my personal Stanley Cup. I was at a buddy's house with some friends watching the game and when Giroux scored I screamed so loud I woke his parents up. I have G's celebration pictured on my debit card and I have that all-orange sweater with his name and number. That's a moment that will live with me and a lot of fans forever.
There are so many great Giroux moments that we could keep raving about. The Game 3 overtime winner in the 2010 Stanley Cup Final, the opening shift of Game 6 against Pittsburgh in 2012, his overtime snipe on Antti Raanta against Chicago in 2014, his flying one-timer in that wild win against Edmonton in 2016, the list goes on. We've been blessed to watch his career unfold here and whatever happens in the next few days, we thank Claude Giroux for helping us create good memories over the last decade.