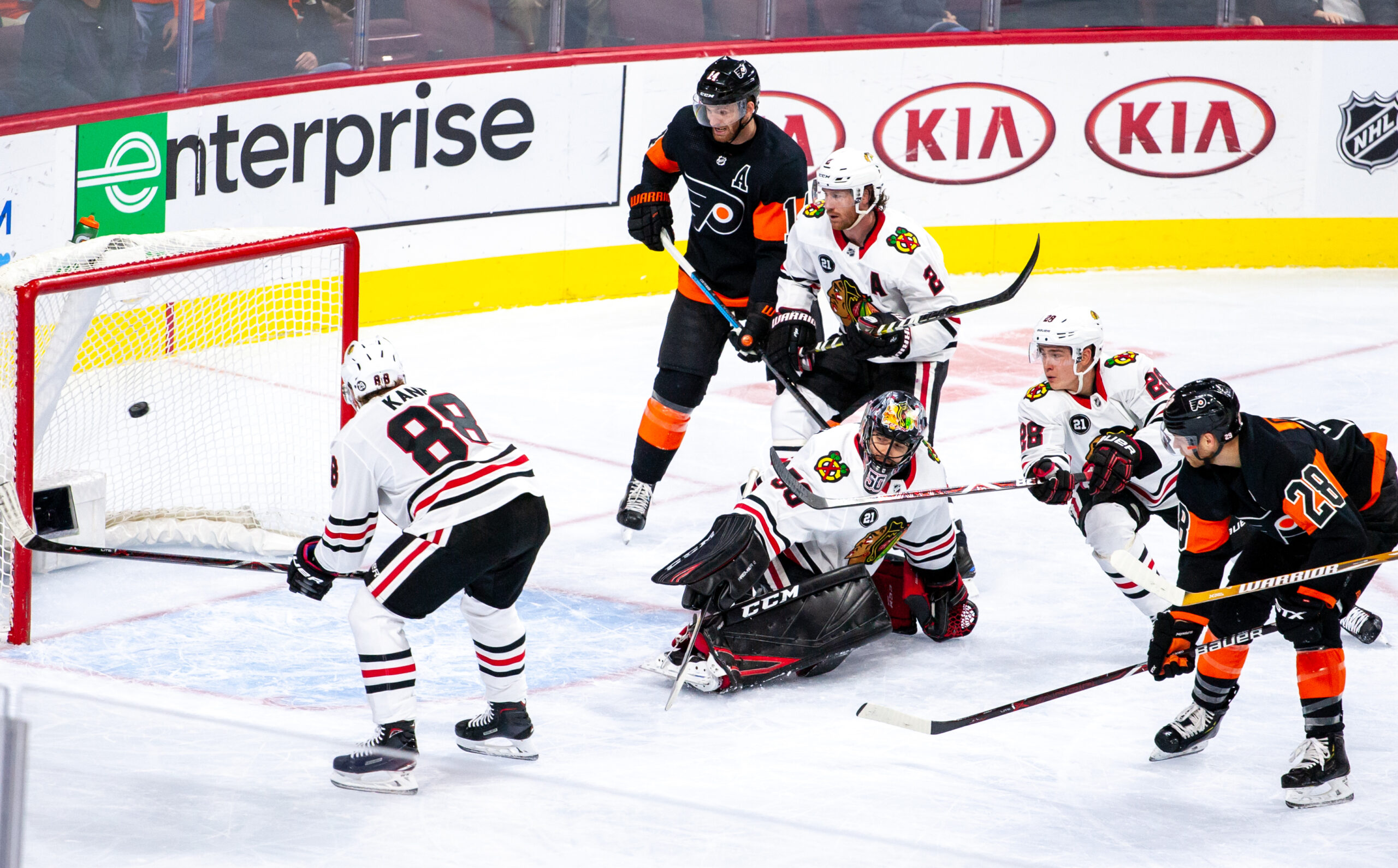 The Philadelphia Flyers host the Chicago Blackhawks tonight as we throw it back to the 2000s, facing off against another ex-Flyer in net.
Winning 8 of their past 10 since the holiday break, the Flyers are on a hot streak right now. They rebounded nicely from the absolute butt-whooping from the Bruins, coming out Tuesday night and shutting down the Ducks 5-2. Kevin Hayes notched his first career hat trick with a PPG, an even strength goal, and an empty netter. The Flyers tallied their 9th shorty of the season with a sweet breakaway backhander from Rasmus Ristolainen (yes, Risto). Morgan Frost put away the prettiest goal of his career, in between the legs and parallel with the net. It was a *chef's kiss*. The Flyers went 1-5 on the power play, further locking in their stat of being one of the worst power play units in the league. It seems to be a huge reason why they cannot compete with the big dog teams.
Chicago on the other hand, woof. They are atrocious. It almost seems like you have to try to be this terrible at hockey. They are tied with Columbus for last place (first place for Bedard). They just locked up only their 12th win of the season and will be lucky to break 50 points this season. Patrick Kane, Jonathan Toews and Max Domi are all unrestricted free agents at the end of this season. I see no reason why the Blackhawks would not try to trade them all before the deadline for a playoff rental. It seems that the Blackhawks have no choice but to enter extreme rebuild mode. Unfortunately, they have Seth Jones at $9.5 million per year until 2029-2030 which looks worse and worse every day now. The Blackhawks organization has their work cut out for them.
Ex-Flyer Petr Mrazek will be in net tonight. Last week, he gave up 5 goals on 6 shots against Seattle before getting pulled 12 minutes into the game. His replacement, Alex Stalock, then gave up 2 more goals on the first 2 shots he faced. When he finally made a save on the 3rd shot he faced, the brave Blackhawks fans who were still in attendance gave him a standing ovation. Morale is low in Chicago, and Mrazek has not panned out how management wanted after his decent play in Carolina.
While the Flyers might not be the most fun team to watch this season, they are throwing it back to the 2000s tonight when things were a little more enjoyable. Jerseys were sweet, Claude Giroux was a rookie, and there were plenty of fan favorite hockey players.
Remember when the Flyers and the Penguins played the longest game of the modern-era NHL back in 2000? In the Eastern Conference Semifinals nonetheless. Keith Primeau became the biggest hero Philly had seen in a long time.
Then, jump forward to the 2004 Eastern Conference semifinals. Primeau is a hero once again, scoring a hat trick in game 5 against Toronto. Jeremy Roenick locked it down in game 6, scoring in overtime and sending Toronto packing.
Who could forget Gary Thorne's iconic call in game 6 of the 2004 Eastern Conference Finals? "SIMON GAGNE! WE'VE GOT A GAME 7!" What I wouldn't do to watch Simon Gagne play hockey again.
The 2000s were a fun time in Philly for Flyers fans. With the new jersey contract coming up, we can only hope the organization listens to the fan base and brings back the absolute iconic jerseys from that time. Maybe we will even get lucky and see a true Flyers playoff run this decade wearing new threads.
PHI Record: 19-19-7, 45 pts, 7th in Metropolitan
CHI Record: 12-26-4, 28 pts, 8th in Central
Last Game PHI: 1/17/23, 5-2 W vs Anaheim
Last Game CHI: 1/17/23, 4-3 OT W vs Sabres
When: 7pm ET
Where: Wells Fargo Center, Philadelphia PA
PHI Goalie: Carter Hart (13-13-6, .907 SV%, 3.00 GAA, 0 SO)
CHI Goalie: Petr Mrazek (4-10-1, .877 SV%, 4.17 GAA, 0 SO)
PHI Projected Lineup
#86 Joel Farabee – #49 Noah Cates – #11 Travis Konecny
#25 James van Riemsdyk – #48 Morgan Frost – #74 Owen Tippett
#13 Kevin Hayes – #21 Scott Laughton – #57 Wade Allison
#44 Nicolas Deslauriers – #38 Patrick Brown – #17 Zack MacEwen
#9 Ivan Provorov – #45 Cam York
#6 Travis Sanheim – #77 Tony DeAngelo
#24 Nick Seeler – #55 Rasmus Ristolainen
#79 Carter Hart
#33 Samuel Ersson
CHI Projected Lineup
#90 Tyler Johnson – #13 Max Domi – #88 Patrick Kane
#23 Philipp Kurashev – #19 Jonathan Toews – #11 Taylor Raddysh
#17 Jason Dickinson – #24 Sam Lafferty – #89 Andreas Athanasiou
#43 Colin Blackwell – #58 MacKenzie Entwhistle – #52 Reese Johnson
#6 Jake McCabe – #4 Seth Jones
#8 Jack Johnson – #5 Connor Murphy
#41 Isaak Phillips – #82 Caleb Jones
#34 Petr Mrazek
#30 Jaxson Stauber
PHI Injuries: Sean Couturier (back), Tanner Laczynski (upper body), Cam Atkinson (neck), Ryan Ellis (hip)
Scratches: Justin Braun, Kieffer Bellows
CHI Injuries: Jarred Tinordi (facial fracture), Jujhar Khaira (lower back), Alex Stalock (concussion)
Scratches: Isaak Phillips, Boris Katchouk
News and Notes
– The Flyers had a hat trick in their past two home games. Travis Konecny put away 3 goals against the Capitals and Kevin Hayes against the Ducks.
– Samuel Ersson is 5-0-0 in his start as an NHL rookie. This leaves the Flyers with a dilemma of whether to risk sending Felix Sandstrom down to the Phantoms on waivers with the potential of getting claimed or sending down their hot rookie who is exempt from waivers.
– Carter Hart has an .872 SV% over his past 5 starts, giving up 16 goals over that span.
Broadcast Info: TV – NBCSP, Radio – 93.3 WMMR