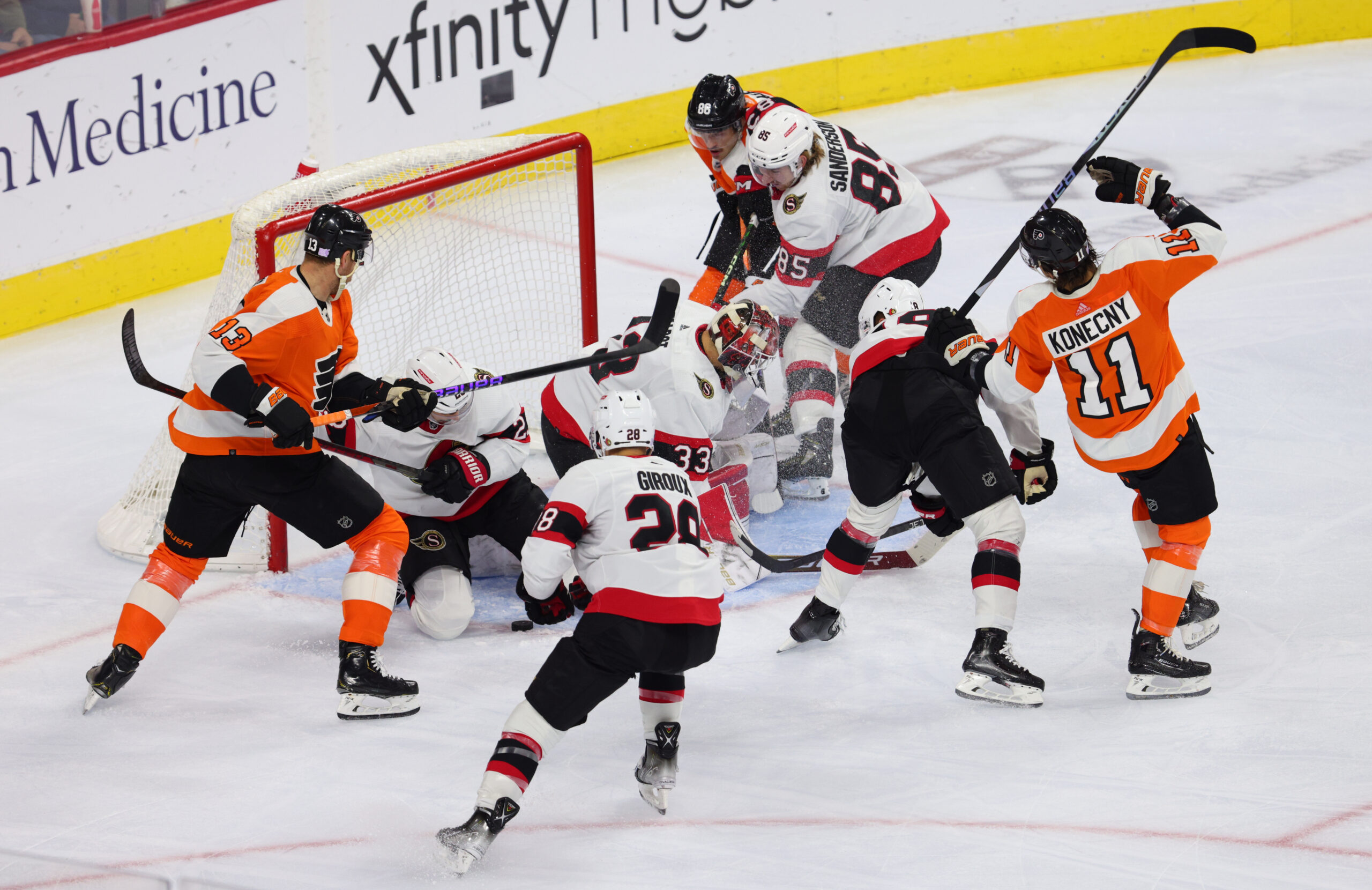 Believe it or not, the Philadelphia Flyers are on a 4-game winning streak after beating Montreal on Tuesday night.
Going 5-1-1 on their 7-game homestand is the most impressive thing the Flyers have done all season. Of course, coming at the end of the season when most of the fan base just wants to lose…but I digress. Felix Sandstrom is in net after coming off a hot game, scoring him his second NHL win. Noah Cates has racked up 6 points over his past 5 games, and Morgan Frost is just ahead of him with 7. Joel Farabee also went on a 4-game goal streak. It seems as though the kids are alright.
The Flyers will be facing off plenty of familiar faces such as Cam Talbot, Derick Brassard, Patrick Brown, and, of course, Claude Giroux. Giroux sits 6 points shy of 1,000 career points and is producing nearly a point per game at the age of 35. In true Flyer fashion, it would not be shocking to see an ex-teammate score a point or two.
The Senators are in the middle of a playoff push, only 5 points behind Pittsburgh. Unfortunately, they are lacking core pieces in Thomas Chabot and Jakob Chychrun due to injury. Despite those injuries, Ottawa still manages to have the 6th-best power play in the league and the 8th-best penalty kill.
With only 9 games left in the season, the Flyers are between a playoff spot (12 points out) and last place (17 points). It's obvious that the kids, plus a previously healthy Travis Konecny, are the reason we will not see Connor Bedard in Orange and Black next year. It will be interesting to see who John Tortorella and Danny Briere deem worthy of the rebuild roster, but regardless, a lot of these young guys are going to be fun to watch. Might as well enjoy it while we can.
PHI Record: 29-32-12, 70 pts, 7th in Metropolitan
OTT Record: 36-33-5, 77 pts, 6th in Atlantic
Last Game PHI: 3/28/23, 3-2 W vs. Montreal
Last Game OTT: 3/27/23, 5-2 W vs. Florida
When: 7:00pm ET
Where: Canadian Tire Centre, Kanata, Ontario
PHI Goalie: Felix Sandström (2-10-2, .887 SV%, 3.38 GAA, 0 SO)
OTT Goalie: Cam Talbot (15-14-1, .905 SV%, 2.85 GAA, 1 SO)
PHI Projected Lineup
#86 Joel Farabee – #49 Noah Cates – #74 Owen Tippett
#25 James van Riemsdyk – #13 Kevin Hayes – #20 Kieffer Bellows
#22 Brendan Lemieux – #48 Morgan Frost – #57 Wade Allison
#44 Nicolas Deslauriers – #21 Scott Laughton – #58 Tanner Laczynski
#9 Ivan Provorov – #45 Cam York
#6 Travis Sanheim – #55 Rasmus Ristolainen
#24 Nick Seeler – #77 Tony DeAngelo
#32 Felix Sandström
#33 Samuel Ersson
OTT Projected Lineup
#7 Brady Tkachuk – #18 Tim Stützle – #28 Claude Giroux
#12 Alex DeBrincat – #57 Shane Pinto – #19 Drake Batherson
#61 Derick Brassard – #27 Dylan Gambrell – #21 Mathieu Joseph
#38 Patrick Brown – # 47 Mark Kastelic – #16 Austin Watson
#85 Jake Sanderson – #2 Artem Zub
#26 Erik Brännström – #23 Travis Hamonic
#43 Tyler Kleven – #5 Nick Holden
#33 Cam Talbot
#40 Mads Søgaard
PHI Injuries: Sean Couturier (back), Travis Konecny (upper-body), Ryan Ellis (hip), Cam Atkinson (neck), Nicolas Deslauriers (upper-body), Carter Hart (lower-body)
Scratches: Justin Braun
OTT Injuries: Josh Norris (shoulder), Anton Forsberg (MCL), Parker Kelly (undisclosed), Jakob Chychrun (hamstring), Ridly Greig (sternum), Thomas Chabot (upper-body)
Scratches: Julien Gauthier
News and Notes:
The 3rd and final meeting between the Senators and Flyers will determine who takes this series. The Flyers won the first meeting 2-1 and the Senators crushed Philly a week later in Claude Giroux's return to Philadelphia.
Felix Sandström will be looking for wins in consecutive games for the first time ever.
This will be the last trip up to Canada for the Flyers this season.
Broadcast Info: TV – NBC Sports Philadelphia, Radio – 97.5 The Fanatic