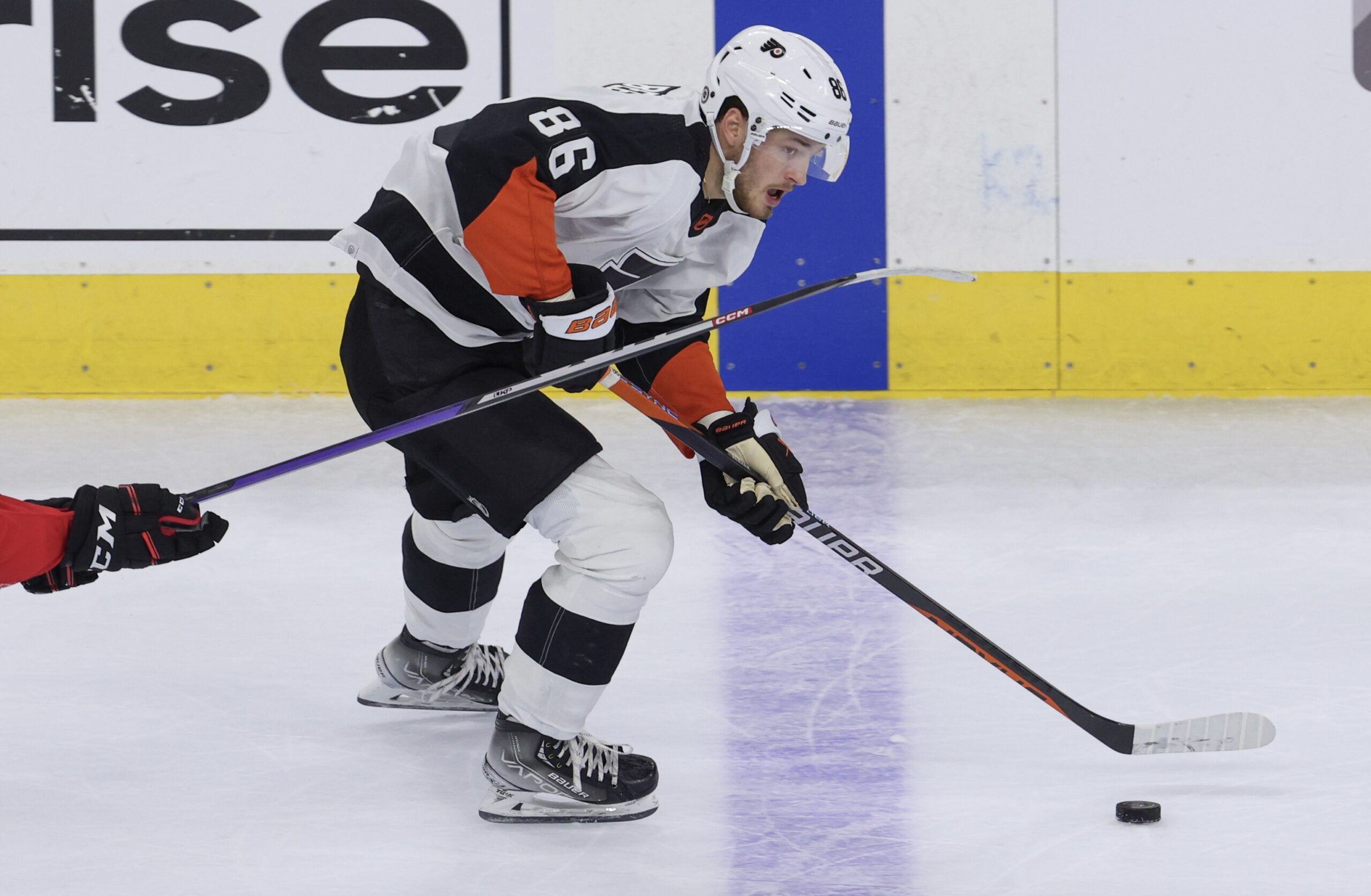 Philadelphia Flyers forward, Joel Farabee, recently sat down with NHL.com's Adam Kimelman for a Q&A about his 2022-23 season, his health, his offseason training, and how the Flyers are positioned heading into the 2023-24 season among other topics.
Farabee's last question had to do with the public perception that fans and everyone else on social media has on the upcoming season and the team as a whole. Of course he wasn't going to bash the team or their chances and as a professional athlete he's heading into the season ready to prove the doubters wrong. However, it brings up a very good question in where exactly do the Flyers fit in their division, conference, and league as a whole?
Farabee's interview didn't shine a particularly new light on the state and affairs of the Flyers season, however it is an important question to ask yourself with all the changes made this summer by the Flyers and the NHL as a whole
From Farabee's interview:
The Flyers have missed the Stanley Cup Playoffs the past three seasons, and there aren't many people who think they'll make it this season. But what would progress this season look like to you?
"From what I've read on Twitter and stuff like that, everyone's got us dead last, we're finishing bottom-five. I really don't think we're going to be that bad at all. I think we have a really good young group of forwards. I think you saw that at the end of last year, how some guys took over, 'Frosty' (Morgan Frost), 'Tip' (Owen Tippett). I think we're going to be a pretty tough team to beat. I think there's never an easy night in Philly when you're playing us. I think we're going to be a lot better than people expect."
A lot of teams improved this off-season, either at the draft or during free agency, and with so many playoff hopeful teams ahead of the Flyers, you would think that bodes well for their chances at acquiring another top-end prospect ahead of the loaded 2024 NHL Entry Draft.
Division-wise, the Flyers will most likely finish either 7th or 8th, depending on Columbus. With the Blue Jackets having acquired Ivan Provorov, Damon Severson, and Adam Fantilli, while also hiring Mike Babcock, it seems very unlikely that they finish last in the division and conference and 2nd last in the league like they did this past season.
Carolina added Dmitry Orlov, Tony DeAngelo, Michael Bunting, and Caleb Jones on top of the team they had last season. New Jersey extended Timo Meier and Jesper Bratt, acquired Tyler Toffoli, and should have a longer look at top prospects in Luke Hughes and Simon Nemec. The New York Rangers shuffled the deck by adding veterans in Blake Wheeler, Nick Bonino, Tyler Pitlick, Erik Gustafsson, and Jonathan Quick to compliment their core.
Then with the playoff hopefuls you have the Pittsburgh Penguins who acquired Erik Karlsson, Reilly Smith, Lars Eller, Noel Acciari, Matthew Nieto, Ryan Graves, and Alex Nedeljkovic to a team that missed the playoffs for the first time in the Sidney Crosby era – and by the slimmest of margins. The aging Washington Capitals added Max Pacioretty, who if healthy will give the Capitals a very lethal top-6. The Capitals were also very banged up last year and have many people predicting another down season.
Then that leaves us with New York Islanders who clinched the top spot in last year's wild card race. Although they were quiet this summer and many people are doubting their depth and talent – as they always do – the Islanders always seem to find ways to win games and surprise us all. With Ilya Sorokin in goal, the sky is the limit and the Islanders are hoping for a much better impact from Bo Horvat, who should be Mathew Barzal's centre to start the year.
Safe to say, the Flyers will need to really dress to impress if they're going to jump on any of these teams this season.
Then on the other side of the conference, you have the Atlantic Division that has boasted a common trend over the last few seasons in Tampa Bay, Boston, and Toronto claiming the top-3 spots. This is where things are going to get really interesting after how the offseason unfolded in the Atlantic.
After their historic season, the Boston Bruins are entering the 2023-24 season without Patrice Bergeron, David Krejci, Tyler Bertuzzi, Dmitry Orlov, and Taylor Hall. They brought in Milan Lucic, James van Riemsdyk, and Kevin Shattenkirk for depth purposes but are lacking at the centre position. However they still boast a fantastic defense and arguably the best tandem in the sport with Linus Ullmark and Jeremy Swayman, while not forgetting that they still have David Pastrnak and Brad Marchand.
For Tampa Bay, the status quo remained the same as they went through another off-season of musical chairs. Their core pieces are locked up for several years with the exception of Steven Stamkos, but losing Alex Killorn, Ross Colton, and Corey Perry could put a damper on thei division hopes. But similarly to Boston, you can never count out the Lightning.
Then you have Toronto and Florida who both added more than they lost out on this summer and are primed for successful campaigns, perhaps even the division crown.
Detroit was very busy this summer as they acquired Alex DeBrincat, J.T. Compher, Christian Fischer, Jeff Petry, Shayne Gostisbehere, Justin Holl, and James Reimer. Ottawa replaced DeBrincat with Vladimir Tarasenko, are looking forward to a full season from trade deadline acquisition Jakob Chychrun, and they feel like they addressed their goaltending with Joonas Korpisalo.
Buffalo was strangely quiet but are very confident in their team that just missed out on the final playoff spot last season. Finally, you have the Montreal Canadiens who finished below the Flyers this season, made some moves this summer being involved on the trade market – but more so as a rebuilder than an aggressor – and should finish at the bottom of the Atlantic and should be neck and neck with the Flyers in bottom of the East.
Once you travel to the West, they also are a mirror image of what the Eastern Conference will be like with the exception of having a few more basement-dwelling teams. Anaheim, Chicago, and San Jose will most definitely be at the bottom of the barrel again, with Arizona having the chance to be a dark-horse and possibly being the second team that was behind Philadelphia last year to usurp them.
How about the Flyers though? Two key factors will decide if the Flyers finish at or near the bottom in: 1) Sean Couturier and Cam Atkinson returning for the season opener and 2) the goaltending situation.
Couturier and Atkinson will essentially replace Kevin Hayes and James van Riemsdyk and that is a huge upgrade from top-to-bottom. Both Couturier and Atkinson play great off the puck, are extremely responsible in all zones, and are arguably more dangerous threats in the offensive zone. Couturier's career-highs pre-back injury clear them out of the water and Atkinson did pretty well on a disastrous 2021-22 team.
You'll have two other leaders back this season in Sean Couturier (back) and Cam Atkinson (neck) after each missed last season because of injuries. As much as they'll help on the ice, how big will it be to have them in the dressing room every day?
"I think it's going to be great. Obviously anytime you can add a 40-goal scorer (Atkinson) and a Selke Trophy winner (Couturier) back to your lineup, I think it's going to help. Just having those guys off the ice, 'Coots' is so good off the ice being a leader and stuff like that, just such a smart guy. And Cam's just one of those guys, he really brings people together. Having a young team, I think those are two guys that a lot of guys look up to, including me. If they're pulling on the rope, a lot of guys are going to follow them."
A top-9 that features a healthy Couturier, Atkinson, and Farabee with Travis Konecny, Owen Tippett, Morgan Frost, Scott Laughton, Noah Cates, and probably Tyson Foerster is pretty decent. Nothing otherworldly, but enough to improve from last year – at least offensively. Ryan Poehling and Garnet Hathaway should also be improvements from whatever they had on the fourth line last year with their two-way play and proclivity to add offense from time to time.
The issues will reside primarily in their defense and potentially their goaltending. They replaced Ivan Provorov and Tony DeAngelo with Marc Staal, Sean Walker, and Victor Mete with the possible inclusions of some combination of Yegor Zamula, Ronnie Attard, and Emil Andrae. A defense that was already putrid last year just got worse and has plenty of question marks heading into training camp.
The goaltending queries all surround Carter Hart's inclusion and the Hockey Canada investigation. If things work in the favour of Hart and the Flyers, then he will be starting the bulk of games again with Samuel Ersson having a slight edge over Cal Petersen and Felix Sandstrom as the backup. If things go the other way with Hart, then we're likely looking at a Petersen-Ersson tandem and with the defense in front of them, it's going to be tough to prevent goals.
The Flyers were always prone to allowing high danger chances on a regular basis and Hart did the best that he could to fend them off but it was a tough go-around nonetheless. Even with all the injuries, the underperforming veterans, shoddy defense, and okay goaltending, the Flyers finished 7th-last because the bottom of the barrel was just that bad.
Looking at things in August – with the utmost possibility of things changing over time – the Flyers will most likely have an almost identical season as last year in terms of league standing – instead of 7th last, perhaps 5th last. It is true that many people have the Flyers finishing near or at the bottom heading into 2023-24 but when you look at Anaheim, Chicago, and San Jose primarily, it is going to be tough for those looking for a top-2 pick in 2024 without lottery luck.
There are asterisks and caveats until we figure out a few things with the goaltending situation but the first full season of Daniel Briere's rebuild could provide us with a lot of win-win situations. Players like Farabee, Tippett, Frost, and Cam York can improve and take those much needed steps required for a successful rebuild, while the Flyers will still be in range to acquire a top-flight prospect in the draft to add to Cutter Gauthier and Matvei Michkov.
So the true question heading into 2023-24 is that health permitting, the offense is going to be much better, but will the defense and goaltending hold up?
2024 Stadium Series Trip
Flyers Nation and Philly Sports Trips have teamed up to bring you on an amazing bus trip to the 2024 NHL Stadium Series between the Flyers and Devils. Place an early deposit to reserve your spot at the ultimate tailgate experience at MetLife Stadium before the game. The package includes a game ticket, round-trip charter bus, an all-inclusive tailgate party with unlimited cold beverages, "Philly Style" catered food, live entertainment, and more.