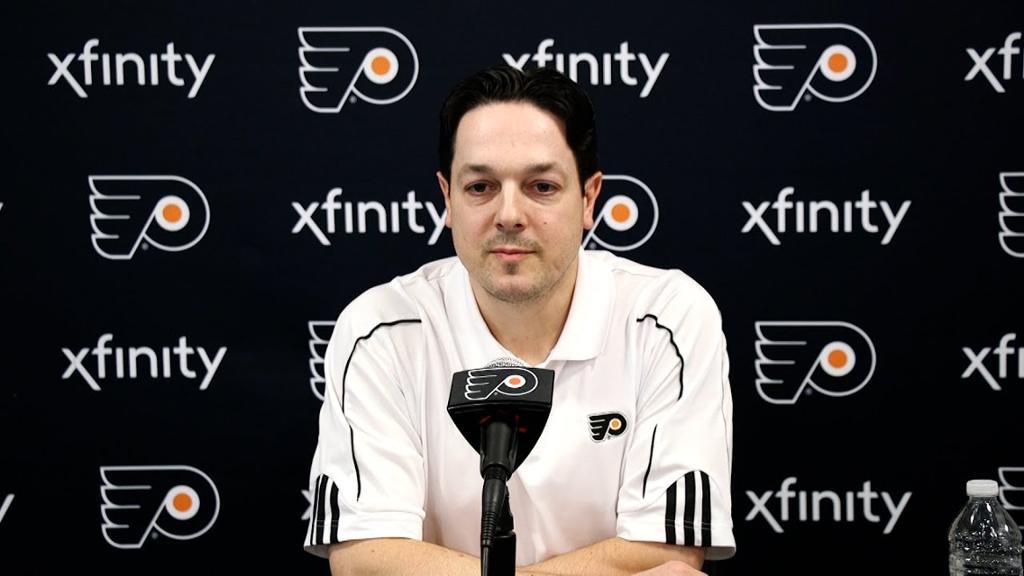 Daniel Brière Trying to Prioritize His Prospects Heading Into Offseason
One thing that should have resonated from Daniel Briére's and John Tortorella's pressers from at the end of the season was the former saying he didn't want to block the youth from making the team next year.
In other words, they don't want to sign or be tied up to useless depth contracts that would otherwise force some younger players in bottom-6 roles or continuing to play for the Lehigh Valley Phantoms until an injury arises.
Sometimes it's hard to see the positives out of such a negative, dark, and clouded space. However, the Flyers have several decent-to-good prospects waiting to stake their claim on the big stage at some point next season.
Tyson Foerster, Olle Lycksell, Elliot Desnoyers, Bobby Brink, Ronnie Attard, Adam Ginning, Egor Zamula, and Emil Andrae each had respectable seasons with the Phantoms this year and are touted as the some of the best prospects within the organization. Foerster, Lycksell, Desnoyers, Attard, Zamula, and Ginning each participated in at least one game with the Flyers this year and had it not been for the Phantoms' playoff push, their runs would've been longer and maybe we would have seen others get some action.
Nevertheless, their numbers were very impressive.
Tyson Foerster: 66 games, 20 goals, 28 assists, 48 points
Olle Lycksell: 53 games, 14 goals, 31 assists, 45 points
Elliot Desnoyers: 65 games, 23 goals, 21 assists, 44 points
Ronnie Attard: 68 games, 12 goals, 20 assists, 32 points
Bobby Brink: 41 games, 12 goals, 16 assists, 28 points
Adam Ginning: 68 games, 3 goals, 16 assists, 19 points
Egor Zamula: 44 games, 1 goal, 18 assists, 19 points
Emil Andrae: 10 games, 2 goals, 4 assists, 6 points
Forward roster locks heading into next season for the Flyers (in no particular order)
Owen Tippett
Morgan Frost
Joel Farabee
Sean Couturier
Cam Atkinson
Noah Cates
Scott Laughton
Nicolas Deslauriers
That would leave 4 spots open in the event that Kevin Hayes is moved, James van Riemsdyk walks in free agency, the Flyers most likely don't have Wade Allison, Brendan Lemieux, and Tanner Laczynski as top priorities for next season, and of course Travis Konecny. The team's leading scorer is omitted solely because he – and Ivan Provorov – are going to be the best trade assets this team possesses in terms of acquiring prospects and picks for their intended rebuild.
Defensemen roster locks
Cam York
Travis Sanheim
Rasmus Ristolainen
That would leave 3 spots open at the maximum but that's figuring in Tony DeAngelo being moved out, the Flyers actually trading Nick Seeler, and Ivan Provorov finally finding a new home amidst his 4th season on the chopping block. Similar to Konecny, Provorov could remain with the team unless they are wowed by a huge offer in the summer.
Goaltender roster locks
Carter Hart
Samuel Ersson
Samuel Ersson's first 8 games showcased what the Flyers had in the young Swede and at one point he even usurped Felix Sandström. The only reason he didn't stay with the big club was because he was exempt from waivers and Sandström wasn't.
Ersson struggled in his final 3 NHL games, where he allowed 13 goals on 97 shots, after allowing only 15 goals in his previous 8 appearances. However, Sandström didn't stake his claim in the 20 games he played in either as he sported a 3-12-3 record, .880 SV%, and a 3.73 GAA. He was not at fault for all the losses, but he also didn't stand out as much as Ersson did in his first stint.
Players on the bubble
Wade Allison: 1 remaining year, RFA in 2024-25
Tanner Laczynski: 1 remaining year, RFA in 2024-25
Brendan Lemieux: pending UFA
Nick Seeler: 1 remaining year, UFA in 2023-24
John Tortorella mentioned on a few occasions that he was disappointed in Wade Allison's season, primarily because he was hurt for some reason or another. He was relegated to bottom-6 duties and his role changed completely in the second half of the year, but he is still a very serviceable power-forward-type player for the bottom-6 that has top-9 potential.
Allison was 2nd on the team in hits with 190 in just 60 games, and we've seen his goal scoring flairs in the past. He just needs to get the same kind of run of confidence we saw from Morgan Frost or Owen Tippett, where even if he makes a mistake, he's not going to get chastised for it.
Tanner Laczynski is in the same boat as Allison – injured, bottom-6 role, limited ice-time, and one year remaining on the cheap side. Tortorella didn't have much to say about his game, other than him being "out of shape" when he returned from a lengthy absence. Laczynski has played a grand total of 38 games at the NHL level and 44 games in the AHL over the last 3 years. He is a skilled two-way forward and has a good 200-foot game, however he has had issues in staying healthy, which might not bode well for his chances – which at once was seen as a foregone conclusion.
Brendan Lemieux was the other player that Tortorella said needed to get in better shape – also because he hadn't played many games before being traded to the Flyers – but Brière mentioned that he saw a drastic drop-off in play after his first 10-12 games. They'll discuss him as an option moving forward but if roster spots are being blocked already, Lemieux doesn't stand a good chance at returning.
Nick Seeler should be a lock based on how well he played this season and how much Brière and Tortorella raved about his improvements. The only reason I haven't placed him as a lock for next year and in the bubble is because many teams were knocking on the door at the trade deadline but the Flyers decided not to trade him for a mid-round pick.
With only one year left and maybe a few more slots open than they anticipated, it could go either way, but they'd have to be blown away in order to facilitate a trade for him. As a rental, he holds a lot of value and should the season be lost once more, expect him to be dealt ahead of the trade deadline at the very least.
On the way out
Tony DeAngelo: 1 remaining year, UFA in 2023-24
Kevin Hayes: 3 years remaining, UFA in 2026-27
James van Riemsdyk: pending UFA
Kieffer Bellows: pending RFA
Possibly on the way out
Ivan Provorov: 2 years remaining, UFA in 2025-26
Travis Konecny: 2 years remaining, UFA in 2025-26
Konecny and Provorov have been mentioned ad nauseam but these two players could bring the best haul in order to expedite the rebuild, however Tortorella and company know they are the best at their respective positions and there is a steep drop off after them, especially on the back end.
Konecny seems like the one to most likely remain with the team over Provorov, but Brière did mention he wasn't trying to tear down everything in one season. They will still remain valuable in 2023-24, with one year remaining on their contracts – which is what teams always target.
Most of the Flyers' lineup for next year should be set when you figure Couturier and Atkinson will be back from injury, Konecny should still around, and Foerster is the easiest lock from the AHL prospects.
For now, the lineup could look something like this for now, with open spots up for grabs:
Travis Konecny – Sean Couturier – Cam Atkinson
Joel Farabee – Morgan Frost – Owen Tippett
Tyson Foerster – Noah Cates – TBD
Nicolas Deslauriers – Scott Laughton – TBD
Cam York – TBD
Rasmus Ristolainen – Travis Sanheim
Nick Seeler – TBD
Carter Hart
Samuel Ersson
Injuries can play their role, but with Couturier almost making his season debut at the end of the year and Atkinson stating that he is finally pain-free, it seems that they will be stapled into the lineup. Kevin Hayes has to be moved out, James van Riemsdyk will walk, Travis Konecny should remain, which leaves at least 3 spots open – one of which should belong to Tyson Foerster unless he flames out during training camp a la Cam York from this past season. Olle Lycksell played 8 games for the Flyers this season, Bobby Brink might be the most talented of the bunch but needed all the playing time in the AHL after undergoing offseason surgery, and Elliot Desnoyers had a 4-game stint that impressed his head coach.
On defense, things are a little trickier because we don't know what's going to happen to Ivan Provorov or Tony DeAngelo, but the latter finished off the season on a sour note and didn't really see eye-to-eye with his head coach.
Ronnie Attard seems like a lock for the one open spot and if more are available then more in-house options seem the likely route with Egor Zamula possibly getting his chance once and for all. Emil Andrae has impressed in such short order and Adam Ginning had a renaissance type season that finally gained him some relevance and they could be fighting Zamula for that final slot. Worst case, they become early-season call-ups.
Brière doesn't want to block his prospects, doesn't want to be tied up to contracts, and wants to jump into a rebuild head-on. If that's the case, there are several open spots on the roster ahead of the 2023-24 season – injuries or not.
It's going to be a battle, but finally the Flyers have viable prospects to make the veterans think twice about their job security.