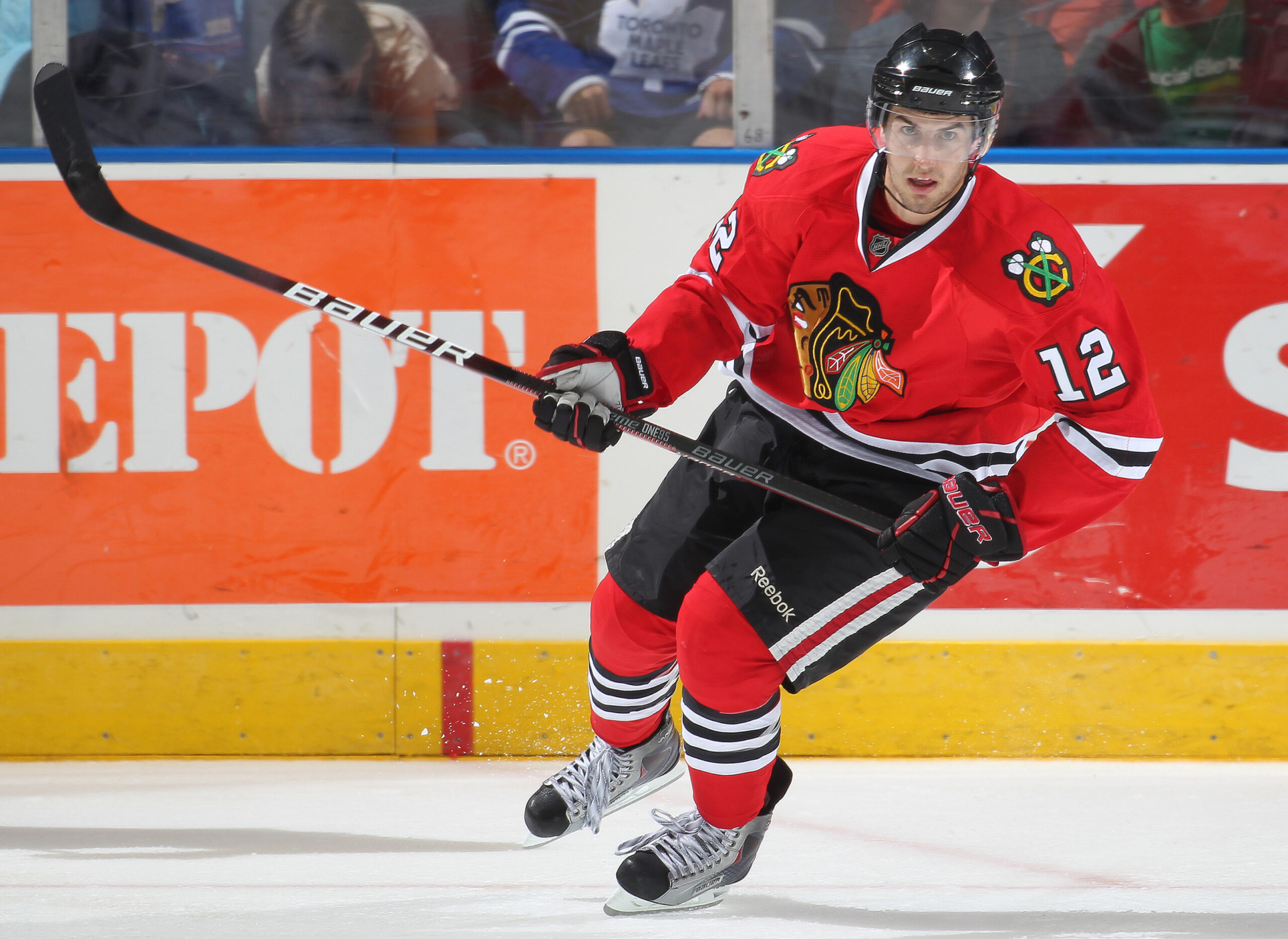 Culture Shift: Addressing Abuses Within Hockey and Making Serious Changes
Warning: This article discusses sexual abuse. Please take care in reading.
The stories would come in hushed whispers, occasionally seeping through the locker room doors that behind them housed some of the best hockey players in the world. Rumors of hazing, of rookie punishments, and maybe even the rare player or coach being accused of going a step too far.
The insular culture of hockey kept the rumors at bay and the world kept turning. The organizations circled their wagons and the stories got swept under the rug. Then came Kyle Beach.
First and foremost, the bravery that Beach showed in not only coming forward with his story is not only admirable but necessary and vital. Sadly, it has been countered by some really awful blowback from a lot of keyboard warriors in the cheap seats of the internet.
"I would never let that happen to me." "Why didn't he just punch him in the face?" "He's just pissed because he was outed and now he wants to blame someone else."
Although stories of this aren't new, the widespread reckoning that the NHL is facing is, and something needs to change. Now. Former Flyer Daniel Carcillo detailed his abuses playing with the Sarnia Sting in the Canadian Hockey League as an up-and-coming 17-year old boy. Garrett Taylor of the WHL came forward with him. Then Eric Guest came forward on his Instagram account detailing the forced use of cocaine while playing for the Kitchener Rangers.
Let's also not forget about the racially-motivated atrocities suffered by Akim Aliu, former Flyer Wayne Simmonds and, most recently Jalen Smereck of the Ukrainian Hockey League among many, many others. This is certainly not an exhaustive list, but it paints a very clear picture of what is tolerated, accepted and sometimes celebrated within the underbelly of the NHL.
Looking the Other Way
Picking up pucks at the end of practice or collecting laundry is a harmless way of paying your dues as a rookie. Dressing up in women's outfits and going out to dinner in the name of team bonding is just that–team bonding.
The spirit behind these acts is more about team unity, sticking together and learning the ropes of being a rookie. As a billet mom, my players enjoy the rookie dinner. I've had rookies request I do their makeup so they look their best. It's fun, it's silly, and the boys really get into it. Then they wash off the glitter, lace up the skates and play like champions.
There's a huge difference between these benign acts and the things we've heard come out of Carcillo's statement and the statements of others. Forcing players to use illicit drugs, drink to excess and perform sex acts is abuse. Plain and simple, it's abuse.
Players move onward and upward, or just quietly move along. The cycle continues, as does the behavior, but for a select few, something magical happens.
A Dream Come True, A Dream Deferred
Think about it: you're seventeen, maybe eighteen. You're playing junior hockey at the highest levels. Your name is being associated with that year's draft and it's looking good. Words like 'first rounder' and 'rising star' are being bandied about. Teams are meeting with you and your agent. Everything you've worked for and dreamed of since playing on your backyard ODR and driveway is coming true.
Draft night comes and you've made it to the Show. Fans are buying your jersey. The media wants to know who you are. It's all going great…until. This is where the story of Kyle Beach comes in.
The abuses at the hands of Brad Aldrich are simply awful. The treatment of Beach by his former Blackhawks teammates was just as awful. The media backlash describing his lackluster rookie season was deeply unfortunate, as no one knew outside the organization just what was going on.
A Predator At All Levels
Beside the fact the Blackhawks knew about this, as well as the alleged abuse of a Blackhawks intern that same season, they allowed Aldrich to stay. Aldrich hoisted the Stanley Cup over his head as the Blackhawks beat the Flyers in the Final that year. He got his playoff bonus. He waved and smiled at the parade and his name is still engraved on the Cup, although the Blackhawks have petitioned the NHL to have his name removed. He also got a severance when he resigned.
Aldrich went on to become a video coach for USA Hockey five months after being asked to resign from the Blackhawks organization. He then moved on to become the Director of Hockey Operations at Miami (Ohio) University. There, he assaulted two individuals in 2012. It wasn't until 2013 that he pled guilty to assaulting a 16 year-old player. In all, five allegations were founded.
So much of this could have been prevented if the Blackhawks had done the right thing in the first place. Apparently winning the Stanley Cup was more important than protecting the lives of their players, and any players that Aldrich had contact with afterwards. Herein lies the real problem.
The fact that Kyle Beach's accusation wasn't enough to compel the Blackhawks to do something is harrowing. The aftermath of sexual violence, it's life-changing in the worst way. I know this firsthand as a survivor of sexual violence myself.
A Personal Story
As a student at a prestigious music school, I was raped at 19 by another student. I shouted my case from the rooftops, but the University protected my rapist. He graduated and is now a professional predator, working as a paparazzo. Meanwhile, everything I worked for since childhood slipped through my fingers, out of my control.
Why didn't I punch him in the face? How did I let this happen to me? The fact is, you don't LET these things happen to you. In the midst of violence, you survive. Survival looks differently for everyone and the aftermath continues throughout your entire life.
"But it's different. You're a woman." It doesn't matter. It's easy to take pot shots from a distance and from the safety of a computer screen. It's another to look inward and accept that this behavior is never okay, and that it needs to stop.
Changing the Culture
The bottom line is this: The NHL and organizations that feed into it need to change. There is no reason to sexually humiliate another individual. Not in the name of loyalty, of unity, of 'team bonding' or anything else. There are individual organizations working toward this culture shift, but more needs to happen, and not just from the organizations themselves. More needs to be expected from all of us, fans included.
When someone comes forward with allegations of abuse, especially when those allegations are founded, support needs to rally behind the person coming forward. They are doing the unimaginable. They are exposing the worst moments of their life to the world. Saying "it goes on everywhere" is not okay.
Organizations like the Hockey Diversity Alliance are working hard within communities to combat systemic racism and intolerance in hockey. The You Can Play project is similarly combating discrimination in sports within the LGBTQ+ community. Former Lehigh Valley Phantoms player Kurtis Gabriel has been a longtime advocate for the LGBTQ+ community, and is a leader in talking openly about mental health.
Brady Leavold is doing amazing things with his Hockey 2 Hell and Back podcast and his non-profit, Puck Support. He's raising a voice to end the stigma of mental health and addiction in hockey. You see, abuse, mental health and addiction often come as a package deal. It's important we address it all.
These voices are important, but they need to be amplified and we need more of them. We need our players and management to speak out, to do the right thing. To prove they value their players–no matter the cost. We as fans need to be supportive of these brave individuals as well. And if you can't be supportive, just be quiet.
The NHL has a long uphill battle ahead of them when it comes to the abuses within the league. So does the entirety of junior-level hockey and below. Consistency in response is key. So is transparency. Only then will these wrongs be somewhat righted, healing can begin, and trust can be reestablished.
Find the help and resources you need at www.rainn.org National Sexual Assault Hotline. Free. Confidential.