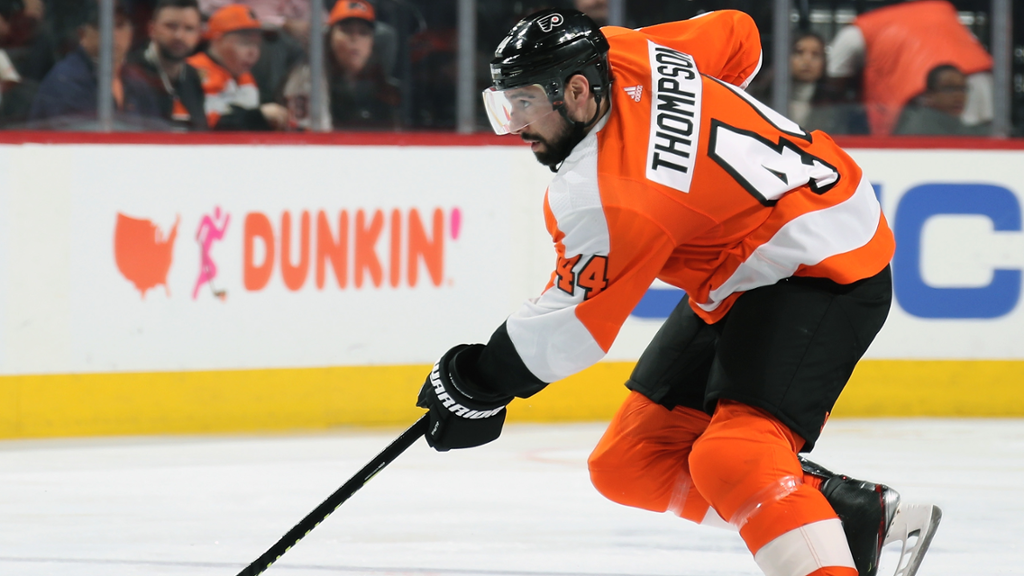 Chuck Fletcher's Day 1 Free Agency Grade
An hour before NHL free agency started on Wednesday, many Flyers fans were optimistic about the team's offseason for the first time in a long time. Flyers GM Chuck Fletcher stood to his word and aggressively got the pieces he believed would help the team succeed after an abysmal 2021 campaign. Trading for Ryan Ellis, Rasmus Ristolainen, and Cam Atkinson gave Flyers fans something to celebrate. When free agency hit at 12:00 PM on Wednesday, that optimism turned to shock.
Fletcher continuously talked about getting a depth center and a solid backup goalie. The first signing was broke by Elliotte Friedman, announcing the Flyers had signed longtime San Jose Sharks goalie Martin Jones. The second signing was broke by Pierre LeBrun, announcing the Flyers had brought back depth center Nate Thompson.
When looking at these signings in a vacuum, they seem like home runs. Last season Thompson played well for a Winnipeg Jets team that used him in limited time and was able to cater to his strengths. Over the past three seasons, Martin Jones played on a team that had an atrocious defense, and an all-around bad team in front of him, which was most likely the reason for his struggles.
When looking at these signings from a Flyers point of view, they seem to be more of a head-scratcher. When Nate Thompson was in Philadelphia during the bubble run, head coach Alain Vigneault seemed to misuse and over-play Thompson. Many times in those playoffs, AV would put Thompson on the ice right after a Flyers goal. The other team would then send out the first line to try and generate a goal, which happened on numerous occasions. He would also be given as much ice time in the first two periods as players like Sean Couturier and Claude Giroux.
Looking at Martin Jones, him coming off bad seasons would be fine if the Flyers had a steady number one goalie. Last season, Carter Hart was not that. Per MoneyPuck, Hart and Jones both finished bottom three in goals saved above expected. They also both finished bottom three in wins above replacement. Maybe the defenses that were put in front of both of them contributed to these problems, but having two of the three worst goalies on the team back to back seasons (Brian Elliot was the worst statistical goalie in the NHL last year) doesn't seem smart for a team that had problems with keeping the puck out of the back of the net.
Fletcher also signed many two-way players who have NHL experience. Last season when the Flyers had COVID issues, they had to run two lines of full-time AHL players. They even played Sam Morin and Mark Friedman on the wing in the Lake Tahoe game. These signings give the Flyers flexibility in case another COVID outbreak happens, which would allow players with NHL experience to fill in those bottom-six roles.
Overall, Chuck Fletcher did what he said he was going to do. He went out and got a backup goalie, a depth center, and filled up the Phantoms with part-time NHLers for depth. Fletcher's first day of free agency was a success, but not an overwhelmingly positive one.
GRADE: C+