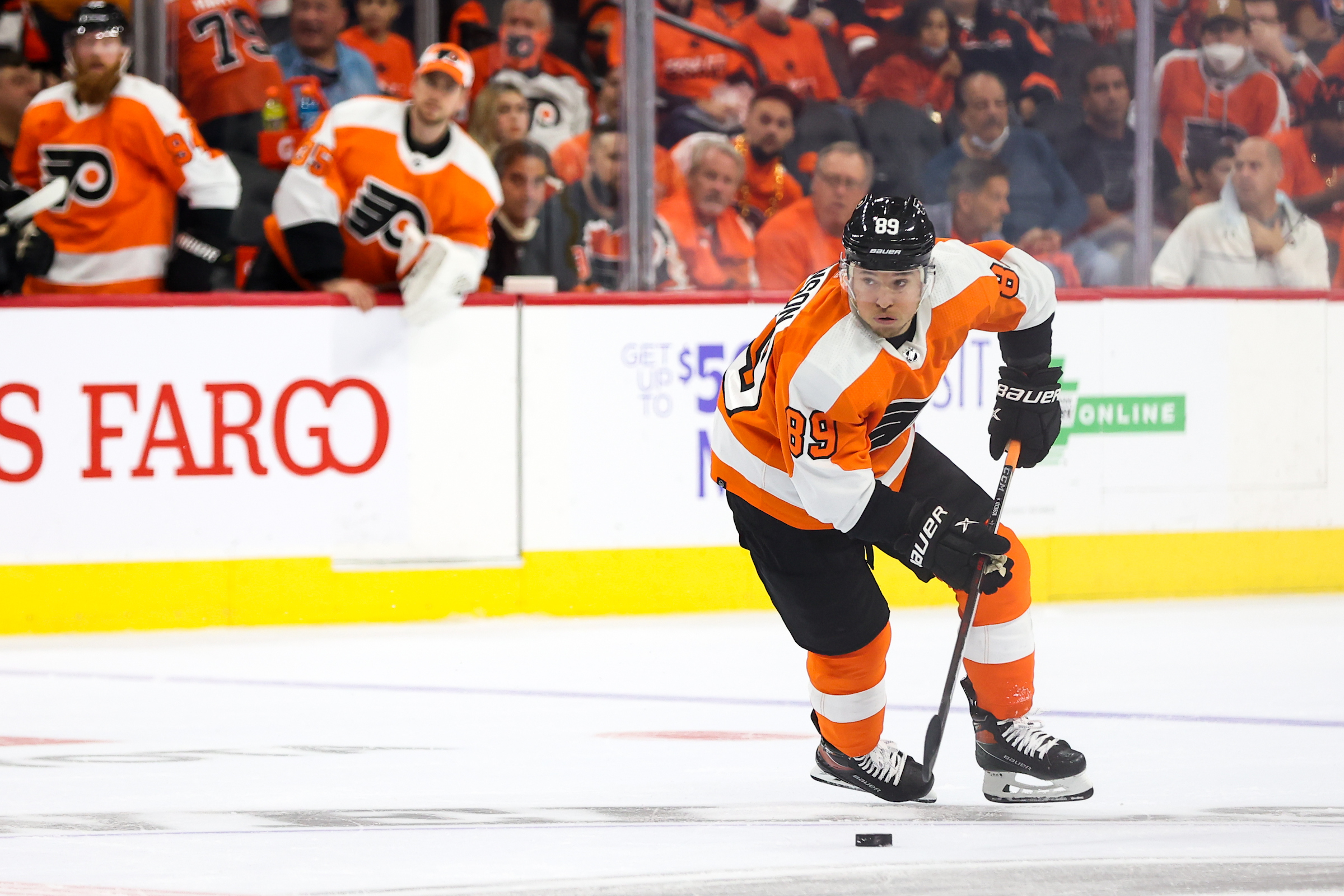 Cam Atkinson is proving to be the Flyers' "X-factor" on offense
The Philadelphia Flyers have struggled to consistently score goals this year, that much is obvious. Only a small handful of players have been able to chip in on offense for more than a couple games at a time, and one player who's taking center stage with the Flyers being ravaged with COVID and injuries is Cam Atkinson.
Atkinson was brought in to help give the Flyers more goal scoring and be a shoot-first player that the team has desperately needed seemingly for years. So far, he's been everything this team has asked of him, and then some.
The 32 year-old Riverside, Connecticut native has racked up 13 goals and 11 assists for 24 points in 33 contests for the Flyers this season so far. His goal total leads all Philadelphia players and he ranks second in total points, only behind captain Claude Giroux, who has 29 points.
Atkinson's 13 goals are already more than his 2019-20 total of 12 in 44 games with the Columbus Blue Jackets. In his final season with Columbus last year, he only posted 15 goals while appearing in all 56 games for the Blue Jackets. He is currently on pace to score 32 goals this season and looks to be back to his old self again, which is huge for the Flyers.
While most goal scorers can be streaky, which is the case for Atkinson at times as well, he has been incredibly consistent as of late. Since December 1st, he has scored 13 points in Philadelphia's last 13 games, including two multi-point outings in that span. Six of his 13 points have been goals, with three of them coming in a four-point performance on December 14th against the New Jersey Devils for his first hat trick as a Flyer. Atkinson's other multi-point contest came on January 1st in Los Angeles when he chalked up assists on every single goal in the Flyers' 6-3 loss to the Kings.
He's also one of the few players that haven't missed a beat since the coaching change from Alain Vigneault to Mike Yeo on December 6th. In fact, he's actually been producing at a higher rate under Yeo. Atkinson has 5 goals and 11 points under Yeo in 11 games, compared to 8 goals and 12 points under Vigneault in 22 games before his termination.
With some top forwards out of the lineup like Claude Giroux, Sean Couturier, and Travis Konecny, Atkinson will be one player that will have to especially shoulder the load on offense more than other players, but so far he's delivering. In the Flyers' 4-1 loss to Anaheim on Tuesday, he scored Philadelphia's only goal and was buzzing throughout the evening. And while the Flyers haven't been winning many games and have begun slumping recently, Atkinson has been a constant source of energy and offensive output on a team dying for a spark to help push them in the right direction.
Couturier hasn't played since December 18th against Ottawa, and Atkinson has scored one goal and three assists with the 2020 Selke Trophy winner missing from the lineup. He scored a goal last game without Couturier and Giroux in the lineup, as it was the captain's first game missed while in COVID protocols. Atkinson is showing us that despite being tasked with heavier minutes and more pressure to produce points in a depleted lineup, he is more than capable of doing whatever it takes to score and try and help his team succeed.
Of course, other players will need to help pick up the pieces and move on without three of their top forwards, and the Flyers do have some reinforcements beginning to help as well. Joel Farabee has five points in his last five games and is currently on a three-game point streak since returning from a shoulder injury on December 18th. Oskar Lindblom has been playing better and has four points in his last five contests, and players such as Kevin Hayes and Scott Laughton have come back into the lineup and also produced points on the recent Pacific road trip.
But so far, there's been one consistent key in the Philadelphia Flyers' offense throughout both their highs and lows during the course of this season, especially of late, and that is none other than Cam Atkinson, the "X-factor" of this Flyers offense.