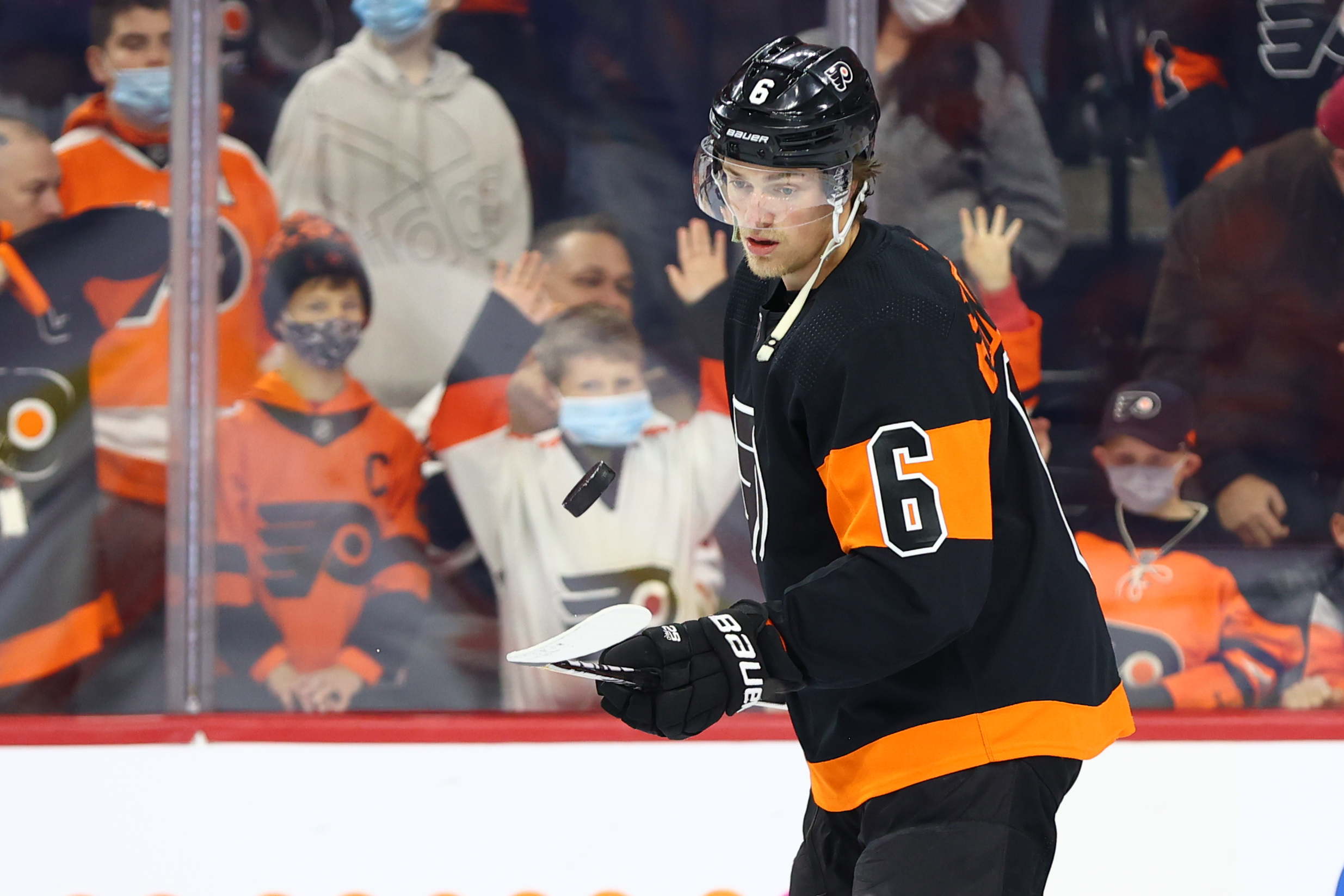 Are the Travis Sanheim Trade Rumours Believable?
It's tough to delineate rumour versus fact, especially when it pertains to your team that you know so well – or that you think you know so well.
When the national media picks up a story that befuddles you about your favourite team, it makes you think whether or not you actually know what's going on. Enter the Travis Sanheim rumours that Elliotte Friedman and Jeff Marek broke down a couple weeks ago on their "32 Thoughts" podcast.
Sanheim enjoyed a renaissance second half last season that catapulted him into the conversation for "best" defenseman on the Philadelphia Flyers. With Ryan Ellis on the mend, Rasmus Ristolainen trying to figure things out, Tony DeAngelo known more for his offense than defense, and Cam York who has yet to get his feet wet, the Flyers are going to rely heavily on Sanheim and Ivan Provorov this season and beyond – or so we think.
The Flyers don't seem to have a plan and if they do, it's not a good one. They've been dangling players like Travis Konecny, Provorov, and Sanheim over the coals the last few seasons but have yet to pull the trigger, citing that other teams haven't blown them away with any of their offers. Chuck Fletcher has not shied away from putting that out towards the public, as he approached Konecny ahead of the 2020-21 season about how close he was to being traded. Provorov and Konecny were on everyone's radar ahead of the trade deadline, and once again during the offseason.
The Flyers' desperation got in the way of several deals as rival general managers could sniff it out from a mile away. It was part of the reason why they couldn't trade James van Riemsdyk before the free agent window opened, it was part of the reason why no trades materialized in the summer for Provorov or Konecny, and it was part of the reason why every team was asking for the Flyers' 2023 first round pick in any deals. When an arm can be twisted into getting what you want, why wouldn't you twist away?
The Flyers have mismanaged future assets for several years but have chosen the wrong deals to involve them in. They traded a first and second round pick for Ristolainen and they also traded a second, third, and fourth round pick for DeAngelo, compared to Alex DeBrincat who was acquired for first, second, and third round picks.
Nevertheless, the Flyers are entering a very pivotal season for many people involved, from players to executives. They have reportedly warned the players about the prospects of another sluggish and slow start and if it were to come to pass, they will be left behind without a second thought. Hence the hard training camp stories, the laps, the bag skating, the buzzwords being dropped on us every day, and the change in philosophy from aggressiveness to stabilization. It's hard to imagine that Chuck Fletcher remains as general manager if things don't pick up in October or November, but you never know with the Flyers. They seem to keep people around far longer than they should, even if the writing is blatantly on the wall.
As for the Sanheim rumours, they have been ongoing for several years and now that he's entering his contract year and as the Flyers are projected to be in the basement of the league again, they're only ramping up.
Last year when things took a hit in November and December, the rumour mill was incessantly talking about Claude Giroux and rightfully so. He was the longest tenured captain in franchise history, he was on the verge of 1,000 games as a Flyer, he had been such a productive element for the team over the last decade, and he represented one of the more attractive options on the open market. Ristolainen alluded the rumour mill because the Flyers were hellbent on getting a deal done beforehand, and Justin Braun, Derick Brassard, and Martin Jones were relatively easy trade dumps for something of value, but the Flyers decided to keep the latter of the three options even though they had a deal on the table.
As they enter the 2022-23 season, the Flyers have four players projected to enter unrestricted free agency in James van Riemsdyk, Travis Sanheim, Justin Braun, and Patrick Brown. The latter two options are inconsequential to the team's future plans as Braun will be turning 36 in February and Patrick Brown is going to have to fight his way through the cluster of bottom-six forwards at their disposal. As for van Riemsdyk, the jury is out on his chances of returning to Philadelphia beyond this season. The Flyers love him, his playing style, and his leadership qualities on and off the ice, but they also tried frantically trading him ahead of the NHL Entry Draft to alleviate cap space.
van Riemsdyk will be 34 by the time he signs his next deal, he won't cost nearly as much as his $7 million AAV right now, and the Flyers love bringing back or keeping their own. Nevertheless, all signs point to the Flyers trading him at the trade deadline when they become eventual sellers as most teams will be jumping at the chance to acquire him with 50% salary retention.
Which brings us back to Sanheim. CapFriendly projects the Flyers to have around $15.7 million in projected cap space next summer, so the ability to afford Sanheim won't be an issue. No one is quite certain at all about Ellis' ability to return this season, next season, or at all, which only adds more cap space once he's placed on LTIR. The Flyers are already paying Provorov $6.75 million, Ristolainen &5.1 million, and DeAngelo $5 million and after the season Sanheim had last year, looking at his comparables on the team, and the contract he's coming off of, it's not out of the realm of possibilities that he figures in for $5.5 million or more. With all the praise being lauded his way from last season to his increased role heading into this season, Sanheim should be poised for a career year.
John Tortorella and Brad Shaw seem more equipped than Alain Vigneault and Mike Yeo in handling defensemen, and defense as a whole. The Columbus Blue Jackets were notorious for their defensive schemes and systems, which will only bode well for the back end in Philadelphia. There have been multiple reports about both sides engaging in long term contract negotiations, but more importantly about both sides looking forward to striking a deal.
We have seen too many good, young, talented players leave Philadelphia for one reason or another, only to immediately succeed on their new team. The Flyers defense is already in shambles, and the last thing they need is to lose a key contributor in Sanheim because they decided to put all their eggs in the Ristolainen and DeAngelo baskets.
How the team performs is going to play a factor in his decision but he hasn't given the sense or the idea that he wants out – in fact most players like staying in Philadelphia, if you can believe that one. The front office would be foolish to let him go, but this is also a team that bought out Oskar Lindblom to make room for Nicolas Deslauriers and Justin Braun. It's also the same team that decided to let Johnny Gaudreau walk to a division rival, the same team that wants to roster Deslauriers and Zack MacEwen in an increasingly fast and skilled league, and the same team that seemingly wants to cut the cord on players like Konecny and Provorov.
If the Flyers continue their free fall from last year, the rumours are only going to intensify but one would hope that Fletcher shares the same willingness to get a deal done for Sanheim as he did with Ristolainen. With the deals on the table and what other defensemen were going for on the open market, the Flyers let valuable picks vanish from their grasp as they decided to re-sign the latter for five more years.
Friedman believes that if the Flyers make Sanheim available ahead of the trade deadline, there will be a flurry of teams interested, including the Vancouver Canucks and Toronto Maple Leafs.
It would be a likely mistake if it were to come to pass but if the last 12 years of Flyers hockey have taught us anything, it is that we should always expect the unexpected.
Music City Hockey Trip
Take a three day vacation to Nashville with Philly Sports Trips this October! The package includes direct flights, a three night stay at the Cambria Hotel Nashville Downtown, an all-inclusive tailgate, and tickets to the Flyers Predators game. $100 cash for anyone who shows proof they went to the Flyers game on the trip.