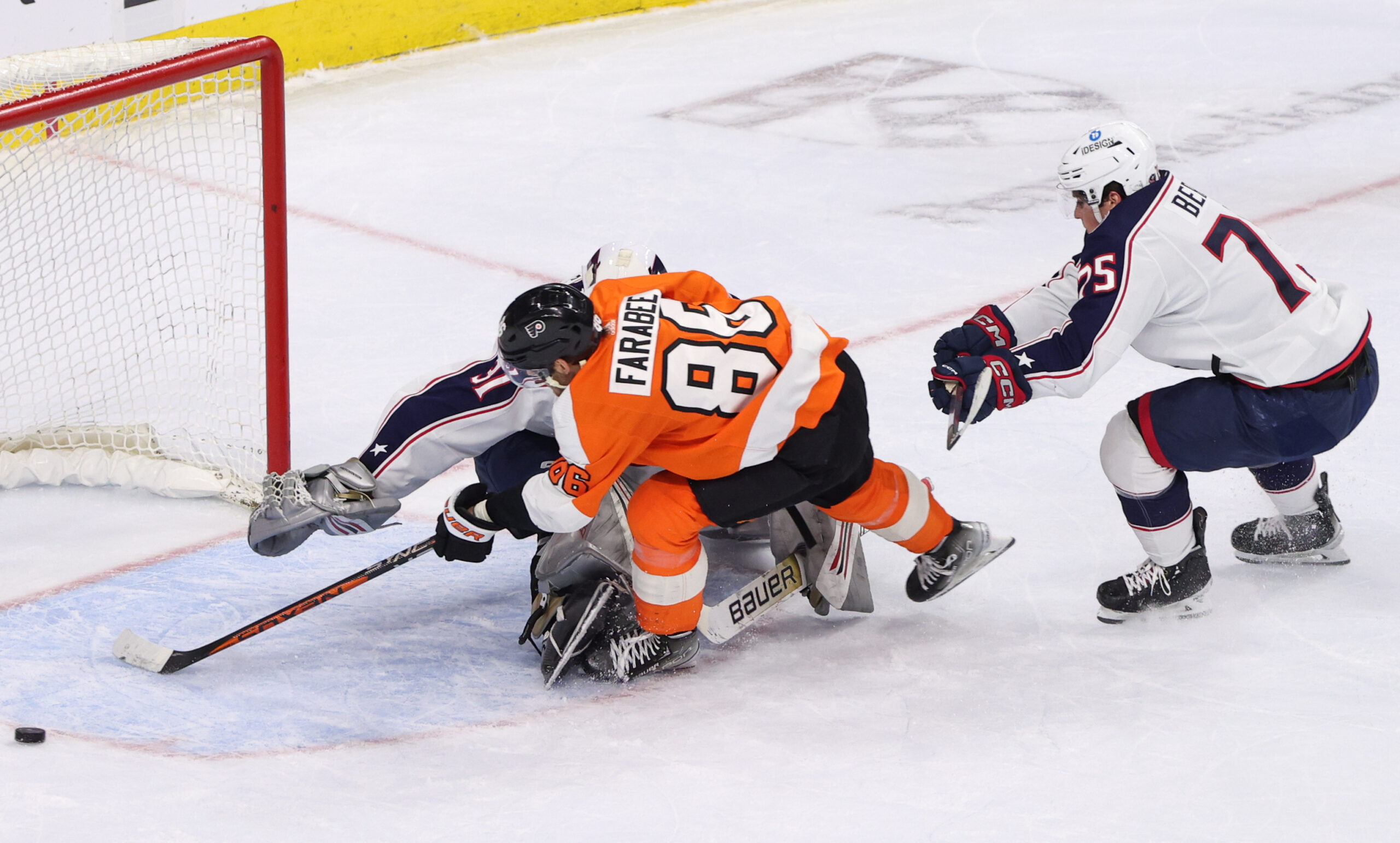 Well, it's the dog days of hockey 'til camp starts up. Theres nothing much really going on with the Philadelphia Flyers, after an electric draft and being "Buckled Up" for what seemed like weeks on end, the only thing we can do now is await the upcoming season.
With no real news coming from the Flyers recently, I decided to look at the upcoming schedule for any games that I would want to go to. Immediately you'll see the Flyers don't necessarily have the easiest first month of games…here's a quick look at the opposing teams:
10/12 – Flyers @ Blue Jackets
10/14 – Flyers @ Senators
10/17 – Canucks @ Flyers
10/19 – Oilers @ Flyers
10/21 – Flyers @ Stars
10/24 – Flyers @ Golden Knights
10/26 – Wild @ Flyers
10/28 – Ducks @ Flyers
10/30 – Hurricanes @ Flyers
10/12 at Columbus
Starting off the season in Columbus, the Flyers will take on Ivan Provorov and the Blue Jackets. Of course, it being the first game of the season, we will all be tuning in to see how the squad looks post camp, however it will be really intriguing to see how Provorov does against his former team.
The Blue Jackets have a pretty good defense with the addition of Provorov. Add in the 3rd overall pick Adam Fantilli and star Johnny Gaudreau and things are looking up for the Blue Jackets. Either way, it won't be the most electric season opening match up the NHL will be boasting. A good first game for the young Flyers to get their sticks settled.
10/14 at Ottawa
The Flyers then travel to Ottawa and face off against Claude Giroux and newly acquired Dominik Kubalik. I'm pretty interested to see how Kubalik does in Ottawa (45 points in 81 games last season) as I think the DeBrincat-Kubalik trade was a pretty fair deal considering both teams now have two talented young offensive players.
Nonetheless, it's surely a tough away tilt for the Flyers as the Sens have good talent on both ends of the ice. Last season the Senators took 2 of 3 from the Flyers.
10/17 vs. Vancouver
The Flyers will be welcoming the Vancouver Canucks to the Wells Fargo Center this year for their home opener. The likes of Elias Pettersson, Quinn Hughes and J.T. Miller won't make it an easy one for Philly. Last year Miller recorded 32 goals, Pettersson tallied 39, and Quinn Hughes had 76 points in 78 games (69 assists). The Flyers will have their hands full with these 3 but I do expect them to pull this one out. I don't know, call it a feeling. Nonetheless, a good home opener to attend if you want to see some goals.
10/19 vs. Edmonton
Now this is the game I want to go to. The Edmonton Oilers coming off a letdown playoff series loss to the Vegas Golden Knights and have all sorts of pressure going into this season. Hart Trophy winner and superstar Connor McDavid surely isn't the problem. What is? People can point to their struggles in net and efforts to alleviate this problem. There have been rumors of Edmonton being interested in a Carter Hart deal with the Flyers. Will he be across the ice when these teams meet in Philly? Rumors aside, any hockey fan would want to attend a game when McDavid is on the ice. October 19th is that game for Flyers fans.
Connor McDavid recorded 64 goals and 89 assists last year in Edmonton. Fellow superstar Leon Draisaitl put up 52 goals and 76 assists in last year's campaign. Both of these talents will be looking to put up a lot of goals when they come to Philly and face off against the Flyers' young defense. Most likely this results in an Oilers win, but how electric would a Flyers victory be? Mark the game down in your calendar.
10/21 at Dallas
After a two game homestand, the Flyers are back on the road and venture to Dallas. The Stars are a strong team with excellent goaltending and players like Jason Robertson and Roope Hintz (one of my favorite names in hockey).
It's yet ANOTHER tough matchup for the Flyers. October is not going to be kind for the Orange and Black. A player on the Stars I'm excited to see this year has to be Wyatt Johnston. Will he follow up his good rookie season with an even better performance in 2023-2024? Johnston recorded 24 goals last season and 4 in the playoffs.
10/24 at Vegas
Becoming an even more grueling first month of games, the Flyers take on the Golden Knights in Las Vegas.
There's not much to be said about the Knights. We all know what to expect. A hard-nosed squad with stellar goaltending in Adin Hill and unreal talent in former 2nd overall pick and now Stanley Cup champion Jack Eichel.
The Flyers are outgunned in basically every aspect of the game against the Golden Knights. If there's one thing so far to take away from October's schedule, it's that these games will be showcasing hockey's top tier players…just not really on the Flyers' side. However, with the Flyers deploying such young players this season, the experience is extremely valuable and with the Flyers' young guns going up against the top teams in the league, we can hope to see them elevate their game.
10/26 vs. Minnesota
Coming back to Philly to face off against the Wild, the Flyers will battle against one of the league's shining stars in Kirill Kaprizov. The 2015 5th round pick had a stellar season with 75 points in 67 games. The 26-year-old has been a very welcomed sight for Minnesota fans and will look to continue the great start to his young career.
Former Penguins goalie and current Wild netminder, Marc-Andre Fleury, has even compared Kirill to Sidney Crosby. High praise for a young player like Kaprizov. This is another good game to attend, and you may not see a Flyers win but you'll see one of the league's top-rising talents.
10/28 at Anaheim
The Flyers get a bit of a breather when they travel to Anaheim to take on Trevor Zegras and the Ducks. Obviously there's not going to be any automatic wins to jot down on the Flyers' schedule this year but considering the October schedule's gauntlet of star studded teams, the Ducks will be a welcomed sight.
The Ducks had a very interesting draft earlier this summer. Anaheim took Leo Carlsson (C) 2nd overall in this year's draft. It was a bit of shock as Adam Fantilli seemed to be the consensus pick at number 2. Fantilli was then taken by the Blue Jackets. The Carlsson pick should not be disregarded though as he is a stellar player at 6'2" and 194 lbs. He joins a very talented young player pool in Anaheim alongside the likes of Mason McTavish, Jamie Drysdale, and of course Trevor Zegras.
10/30 vs. Carolina
Finally October wraps up with a home game against the Carolina Hurricanes. The Hurricanes will surely be at the top of the division once again this season and the rumor is, are looking to extend Sebastian Aho. Aho is clearly one of the best players in the league and recorded 67 points in the regular season and 12 in the playoffs (15 games). At only 25, the Canes will be looking to lock up their star forward for years to come. Rod Brind'Amour will look to take his team farther in the postseason this year after a disappointing end to their run.
Rod the Bod also left us with an amazing quote after the Canes were bounced:
"The unfortunate part of this is we're going to look back and everyone's going to say we got swept and that's not what happened."
Love it.
Anyways, the Canes are another top tier team the Flyers will have to face in October.
To recap, the Flyers will take on the Oilers, Stars, Golden Knights, Wild AND Hurricanes in the first month of the season.
Does Gary Bettman want the Flyers to lose all their games and bless us with a number 1 overall pick? That'd be nice. It'll be a tough stretch and in a rebuilding phase wins aren't the priority. But hey, maybe they will surprise us.
Go Flyers.
2024 Stadium Series Trip
Flyers Nation and Philly Sports Trips have teamed up to bring you on an amazing bus trip to the 2024 NHL Stadium Series between the Flyers and Devils. Place an early deposit to reserve your spot at the ultimate tailgate experience at MetLife Stadium before the game. The package includes a game ticket, round-trip charter bus, an all-inclusive tailgate party with unlimited cold beverages, "Philly Style" catered food, live entertainment, and more.