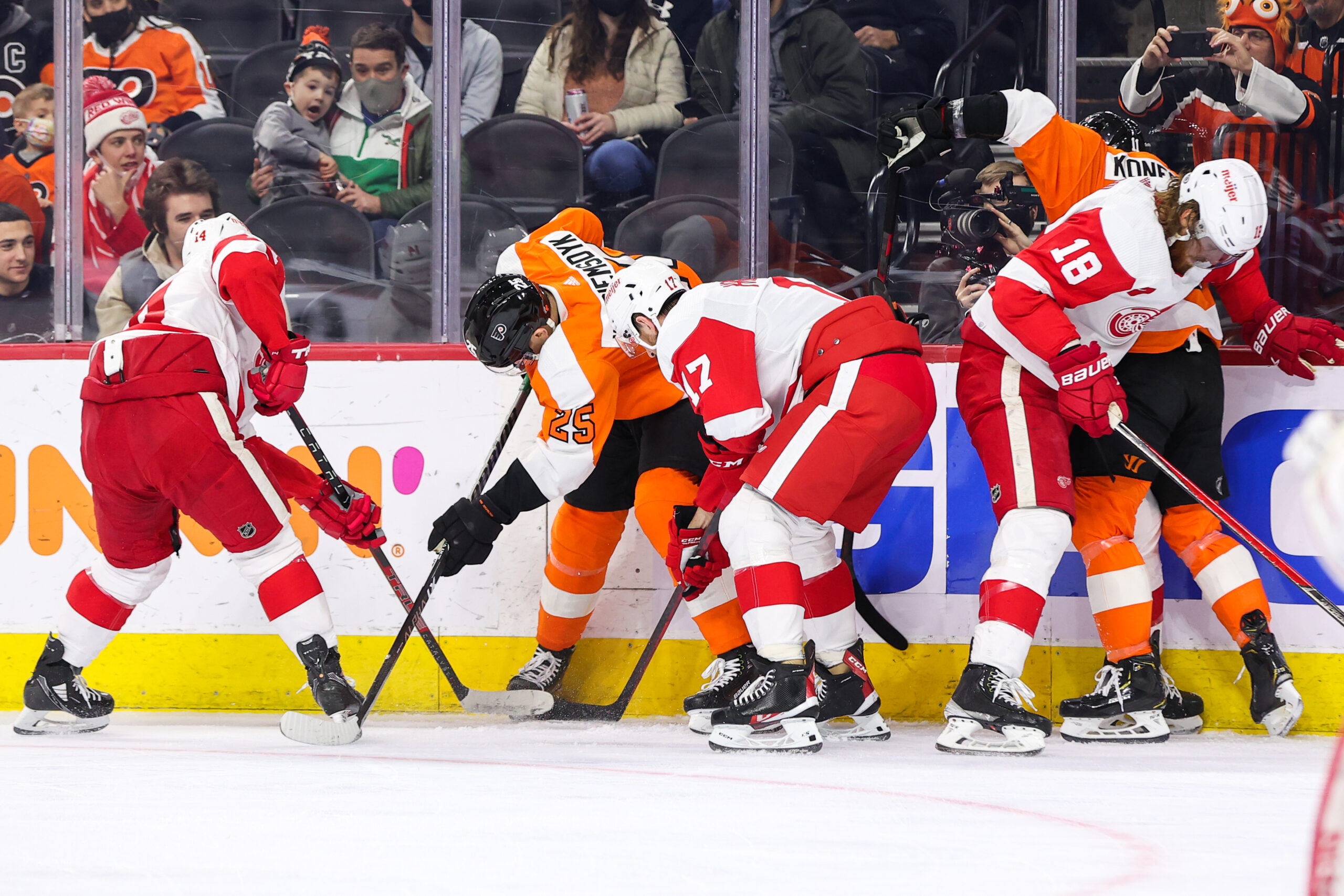 Three-game winning streak on horizon for Flyers against Red Wings
After two consecutive impressive wins over Florida and Minnesota, the Philadelphia Flyers will look for their first 3-game winning streak since January 14th today against the Detroit Red Wings.
The Flyers are winners of 3 of their last 4 and are on a 4-game point streak, as they are currently 3-1-1 on this season-long 7-game homestand.
Owen Tippett notched his first NHL hat trick last Friday against Buffalo to lead the Flyers to a 5-2 win before they collapsed against Carolina the next day. Philadelphia let up Martin Nečas' tying goal with 0.3 seconds left in the third period before Sebastian Aho sunk the Flyers early in overtime.
The Flyers responded on Tuesday with a 6-3 thumping of Florida, which despite the offensive outburst, Carter Hart was the Flyers' best player with 41 saves to seal the deal. Then Philadelphia took care of business against Minnesota on Thursday in come-from-behind fashion, as Tyson Foerster netted the tying goal with 5:44 remaining in regulation before the Flyers scored the 5-4 victory in a shootout.
The kids are alright, as while Tippett and Foerster have seemingly dominated every game they've played over this recent stretch, Joel Farabee has chipped in with a goal in each of his last 4 contests, Carter Hart has won 3 straight games, and Noah Cates and Morgan Frost are each riding 3-game point streaks.
As for Detroit, they are 5-11-1 since February 18th after previously winning 5 in a row before that. One of those 11 regulation losses came in Philadelphia back on March 5th, as the Flyers netted 3 unanswered goals courtesy of Nicolas Deslauriers, Noah Cates, and Scott Laughton to defeat the Red Wings, 3-1.
The Red Wings, much like the Flyers, find themselves well outside of the playoff race as they have just 71 points, bad enough for 7th in the Atlantic Division, 13th in the Eastern Conference, and 23rd in the league.
Outside of Dylan Larkin doing Dylan Larkin things – leading the team in goals, assists, points, and signing an 8-year, $69.6 million contract extension – there hasn't been much for Detroit to write home about this year.
Should the Flyers win today, it would be their first 3-game winning streak at Wells Fargo Center all season long, and it would mark the first time it has happened since they won 7 straight home games from February 10th, 2020 to March 7th, 2020.
In a time where plenty of fans want the Flyers to tank, and head coach John Tortorella is telling those who support the tank to essentially zip it, the youngsters are stepping up to the plate and giving a glimmer of hope for the franchise as we near the end of the season.
PHI Record: 27-32-12, 66 pts, 7th in Metropolitan
DET Record: 31-31-9, 71 pts, 7th in Atlantic
Last Game PHI: 3/21/23, 5-4 SOW vs. Minnesota
Last Game DET: 4-3 L vs. St. Louis
When: 1:00pm ET
Where: Wells Fargo Center, Philadelphia, PA
PHI Goalie: Carter Hart (20-21-10, .907 SV%, 2.96 GAA, 1 SO)
DET Goalie: Alex Nedeljkovic (2-5-2, .880 SV%, 4.01 GAA, 0 SO)
PHI Projected Lineup
#86 Joel Farabee – #49 Noah Cates – #74 Owen Tippett
#25 James van Riemsdyk – #13 Kevin Hayes – #57 Wade Allison
#22 Brendan Lemieux – #48 Morgan Frost – #52 Tyson Foerster
#20 Kieffer Bellows – #21 Scott Laughton
#9 Ivan Provorov – #45 Cam York
#6 Travis Sanheim – #55 Rasmus Ristolainen
#24 Nick Seeler – #77 Tony DeAngelo
#54 Egor Zamula
#79 Carter Hart
#32 Felix Sandström
DET Projected Lineup
#90 Joe Veleno – #71 Dylan Larkin – #23 Lucas Raymond
#81 Dominik Kubalík – #18 Andrew Copp – #57 David Perron
#22 Matt Luff – #24 Pius Suter – #73 Adam Erne
#52 Jonatan Berggren – #21 Austin Czarnik – #48 Alex Chiasson
#96 Jake Walman – #53 Moritz Seider
#2 Olli Määttä – #38 Robert Hägg
#3 Simon Edvinsson – #82 Jordan Oesterle
#39 Alex Nedeljkovic
#45 Magnus Hellberg
PHI Injuries: Sean Couturier (back), Travis Konecny (upper-body), Ryan Ellis (hip), Cam Atkinson (neck), Nicolas Deslauriers (upper-body)
Scratched: Justin Braun, Tanner Laczynski
DET Injuries: Robby Fabbri (lower-body), Michael Rasmussen (knee), Mark Pysyk (Achilles), Ben Chiarot (undisclosed), Gustav Lindström (undisclosed), Ville Husso (lower-body), Filip Zadina (lower-body)
Scratched: None
News and Notes
– The Flyers are looking for the season series sweep today over Detroit. Should they complete it, it would be the third time in the last four tries that they've swept all games in a season over the Red Wings (2018-19, 2019-20).
– Philadelphia has the 73-53-21-2 advantage over Detroit in the all-time series since joining the league in 1967. Today is the 150th meeting between the two teams.
– Joel Farabee is currently on a four-game goal streak. The only Flyer this season with a longer streak is Travis Konecny, who scored in six straight games from December 23rd, 2022 to January 8th, 2023.
– Noah Cates and Morgan Frost each have a goal and 4 assists for 5 points in their last 3 games.
– Top prospect Cutter Gauthier announced Friday he will be returning to Boston College for his sophomore season instead of turning pro.
Broadcast Info: TV – NBC Sports Philadelphia, Radio – 97.5 The Fanatic